Every election, a handful of Iowa legislative races turn out to be far closer than expected. One of the sleepers in 2018 was Steve Gorman's rematch against Republican State Representative Mary Ann Hanusa in House district 16, covering part of Council Bluffs.
Hanusa was a four-term incumbent and had defeated Gorman by 6,847 votes to 5,120 (57.2 percent to 42.8 percent) in 2016. Last year, Republicans spent about $83,000 on direct mail, radio, and digital advertising for Hanusa (see here and here), far less than they spent in districts they worried about losing. By the same token, Democrats spent at least $100,000 in more than a dozen Iowa House races during the 2018 campaign, including $128,000 defending the other Council Bluffs-based seat. Gorman had to raise all of the $24,405.45 the party spent on his behalf.
Nevertheless, Gorman nearly pulled off an upset, losing to Hanusa by 4,949 votes to 4,835 (49.5 percent to 48.4 percent), with 208 votes going to Libertarian Steve Sechrest. Now Gorman's the first announced Democratic candidate for a Republican-held Iowa Senate seat. Both parties will surely take his challenge seriously in 2020.

Senate district 8 covers Carter Lake and almost all of Council Bluffs in Pottawattamie County.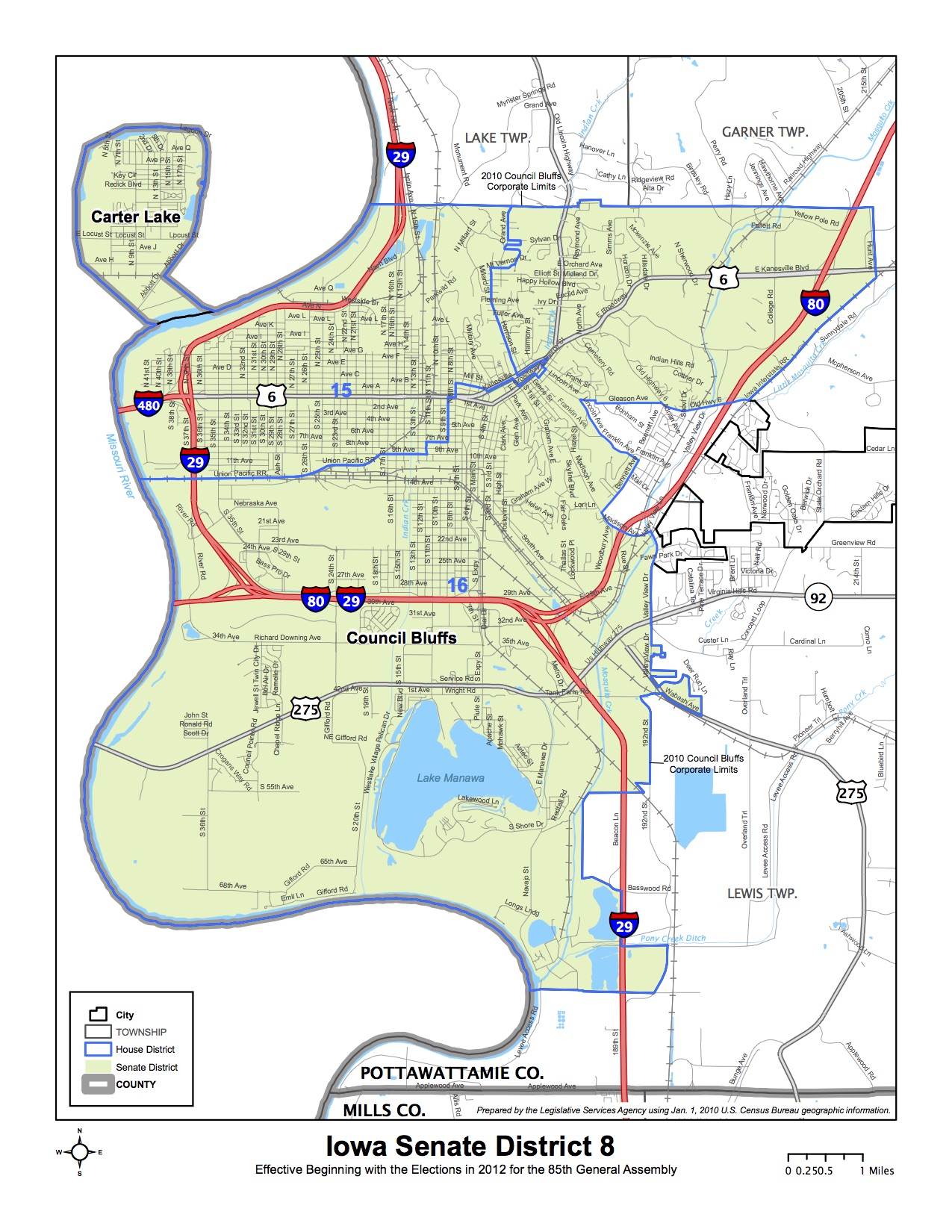 Of the 25 even-numbered Iowa Senate districts that will be on the 2020 ballot, this seat is among the most politically balanced, with 10,518 active registered Democrats, 10,382 Republicans, and 12,796 no-party voters according to the latest official figures.
Voters here swung heavily toward Republicans in the last presidential election. Residents of Senate district 8 preferred Barack Obama over Mitt Romney in 2012 by 54.4 percent to 44.0 percent, but favored Donald Trump over Hillary Clinton by a ten-point margin in 2016.
Similarly, Democratic State Senator Mike Gronstal, who had represented this area since the 1980s, won re-election comfortably in 2012 (55.3 percent to 44.7 percent) but lost four years later to law enforcement officer Dan Dawson (54.1 percent to 45.9 percent).
House district 16, where Gorman ran the last two cycles, has more registered Republicans than does neighboring House district 15, which Democratic State Representative Charlie McConkey has represented since 2015. So Gorman is well-positioned to give Dawson a strong challenge in 2020.
He didn't leave anyone guessing about his intentions. Mike Brownlee reported on Gorman's campaign launch for the Council Bluffs Nonpareil on January 31.
Gorman's family has lived in Council Bluffs for four generations. His official bio notes,
As a firefighter, Gorman has been recognized for numerous lifesaving awards for going above and beyond the call of duty including cardiac, trauma and fire events as a front line firefighter. He is a member of the International Association of Firefighters (IAFF) Local 15.

Gorman was instrumental in starting the Gibraltar Neighborhood Association, once serving as president and is now an active board member. He has volunteered for many activities like neighborhood watch and clean ups to benefit the entire community. He has volunteered for several local schools, Celebrate Council Bluffs, and Preserve Council Bluffs. Gorman was also a scout leader and a youth sports coach at both the YMCA and Parks & Recreation.
Gorman's wife Chris has been a local teacher for 28 years, which vastly expands the number of voters who have a personal connection to the Democrat's family.
Speaking by phone on February 3, Gorman said he will campaign on the same message that drove his Iowa House bids: improving the lives of Iowa's most vulnerable citizens. The rising cost of health care and prescription drugs were common topics on the doors last year, and problems linked to Medicaid privatization affect a huge number of Council Bluffs residents. (The city has a lower median household income and per capita income than does Iowa as a whole.)
"People shouldn't be one illness away from poverty. That's just not right," Gorman told me. Education funding and clean water are also important to him: "We need to get back to where we're legislating through our children's eyes."
Why does he think he outperformed expectations last November? Gorman said he ran a "very inclusive" campaign, with volunteers knocking some 30,000 doors during the two-year cycle. "We'd just go out and we talked to people." He estimated that he knocked about 13,000 doors himself.
Is he concerned about being on the same ballot as Trump, who did well in his area in 2016? "I don't worry about Trump. This isn't about Trump, it's about our community," Gorman said. "We're not going to make it about Trump."
The GOP incumbent also has deep Council Bluffs roots, his official bio notes.
Senator Dan Dawson, an Abraham Lincoln High School graduate, is the third generation from his family to reside and work in Council Bluffs. Senator Dawson and his wife, Chrystal, have two children: Alex and Madelyn.

Senator Dawson graduated in 2008 from Bellevue University in Bellevue, Nebraska, with a bachelor's degree in criminal justice administration. He currently serves in the Army Reserves, where he earned his current rank of Chief Warrant Officer. He has honorably served his country for the past 20 years, mobilizing four times with deployments to Kosovo, Iraq, and twice to Afghanistan.

Following in his father's footsteps to serve as a law enforcement officer in Council Bluffs, Senator Dawson worked in the Pottawattamie County Sheriff's Office before joining the Council Bluffs Police Department. He is currently a special agent with the Iowa Division of Criminal Investigation, where he works in the Major Crimes Unit.

Senator Dawson is a member of St Patrick's Catholic Church of Council Bluffs, Knights of Columbus, the American Legion, and Veterans of Foreign Wars. He has also served as a director in the state police union.
Despite the Republican's union ties, organized labor is sure to be heavily involved in supporting Gorman next year. About half the money he raised for his last Iowa House race came from labor PACs, even though his opponent Hanusa had voted against the 2017 bill that shredded collective bargaining rights.
Dawson voted for the collective bargaining bill, as well as the workers' compensation overhaul that dramatically lowered benefits--especially for shoulder injuries, which are common among police officers. (In contrast, Republican State Representative Clel Baudler, a retired state trooper representing a southwest Iowa House district, opposed both of those bills.)
Each party spent roughly half a million dollars on Dawson's race against Gronstal. Expect the Dawson/Gorman campaign to be at least as costly. If the last campaign is any guide, Gorman will benefit from a larger volunteer army, but it's too early to know whether the national political environment will favor Democrats in 2020 the way it did last fall.
Final note: although Dawson told the Nonpareil's Brownlee that he plans to run for re-election, some Democrats believe he may challenge U.S. Representative Cindy Axne in the third Congressional district instead. That would improve Gorman's prospects of flipping Senate district 8. All other things being equal, an open seat is usually a more promising target for the party out of power.
LATE UPDATE: Dawson ruled out running for Congress in the summer of 2019 and filed for re-election to the Iowa Senate in March 2020.
Gorman endorsed Joe Biden before the Iowa caucuses. The former vice president was viable in some but not all of the Council Bluffs precincts. Bernie Sanders generally did better than Biden in the Council Bluffs area, but Pete Buttigieg carried a lot of the city's precincts. This New York Times interactive map is the most user-friendly resource for precinct-level caucus results.
Top image: Republican State Senator Dan Dawson on the left; Democratic challenger Steve Gorman on the right.