Some Republicans have encouraged State Representative Jon Jacobsen to run for Congress in Iowa's third district, and he's not ruling it out, though he will not decide anytime soon.

I reached out to Jacobsen after sources indicated he was gearing up to challenge U.S. Representative Cindy Axne. He replied via Facebook message on February 8,
Thank you to all who have suggested I consider a run for Congress. It is far too early to make those determinations. Decisions to run for office must be based upon performance, and not politics. We must give our newly elected Representative an opportunity to perform.
That didn't sound like a yes or no, so I sought further comment. Jacobsen explained, "Due diligence requires that the performance of newly elected officials be judged objectively. And only then can an intelligent decision be made."
Based on Jacobsen's down-the-line Republican voting record in the Iowa House, he and Axne have very different political beliefs. So I wondered on what basis he would judge her performance. I can't think of many "objective" criteria for evaluating state or federal lawmakers, other than their attendance record for floor votes and committee meetings. Jacobsen clarified,
Two criteria, from Hillel [a rabbinic scholar], do not do to others what you would not have them to do to you. From Churchill, does the elected official pursue the good for their constituents, while confronting practical difficulties in an ever changing political environment.
I wonder if Jacobsen would appreciate having others declare his ballot should not be counted, even though he mailed it on time and followed all rules for signing and sealing the envelope. (He served on the special committee that recommended dismissing Kayla Koether's contest of the result in Iowa House district 55, without opening 29 absentee ballots that eligible voters cast before election day.)
As for the Winston Churchill quote, Republicans and Democrats often consider diametrically opposed policies to be in their constituents' best interests. It's a safe bet Jacobsen won't share the goals of most legislation Axne will support in the coming year.
So I have no idea what might factor into Jacobsen's "intelligent decision" about running for Congress instead of for re-election to the Iowa House. Assuming he seeks higher office, two obstacles come to mind immediately.
Name ID where most IA-03 voters live.
Since winning a special election in the summer of 2017, Jacobsen has represented Iowa House district 22, covering a few neighborhoods in Council Bluffs and much of Pottawattamie County outside that city.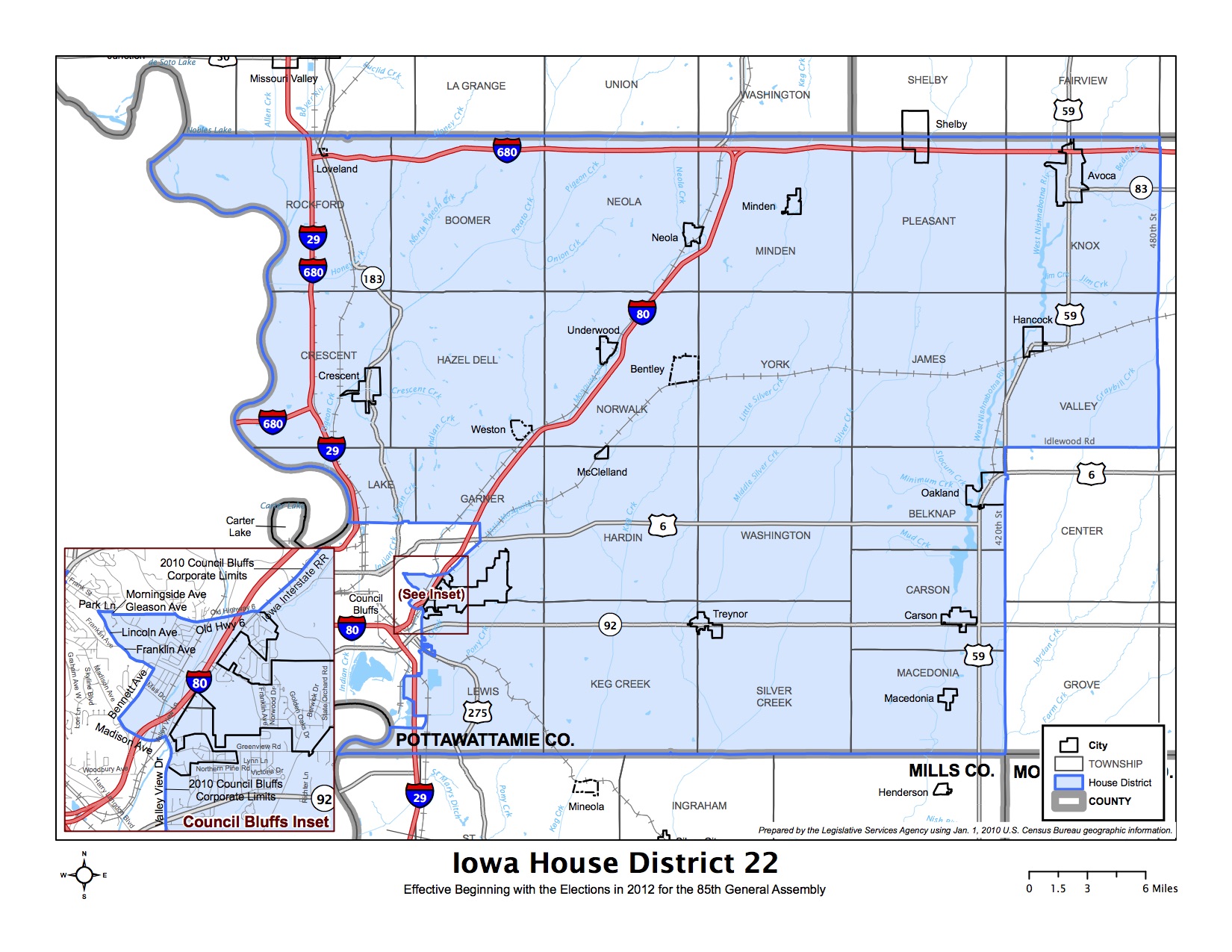 House district 22 is overwhelmingly Republican, with 10,436 active registered GOP voters according to the latest official figures, compared to just 4,804 Democrats and 7,157 no-party voters. Jacobsen is also well-known among the some 10,000 Republicans who live in the rest of Council Bluffs (House districts 15 and 16). His official bio notes,
Jacobsen is a Senior Trust Officer and Vice President at Security National Bank in Council Bluffs. He previously served as a Senior Vice President at Treynor State Bank for 11 years and holds a law degree from the University of Iowa. Jacobsen also co-hosted the weekly radio program, "You Ain't Heard Nothing", heard on Saturday mornings on KMA radio. For that work, he received 11 awards from the Iowa Broadcast News Association.

Jacobsen has a long history of community involvement, and has served as a member of the Council Bluffs Mercy Hospital Charitable Council, Treynor Optimists, President of the Cathedral Arts Project (a program to bring free access to fine arts to the public), Iowa Right to Life Committee, St. Albert's liaison to the Catholic Schools Educational Board, Co-Chair of Boy Scouts of America Capital Campaign, Troop Committeeman for local Troop #729, President of the Council Bluffs Estate Planning Council, and member of the Grist Mill Theatre in Macedonia.

He has also been a long-time active member of the Pottawattamie County Republican Central Committee, served as moderator for Senate and Congressional debates, and as chair, delegate, and parliamentarian for Pottawattamie County Republican conventions.
But a high profile in the western part of the district can only carry Jacobsen so far. Some 21,368 active registered Republicans live in Pottawattamie County.
In contrast, Polk County (containing Des Moines and most of its suburbs) is home to 82,994 Republicans. Another 20,345 Republicans live in Dallas County (containing the suburbs furthermost west of Des Moines) and 11,732 live in Warren County, where the Norwalk and Indianola areas have grown rapidly over the past decade or two.
Only a fraction of registered voters would participate in the 2020 GOP primary. But the numbers suggest Jacobsen would be the underdog in a race including one or more Republicans from central Iowa, even if he dominated the Council Bluffs area and southwestern counties where many listen to KMA Radio. He is barely known outside his home county and has not served in the state House long enough to have developed a reputation for legislative achievements. He has sponsored some bills that will please social conservatives but hasn't floor-managed any bill that made it through the chamber.
Poorly positioned to make up ground in the suburbs.
Axne defeated two-term Representative David Young last year by running up the score in Polk County and keeping Young's margins low in nearby Dallas County. Like many successful Democratic challengers around the country, she performed well in suburban precincts that had long favored Republicans. Click on any county on this interactive map to bring up the vote totals and percentages for Axne and Young across the third district.
County Name
| | | | |
| --- | --- | --- | --- |
| D | Canidate 1 | 61% | 30390 |
| R | Canidate 2 | 39% | 10390 |
Young between 50% and 60%
Here are the same results in a table.
How David Young and Cindy Axne performed in IA-03 counties
County
Young votes
Young vote share
Axne votes
Axne vote share
Polk
82,404
40.1%
115,877
56.4%
Dallas
21,089
51.5%
18,593
45.4%
Pottawattamie
18,181
53.8%
14,044
41.6%
Warren
12,778
53.1%
10,363
43.1%
Madison
4,749
62.4%
2,589
34.0%
Mills
3,941
62.5%
2,146
34.0%
Cass
3,829
66.3%
1,777
30.8%
Page
3,776
67.1%
1,741
30.9%
Guthrie
3,159
63.3%
1,622
32.5%
Union
2,930
60.3%
1,717
35.4%
Montgomery
2,631
66.5%
1,209
30.6%
Adair
2,205
64.9%
1,067
31.4%
Fremont
1,933
64.1%
990
32.8%
Taylor
1,683
69.3%
673
27.7%
Ringgold
1,493
65.7%
716
31.5%
Adams
1,152
66.6%
518
29.9%
District-wide
167,933
47.1%
175,519
49.3%
Assuming Jacobsen becomes the GOP nominee, he would enter the general election campaign not nearly as well-known as Young was in the district's population center. Meanwhile, Axne will have spent nearly two years holding monthly events in every IA-03 county.
While it is too early to know whether the national political environment will favor Democrats or Republicans in the fall of 2020, President Donald Trump is unlikely to improve his numbers substantially among the suburban women who helped elect Axne. Even if Jacobsen improved on Young's margins in some of the rural counties (a tall order), there simply aren't enough votes there to compensate for the 30,000 to 40,000 vote margin Axne could carry out of Polk County. Although last year's turnout was unusually high for an Iowa midterm, tens of thousands more voters in IA-03 will participate in the 2020 general election.
Any comments about the third Congressional district race are welcome in this thread.
Top image: State Representative Jon Jacobsen on the left; U.S. Representative Cindy Axne on the right.