Ira Lacher: The 2020 election will belong to the most popular, the rock star, the candidate who can best energize a crowd, make them believe. -promoted by Laura Belin
If you read Gary Hart's op-ed in Sunday's Des Moines Register, the best president is someone who is mature, well-seasoned and experienced. "The newest, the cutest, the funniest, the quickest wit is interesting but irrelevant," he writes, in a not-so-offhanded dis of rock star candidates such as U.S. Senator Cory Booker, who spoke Saturday to a mostly young, SRO crowd packed into Des Moines' Kum and Go Theater.

Hart was a rock star himself in 1986 before being derailed by a sex scandal, which may or may not have been set up. But the former senator from Colorado seems to have forgotten: You can be the most mature, well-seasoned and experienced person in the world but that won't necessarily win. Just ask presidents Adlai Stevenson, George McGovern, Al Gore, John Kerry and Hillary Clinton.
Like all quadrennial elections, the 2020 vote will be like a contest for student body president. It will belong to the most popular, the rock star, the candidate who can best energize a crowd, make them believe. Like him or not, Donald J. Trump is a rock star. John F. Kennedy, the last Democrat from the Northeast to win the White House, 60 years ago, was a rock star. Bill Clinton was a rock star. Barack Obama was a rock star. Bernie Sanders, who is expected to announce his presidential rerun this week, was a rock star two years ago but may have fallen off the charts. ("Bernie is like a used drier sheet," one 20-something attendee at Saturday's Booker campaign event told me. "It may smell good, but it doesn't get the job done.")
The junior senator from New Jersey, who announced his run for the White House on February 1, is a rock star. Like Kennedy, he is drop-dead handsome and smiles a lot. Like Clinton, he speaks compellingly, confidently, and comfortably. Like Obama, Booker is young (49), gifted and black.
Little separates the declared and yet-to-declare Democratic candidates on the issues: They're all for expanded Medicare, reproductive rights, increased taxes on the wealthy, restrictions on firearms, getting dark money out of politics, etc. But who among them can charge up a crowd? Who among them can effortlessly emulate a preacher, as Booker did Saturday, eliciting murmurs of "uh-huh," "yeah" and the occasional "amen"? Who among them could pass for characters in Hamilton, evoking American values as they work the stage?
Long before mass media reduced political hopefuls to 30-second commercials, candidates traveled from town to town, exhorting voters with oratory and stagecraft. Despite what Gary Hart believes, such rock-star campaigning can be the difference between being president and being Mike Dukakis. No wonder Oprah was considered a possible candidate. No wonder a man who catapulted to fame solely on the basis of a reality TV show now holds the "nuclear football."
There's a long time to go — 12 months — before the Iowa caucuses. There are pratfalls lying in wait for Cory Booker and everyone else. But it's a sure thing to say that when Democrats head out into the night on Feb. 3, 2020, they'll have rock star on their minds.
Top image: Senator Cory Booker speaking in Des Moines on February 9. Also seated on stage, from left to right: Des Moines school board member Dionna Langford, Des Moines city council member Josh Mandelbaum, State Representative Jennifer Konfrst, State Representative Kristin Sunde, State Senator Janet Petersen. Photo by Laura Belin, used with permission.
Other photos from the same event, by Ira Lacher: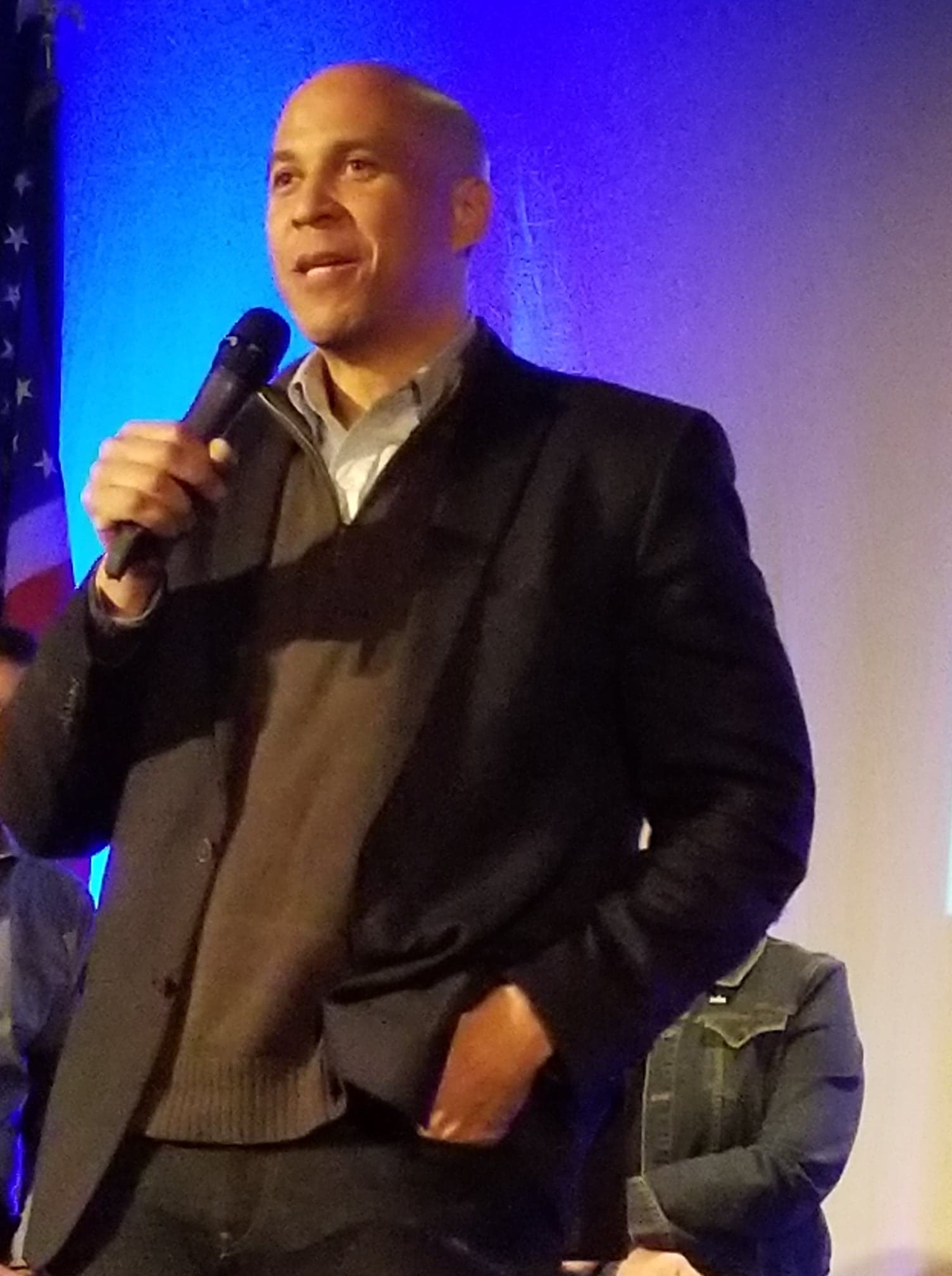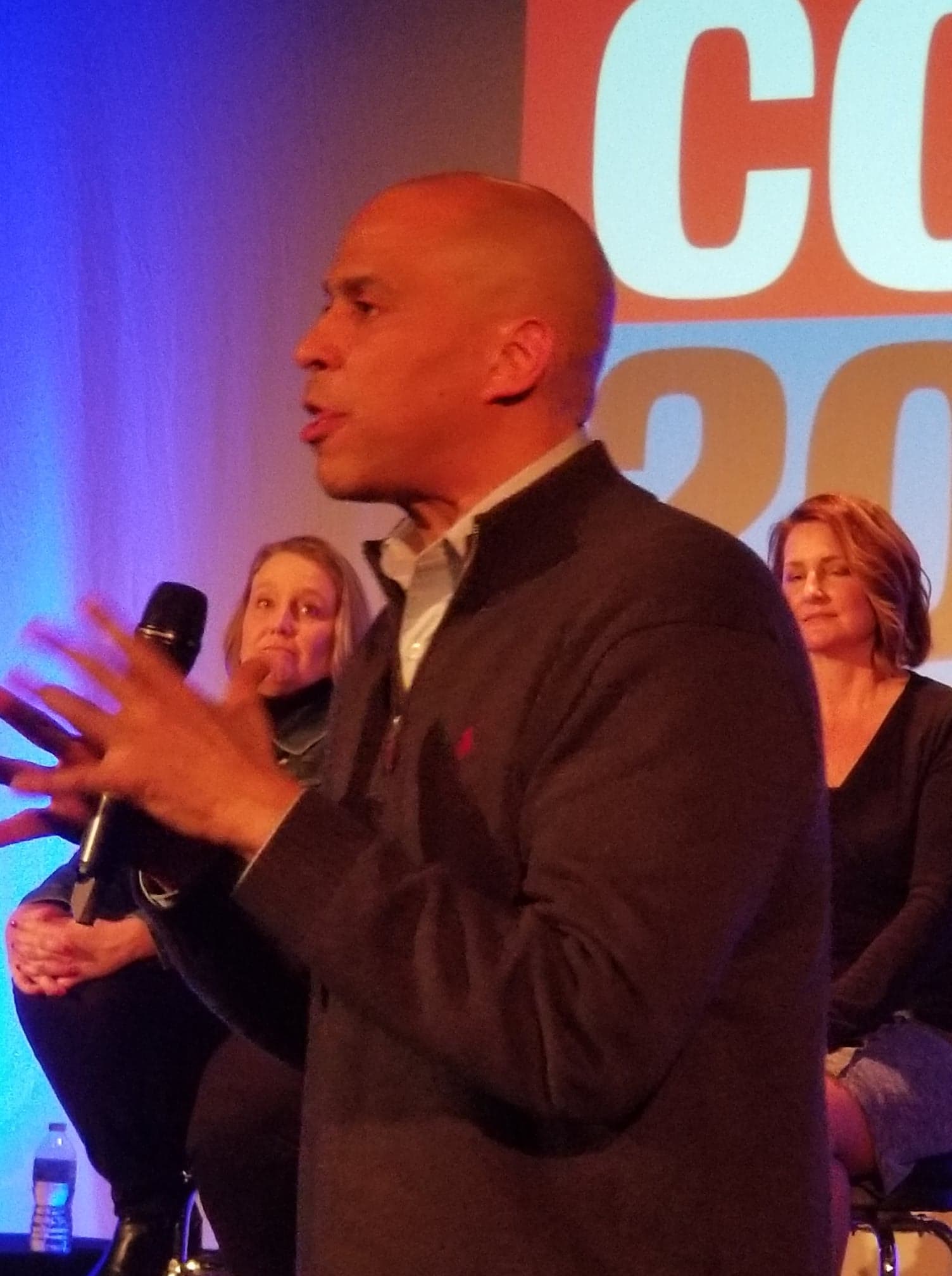 Editor's note: Shawn Harmsen hosted a house party for Booker in Iowa City on February 8. Here's the video, for those who want to watch.