Democratic State Senator Jeff Danielson announced his resignation today, Iowa Starting Line was first to report. His decision will force a special election in Senate district 30 on an accelerated schedule, because the vacancy arose during the legislative session.
State Representatives Bob Kressig and Dave Williams, the Iowa House Democrats who represent both halves of Danielson's district, told Bleeding Heartland this evening they do not plan to compete in the special election. Just elected for the first time in November, Williams said in a Facebook message, "I am new in the House, enjoying the experience, and intend to stay focused on House District 60 constituents."
Danielson's last two Republican challengers also ruled out the race.

Asked whether she would consider running in the special, Danielson's 2016 opponent Bonnie Sadler told Bleeding Heartland simply, "No." Did she have any thoughts on which Republican might run? "I do not, nope. No idea."
Matt Reisetter's 2012 campaign against Danielson was a top-targeted Senate race for both parties. He said in a telephone interview,
Absolutely not. I'm thrilled with my life. I'm glad I got beat by Senator Danielson. I wouldn't change that result for ten million dollars. And I wish him well, and I wish whoever runs well.

I would say your best bet to find someone is Walt Rogers, probably.
That would be Danielson's 2008 opponent, who has not returned a phone call seeking comment. Rogers lost that Senate race by just 22 votes. He went on to defeat a Democratic incumbent in the Iowa House in 2010 and served four terms before losing to Williams last year.
Pat Rynard reported for Iowa Starting Line that Rogers "will soon be nominated to the Iowa Public Employment Relations Board," one of the few state boards with a high salary for full-time work.
Reisetter told me he hadn't talked to Rogers lately but had heard about his possible appointment. "I would guess this could potentially change that," he speculated. "I think Walt, frankly, is by far the odds-on favorite for the Republican nomination, and I think he's probably going to win the race, because Republicans get to set the date of the special election. So we're excited about that."
State law requires Governor Kim Reynolds to announce the special election date within five days of the vacancy arriving. Because the legislature is now in session, the governor is directed to schedule the election "at the earliest practical time, giving at least eighteen days' notice."
Was Reisetter referring to the fact that Reynolds could set the election while University of Northern Iowa students are on spring break next month?
I don't think UNI students are going to vote during a special election anyway. I just don't think college students are motivated enough to get out when only a state Senate race is on the line.

I hadn't even thought about spring break. Now that you mention it, it might not be a bad idea.

But I don't think–I just think that college students, and frankly Democrats in general, don't turn out for specials the way they do for generals, because they're just less motivated.
Unlike the 2011 special election for a Senate seat in the Cedar Rapids area, which started Democrat Liz Mathis's political career, the chamber's majority is not on the line now. Reisetter noted, "I don't think anyone cares" whether the Iowa Senate will have a 32-18 or a 33-17 GOP majority.
All other things being equal, an open seat tends to be more competitive than one involving an incumbent. Rogers is well-known to area voters and would be a strong contender, having lost to Williams by just 234 votes out of nearly 16,000 cast.
Democrats are sure to invest heavily in holding this seat, one of few contested Senate districts to stay in the party's column amid the 2016 bloodbath. After barely surviving his first re-election campaign, Danielson won by more than 700 votes in 2012 and by nearly 6,000 votes four years later. (Republicans didn't spend much on Sadler's behalf.)
Senate district 30 covers Cedar Falls, part of Waterloo, and some rural areas of Black Hawk County. The latest figures from the Secretary of State's office indicate the district contains 13,333 active registered Democrats, 12,488 Republicans, and 15,986 no-party voters. Hillary Clinton outpolled Donald Trump here by 48.4 percent to 45.0 percent. Fred Hubbell carried the district by 53 percent to 45 percent, Starting Line calculated–nearly identical to Barack Obama's 53.1 percent to 45.7 percent margin over Mitt Romney in 2012.
Final note: Danielson did not respond to an inquiry about his future plans. He told KWWL he has lined up a job he will announce later.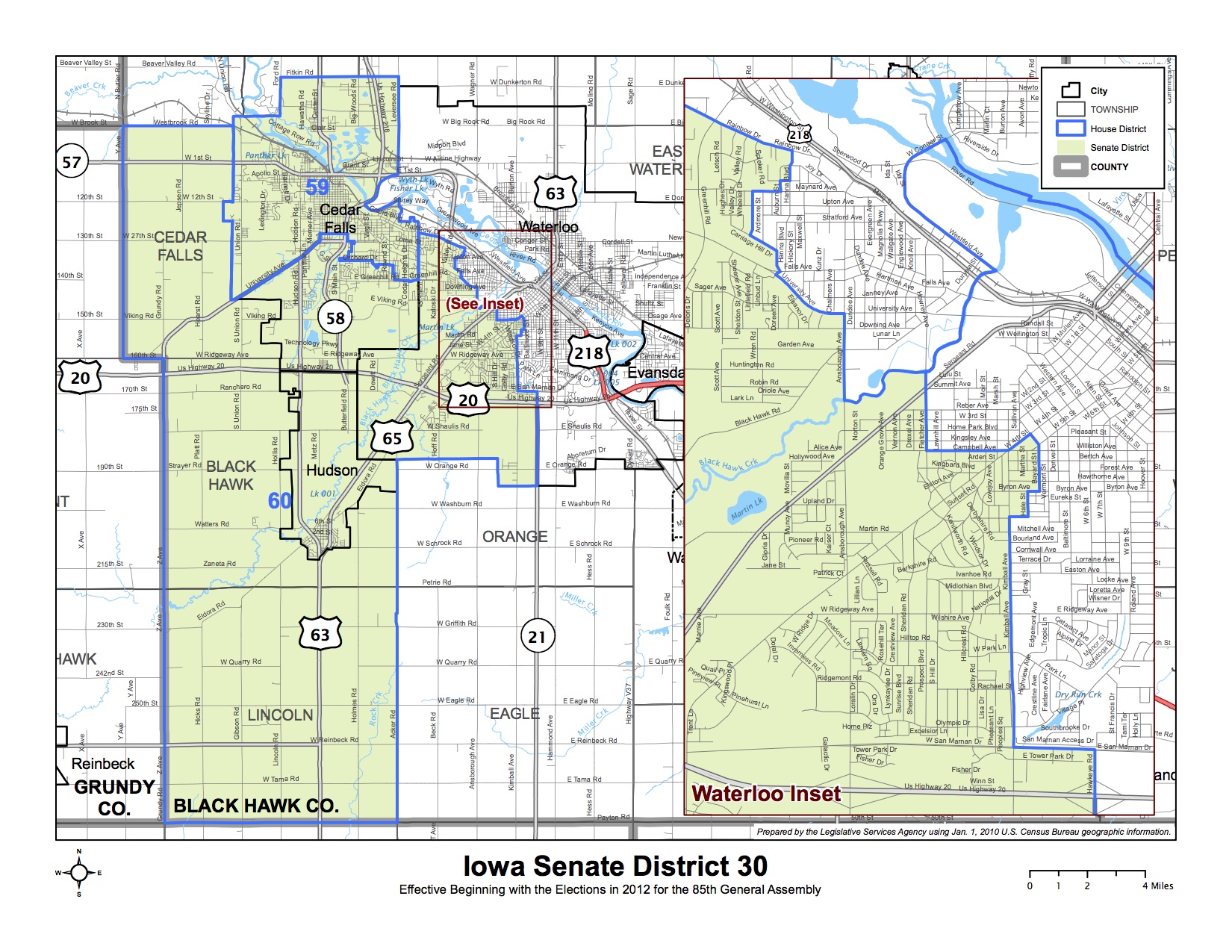 UPDATE: The American Wind Energy Association announced on February 22 that effective February 25, Danielson will
lead state policy advocacy efforts across Midwestern and Plains states. In his new role as AWEA's Central Region Director, Danielson will advocate for pro-growth policies to help wind power expand and meet strong consumer demand for clean energy. […]

"I'm proud to announce an exciting new chapter in my career, even as two wonderful chapters of public service come to a close," said Jeff Danielson. "Above all, I'd like to thank the citizens of Cedar Valley for allowing me to serve them for so many years in the State Senate and the Cedar Falls Fire Department."

"Though my work for the wind industry will not be public service in the traditional sense, it is very much in line with what I've strived for throughout my career," added Danielson. "I'll be working for a wonderful organization dedicated to growing a homegrown American energy source that strengthens the economy, improves the health of communities, and makes us safer as a nation."