Given how much money Democratic and Republican leaders are spending on advertising in the Iowa Senate races, it's unfortunate that so few of the television and radio commercials are available online. Both of the candidates in the battleground Senate district 30 (Cedar Falls/Waterloo) continue to set a good example for transparency, though.
The final tv ads supporting Senator Jeff Danielson and his Republican challenger Matt Reisetter are after the jump, along with other recent news from the campaign. Bleeding Heartland discussed these candidates' previous ads here and here.
Danielson started running this ad on local cable about three weeks ago:
My transcript:
I'm Jeff Danielson, your state senator, and I'm asking for your vote. While Matt Reisetter is talking about me, camping, and cameras, I'm focused on you. [Danielson speaks to the camera, with the Danielson Iowa Senate logo is on screen]

Good jobs, great schools, taking care of our senior citizens, [viewer sees photo of Danielson, words on screen Good Jobs Great Schools Taking Care of Seniors]

protecting health care choices for women, [photo of Danielson speaking to a woman, words on screen Protecting Health Care Choices]

and honoring the sacrifices of our veterans. So don't be fooled by the fear and false choices. [different photo of Danielson, words on screen Honoring Veterans]

Nothing Matt Reisetter says will change the fact that Iowa has a balanced budget with a surplus that's growing. [Danielson back on screen, speaking directly to camera; words on screen Fiscal Responsibility, "Record Iowa Surplus" Waterloo Cedar Falls Courier 10/18/2012]

Say no to the fear and yes to the future. [Danielson speaks to camera, words on screen Say YES to OUR FUTURE]
For the record, Reisetter's name is pronounced "REE-ster."
The line about "cameras" refers to a ridiculous claim from a Reisetter tv ad, which Bleeding Heartland discussed here.
When Danielson mentions "camping" and alludes to claims about the state budget, he's talking about Reisetter's first tv spot. The Republican claimed that Iowa lawmakers have been "spending money we don't have on things we don't need."
Most of Danielson's commercials have been positive, but about ten days ago, the Iowa Democratic Party started running this commercial on local television:
My transcript:
Female voice-over: Who does Matt Reisetter think he is? [photo of smiling Reisetter, words on screen MATT REISETTER]

Reisetter wants to make it harder for victims of domestic violence to get a divorce, trapping them with their abusers day after day. [Photo of woman, words on screen MATT REISETTER Opposes No-Fault Divorce for Victims, Des Moines Register, 1.13.11]

He'd even force a victim of incest or rape to carry her attacker's baby. photo of different woman, words on screen MATT REISETTER End Women's Right to Choose; source given in tiny print as Waterloo Courier, 2.17.12;

And, at a recent public form, Reisetter said he's open to banning many common forms of birth control, supporting a position that could even outlaw in-vitro fertilization. [photo of Reisetter smiling, words on screen MATT REISETTER Banning Birth Control, source given is Cedar Falls Patch, 10.10.12; photo shifts to woman looking at camera; words MATT REISETTER Banning Birth Control stay on screen, source changes on Christian Science Monitor, 11.6.11 story on personhood vote in Mississippi]

If Matt Reisetter wins, Iowa women have a lot to lose. [same photo of smiling Reisetter from beginning of ad; words on screen with MATT REISETTER Cedar Valley has A Lot to Lose; paid for by the Iowa Democratic Party. Authorized by Danielson for Senate.]
Reisetter's wife recorded the response ad, "A Worthy Man Protecting Privacy":
My transcript:
Jen Reisetter: You may have seen Senator Jeff Danielson's misleading ad about my husband Matt Reisetter. [Jen Reisetter speaks to camera; her name is on screen for a few second, then view shifts to a screen shot from the Iowa Democratic Party's ad]

Let me tell you, it's untrue and misleading. [Jen Reisetter is back on camera, with her name on the screen]

Matt is a great husband and father, and I'm offended at the suggestion that he would be anything less than a great voice for women. [She speaks to camera; viewer briefly sees the Reisetter's wedding photo and pictures of their children]

[chuckles] Does Senator Danielson really think Matt wants to ban birth control? Matt knows that contraception is a private matter between a woman and her doctor, and he will protect a woman's privacy. [She continues to speak to the camera, words Protect Our Privacy appear on screen]

Let's send a worth man, Matt Reisetter, to the Iowa Senate. [Closer view of Jen Reisetter's face as she speaks to the camera; Reisetter campaign logo is on screen]
That is a classic example of a "non-response."
Anti-choice Republicans always insist that they're not against birth control, but Reisetter does support "personhood" legislation, a constitutional amendment to define life as beginning at conception. Making "personhood" the law in Iowa could lead to a ban on some birth control–namely, methods designed to prevent implantation of fertilized eggs (hormonal pills and intra-uterine devices). When Mississippi considered a personhood amendment last year, even some conservatives expressed concern about possibly banning birth control as well as in-vitro fertilization techniques.
Reisetter went negative in his closing tv ad, called "When You're Trusted."
My transcript:
Female voice-over: State senators like Senator Danielson cut themselves a special deal where they don't pay anything for their health insurance. And guess who picks up the bill? Taxpayers. [Photo of Danielson labeled Senator Danielson against backdrop of state capitol, dollar sign appears on screen with a cash register sound, then words FREE Health Insurance Paid for by Taxpayers]

Reisetter: When you're trusted to spend someone else's money, like tax dollars, you gotta be sure you treat yourself like everyone else. [Reisetter speaks to camera, campaign logo on screen]

I'll voluntarily pay 20 percent of my health insurance premium. Because you can't represent the people if you put yourself above the people. [closer view as Reisetter speaks to camera, campaign logo on screen]

Female voice-over: Matt Reisetter. He's on our side. [footage of Reisetter working at a desk; paid for by the Republican Party of Iowa. Approved by Matt Reisetter for Iowa.]
Although the narrator's voice is grating, I think this ad will resonate with a lot of people. Republican candidates have used similar rhetoric in some other Senate races.
Reisetter's campaign threw one more curveball at Danielson recently, filing an ethics complaint over a $100 donation that was improperly record on the incumbent's July disclosure form.
The complaint was submitted to the Iowa Ethics and Campaign Disclosure Board on Monday [October 22]. It alleges that Danielson's campaign accepted a $100 donation in June from KJ's Ventures Inc., a Nebraska corporation. Corporations are barred from contributing to candidates in Iowa.

While the contribution was reported in Danielson's July report, Reisetter's campaign waited until October to file the report. Justin Bartlett, Reisetter's campaign manager, indicated the campaign wanted to wait until the October reports were out to see if Danielson's campaign had returned the contribution before filing a complaint. Danielson said his campaign was never notified about the existence of a corporate contribution before the ethics complaint was filed.
We know why they waited until October to file the ethics complaint: bad publicity for the incumbent close to election day. This mistake isn't going anywhere as an "ethics" matter. Danielson's campaign will simply amend the report to show that the $100 donation came from the corporation's chief executive officer. But in a close race, even a few votes can make the difference.
Both political parties have spent heavily in Senate district 30, while Reisetter's former boss Bob Vander Plaats has done his part by keeping the FAMiLY Leader far away from this district.
I have no idea who will win tonight, but if Danielson is elected to a third term, he can credit the Democrats' early voting program. From President Obama's campaign down, Iowa Democrats have pushed early voting hard. College students and staff at the University of Northern Iowa have had several opportunities to vote at satellite locations on campus. First Lady Michelle Obama headlined a rally in Cedar Falls right after the early voting window opened in Iowa.
Reisetter has been promising to "fund UNI fairly," which doesn't square with Republican lawmakers' position on higher education funding. UNI college Democrats have put up the following image as a poster around campus. The graphic first appeared in UNI's student newspaper in February 2012: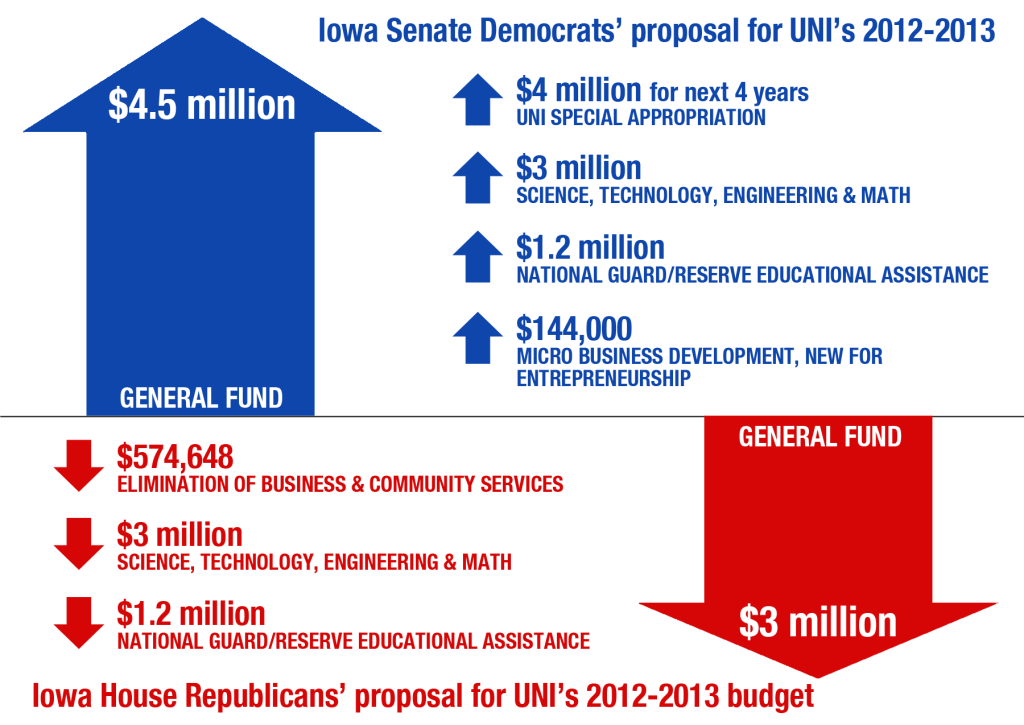 Any comments about the campaign in Senate district 30 are welcome in this thread.
P.S. Iowa Voters for Companion Animals named Danielson "Dogs' Best Friend."
"Senator Danielson is an animal lover, who has worked closely with Iowans on companion-animal friendly legislation. He offers a strong voice for furry friends, who can't speak up for themselves," said Mary LaHay, president of Iowa Voters for Companion Animals.

Sen. Danielson helped the Legislature approved the "Puppy Mill Bill" in 2010, which established stronger oversight and enforcement of animal welfare laws at USDA-licensed commercial dog breeding facilities in Iowa.

Iowa Voters for Companion Animals works for the humane and responsible treatment of companion animals through grassroots advocacy, increasing public awareness of animal welfare and encouraging proper enforcement of laws. According to the organization, Iowa ranks second in the nation in puppy mills with approximately 300 kennels housing at least 23,000 adult dogs.