A Republican challenger to three-term State Senator Jeff Danielson in Iowa Senate district 30 emerged last week. Bonnie Sadler is on Facebook here and on Twitter here. Danielson has a campaign website as well as a Facebook page and Twitter feed.
Danielson was the Iowa legislative incumbent re-elected by the narrowest margin in 2008, beating Walt Rogers by just 22 votes out of more than 32,000 cast. Although Danielson won his third term by a somewhat larger margin in 2012, Republicans are still likely to target this race as one of their top two or three pickup opportunities. The Republican State Leadership Committee has committed to play for the Iowa Senate majority in 2016. Democrats currently control the chamber by 26 votes to 24.
I enclose below a map of Senate district 30, a review of its voter registration numbers and recent voting history, background on both candidates, and first thoughts on what should be a central issue during next year's campaign.

Iowa Senate district 30 covers Cedar Falls, Hudson, parts of Waterloo, and some rural precincts in Black Hawk County: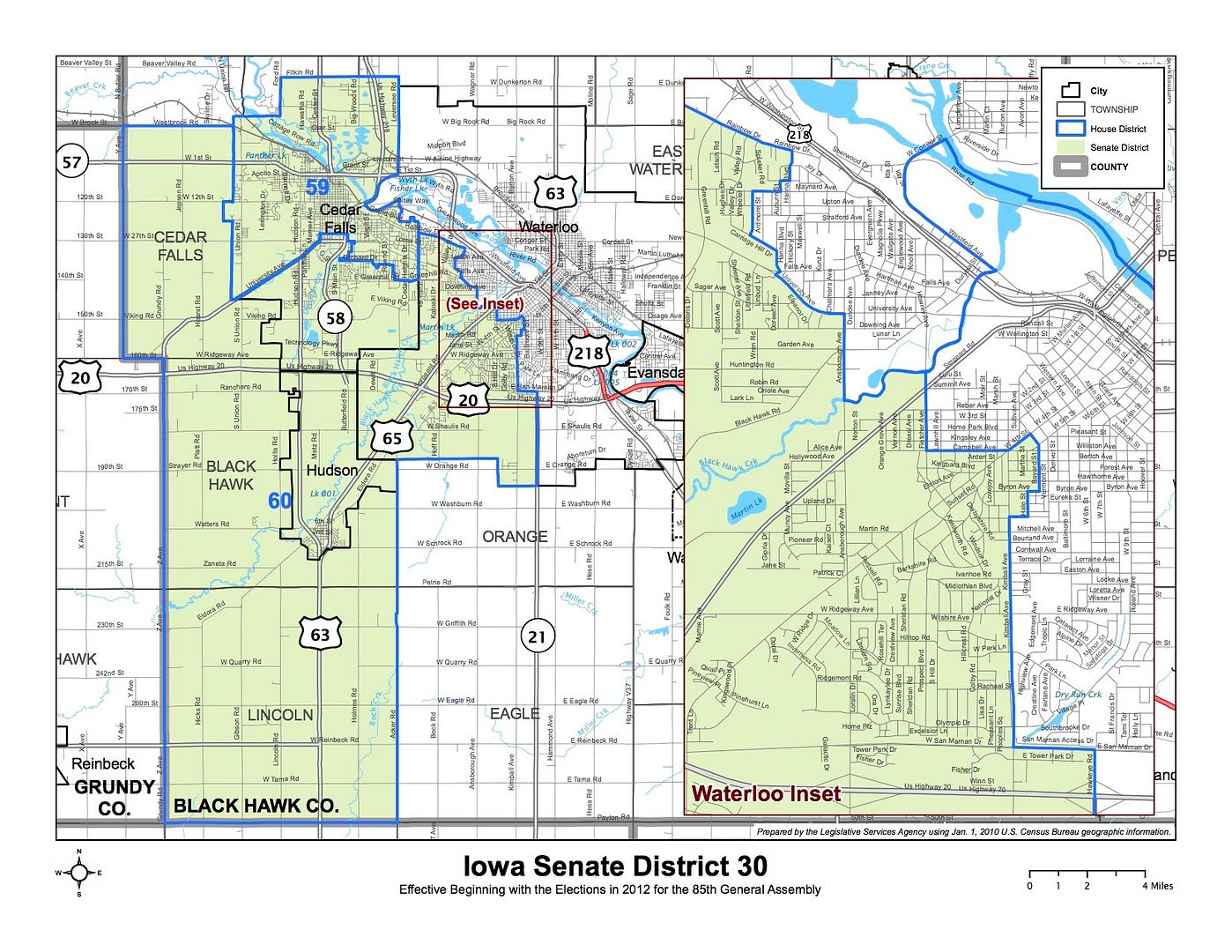 According to the latest figures from the Iowa Secretary of State's Office, Senate district 30 contains 11,147 active registered Democrats, 11,995 Republicans, and 15,818 no-party voters. That's a larger registration advantage than the GOP had going into election day 2012. In fact, Danielson's district was the most Republican-leaning Iowa Senate district held by a Democrat four years ago. GOP leaders had high hopes, since Danielson had barely escaped with his political life in 2008 despite a voter registration advantage of nearly 1,000 in what was then Senate district 10.
Danielson likely benefited from President Barack Obama's coattails. The president outpolled Mitt Romney in Senate district 30 by about 2,500 votes; his 53.08 percent to 45.72 percent margin was a couple of points larger than his statewide edge over Romney.
Meanwhile, Danielson was re-elected to a third term by 681 votes over Matt Reisetter, one of the hardest-working Iowa GOP challengers during that election cycle. A former college ministry director who had worked for Bob Vander Plaats' FAMiLY Leader organization and its predecessor the Iowa Family Policy Center, Reisetter managed to raise more money for this race than either the Iowa Senate Minority leader at the time (Jerry Behn, a 16-year veteran of statehouse politics) or the Iowa Senate minority whip (Brad Zaun, who showed no interest in raising money from his wealthy constituents in Urbandale).
Both parties spent substantially on television ads for Danielson's 2012 race; see videos and transcripts of those commercials here, here, and here. One of Reisetter's tv ads featured what I still consider "one of the most ludicrous interpretations of an Iowa legislative vote" since the infamous (yet non-existent) "heated sidewalks" of 2010. On the plus side, both Danielson and Reisetter uploaded all of their campaign ads to YouTube, which was not the norm for Iowa legislative races four years ago.
Voters in Senate district 30 favored Joni Ernst in the 2014 U.S. Senate race, but only by 49.90 percent to 48.10 percent for Bruce Braley. Ernst defeated Braley by 8.5 points statewide.
Consequently, I wouldn't read too much into the slight voter registration advantage for the GOP in Senate district 30. If locals continue to vote a little more Democratic than the state as a whole, Danielson should be well-positioned to win a fourth term, barring a collapse in the "coordinated campaign" to turn out Democratic voters. One big question mark is whether likely Democratic presidential nominee Hillary Clinton will be as popular here as Obama was in the last two presidential elections. Black Hawk County was a stronghold for Obama in the 2008 Iowa caucuses.
Education funding should be a highly salient issue for voters here, as the University of Northern Iowa is a dominating presence in Cedar Falls. Even Danielson's last Republican challenger promised to "fund UNI fairly." Decades of polling data have shown that as a general rule, American voters trust Democrats more on education policy. Specifically, Iowa Senate Democrats have pushed for more school funding at all levels--from pre-K to state universities--than have Republicans during the last five years of divided control in the state legislature. Governor Terry Branstad just vetoed $1.1 million in supplemental funding for UNI in July, and his veto of nearly $56 million in one-time funds for K-12 schools probably won't play well with voters here either.
This graphic, which first appeared in UNI's student newspaper in February 2012, became a poster displayed around campus during the last few weeks before that year's general election. Bank on an updated version appearing in public spaces next fall.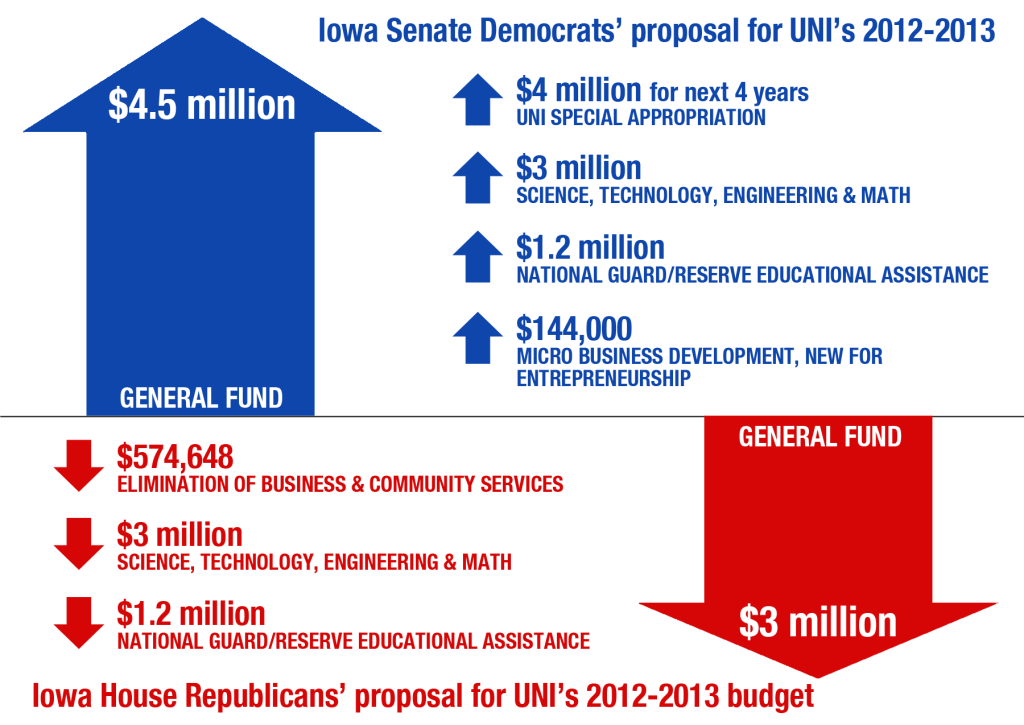 Danielson chairs the Iowa Senate State Government Committee and is vice chair of the Appropriations and Veterans Affairs committees but plays up his UNI ties more than his legislative work in his official bio. This version comes from the senator's campaign website; similar points will likely reach voters through direct mail or paid advertising next year.
I was born in Waterloo and attended local schools in Cedar Falls and Waterloo.

After graduation from Central High in Waterloo in 1988, I joined the Navy. Kim and I first met at Edison Jr. High and later married, making us a Navy family.

I served from 1988 to 1994, completing deployments to the western Pacific and the Persian Gulf, earning the Navy Good Conduct, Armed Forces Expeditionary, Southwest Asia and National Defense Service medals. I left the Navy as a Petty Officer 2nd Class to come home with Kim and our son Brendan.

Back home, while working and raising a family, I utilized the G.I. Bill to earn an Associate of Arts from Hawkeye Community College, a Bachelors of Arts in Public Administration (Summa Cum Laude), a minor in Leadership Studies and a Masters of Public Policy from the University of Northern Iowa. Throughout my college career, I was a Golden Key International Honor Society member and earned UNI's Purple & Old Gold award for meritorious scholarship as the highest grade point (3.96) graduate in the Public Administration program.

Being able to serve my community as a fire fighter is a privilege I do not take for granted. I began working as a fire fighter for the City of Cedar Falls while completing my graduate degree at the University of Northern Iowa and continue to work as a fire fighter while serving in the Iowa Senate.

I returned to UNI in 2006, this time to teach future generations as Professor of Public Policy. My family and I are strong supporters and fans of UNI athletics and activities and try to attend as many games/events as possible. I try to continue serving our community by volunteering for several community boards, commissions & organizations, including:

Iowa Department of Transportation Commission
City of Waterloo's Planning, Programming and Zoning Commission
Hawkeye chapter of the American Red Cross
UNI Leadership Advisory Board
Black Hawk Economic Development, Inc.
Lifetime member of the Cedar Falls Amvets Post #49
UNI Alumni Association
Waterloo Exchange Club
Cedar Falls Firefighters Association
Iowa Firemen's Association
Waterloo Elks Lodge #290
International Association of Fire Fighters
Community/Wellness
As a fire fighter and State Senator, I feel a strong responsibility to serve the people of the Cedar Valley to the best of my ability and remain active in our community. I enjoy attending community events like Iowa Irish Fest, Hudson Days, Sturgis Falls, My Waterloo Days and countless other events that highlight what makes our communities great.

When I am not at the fire house, I also enjoy staying physically fit and active. I enjoy playing golf at any of the quality public golf courses around the Cedar Valley and taking my dog, Coco (a 100lb chocolate lab), for walks on one of the many trails or parks around the Cedar Valley. As a former Navy man, I also exercise and try to take responsibility for my own personal health and wellness.
Sadler has worked mostly in the health care field and is emphasizing related issues when introducing herself to voters. From the November 18 press release unveiling her candidacy:
Sadler, a mother of two, was raised on a farm near Dunkerton. After graduating from Dunkerton High School and later Upper Iowa University, she began her career in the health care industry. She is Vice President of Business Development and a Shareholder at NuCara Pharmacy and Home Medical, a company she has been with for the past 17 years.

Health care is an issue that concerns Sadler, and helped play a role in her decision to run for the Senate seat.

"It is important Iowans receive quality outcomes as their health care costs continue to grow," Sadler said. "I have spent nearly two decades in the health care industry and believe my life experiences can be advantageous serving you in the Iowa Senate."

Sadler was recently appointed to the Black Hawk County Board of Health. She is active in the community, serving as an Ambassador with the Greater Cedar Valley Alliance & Chamber and as board president of Big Brothers Big Sisters of Northeast Iowa. She is past president of the Iowa Alliance in Home Care.

Education and responsible budgeting practices also are important issues to Sadler as she makes her Senate District 30 run.

"It is imperative the state manages its budget responsibly, much like Iowa families do on a daily basis," Sadler said. "As a mother and business owner, I understand the importance of not spending more money that we take in and prioritizing our needs. This commonsense approach is one I will apply to our state budget when trusted with the hard-earned tax dollars of my fellow Iowans."

Senate Republican Leader Bill Dix, R-Shell Rock, said Bonnie's expertise in healthcare and business will benefit her fellow Iowans in the State Senate.
"Bonnie's expertise in healthcare will serve Iowans well in the State Senate. Bonnie will work to help Iowa become the healthiest state in the nation, while making sure Iowans have quality outcomes from their healthcare. Bonnie will treat the state budget like she does her business and personal budgets – by using responsible budgeting practices to make sure our state is in a healthy financial position for the future," Senator Dix said.
Christinia Crippes reported on Sadler's candidacy for the Waterloo-Cedar Falls Courier on November 20. Excerpts:
"I grew up here. I'm committed here, and I would just like to see things maybe just be a little bit better, so improve a little bit, whether it comes to health care, education, energy. I just think there's a lot of things that we can improve on," said Sadler. [...]

"I would like to see that we have accountability, quality outcomes as those (health care) costs continue to rise," Sadler said. "I think that it's very important that we work toward becoming the healthiest state in the nation."
Obviously, no one's against making Iowa the healthiest state. Sadler hasn't yet explained how she would take us toward that goal as a potential member of a majority Republican caucus in the Senate. I look forward to hearing more details on that point. Dix and his GOP colleagues opposed the health and human services budget bill that established Iowa's Medicaid expansion compromise in 2013. Does Sadler believe Iowans would be healthier if Medicaid covered tens of thousands fewer people in our state? How does she feel about Branstad's plan to privatize Medicaid? The shift to managed care for more than half a million Medicaid recipients is shaping up to be a train wreck, which could be a drag on Sadler and other GOP candidates by this time next year.
Republicans will have plenty of money to spend in their targeted Iowa Senate races. They need a net gain of two seats to win the majority. After the Muscatine-based Senate district 46, where Republicans have a strong challenger to State Senator Chris Brase in former State Representative Mark Lofgren, and Senate district 26, where Waylon Brown is likely to face State Senator Mary Jo Wilhelm, Senate district 30 is probably their best hope. Danielson should take nothing for granted. That said, Sadler appears to be a weaker challenger than Reisetter was here four years ago.
Any comments about the Senate district 30 race are welcome in this thread.
UPDATE: Reader Justin Bartlett notes that Braley was living in Danielson's district at the time of his U.S. Senate race against Ernst, which could explain why her margin of victory was smaller in the Cedar Falls/Waterloo area. Fair point. Braley was also on the ballot (as the incumbent in Iowa's first Congressional district) when the Senate district electorate skewed a bit Democratic during the last presidential election.