Both Democratic incumbent Jeff Danielson and Republican challenger Matt Reisetter have started advertising on television in what is expected to be one of Iowa's most competitive legislative races: Iowa Senate district 30. Both videos and transcripts are after the jump, along with a district map and background on both candidates.
Iowa Senate district 30 covers Cedar Falls, parts of Waterloo, Hudson, and some rural areas in Black Hawk County.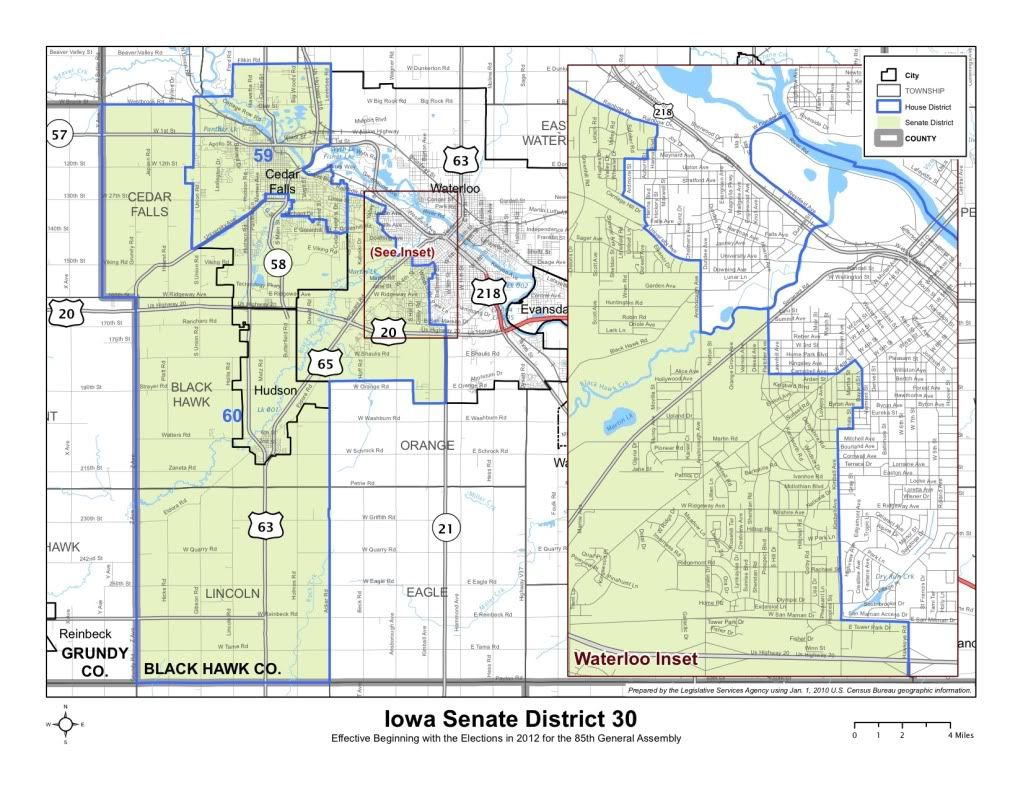 As of September 2012, Iowa Senate district 30 contained 12,419 registered Democrats, 13,195 Republicans, and 16,711 no-party voters according to the Iowa Secretary of State's office (pdf). As John Deeth pointed out, by the registration numbers Jeff Danielson has the most difficult district to defend among all of the Democratic Senate incumbents on the ballot this year. (Redistricting was more unkind to Senators Jack Kibbie and Tom Rielly, but both retired rather than seek re-election in overwhelmingly Republican districts.)
Danielson won his first term in the Iowa Senate in 2004 by a margin of about 2,400 votes (pdf), but he barely won re-election in 2008, beating Republican Walt Rogers by just 22 votes after a recount. Democratic House candidates in both halves of Danielson's old district won by more comfortable margins in 2008. One of them, Doris Kelley, then lost to Rogers in November 2010.
Many Iowa politics-watchers expected a Danielson-Rogers rematch this year, but Rogers is seeking a second term in the Iowa House instead. He faces Waterloo City Council member Bob Greenwood in the new House district 60. In the other half of Danielson's Senate district, House district 59, Democratic State Representative Bob Kressig faces veterinarian and Cedar Falls school board member Jim Kenyon.
Danielson's campaign website includes this official bio.
Iowa State Senator

I work for you, plain and simple. Much of the manufactured drama of our day is designed to divide us, rather than unite us around a common purpose of prosperity for all. Being personally responsible, creating opportunity for all and having a deep sense of community are my guiding values as your Senator. Treating people decent, doing my homework and solving problems is my focus.

Firefighting, Family & Fun

I'm a Cedar Valley kid, through and through. That's why I mean it when I say the Cedar Valley is the best place in Iowa to live, work and play. I know, I've lived it. I was born in Waterloo and attended local schools in Cedar Falls and Waterloo.

After graduation from Central High in Waterloo in 1988, I joined the Navy. Kim and I first met at Edison Jr. High and later married, making us a Navy family.

I served from 1988 to 1994, completing deployments to the western Pacific and the Persian Gulf, earning the Navy Good Conduct, Armed Forces Expeditionary, Southwest Asia and National Defense Service medals. I left the Navy as a Petty Officer 2nd Class to come home with Kim and our son Brendan.

Back home, while working and raising a family, I utilized the G.I. Bill to earn an Associate of Arts from Hawkeye Community College, a Bachelors of Arts in Public Administration (Summa Cum Laude), a minor in Leadership Studies and a Masters of Public Policy from the University of Northern Iowa. Throughout my college career, I was a Golden Key International Honor Society member and earned UNI's Purple & Old Gold award for meritorious scholarship as the highest grade point (3.96) graduate in the Public Administration program.

Being able to serve my community as a fire fighter is a privilege I do not take for granted. I began working as a fire fighter for the City of Cedar Falls while completing my graduate degree at the University of Northern Iowa and continue to work as a fire fighter while serving in the Iowa Senate.

I returned to UNI in 2006, this time to teach future generations as Professor of Public Policy. My family and I are strong supporters and fans of UNI athletics and activities and try to attend as many games/events as possible. I try to continue serving our community by volunteering for several community boards, commissions & organizations, including:

* Iowa Department of Transportation Commission

* City of Waterloo's Planning, Programming and Zoning Commission

* Hawkeye chapter of the American Red Cross

* UNI Leadership Advisory Board

* Black Hawk Economic Development, Inc.

* Lifetime member of the Cedar Falls Amvets Post #49

* UNI Alumni Association

* Waterloo Exchange Club

* Cedar Falls Firefighters Association

* Iowa Firemen's Association

* Waterloo Elks Lodge #290

* International Association of Fire Fighters

Community/Wellness

As a fire fighter and State Senator, I feel a strong responsibility to serve the people of the Cedar Valley to the best of my ability and remain active in our community. I enjoy attending community events like Iowa Irish Fest, Hudson Days, Sturgis Falls, My Waterloo Days and countless other events that highlight what makes our communities great.

When I am not at the fire house, I also enjoy staying physically fit and active. I enjoy playing golf at any of the quality public golf courses around the Cedar Valley and taking my dog, Coco (a 100lb chocolate lab), for walks on one of the many trails or parks around the Cedar Valley. As a former Navy man, I also exercise and try to take responsibility for my own personal health and wellness. It is often difficult to find the time, but I do think it is important that we all take time to take care of ourselves physically, and have worked hard to ensure our community has the trails, work out facilities and other quality of life amenities.
Danielson has worked on a wide range of issues in the legislature. As chair of the Iowa Senate State Government Committee, he was the lead advocate of Iowa's 2010 campaign finance disclosure law, passed in response to the U.S. Supreme Court's Citizens United ruling. Danielson supports further restrictions on corporate political spending. He has also been the main proponent of legalizing online poker in Iowa, which hasn't gone beyond the study phase yet. During this year's legislative session, Danielson led efforts to secure state funding for the Iowa Food Bank Association, although Governor Terry Branstad vetoed that appropriation. The "ideas" page of Danielson's website contains general principles and priorities rather than specifics about what legislation Danielson would work on if he wins a third term.
Nonpartisanship and working together are the themes of Danielson's first campaign commercial of the year, which he announced yesterday. This 30-second spot is running on cable television in Waterloo/Cedar Falls.
My transcript:
Female voice-over: Senator Jeff Danielson believes that the Cedar Valley is stronger together. [Spot opens with campaign logo, Danielson Iowa Senate, shifting to photo of Danielson with urban backdrop.]

Stronger together means better jobs and careers, health care access, and quality education. [photo of Danielson, words on screen STRONGER TOGETHER, then BETTER JOBS; different photo of Danielson talking with woman, words on screen QUALITY HEALTH CARE, then WORLD CLASS EDUCATION]

It means a balanced budget that expects results and invests in our future. [photo of Danielson sitting at desk, flag in background, words on screen FISCAL RESPONSIBILITY, then INVESTING IN OUR FUTURE]

We are stronger together when we put our politics aside and work together, Republican, Democrats, and independents. [photo of Danielson with main street shops in background, words on screen STRONGER TOGETHER, then WORKING TOGETHER]

Jeff Danielson will lead the Cedar Valley by ensuring we are stronger together. [photo of Danielson taking the oath of office in the Senate chamber, words on screen LEADING THE CEDAR VALLEY, then STRONGER TOGETHER]

Paid for by Danielson for Senate. [Danielson campaign logo on screen again, also words STRONGER TOGETHER and website www.JeffDanielson.org ]
Nothing unusual about this commercial. Iowa lawmakers tend to avoid mentioning their party identification in their advertising. Quality education, health care access, and a balanced budget that invests in our future are themes in campaign materials for other Democratic incumbents and challengers.
To my knowledge, Danielson is the first incumbent Iowa legislator to start advertising on television this year.
Danielson's opponent, Matt Reisetter, is one of the most active and best-financed Iowa Republican challengers. He officially kicked off his campaign in February and became the top fundraiser among Iowa Senate Republican candidates during the first half of this year, pulling in more than $44,000 according to his July campaign finance report (pdf). Amazingly, Reisetter raised more than either Iowa Senate Minority Leader Jerry Behn, who has served in the legislature for 16 years, or Iowa Senate Minority Whip Brad Zaun, who represents wealthy and heavily Republican precincts in Urbandale. The Iowa Republican blogger Craig Robinson highly praised Reisetter's fundraising strategy. It's important for candidates not to be afraid to ask for money by mail, phone, or in person. Having worked closely with Bob Vander Plaats and Chuck Hurley at the Iowa Family Policy Center and its successor, the FAMiLY Leader, surely helped open the door for Reisetter to many Iowa Republican donors.
Danielson raised less than half as much as Reisetter during the first half of 2012 but went into the general election campaign with more than $83,000 cash on hand, nearly double Reisetter's total.
Reisetter's report listed quite a few $1,000 donors, but his largest campaign contribution was $10,000 from Foster Freiss, better known as the moneybags behind the super-PAC supporting Rick Santorum for president. (Danielson's campaign sent out a fundraising e-mail blast highlighting Freiss' support for Reisetter and Freiss' famous comment, "Back in my day, the gals put Aspirin between their knees.")
Reisetter was the only challenger to an Iowa Democratic legislator to be endorsed by the Iowa Industry PAC this year. Affiliated with the Iowa Association of Business and Industry, the Iowa Industry PAC typically endorses Republican incumbents and GOP candidates in open-seat races.
Judging from this page on the Iowa Senate Republicans website, the Iowa Farm Bureau appears to have left Reisetter off its long list of GOP "friends of agriculture" candidates. I would like to know the story behind that snub. At least one other Republican challenger to a Democratic Senate incumbent, Jane Jech, did receive the Iowa Farm Bureau Federation's endorsement. (Jech is running against one-term Senator Steve Sodders in Iowa Senate district 36.)
Reisetter doesn't play up his social conservative side on his campaign website (sophisticated by Iowa legislator standards). The issues page includes only brief blurbs about jobs, limited government, and education. Here's the candidate's official bio:
Matt Reisetter ("REE-ster"…rhymes with "Easter") was born at the former Schoitz Memorial Hospital on October 25, 1975 and raised in Cedar Falls, son of a plumber and a public school teacher turned at-home mom turned public school teacher again.

Among other things, Tom and Jan Reisetter raised Matt to trust God, take responsibility for his own actions, and work hard. They also modeled for their three kids the value of serving others through their involvement in the church and in the community. In particular, Matt credits much of his desire to serve as an elected office holder to his dad's example – Tom was elected to the Cedar Falls School Board on various occasions and served there for more than 20 years.

Growing up, Matt attended Valley Park Elementary School, Peet Junior High School, and in 1994, graduated from Cedar Falls High School, where he was active with various extra curricular activities earning, among other things, his Eagle Scout Award. He went on to attend the University of Northern Iowa where he earned a BA in Science in 1998. Early on in college, seemingly headed toward medical school, Matt thought he wanted to be a surgeon, but as his college years evolved, he discovered a deep passion for ministry and politics – "the two things, ironically," Matt jokes, "that you're not supposed to talk about with people!"

In 1999, after a year of graduate school in Minnesota, Matt moved back to Cedar Falls, became College Ministry Director at Nazareth Church, and married Jen, who he had fallen in love with at UNI. Their first son, Mason, came along in 2004, followed by Jillian in 2007, and a second daughter, Jentry, in 2010.

Matt ran for a seat in the Iowa House in 2006, then went on to work as Director of Development for The Family Leader and its predecessor organization, the Iowa Family Policy Center. Reisetter left The Family Leader at the beginning of 2012; he is now the owner of consulting firm SDG Solutions.

Matt, with the full support of Jen and the kids, is excited to jump into the 2012 campaign. His authenticity, his capacity to listen and learn, and his ability to connect with a wide variety of people will make him Senator that the people of western Black Hawk County can be proud of; a Senator who will represent all people, regardless of political persuasion, with dignity, integrity, honor, and respect.

Get signed up for email updates and/or get connected with the campaign on Facebook and Twitter, so you can stay tuned on the most recent developments as the the race unfolds!
Reisetter stressed fiscal conservatism in his opening television commercial, which he announced on Facebook September 7.
My transcript:
Reisetter: When I was a young man working on my Eagle Scout award, I was taught to always leave my campsite better than I found it. [Reisetter campaign logo, Matt Reisetter Iowa Senate on screen next to candidate, speaking directly to the camera in an outdoor setting]

Don't you think we need to do the same thing today? I'm Matt Reisetter. [close-up of Reisetter, still speaking to camera]

Our politicians can't keep spending money we don't have on things we don't need. [Footage of Reisetter sitting at a desk, signing some papers]

Send me to the Iowa Senate and I'll protect the family budget, for your children, grandchildren, and for my three kids. [Reisetter speaks to camera again, then footage of candidate with family at the kitchen table; words on screen Matt Reisetter STOP OUT OF CONTROL SPENDING, shifts to PROTECT THE FAMILY BUDGET, then footage of Reisetter in big armchair, reading book to kids]

Female voice-over: Matt Reisetter–a strong leader for Iowa's future. [footage of Reisetter and his wife holding hands, walking outdoors, then campaign logo appears on screen]
In terms of production values and overall message, the Reisetter ad is fine but nothing special, like Danielson's. I get tired of Republicans pretending that Iowa needs to be protected from "out of control spending," when we've had budget surpluses with full state reserve funds the last couple of years. However, that message probably resonates with many voters who wrongly believe that state legislators have been "spending money we don't have on things we don't need."
Note: even a hard-core Vander Plaats guy like Reisetter recognizes that running against abortion and gay marriage would be a loser strategy in a swing district. No doubt social conservative groups from Iowa and out of state will actively support Reisetter, though. By the same token, progressive groups backing Democratic legislative candidates are likely to target Senate district 30. The race could be the one that determines control of the Iowa Senate for the next two years. The Conservative Reader blogger Justin Arnold considers Senate district 30 one of five that could go either way. I don't agree entirely with Arnold's assessment of the competitive Senate races, but I do see district 30 as a tossup.
I expect Danielson and Reisetter to stay mostly positive in their campaign communication, letting other groups fund most of the attack ads and negative direct mail.
Strong GOTV by Barack Obama's campaign in Waterloo and Cedar Falls most likely saved Danielson's political career in 2008. The Iowa Democratic Party's jump on early voting is probably helping the incumbent again. A representative of the Black Hawk County Auditor's elections office told me today that as of September 11, the office had received 7,179 absentee ballot request forms: 5,064 from registered Democrats, 384 from Republicans, and 1,731 from no-party voters. I do not know what proportion of those absentee ballot requests came from voters living in Iowa Senate district 30.
Any relevant thoughts are welcome in this thread. For Bleeding Heartland users who enjoy social media, Reisetter is @mattforiowa on Twitter and on Facebook here. Danielson is @JeffDanielson on Twitter and on Facebook here.