Democratic delegates in Iowa Senate district 30 have nominated Cedar Falls school board member Eric Giddens for the March 19 special election to replace State Senator Jeff Danielson.

Four Democrats had actively campaigned for the nomination: Giddens, University of Northern Iowa professor Amy Petersen, former UAW local leader Tom Ralston, and fellow Cedar Falls school board member Sasha Wohlpart. John Berry announced his candidacy on February 22 but did not attend the convention the next day, Thomas Nelson reported for the Waterloo/Cedar Falls Courier.
Giddens led on the first and second ballots and received more than 50 percent support on the third ballot, according to Nelson. (The math for a special convention is somewhat complicated, because delegates' votes do not all count the same. Rather, those representing precincts that voted more Democratic in recent elections carry more weight.) A source who was present told Bleeding Heartland that men substantially outnumbered women among the voting delegates.
Local Republicans will hold a convention for February 25; former State Representative Walt Rogers is a lock for the nomination. UPDATE: Rogers was unchallenged at the district convention.
Fred Perryman plans to file for the special election as a Libertarian. He was the party's nominee for state auditor in 2018.
Senate district 30 covers Cedar Falls, part of Waterloo, Hudson, and some rural precincts in Black Hawk County.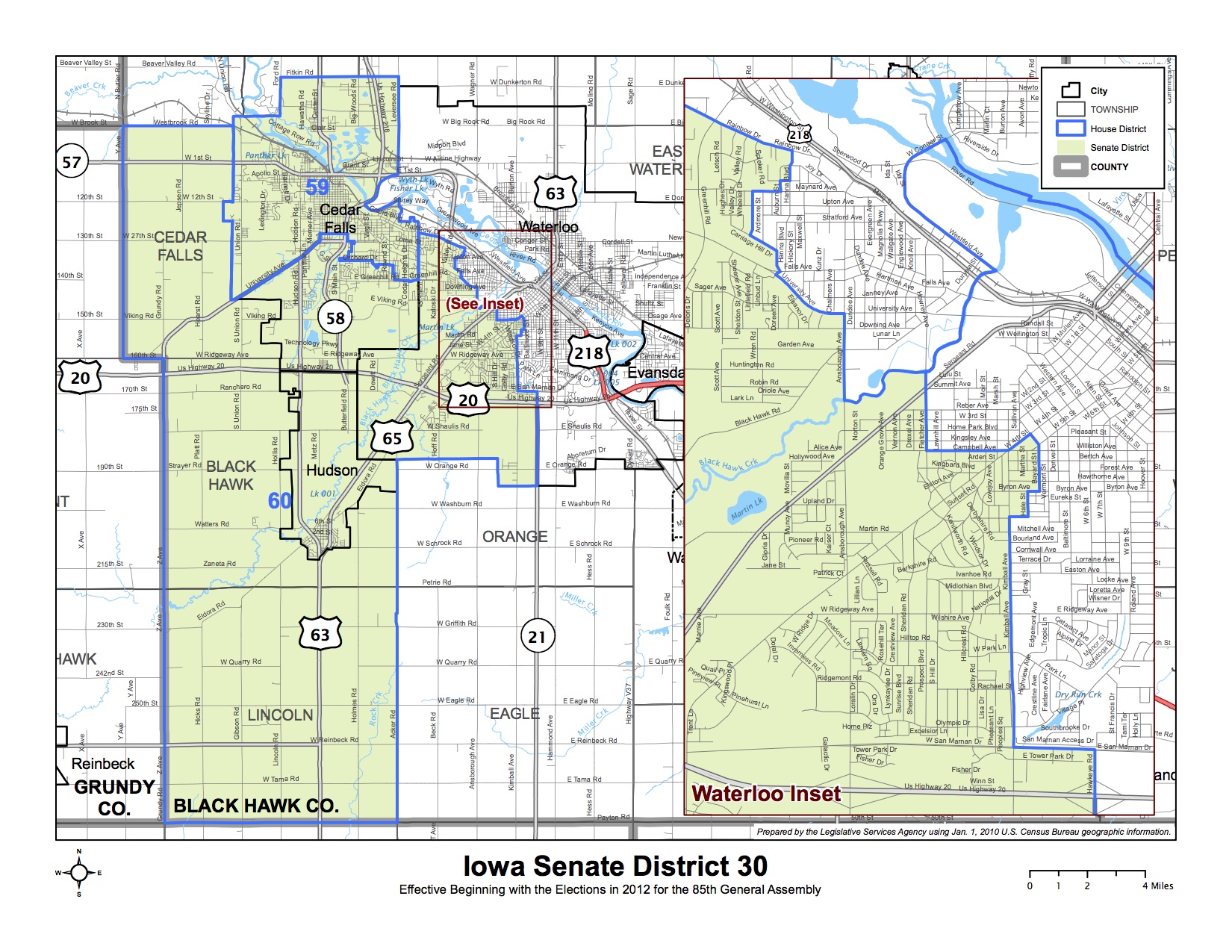 The district has a slight Democratic lean, with 13,333 active registered Democrats, 12,488 Republicans, and 15,986 no-party voters as of February 1. Iowans here supported Hillary Clinton over Donald Trump by 48.4 percent to 45.0 percent. Fred Hubbell carried the district by 53 percent to 45 percent, Iowa Starting Line calculated--nearly identical to Barack Obama's 53.1 percent to 45.7 percent margin over Mitt Romney in 2012.
Rogers enters the short campaign with higher name recognition, having represented Iowa House district 60 (half of this state Senate district) for eight years. His main talking point is that he can be a "strong advocate" for constituents as a member of the party in power. Depending on the outcome of this election, the Republican majority in the Iowa Senate will be either 32-18 or 33-17.
On the other hand, Giddens has strong connections to the University of Northern Iowa, a huge presence in the community. In addition, many successful state legislative candidates in both parties have prior experience on school boards. Joy Corning led the Cedar Falls school board before representing this area in the Iowa Senate during the 1980s.
Last weekend, Giddens provided this bio to Black Hawk County Democrats:
Eric Giddens is a Program Manager at the Center for Energy and Environmental Education (CEEE) at UNI and is a member of the Cedar Falls School Board. At the CEEE, Eric developed and manages the Community Energy & Climate Action Planning Program which helps local governments in Iowa develop plans to reduce greenhouse emissions in their communities. He also developed and manages a program called Go Solar to assist residential, business, and farm property owners with investing in solar energy systems. In addition to these primary job responsibilities at UNI, Eric is involved in the Aldo Leopold Distinguished Lecture Series Planning Committee, the Imagining America Steering Committee, the Dry Run Creek Advisory Board, and he is an alumnus of the Provost's Leadership Academy. On the Cedar Falls School Board, Eric is on the Facilities Design and District Wellness Committees, and he the district's delegate to the Black Hawk County Conference Board. In the Cedar Valley community, Eric is also active in the Cedar Falls Food Co-op's Investment Campaign Committee, he is on the Community Foundation of Northeast Iowa's Scholarship Selection Committee, and he co-founded a community improvement group called Cedar Valley Activate. He is also a past member of the Board of Directors for World's Window. Eric's wife Kendra is a Cedar Falls/Waterloo native, their son Henry is an 8th grader at Peet Junior High in Cedar Falls, and they are host family for an international student from Honduras named Alan who is attending UNI.
A strong early vote drive will be imperative for Giddens, since Governor Kim Reynolds set the election during spring break for UNI and the Cedar Falls school district.