UPDATE: Added below information on two more candidates who have expressed interest in this race.
Less than 48 hours after State Senator Jeff Danielson resigned from the legislature, two Democrats have announced their candidacies for next month's special election in Iowa Senate district 30. Scroll down for background on University of Northern Iowa associated professor Amy Petersen and former United Auto Workers local president Tom Ralston. Several more contenders are considering the race; a special district convention will choose a nominee on February 23.
The healthy competition shows Black Hawk County Democrats are uncowed by the prospect of facing likely Republican candidate Walt Rogers, who represented half of this area for eight years in the Iowa House.

Petersen was first to make her campaign official with a Facebook post on the morning of February 16.
After receiving a great deal of encouragement from many fellow Democrats, I am announcing my decision to run for the Senate District 30. I did not take this decision lightly, and frankly, running for political office was the furthest thing from my mind.

I am a Cedar Falls native and I graduated from Cedar Falls High School and the University of Northern Iowa. I am a professor in the Department of Special Education at UNI and serve in numerous leadership roles across our campus. In addition, I work closely with our Iowa state Department of Education to improve educational opportunity for students with disabilities. I sometimes joke that I didn't get very far in life—here I am living a mile from my childhood home, two blocks from my alma mater—but, it turns out I am exactly where I was meant to be. My professional, academic, and personal worlds have provided me with a wealth of experiences serving the Cedar Valley, UNI community, and our state of Iowa. My husband, Steve, grew up in Hudson. He is a union pipefitter. Together, we are strong advocates for education, labor, and ensuring the Cedar Valley continues to thrive.

So, while running for political office might have been the furthest thing from my mind, I have agreed to run because I have a progressive voice to contribute to legislative debates about the challenges facing the Cedar Valley. This will not be an easy task. I have big shoes to fill, no doubt, but I believe I am the best candidate to ensure Senate District 30 continues to be represented by a Democrat. I would appreciate your support.
Ralston created a campaign Facebook page this evening and made his case:
My name is Tom Ralston; I was born and raised in Waterloo. I am a proud graduate of Columbus High School. I have personally seen what it means to have excellent representation from Jeff Danielson. I thank Jeff for his service and wish him luck in his future endeavors. I have been encouraged by several members of my union, the labor community, and other local democratic leaders to run in this special election. I accept your support and encouragement and would like to announce my candidacy for senate district 30.

The Cedar Valley is a special place; it's where I grew up and I feel compelled to give something back to the community. I learned many valuable lessons here during my childhood. I learned the value of working people, the value of education, and the value of public service.

I attended Wartburg College where I graduated with a major in History and a minor in Political Science. Along with my degree, I also left college with a mountain of student loan debt. This debt took me years of hard work to pay off. Students should not have carry this burden. This issue is something I plan to take on and advocate for if elected.

A few years after being hired by John Deere I was elected president of UAW local 838. It was one of my deepest honors to serve as president. Through my union involvement and my interactions with my fellow employees, I saw firsthand the plight of the working person in Iowa. As an active member in the Cedar Valley, I have seen the problems that are caused when government does not look out for its most vulnerable citizens. I advocated for workers and was successful in securing additional educational opportunities when their jobs were eliminated during the largest layoff in recent times. I learned about the legislative process and how we can make our community stronger and more resilient when times get tough for families.

This is why I am running for state senate. For too long, the middle class has been squeezed, and our most vulnerable citizens have been forgotten about. I would love to take this opportunity to be a voice for working people in the state senate. I am asking for your support in this campaign and I can promise you no one will work harder to earn this seat.
No Republican candidate has announced yet, but local observers in both parties expect former State Representative Walt Rogers to be the GOP nominee. (Danielson's 2012 and 2016 challengers have already ruled out the race.) Rogers is very well-known in the area, having represented House district 60 from 2011 through 2018. On the other hand, he just lost in November to first-time candidate Dave Williams.
The special election campaign will be short because the vacancy arose while the legislature was in session. Governor Kim Reynolds will set a date early next week; in order to suppress voting by UNI students and faculty, she will likely pick Tuesday, March 19, during the university's spring break.
Senate district 30 covers Cedar Falls (including the UNI campus) and parts of Waterloo and Black Hawk County.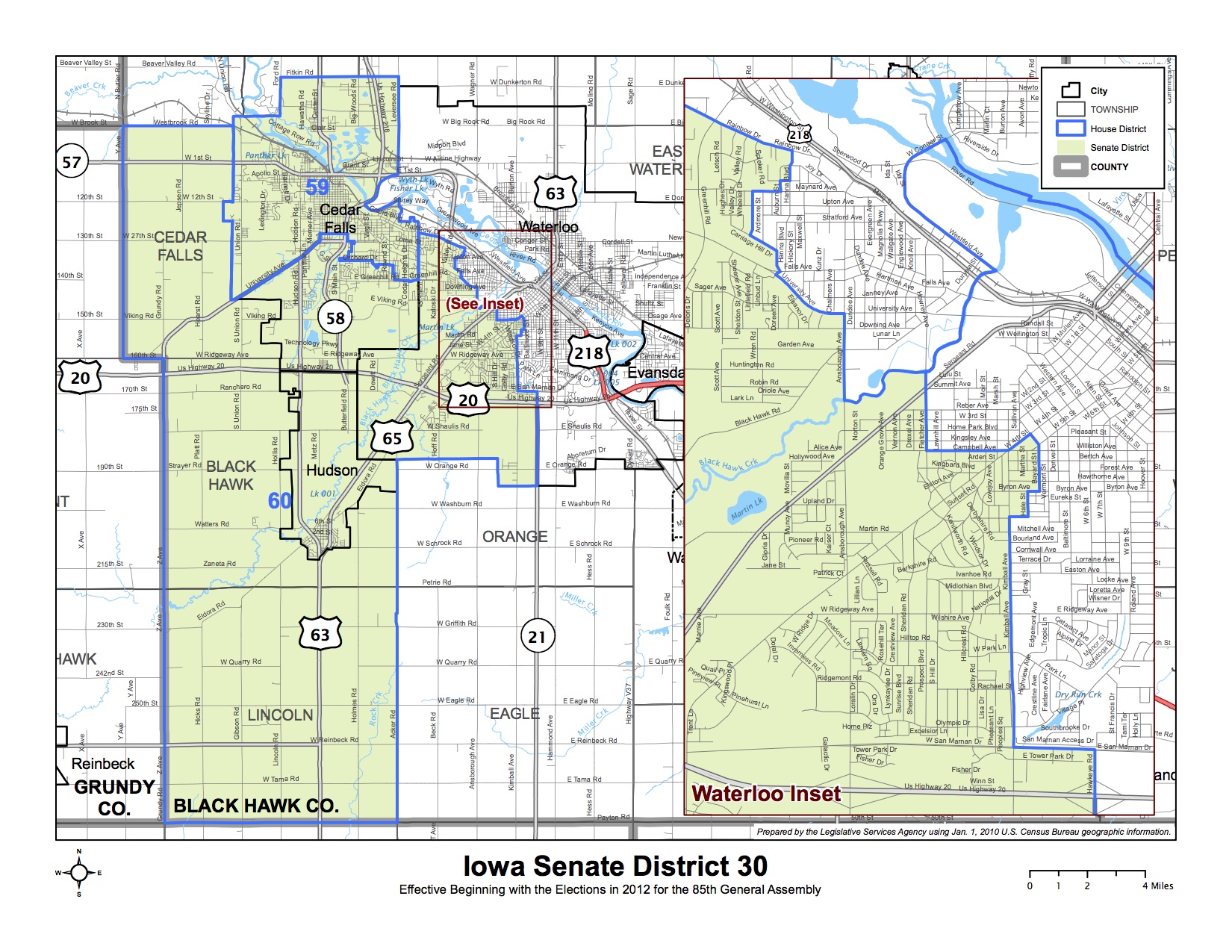 The latest official figures indicate the district contains 13,333 active registered Democrats, 12,488 Republicans, and 15,986 no-party voters. Anything can happen in a low-turnout special election, but past experience suggests Democrats will have a larger pool of volunteers to GOTV, with a likely assist next month from a number of presidential candidates.
Depending on the outcome of this election, the Republican majority in the Iowa Senate will be either 32-18 or 33-17.
UPDATE: Four candidates participated in a forum Black Hawk County Democrats organized on February 17: Petersen, Ralston, and Cedar Falls school board members Eric Giddens and Sasha Wohlpart, who were both elected to the board in 2017. I am seeking more background information on both candidates and will update this post as needed.
Giddens provided this statement regarding his candidacy.
Bio sent to Black Hawk County Democrats Central Committee

Eric Giddens is a Program Manager at the Center for Energy and Environmental Education (CEEE) at UNI and is a member of the Cedar Falls School Board. At the CEEE, Eric developed and manages the Community Energy & Climate Action Planning Program which helps local governments in Iowa develop plans to reduce greenhouse emissions in their communities. He also developed and manages a program called Go Solar to assist residential, business, and farm property owners with investing in solar energy systems. In addition to these primary job responsibilities at UNI, Eric is involved in the Aldo Leopold Distinguished Lecture Series Planning Committee, the Imagining America Steering Committee, the Dry Run Creek Advisory Board, and he is an alumnus of the Provost's Leadership Academy. On the Cedar Falls School Board, Eric is on the Facilities Design and District Wellness Committees, and he the district's delegate to the Black Hawk County Conference Board. In the Cedar Valley community, Eric is also active in the Cedar Falls Food Co-op's Investment Campaign Committee, he is on the Community Foundation of Northeast Iowa's Scholarship Selection Committee, and he co-founded a community improvement group called Cedar Valley Activate. He is also a past member of the Board of Directors for World's Window. Eric's wife Kendra is a Cedar Falls/Waterloo native, their son Henry is an 8th grader at Peet Junior High in Cedar Falls, and they are host family for an international student from Honduras named Alan who is attending UNI.

FaceBook announcement

Friends and neighbors, I am proud to announce my candidacy for Iowa Senate District 30 to fill the seat recently vacated by Jeff Danielson. I am very grateful for Jeff's service to our community both in the Iowa Senate and in the Cedar Falls Fire Department, and I wish him all the best in the next chapter in his life. I am running to continue the tradition of strong, sensible, progressive representation for the Cedar Valley in the Iowa Senate.

I am a Program Manager at the Center for Energy and Environmental Education at UNI, and I am a member of the Cedar Falls School Board. Environmental issues and education are my passions—in those areas, I will advocate for policies that protect our atmosphere, soil, and water, and that adequately fund and support public education from pre-K all the way up through our three fine regents universities. Most importantly, though, I will listen to all constituents on every issue that we face and will always advocate for policies that are in the best interests of everyone in Senate District 30.

I look forward to this process and am excited to meet many new Cedar Valley citizens in the coming weeks. Please feel free to reach out to me if you have any questions.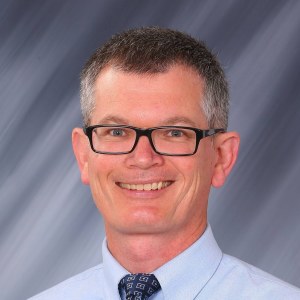 Wohlpart provided the following statement:
As a School Board Member for the Cedar Falls Community School District, I have had the distinct pleasure of working with Jeff Danielson and our other local legislators to advocate on behalf of public education. Through these partnerships, I have come to recognize how fortunate we are in this district to have such strong, progressive representation on behalf of our citizens.

With tremendous respect for the responsibility of this position and a strong conviction to serve our community, I submit my name for consideration by the Black Hawk County Democrats in this race for Senate District 30. This decision has come after a great deal of reflection and encouragement from colleagues and fellow Democrats.

I was raised to value honesty, hard-work, dedication, care and compassion. These are the values that I will lead with if I am selected to fill the seat for District 30. My background includes serving as a public school teacher for seven years, as a faculty member in environmental science for eight years, and now as a member of the School Board, the board of the YWCA, and the board of the Volunteer Center of Cedar Valley. I also serve on the state-wide 19th Amendment Centennial Commemoration planning committee.

My experience and interests lead me to support priorities including education and the environment. We must emphasize equal access for students to quality infrastructure and technology, a culture of creating and supporting innovative approaches to teaching and learning, and, most importantly, state support that values our teachers, faculty, students and staff. Additionally, we need to know that we live in a place where the water is safe to drink, our food comes from healthy landscapes, and our air is clean to breathe. When our citizens have access to high quality education, are supported in their work place, and live in a healthy, sustained environment, our communities thrive. These things are inextricably connected.

We best govern if we listen to the needs and concerns of community members and work to build consensus around solutions. We need leaders who can be creative problem solvers and who consider a diversity of ideas and perspectives. I aspire to lead through these ideals, building bridges across differences, bringing disparate voices together, and honoring our commitment to the citizens of the state.

Like so many, I am immensely grateful for Senator Danielson's leadership and service, both locally and in Des Moines. In the wake of his resignation, we have an opportunity, and an obligation, to ensure that our leadership coalition at the State Capital remains strong and dedicated in service to the citizens of Senate District 30. If selected, I would be honored to carry this work forward.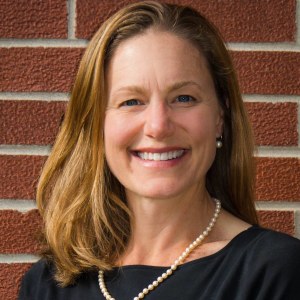 Top image: Amy Petersen on the left, Tom Ralston on the right.