Leaders of Iowa House or Senate committees can bury legislation without ever allowing discussion, let alone a vote. As Emma Schmit and Adam Mason report, that's what's happening with a bill that could help clean up our state's filthy waterways. -promoted by Laura Belin
Republican State Representative Dean Fisher has less than one week left to do the right thing for Iowa's rural communities, independent farms, and water quality.
Fisher has a choice to make this week. As chair of the House Environmental Protection committee, he is single-handedly holding up progress on a bill that would enact a moratorium on new and expanding factory farms. We aren't talking about a floor vote or even a committee vote-- we're talking his outright refusal to even assign the bill to a subcommittee so that it could be debated.

This bill, House File 203, is of critical importance to Iowans. Introduced by State Representative Sharon Steckman, the bill has thirteen co-sponsors (all Democrats) with twenty representatives in total expressing support. Thousands of Iowans have made calls and sent letters to their legislators. Hundreds have called Fisher's office pleading for him to allow debate on this bill, and more than a hundred people rallied at the capitol two weeks ago in support of a moratorium.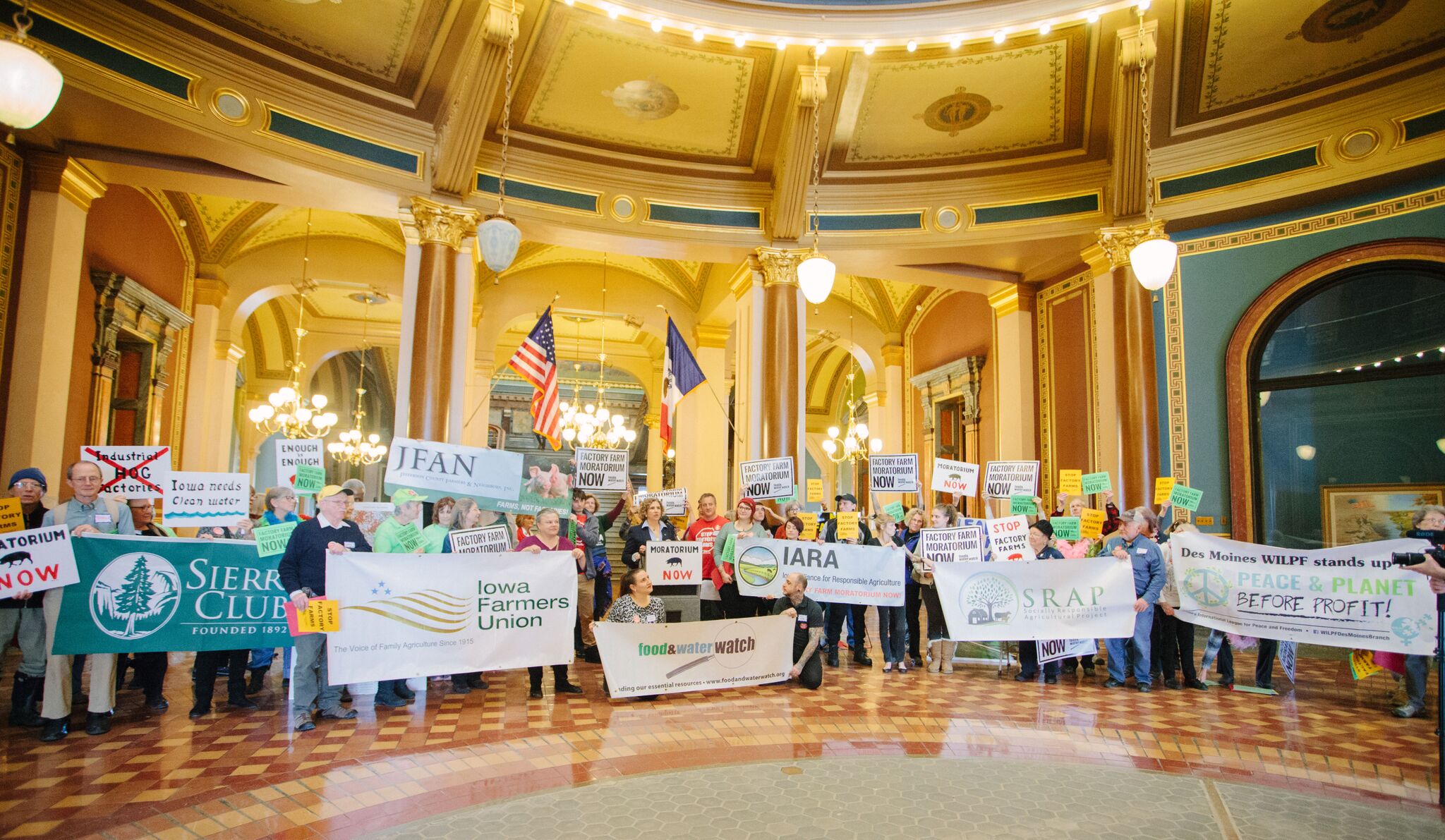 And yet Fisher won't allow lawmakers to discuss the bill -- even as Iowa's factory farm crisis grows more serious each year.
Fisher clearly has no plan to allow this bill to be debated. In fact, he has canceled nine out of thirteen Environmental Protection committee meetings scheduled for this session. If Fisher does not assign this bill to subcommittee, there is no chance it will survive past the first funnel -- this coming Friday, March 8.
Last Friday a group of Fisher's constituents attended one of his legislative forums to demand that he assign the moratorium bill to a subcommittee. When asked about the bill, he suggested the growing number of streams providing habitat to trout is evidence that Iowa's voluntary nutrient reduction strategy is working. Nevermind that the vast majority of these trout are stocked and don't survive past summer. Anecdotal evidence of trout is not proof that our water quality has improved.
But we do have proof the voluntary nutrient reduction strategy is not working.
Iowa has more than 750 impaired streams, many of them from pollutants directly linked to industrial agriculture. Several of these impaired streams are in Fisher's own district. Everyone has the right to clean water, and yet our drinking water across the state is full of pollutants from factory farms and other industrial agriculture sources. Nitrates, which have been linked to birth defects and certain cancers, exceeded federal limits in 11 of our public water supplies in 2015, and more than 200 additional water systems, including the Des Moines Water Works, continue to struggle with high nitrate levels.
The only thing working less than Fisher is Iowa's failed nutrient reduction strategy. Fisher and his legislative allies, as well as those profiting from Iowa's industrialized ag sector, continue to say we just need more time for the industry to clean itself up. The truth is no industry has ever voluntarily regulated itself, and this one never will. That's why we need mandatory rules and regulations, paired with tough enforcement over factory farms.
It's time for Fisher to listen to us, the people of Iowa, about an issue that is incredibly important to the future of our state. He needs to be accountable to us-- not the Farm Bureau. Fisher has four days to allow the factory farm moratorium bill to be debated. Call him at 888-724-8946 to ask him to assign House File 203 to a subcommittee.
Adam Mason
State Policy Organizing Director
Iowa Citizens for Community Improvement
Emma Schmit
Iowa Organizer
Food & Water Watch