Valuable historical perspective from Dan Guild on the latest Selzer poll for the Des Moines Register, CNN, and Mediacom. -promoted by Laura Belin
If you know something about the history of the Iowa caucuses, you know three things:
1. Most people don't really make up their minds until the last month, and often until the last week. Just before the 2016 caucuses, I wrote a post here called "Front runners beware," which turned out to be fairly accurate.
2. But. BUT. - Iowa caucus polls are consumed like some sort of smartphone app you just can't put down. You know it isn't good for you. BUT it HAS to mean something, right? Isn't the best prediction of what people do in elections is what they say the will do know.
3. And when it is the Des Moines Register poll, people listen. It's a bit like the old Merrill Lynch television commercial: When Ann Selzer talks, people REALLY listen.

In fact, Selzer's final Iowa caucus poll is without question the single most influential poll in the world. No other survey influences the reporting before an important political event like the Des Moines Register pre-Iowa caucus poll. In other elections, people argue about this poll or that one. Not in Iowa before the caucus.
So let's start with some tough love before we look at the new poll. More than half of voters in Iowa made up their mind in the last month in 2004 and 2008. Even in 2016, when there were after all only two candidates, 40 percent decided late.

The 2008 and 2016 campaigns included Hillary Clinton, one of the best known political figures in America. Joe Biden has been vice president for eight years, but he is at this moment not as well known as Hillary Clinton.
So let's look at the Des Moines Register polls in context. This is a pretty busy chart, but you can click on the image to enlarge.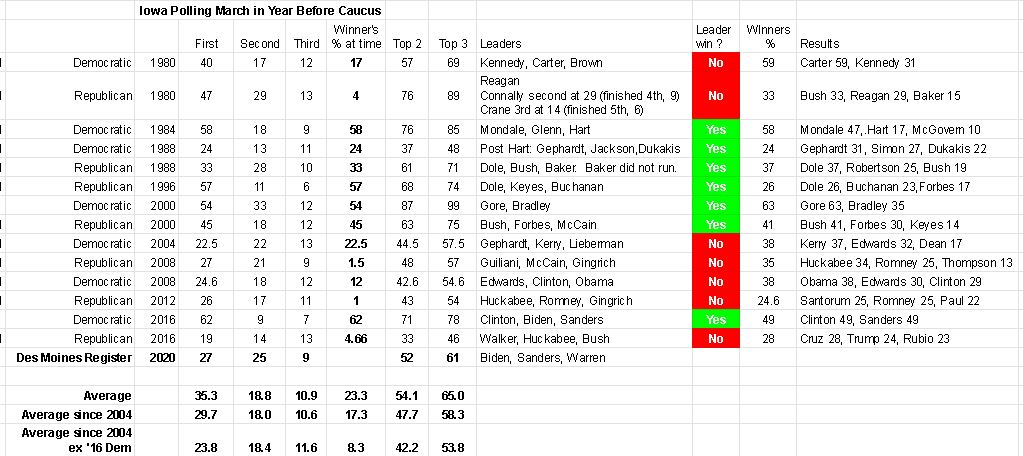 Summary of key findings:
Five of the last six leaders at this stage of the campaign lost the Iowa caucuses. The one who did win: Hillary Clinton led Bernie Sanders by 62 percent to 7 percent at this point in 2015 and won the 2016 caucuses by 0.1 percent.
Since 2004, the ultimate winner of the Iowa Caucuses has been below 5 percent at this point in the campaign three times.
Since 1980, the leader in Iowa has been under 30 percent at this point in the campaign five times. That leader has gone on to win once.
Great, so what do the data tell us? I would highlight three things:
At 27 percent, Biden is clearly in the danger zone for a front runner. I would be particularly worried in the direction since December. He has lost 20 percent of his support - a sign that voters are more than willing to move to other candidates as those others become better known. He has high favorables: but when a two-term vice president cannot break 30, I would be asking why.
At 25 percent, Sanders is unusually high for a second-place candidate. Only two other candidates have been as high in a multi-candidate field. But other candidates who did well in the prior cycle started well in Iowa, only to fade (see Mike Huckabee in 2012).
I tend to focus on changes to candidates in surveys conducted by the same pollsters. If I were Beto O'Rourke, I would be worried that I dropped as much as he did. It suggests his support was never very real.

A final note: I think two fights will have a large impact on future primaries.
1. Cory Booker versus Kamala Harris: Andrew Gillum won last year's Democratic nomination for governor in Florida by doing well among white progressives and African Americans. This is the same coalition Obama put together in 2008. It is likely neither Booker or Harris will make it to Super Tuesday. The candidate who does make it, if he or she has any momentum, would likely be the nominee.
2. Elizabeth Warren versus Sanders: Really both need to win New Hampshire, and it is unlikely one of them could lose to the other and win New Hampshire. I really can't see the loser of this contest surviving past New Hampshire. Should one of them beat Biden in Iowa and win New Hampshire, that person will have a good chance at the nomination.