Jerry Foxhoven will pursue legal action claiming retaliation and wrongful termination as director of the Iowa Department of Human Services, Ryan Foley was first to report for the Associated Press on July 31. His attorney, Tom Duff, told the AP
that Foxhoven objected to a request to continue to have his agency fund most of the salary of the governor's deputy chief of staff, Paige Thorson. Duff says that Foxhoven believed the arrangement made sense when he approved it in 2018. But he said that, by June, Foxhoven believed Thorson was no longer furthering the agency's interests.
Duff plans to release a more detailed statement at an August 1 news conference, his office told Iowa reporters today.
As Bleeding Heartland discussed here, Thorson had handled health policy for the governor's office since late 2017, but Governor Kim Reynolds brought Liz Matney over from the DHS this spring to be her health policy advisor.

Traditionally, state agencies have signed salary-sharing agreements with the governor's office when staff are directly involved in policy work related to that agency. Reynolds and her staff have repeatedly denied Foxhoven ever raised concerns about the proposals.
Another possible legal issue related to restrictions on how federal funding can be used. Stephen Gruber-Miller, Tony Leys, and Barbara Rodriguez reported for the Des Moines Register on July 30,
The Iowa Department of Human Services' spokesman said last week that the federal government, specifically the federal Medicaid program, paid half the salary of former Medicaid administrator Elizabeth Matney. Matney continued to draw DHS pay for six weeks after becoming a health care adviser to Reynolds in May.

DHS spokesman Matt Highland said in an email that Matney was entirely focused on the Medicaid transition during the state's 2019 fiscal year, which ended June 30. Her salary is now being paid by the governor's office.

The salary for another former Department of Human Services staffer, Paige Thorson, "was also partially funded by federal funds proportionally spread across all the department's federal programs," Highland said.
Using U.S. Health and Human Services funding to support Thorson's work as deputy chief of staff could be problematic if she no longer spends significant time on health policy, or if she participates in political meetings.
Highland has ignored my follow-up questions related to DHS payments to cover salaries for the governor's staff. In particular, he has not responded to multiple e-mails and phone messages seeking to clarify whether the governor's office intends to refund part of the money DHS transferred to cover Thorson's salary.
Two July 15 entries on this table, provided by DHS in response to Bleeding Heartland's public records request, point to $7,876.22 payments earmarked for Thorson, "to be reversed." It's not clear whether that refers to reversing some accidental double payment or an order to reverse fund transfers from earlier in the year.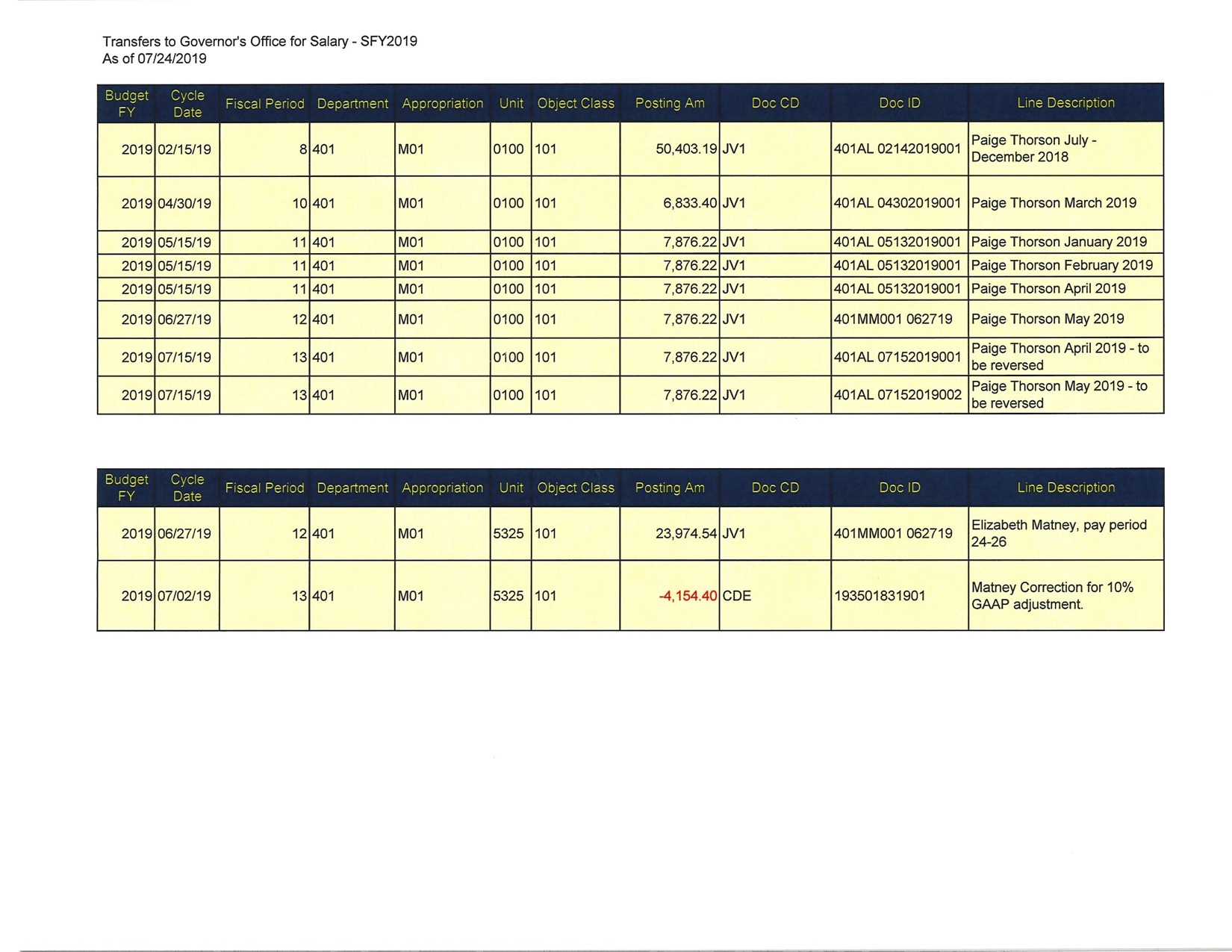 Speaking to journalists on July 30, Reynolds "said she asked DHS to examine its handling of such arrangements to make sure they are doing everything correctly," Stephen Gruber-Miller reported for the Register the following day. The governor continues to defend her decision not to provide details about her reason for changing leadership at the largest state agency.
For those wondering how Foxhoven can claim wrongful termination, given that he resigned in June, an experienced employment attorney told Bleeding Heartland earlier this month that it's possible to sue under these circumstances "if the evidence is clear you would have been fired had you not resigned."
UPDATE: From the expanded version of Foley's article for the AP:
Foxhoven told the governor's office Thorson was "really not doing anything that's furthering the business of DHS" and he wanted to stop her salary payments, Duff said.

Foxhoven wanted an opinion from the governor's legal adviser, Sam Langholz, but Gongol rebuffed that idea, Duff said. Foxhoven was going to ask assistant attorneys general who worked for DHS for their opinion once a trial they were working on concluded, but was asked to resign the day before he could make that request, Duff said.

Foxhoven was concerned that he would be blamed if an audit later found the arrangement was inappropriate, Duff said. He also objected to funding the salary of the governor's health adviser, Liz Matney, after lawmakers appropriated money for the position, but his primary concern was with Thorson, Duff said.
According to the same story, the DHS has told the AP that a clerical error "'resulted in duplicate payments' for Thorson's salary in April and May and those were reversed."