Katie Byerly has a knack for finding unusual wildflowers. She also posts regularly on her Iowa Prairie Girl YouTube channel. -promoted by Laura Belin
During a camping trip in Floyd County with my son's Boy Scout troop, I was pleasantly surprised to find this miniature blazing star growing everywhere on the dry clay hills of the Fossil and Prairie Park Preserve, located one mile west of Rockford on County Road B47.
Cylindrical blazing star (Liatris Cylindracea) is also known as Cylindric, Barrelhead, Dwarf or Ontario blazing star.

The Illinois Wildflowers site describes the typical habitat for this flower:
The preference is full sun, poor soil, and dry conditions. This plant often grows on hills or slopes amid rocky material, but it also tolerates loamy soil if the site is well-drained. Drought tolerance is excellent, and foliar disease is not a significant problem at most locations. This plant doesn't compete well against taller, more aggressive plants on fertile soil where there is level ground.
"Loam" means soil containing "clay, sand, and decaying organic substances." This describes the Fossil Park habit perfectly! It is amazing that any plant could live in this barren appearing land. Yet this small and pretty but very hardy native wildflower thrives there.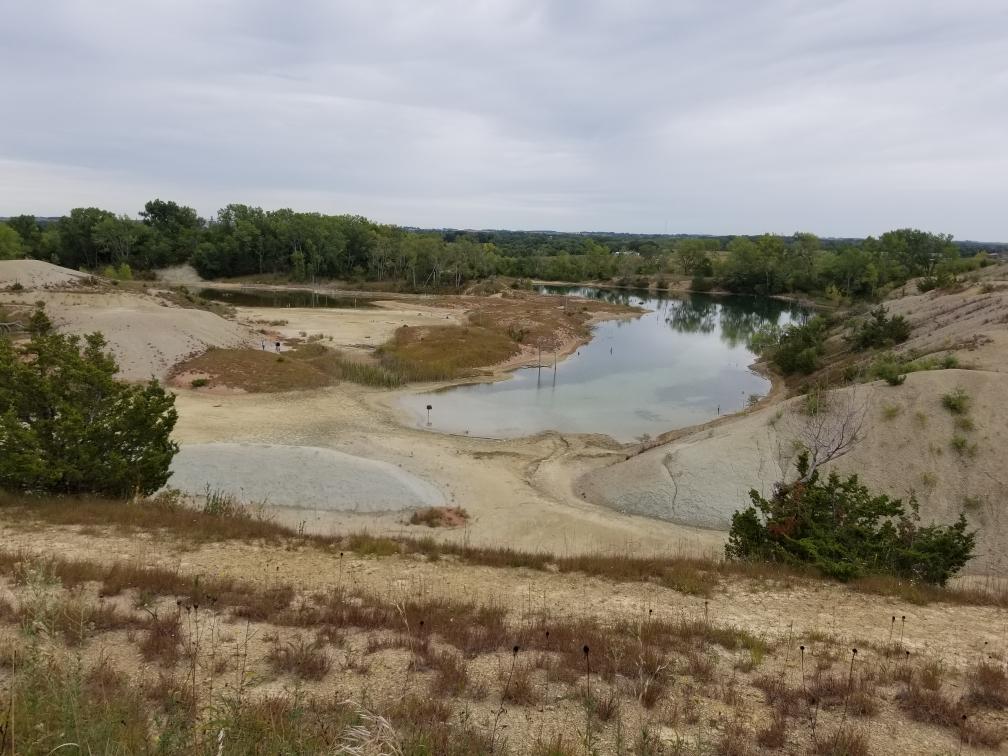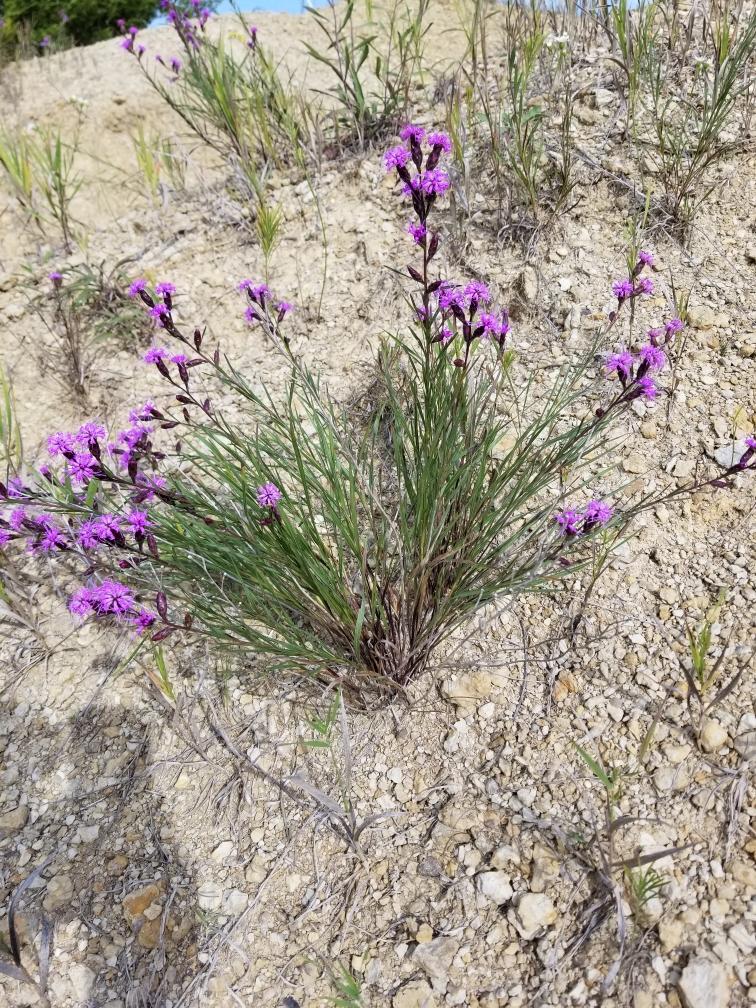 For sixty years the Rockford Brick and Tile Company mined for blue shale to be used in the production of ag drainage tiles and building bricks. Cylindrical blazing star can be found growing amongst fragments of these tile remains.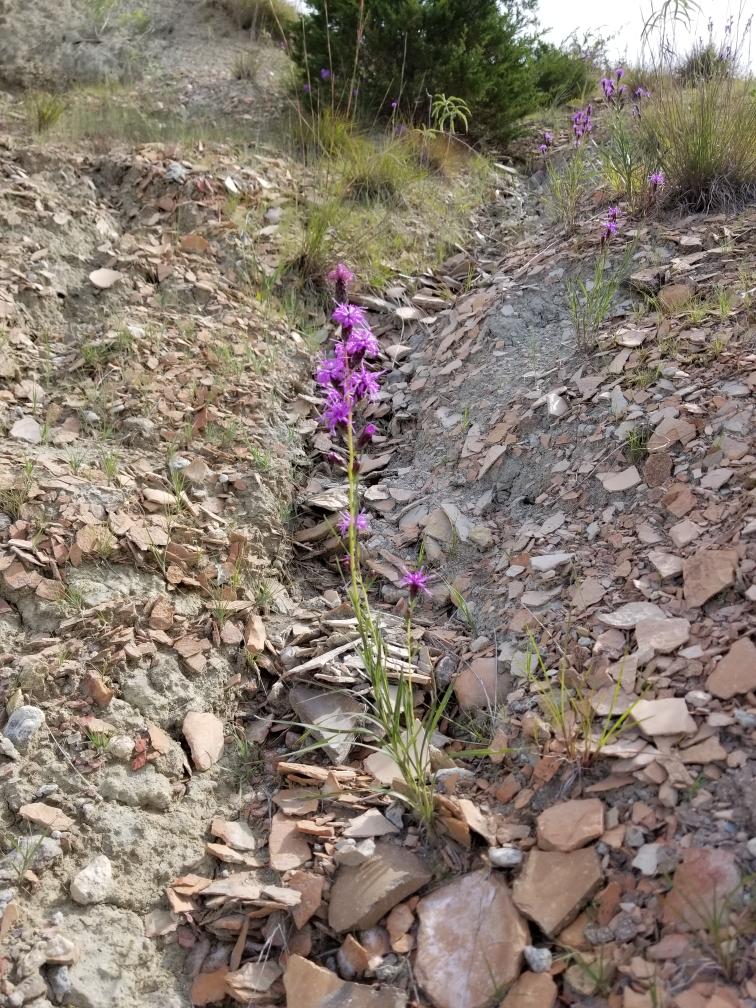 Floyd County Conservation acquired this land in 1990 and opened it to the public as a county park. It is one of the few geological preserves in the United States where collecting fossils for private use is allowed.
But if fossils isn't what you are looking for, the wildflowers of the fossil park won't disappoint. I went back to the quarry two weeks later on August 31 and found cylindrical blazing star both in the quarry area and in a dry short-grass prairie near by. However, the plant was not present in the native tallgrass prairie west of the quarry.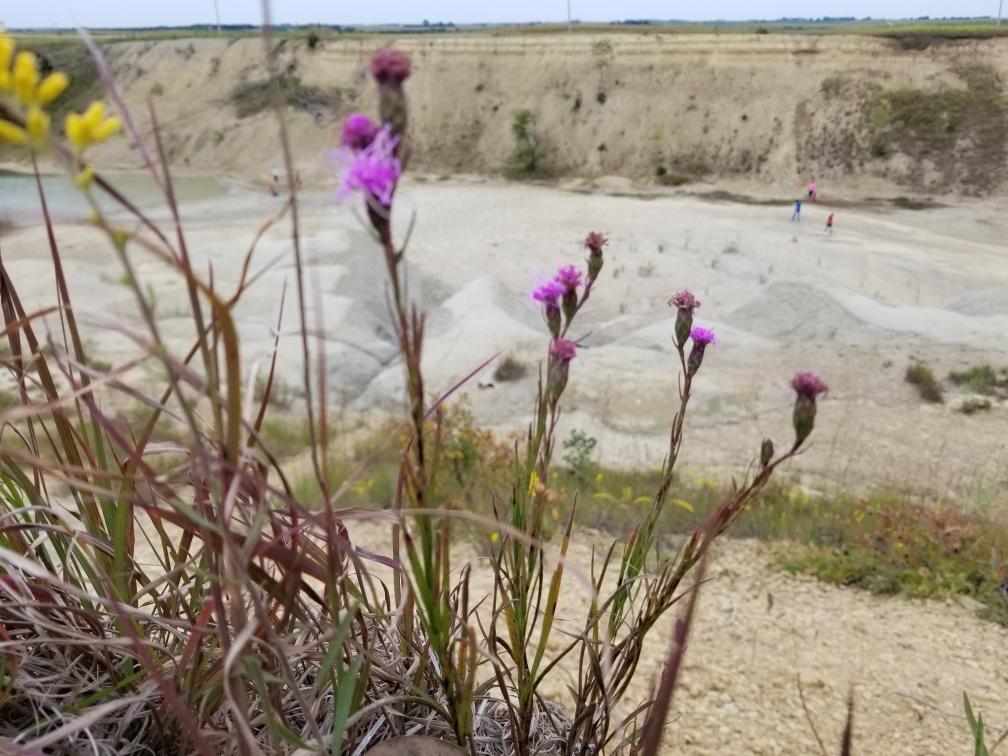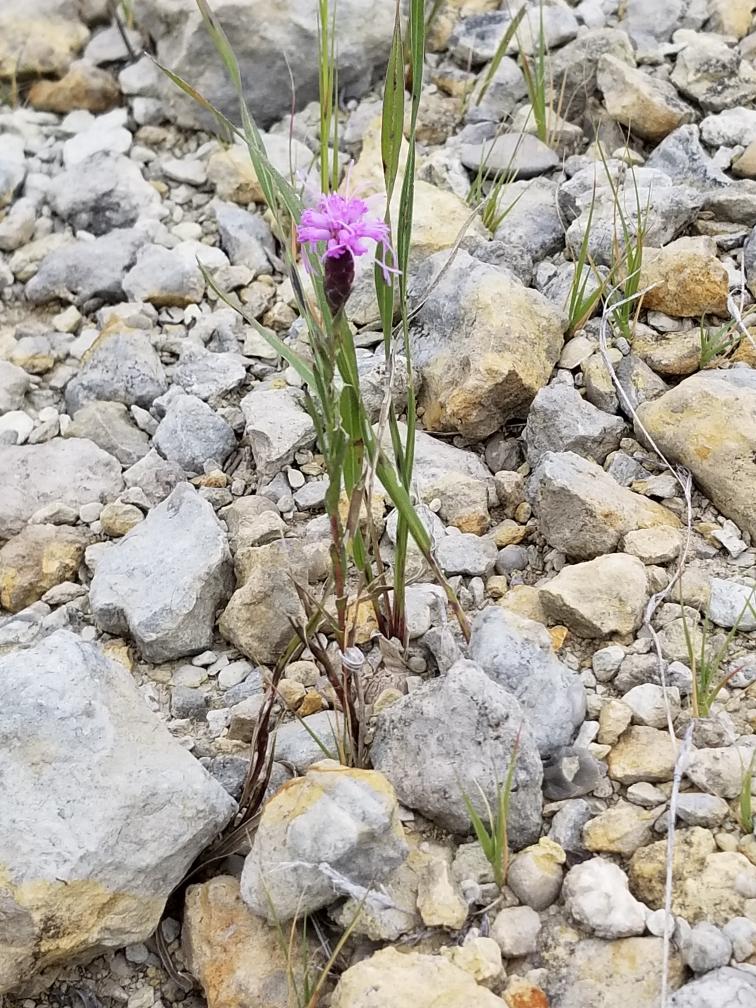 This dwarf blazingstar grows to heights of just 8 to 24 inches. It has small, narrow flower heads and flat scaly bracts. Its height, barrel look and growing location helps with identification.
The Iowa Wildflower App describes the bracts like this: 5 to 7 layers and form a cylinder up to 3/4 inch long and about 1/4 to 1/3 inch in diameter. Bracts are scale-like and pressed flat. . . often brownish to purplish.
A closer look at the bracts: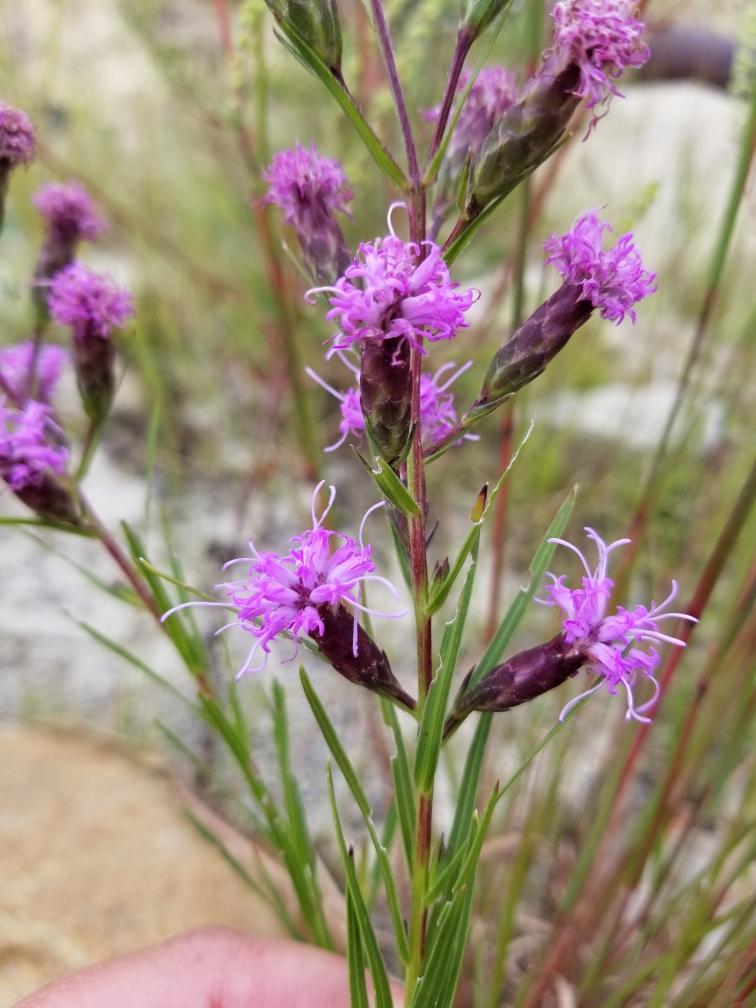 The leaves alternate around the stem giving it a spiral or twisted look. Leaves are thin and linear, up to 8 inches long, with no stalk.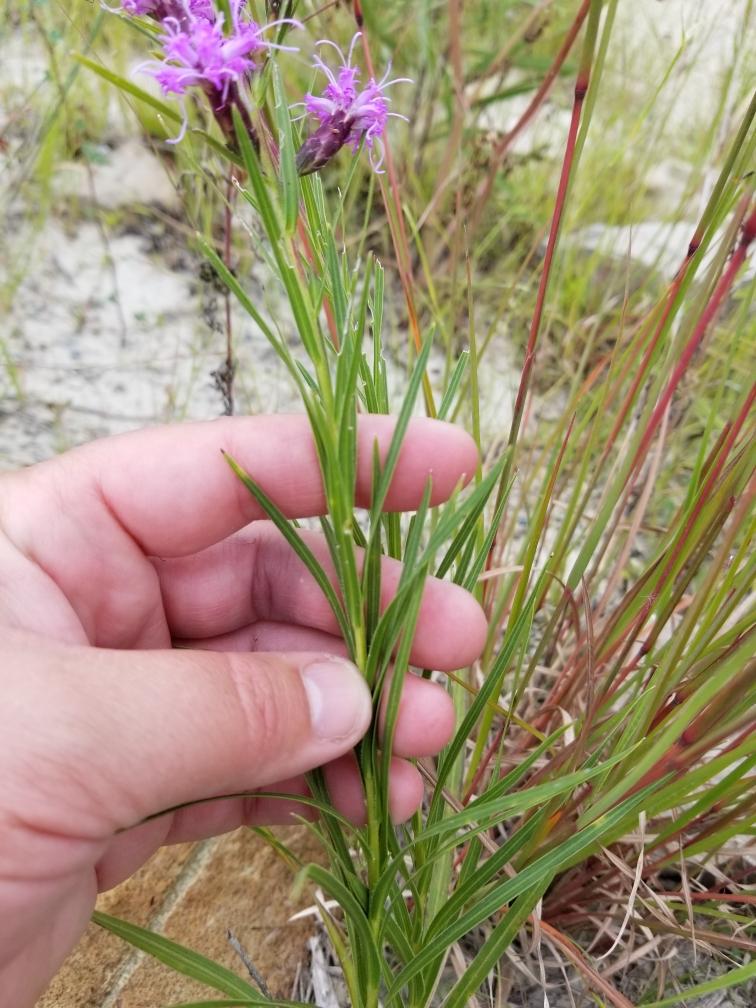 Each compound flower has 15 to 25 tubular flowers crowded together and spilling out of the flower head. The ends of each of these tubular flowers have 5 lobes curling outward and from each flower a white or pink white divided style hangs out.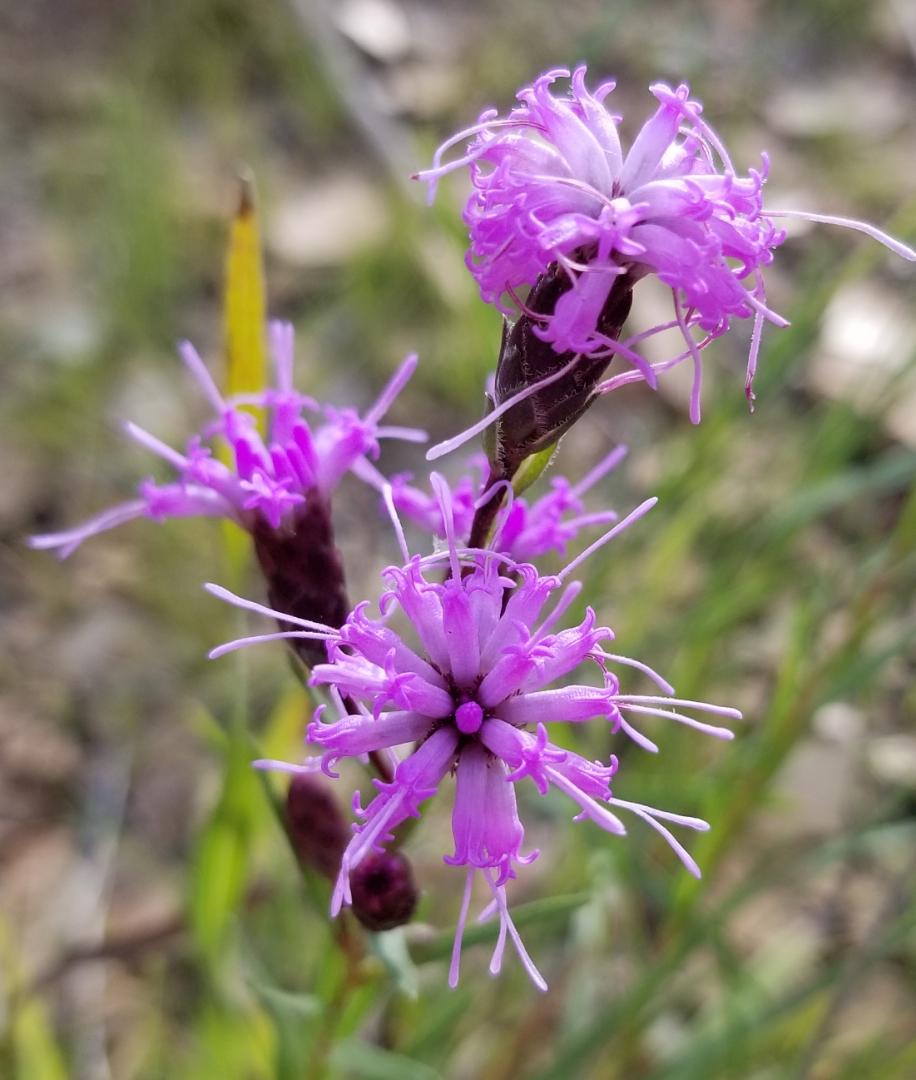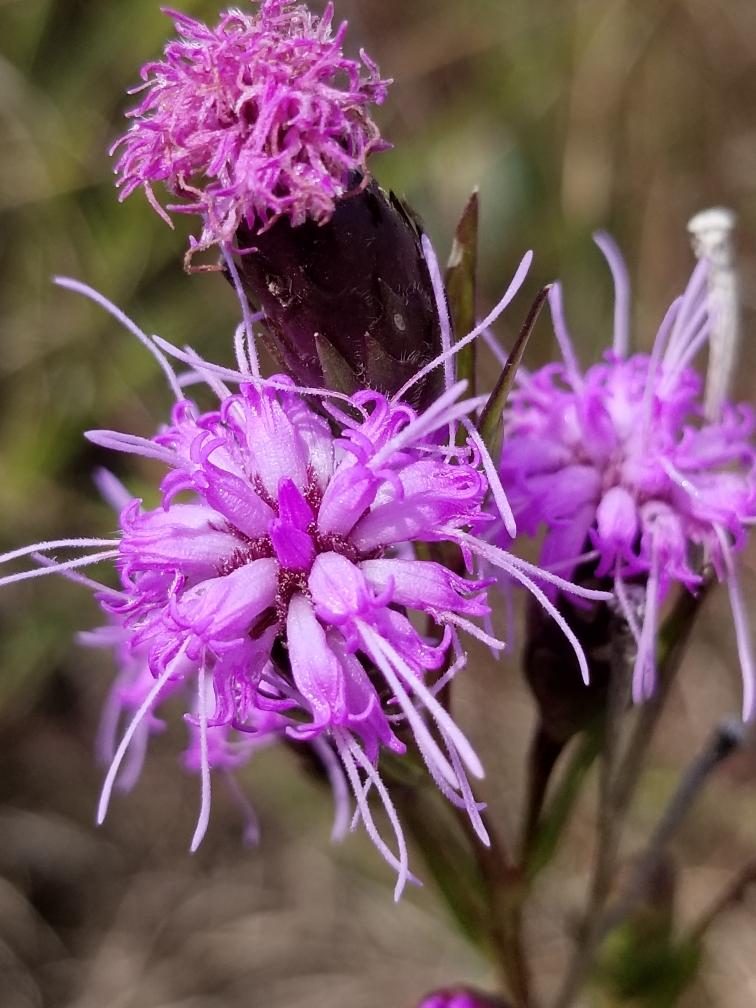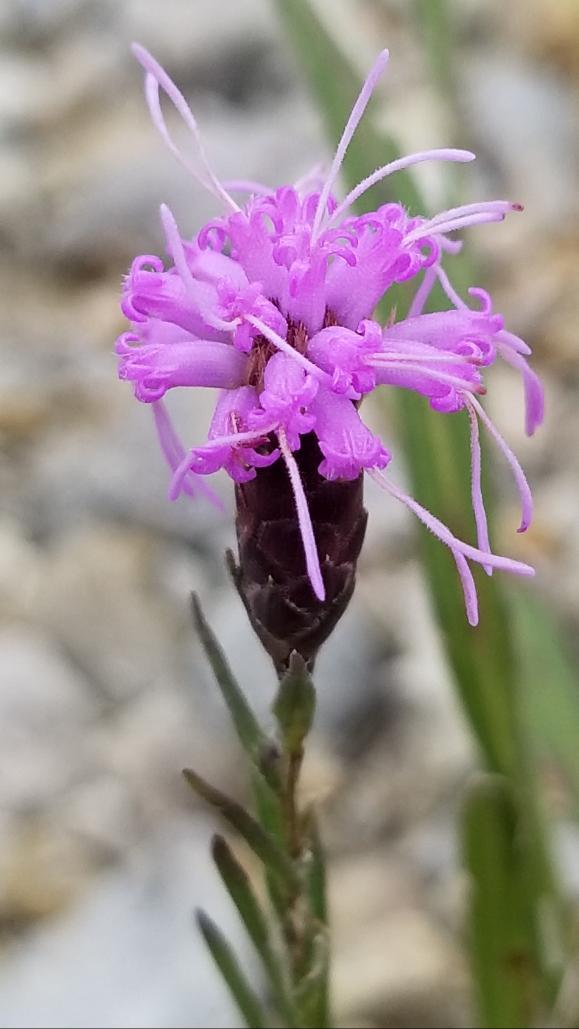 Like other blazing stars, the flowers bloom first at the top of the plant stem and follow suit down the stem.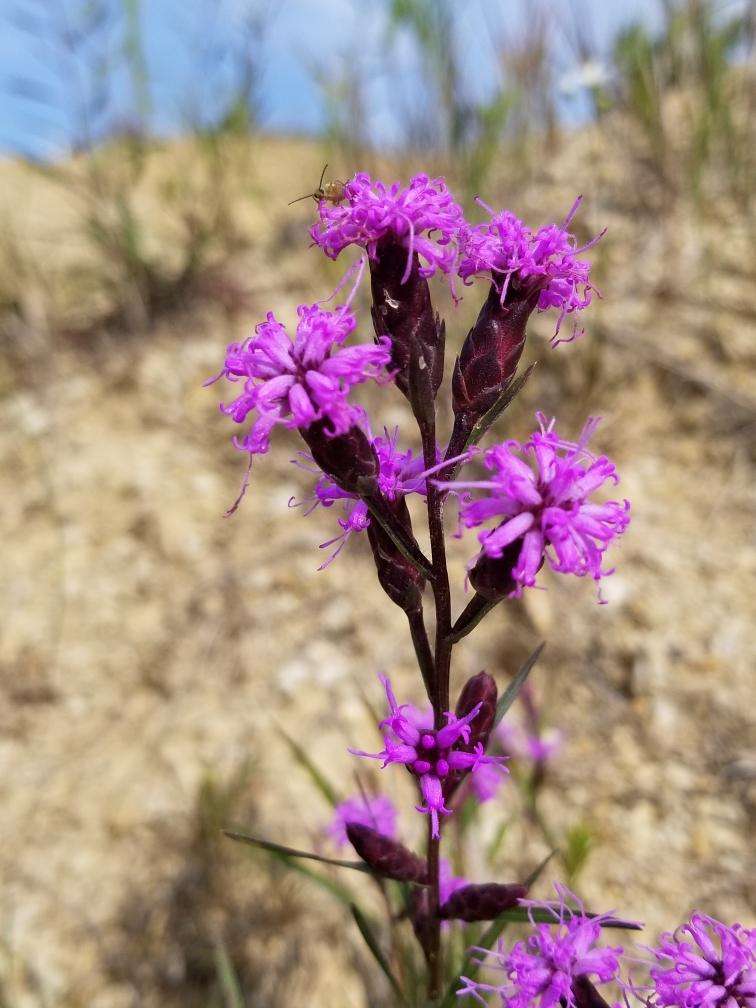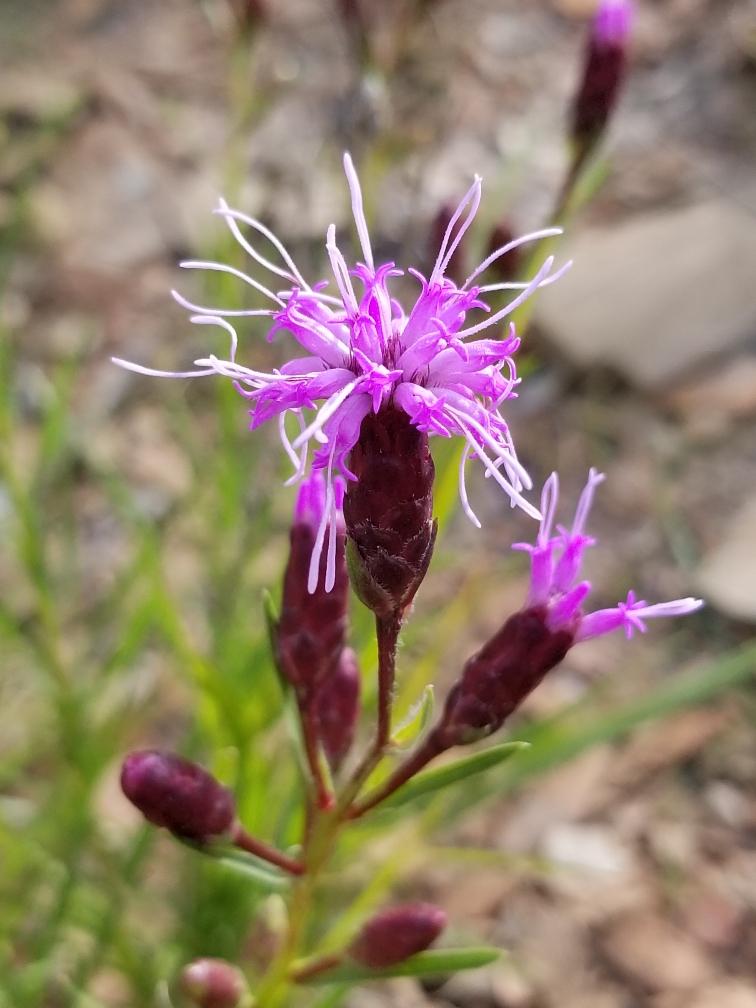 The Fossil and Prairie Park Preserve is a wonderful place to explore and hunt wildflowers (and fossils). In addition to the quarry, there are miles of native tallgrass prairie trails to hike. Finding the beautiful Cylindrical blazing star wildflower there was just a bonus.
A happy Prairie Dog exploring: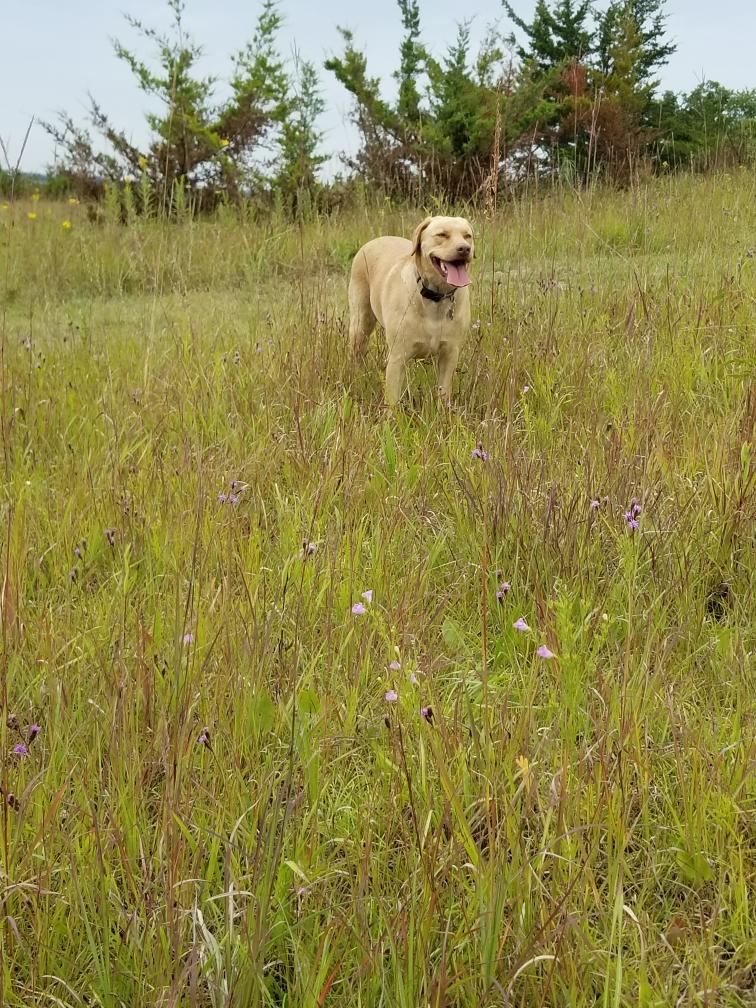 The next two photos show plants with spent flowers near the top.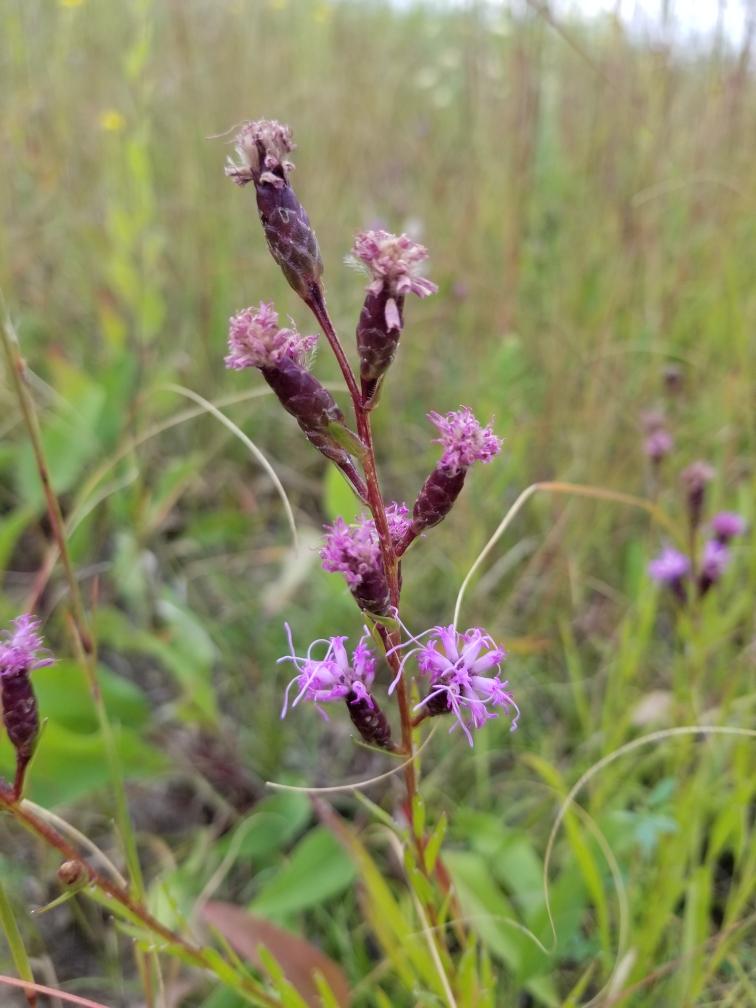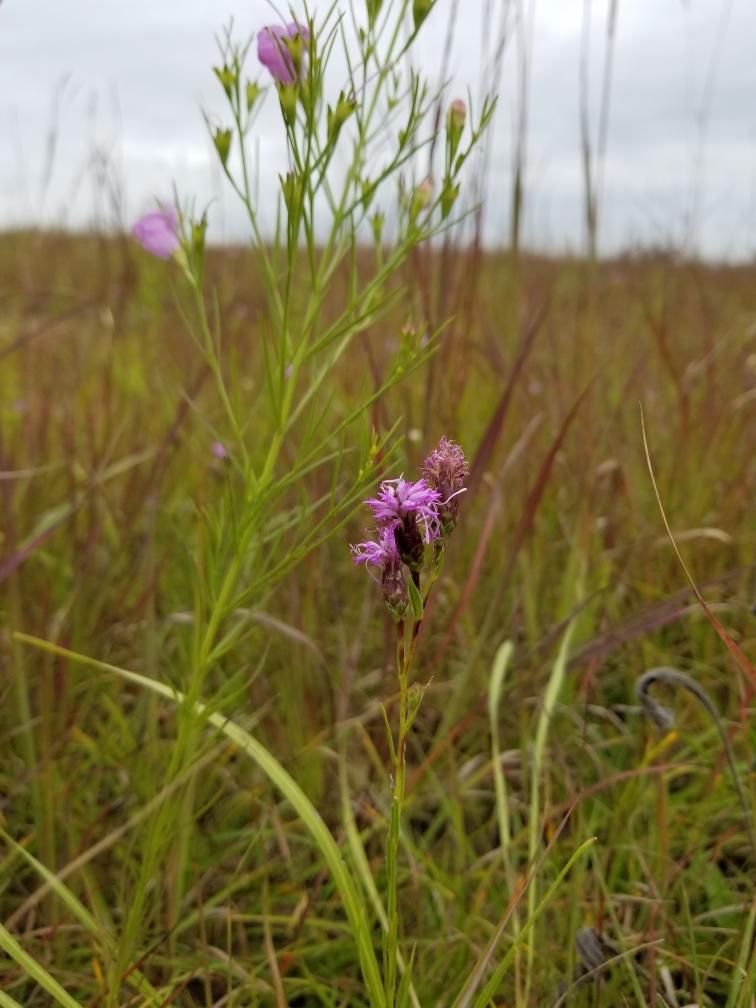 Cylindrical blazing star with some kind of goldenrod: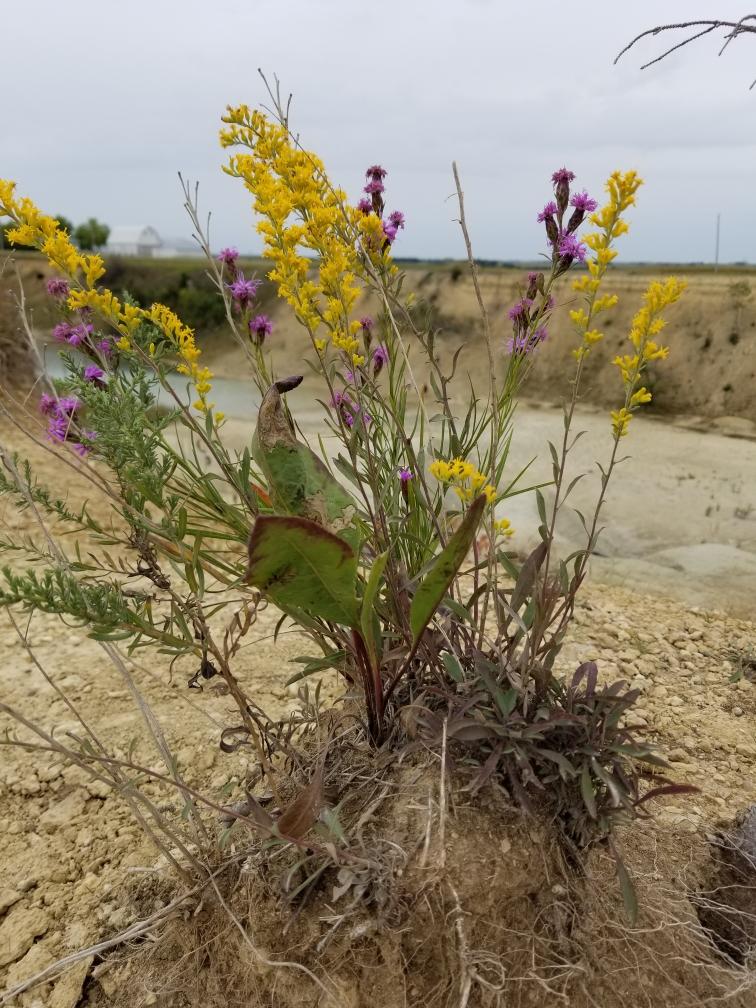 Cylindrical blazing star growing next to common sneezeweed: