Tom Witosky is a citizen of the Cherokee Nation and was a longtime investigative reporter for the Des Moines Register. -promoted by Laura Belin
Much has been written about U.S. Senator Elizabeth Warren and her most recent apology about her Native American heritage claim.
The Massachusetts senator opened her presentation at last month's Native American presidential forum in Sioux City by acknowledging that the controversy over her claims of Cherokee heritage had caused harm.

"IT DOESN'T ADDRESS THE CENTRAL ISSUE AT STAKE"
Without mentioning her specific claims of heritage or any of the three federally-recognized Cherokee tribes, Warren offered a general statement of contrition.
Now, before I go any further, I want to say this. For anyone who's being honest with themselves, I know that I made mistakes. I am sorry for harm I have caused. I have listened and I have learned a lot, and I am grateful for the many conversations that we have had together. It is a great honor to be able to partner with Indian country.
As Warren concluded her statement, she received a warm round of applause and Indian shouts from those attending the forum. But in the aftermath of her statement, the reaction has been viewed as one might expect – as either genuine or disappointing and politically calculated. It also set off another round of snark from conservatives, including President Donald Trump, using denigrating Native American metaphors in criticizing Warren.
Joseph Pierce, a Cherokee citizen writing in Protean Magazine, described his disappointment this way.
I hoped she might actually say, simply, that she is not and never has been Cherokee. That was my hope. And I was disappointed.

Warren vaguely admitted wrongdoing [...] This is a good strategy for courting people who wanted to hear her admit something. However, it doesn't address the central issue at stake—Cherokee sovereignty.
"A DNA TEST IS USELESS TO DETERMINE TRIBAL CITIZENSHIP"
Labor Day weekend is a special time in Tahlequah OK – the Cherokee Nation capitol for the largest Native American tribe in the U.S.
This year marked the 67th time Cherokee citizens from across the country gathered to celebrate the tribe's sovereignty, its culture, its history and its people. First held in 1953, the celebration has always meant a commemoration of the adoption of the tribe's first Constitution in 1839 following the forced removal of the tribe from Georgia, North Carolina, and Tennessee to the Indian Territory on what became known as the Trail of Tears.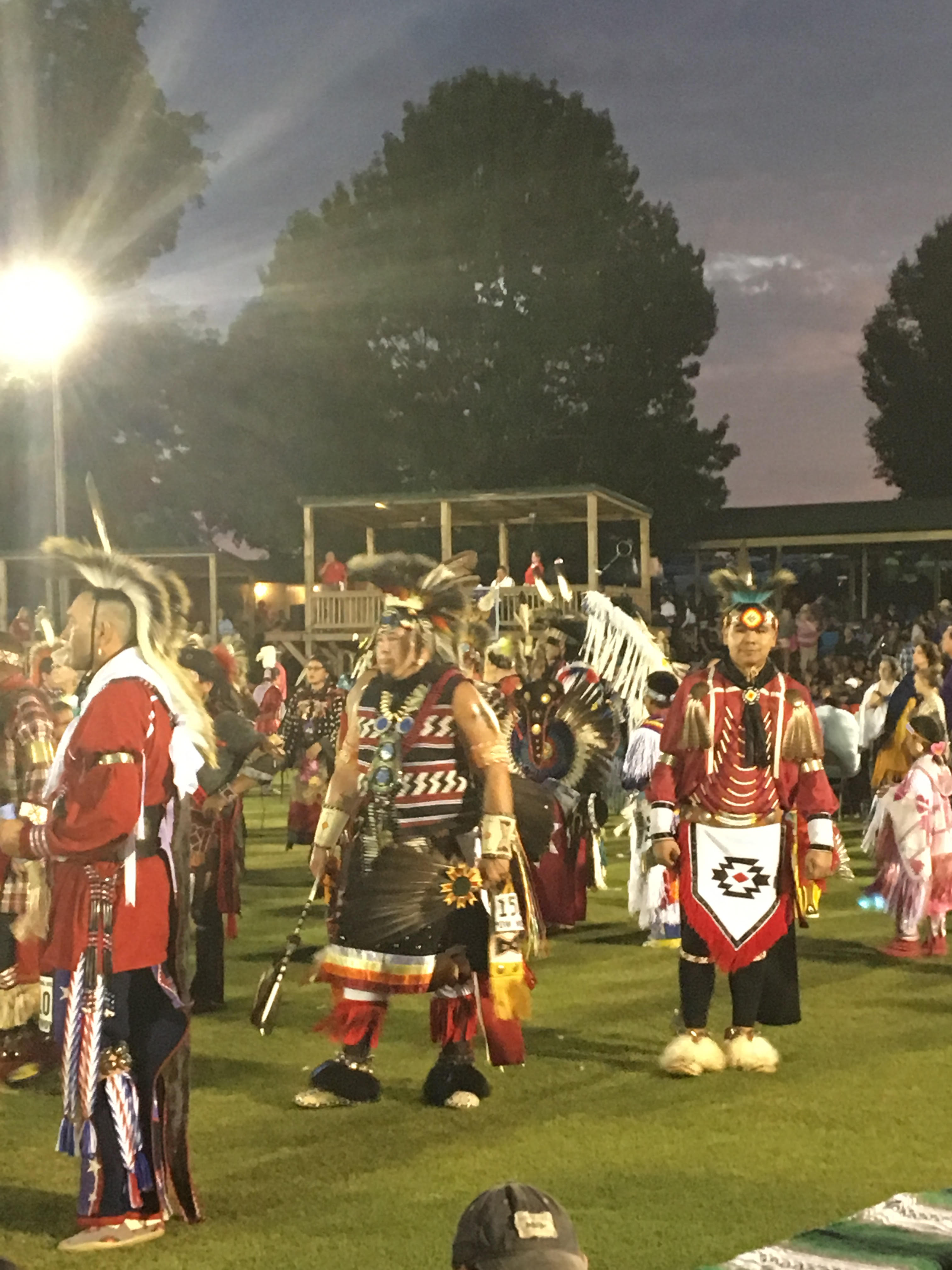 Photo by Tom Witosky of the Cherokee Powwow held August 31 in Tahlequah, OK
But like any celebration of this type, the festivities enveloping this year's Cherokee National Holiday had a slight aroma of politics – both tribal and federal – enveloping it as much as the scents of medicine pouches carried by many tribal citizens.
On August 31, the new Cherokee Nation principal chief Chuck Hoskin Jr. made his first Condition of the Nation speech following his election in August. Hoskin's campaign, directed by Iowa-based Democratic operative Davis Manoushagian, won easily, but in a fashion typical of Cherokee politics. It included, among other things, the Cherokee Supreme Court tossing Hoskin's toughest opponent off the ballot on the grounds the opponent's campaign set-up and executed a dark money strategy that violated tribal election disclosure laws.
Hoskin's name also may be familiar for entering the fray over Warren's decision to press her claims of Cherokee heritage with a highly publicized DNA test that her expert said disclosed a trace of Native American markers.
In calling the test "inappropriate and wrong," Hoskin pointed out that DNA tests are not accepted by the tribe as actual evidence of Native American heritage, much less as having any ancestry of a particular tribe.
"A DNA test is useless to determine tribal citizenship. Current DNA tests do not even distinguish whether a person's ancestors were indigenous to North or South American," Hoskin said at the time. "Sovereign tribal nations set their own legal requirements for citizenship, and while DNA tests can be used to determine lineage, such as paternity to an individual, it is not evidence for tribal affiliation."
POLITICAL AND LEGAL BATTLES OVER TRIBAL SOVEREIGNTY
Since the Warren controversy exploded in October 2018, the issue of tribal sovereignty has become a central one in Indian Country, while catching the attention of Democratic presidential candidates as well as the federal courts.
U.S. Representative Deb Haaland of New Mexico, one of two Native American House members elected in 2018, explained the issue of sovereignty this way when introducing Warren at the Native American forum.
Native American communities have long endured a history of oppression, broken treaties, and misleading doubletalk by those in power. From blankets laced in disease to times when our grandparents were put into boarding schools, to our land being sliced and diced during the allotment era to the unrelenting efforts to assimilate us into mainstream society. And through it all, the federal government has failed to live up to its Trust Responsibility to native nations. It has failed to provide foundational support in exchange for the land that made our United States of America.
Legal battles over issues related to tribal sovereignty also have surfaced with the U.S. Supreme Court upholding the treaty rights of the Yakima Tribe in Washington in a taxation case and the Crow Tribe in Wyoming and Montana in an off-reservation hunting rights case. In addition, the court has ordered a re-argument of a case that could dramatically redefine jurisdiction over major criminal matters inside the state of Oklahoma. Another over the constitutionality of the Indian Child Welfare Act, which was recently upheld as constitutional by the conservative Fifth Circuit U.S. Court of Appeals, could find its way onto the Supreme Court docket.
For the white populations, the complexity of Indian law and the treaties reached between tribes and the federal government going back 200 years generally has been viewed as unimportant. But sovereignty issues related to indigenous nations have become front page news with the long protest of construction of an oil pipeline near the Standing Rock Reservation in North Dakota, as well as protests over the push for construction of telescope in Hawaii on indigenous land.
What's different today is that it is much more of a fair fight. For their part, tribes, many fueled with millions of dollars in casino profits, have become strong business enterprises, able to afford effective legal representation capable of battling for preservation and enforcement of the treaties signed by the federal government.
It's a simple equation: For the millions and millions of acres the federal government obtained from the tribes, the government and its representatives agreed in perpetuity to provide support and services to the tribal nations with whom they signed the treaty. These services include health care, infrastructure, and law enforcement support.
Hoskin, in his speech to about 300 citizens near the historic Cherokee capitol building, promised that the Cherokees are committed to the resurgence of demanding that the federal government live up to its treaties.
To that end, Hoskin and the tribal council, citing language in the 1785 Treaty of Hopwell and the Treaty of New Echota of 1835, which licensed the federal government's removal of the Cherokee tribe, has asked that Kimberly Teehee, a Cherokee tribal official, be seated as delegate to the U.S.House of Representatives. If seated by the House, the delegate would have the same committee membership and committee voting rights as the delegates from the District of Columbia, Guam, American Samoa, the Northern Mariana Islands, Puerto Rico, the U.S. Virgin Islands, but would not have floor voting rights.
In his speech, Hoskin made it clear that the Cherokee tribes expect a renewed sense of respect and commitment from the federal government.
Our message is simple. The Cherokee Nation is the best friend the federal government has ever had. But our friendship must be built on respect for the Cherokee Nation. Whether it is making good on our treaty rights to have a Congressional delegate, meeting its trust responsibilities for our health programs, or consulting with our government as a mutual sovereign, my proposition to the government of the United States is simple: Keep your word.
OPPRESSION AND ATTEMPTED GENOCIDE AS PRECURSORS TO LEGAL ATTACKS AND ABROGATION OF TREATIES
To understand the significance of the growing stridency among tribal leaders as well as the recent Native American presidential forum, one has to understand how the historical oppression and attempted cultural genocide imposed on tribes is viewed simply as precursor to the legal attacks, abrogation of treaties and lack of respect now felt by the citizens of today's tribes.
Consider this: Nearly 250 Sioux Indians – most of them unarmed men, women, and children – were slaughtered by U.S. Army soldiers in the snow at Wounded Knee in South Dakota. For the work, 18 members of the 7th Calvary received the Congressional Medal of Honor in what even a Congressional resolution declared was an action of "deep regret."
That massacre happened on December 29, 1890, but Marcella LeBeau, an elder of the Two Kettle Band of the Cheyenne River Sioux Tribe of South Dakota, told each presidential candidate in Sioux City directly just how such a tragedy occurring 119 years ago still has impact on the descendants of those who lost their lives.
"I see a pervasive sadness among our people particularly with our young people," said LeBeau, a 2004 recipient of the French Legion of Honor medal for her service as a U.S. Army nurse in the European Theater in World War II.
"Some called it a battle, but it was a massacre," LeBeau said while asking each candidate whether they would support legislation rescinding the Medal of Honor awards in what is called the "Remove the Stain" act. Each candidate said they would.
Today, consider this: in a fit of right wing judicial activism, a federal District Court judge ignored more than 100 years of legal precedent to declare the 40-year-old Indian Child Welfare Act unconstitutional on the grounds that the law illegally thwarted white couples from adopting Indian children on the basis of providing a racial preference to the child's tribe.
But, the Fifth Circuit Court of Appeals--long held to be the most conservative appeals court in the nation--not only overturned Judge Reed O'Conner's ruling, but delivered what could only be described as a legal spanking. The appeals court pointed out that the tribes have long been considered political quasi-sovereign nations deserving of special recognition and treatment, and that not all members of a tribe have a biological connection to the tribe. (An example would be the Cherokee Freedmen, the descendants of Cherokee-owned slaves that were required by the post-Civil War Treaty of 1866 to be allowed tribal membership. A 2017 federal court decision upheld that mandate.)
THE PRESIDENTIAL CANDIDATES AT THE NATIVE AMERICAN FORUM
Warren and the other Democratic presidential candidates attending the forum in Sioux City were put on notice just how deep the resentment and anger runs among the tribes as they cope with example after example of the disregard that tribal citizens experience. Women are missing and murdered, but many cases are lost. Health services are underfunded. Now the federal government is attempting unilaterally to remove protection of sacred Indian lands for mining and other excavation purposes.
Into this debate, Warren delivered a complete speech with specific plans for a variety of Native American issues, including tribal sovereignty, reversing the horrible trend of missing and murdered indigenous women, and most of the issues important to the tribe.
But her speech noticeably lacked a necessary authenticity.
She expressed no understanding of the Cherokee culture, no experience of life on a reservation, no understanding from a personal point of view of the Native American experience. Her professional accomplishments from a hardscrabble life in Oklahoma are to be admired, but she expressed nothing about a Cherokee experience despite having claimed that heritage throughout most of her professional career.
The most personal experience she provided was remembering her family's pride in her three brothers when they joined and served the military and how veteran care must be improved.
When U.S. Senator Amy Klobuchar spoke to the forum, she shared an experience. As a lawmaker, she toured a dilapidated high school on the Leech Lake Ojibwe Reservation in northern Minnesota with then fellow Senator Al Franken. The two combined to make sure the school was rebuilt.
"The Leech Lake School was one of the saddest tribal schools that I visited," Klobuchar recounted of a visit to the Bug-O-Nay-Ge-Shig school. "I will never forget walking into that school and seeing hanging light fixtures, seeing discolored ceiling panels because of water coming through the roof. It smelled of mold. There was mold in the corner. There were rats. I tripped on the school floor because it was buckling. No children should go to a school like this."
When former U.S. Housing and Urban Development Secretary Julian Castro spoke to the forum, he told of a visit to the Pine Ridge Reservation in South Dakota. He said the visit showed him vividly the experience of the Lakota.
"I saw twelve or thirteen people living in small home, and another that had seventeen people living in, including two families. Their room, so to speak, was separated by a bedsheet. That was their divider," said Castro, who also has forwarded a plan for improving the housing on reservations and guaranteeing tribal sovereignty and protecting Indigenous women.
"During the time that I was there, I heard about, and then I learned in other communities as well, the fact that for so many indigenous communities, the housing stock is old, it's still an outdated, falling apart."
When Senator Kamala Harris spoke she reminded the forum of her experience with Indian Child Welfare Act, now under legal attack by the attorneys general in Texas and Louisiana.
"As attorney general I looked at this issue and other issues involving children as a civil rights issue," she said. "This is a fundamental issue. Children of the tribes must confront a variety of issues as we determine how and where these children enter the foster care system. They should not be lost in the system. These children deserve to have their connection to their tribe preserved."
With the Democratic presidential campaigns now entering the autumn prelude before the beginning of primary and caucus season begins, Warren's campaign is expected now to run into more turbulent waters as she becomes a target for her opponents as a result of her growing support among Democratic activists.
She has allowed the heritage issue to continue as her most vivid weakness because she couldn't apologize to the people hurt the most by it.
Tom Witosky, a citizen of the federally-recognized Cherokee Nation headquartered in Tahlequah, OK, retired from the Des Moines Register in 2012 after 33 years of investigative reporting of Iowa politics, sports, and business. He is also the co-author of Equal Before the Law, How Iowa led Americans to Marriage Equality.
Top image: Photo by Tom Witosky of Old Capitol, the original Cherokee National Capitol building, which is now the Cherokee National History Museum. Completed in 1869, the Capitol building served as the center of Cherokee governmental affairs until 1907, when Oklahoma became a state.