Mary Mascher is an Iowa state representative from Iowa City. -promoted by Laura Belin
I am proud to announce today that I will caucus for Elizabeth Warren next February.
After months of studying the Democratic presidential candidates and their views on the most important issues, I've come to the conclusion that Elizabeth is the one with the heart and intellect to unify and lead our country.

There's a lot to like about Elizabeth. Her candidacy is rooted in her personal experience growing up on the ragged edge of the middle class and a career devoted to examining the challenges facing working people. She's proven her leadership by building up the Consumer Financial Protection Bureau and serving seven years in the U.S. Senate.
And there are, of course, her plans. Since declaring her candidacy, Elizabeth has released incredibly detailed plans addressing the most pressing issues confronting Iowans today — everything from the climate crisis to universal child care.
The plans are bold, and they reflect her willingness to study an issue, identify the problems and find workable solutions. That's exactly what we need in a president.
Best of all, her plans are available on her website for all to read and examine. I encourage all of you to take some time and read some of them. After doing that, I think you'll see how I came to my decision to support Elizabeth.
Take her proposals for addressing the climate crisis, for example. Elizabeth wisely ties climate action into nearly a dozen of her plans, because she recognizes taking on the defining issue of our time requires more than incrementalism — it demands an all-hands-on-deck approach.
That means providing Iowa farmers the resources to grow in ways that are both sustainable and profitable, investing in green manufacturing and clean energy, protecting public lands, guaranteeing clean air and water for all, and much more.
As someone who has been an advocate for quality early childhood education throughout my legislative career, I'm also delighted to see universal child care as an integral part of Elizabeth's national agenda.
As Elizabeth often says, in the wealthiest country on the planet, access to affordable and high-quality child care and early education should be a right, not a privilege reserved for a few.
She's absolutely right about that. Decades of research from brain scientists shows the wide-ranging benefits early education has on our youngest learners. Ensuring access to childcare and pre-K is essential for our kids, our families and our economy.
Elizabeth's plan makes child care affordable for all, and, critically, accessible for all. She will cut down on child care "deserts" — communities without an adequate number of licensed child care options — by providing stable funding for providers and competitive wages for childcare workers to further professionalize and maintain the workforce.
Taken together, these plans guarantee high-quality childcare and early education for every child in America from birth to school age — and it's all paid for by an ultra-millionaire tax, which asks the richest families in America to pay a small annual tax on their wealth.
For us to achieve a victory in 2020, Democrats must unite around a candidate with a clear vision for the future of our country. Elizabeth Warren is that candidate. Please join me in supporting her in the Iowa caucuses on February 3, 2020.
State Representative Mary Mascher is a retired elementary school teacher and has served in the Iowa House since 1995. Official legislative photo of the author: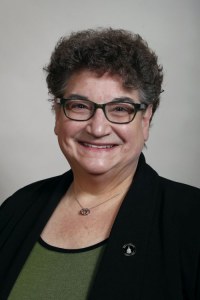 Top photo of Elizabeth Warren by Emilene Leone, published with permission.
Editor's note: Bleeding Heartland welcomes guest posts related to the Iowa caucuses, including but not limited to candidate endorsements. Please read these guidelines and contact Laura Belin if you are interested in writing.