U.S. Representative Steve King (IA-04) was among House Republicans who interrupted a secure hearing on October 23 to protest the Democrats' impeachment process.

About two dozen Republicans entered the Sensitive Compartmented Information Facility while members of the House Intelligence Committee were hearing testimony from Deputy Assistant Secretary of Defense Laura Cooper. Scott Thuman, Chief Political Correspondent for SBG & Full Measure, filmed and posted this video, which shows King in the group.
WATCH: here's the video of when 2 dozen GOP members, led by @mattgaetz entered the secure hearing room (SCIF) to interrupt witness testimony in the #ImpeachmentInquiry as they demand access, despite not being committee members. They're complaining it's a "Soviet-style process". pic.twitter.com/8KddYz3r9D

— Scott Thuman (@ScottThuman) October 23, 2019
Andrew Desiderio and Melanie Zanona reported for Politico,
The GOP stunt, led by House Minority Whip Steve Scalise (R-La.), comes as [President Donald] Trump has demanded that Republicans "get tough and fight" for him in the impeachment probe. But Republicans have struggled to defend Trump on the substance of the allegations against him, and have instead focused on hammering Democrats over what they see as an illegitimate impeachment process.

The Republican effort came one day after Democrats secured some of their most explosive findings in the impeachment probe. Yet GOP lawmakers — at least for the first half of the day — successfully changed the conversation; instead of being pressed for reaction to Taylor's testimony, they were fielding questions from reporters about the drama unfolding inside the secure facility.
That's acting U.S. Ambassador William Taylor, who produced several smoking guns about U.S. military aid to Ukraine being held up, on condition that Ukraine's president publicly announce investigations related to Hunter Biden and the 2016 election. You can read or download Taylor's 15-page opening statement here.
Politico's cybersecurity correspondent Eric Geller commented on Twitter,
Objectively speaking, Republicans violated the SCIF's security rules and took a classified briefing hostage to demand access to which they're not entitled.

The destruction of basic governance norms continues apace.
According to Kyle Cheney, "some Republicans brought cell phones into the classified space." It's not clear from Thuman's video whether King was carrying his phone. I'm seeking comment from his staff and will update as needed. UPDATE: Communications staffer John Kennedy confirmed via email, "Congressman King's phone was stored in a secured location while he was in the SCIF."
Mieke Eoyang leads the Third Way think tank's national security program and formerly worked in the secure facility as a House Intelligence Committee staffer. In a long Twitter thread, she explained why today's "stunt" is "a VERY serious national security problem."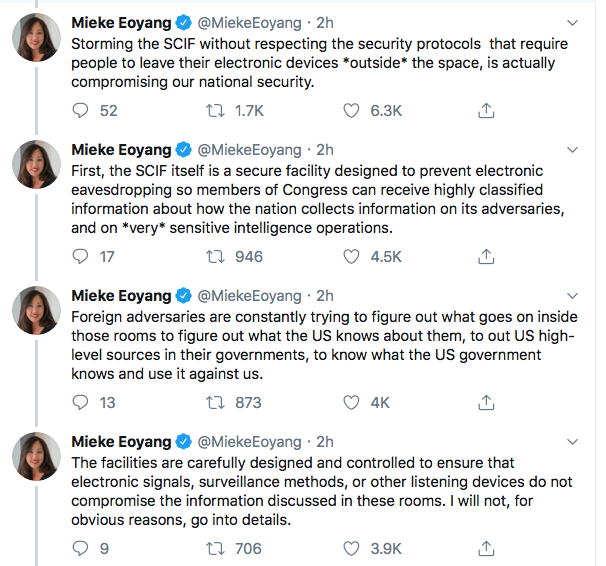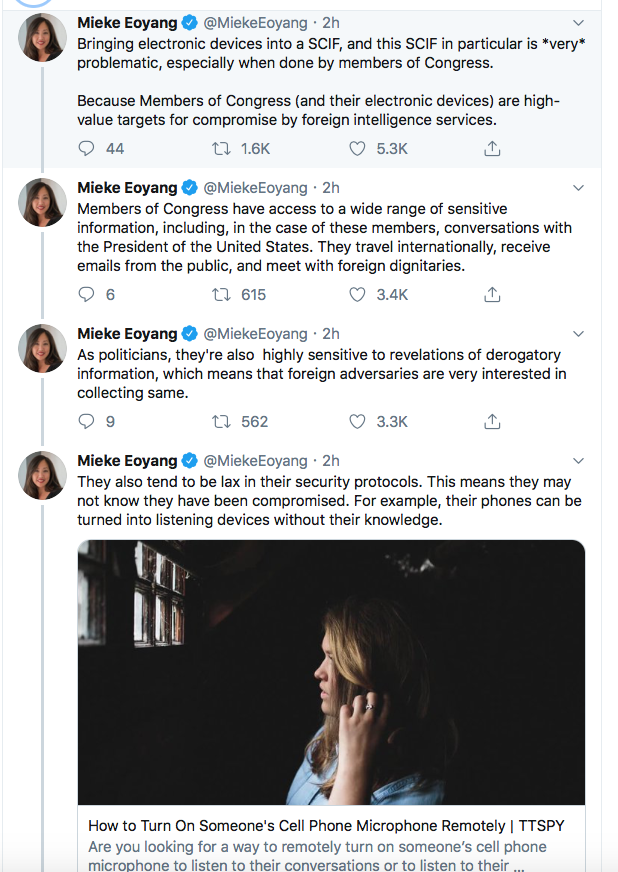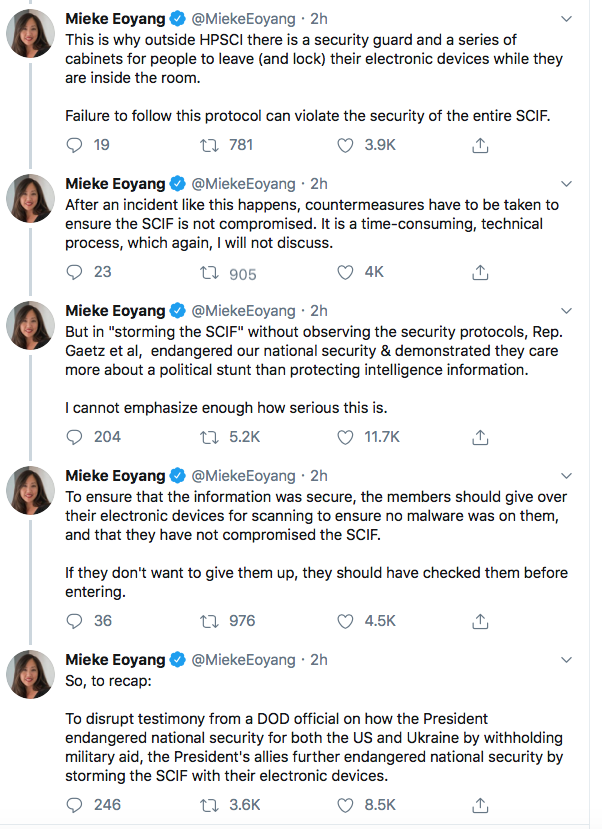 In an October 23 news release, King's office hailed the protest (emphasis in original).
Congressman Steve King releases this photo and statement following his participation today in a press conference in which attendees demanded greater public transparency into the secret impeachment hearings being led by Rep. Adam Schiff. Following the press conference, many of these members, including Congressman King, entered the hearing room to bear witness to a process King describes as "the greatest atrocity I've seen in the United States Congress in 17 years." As King observes, "It's unimaginable that anybody would have the audacity to hold secret impeachment hearings here in the House of Representatives, the People's House."

Congressman King joined his colleagues to demand greater transparency into secret impeachment hearings being conducted by Rep. Adam Schiff. (Photo Credit: Office of Congressman Steve King).

Congressman Steve King's statement:

"I joined in a press conference down here, just outside the secure room, the SCIF, in the Capitol this morning at about 10:00 or 10:15 where we had a say about secret hearings going on in the hearing room led by Adam Schiff.

Afterwards, we decided we were going to try to get in so we could hear those proceedings. The American people need to know what is going on. As we went to the door and tried to get in, we were blocked by security, and a good number of the Members raised a significant ruckus. And when one of the Members came along that was authorized to go into that room, the door was open and about 30 of us went in and stormed and filled the committee room.

When that happened, Chairman Adam Schiff picked up his witness and hustled her out of the other door. We are witnessing the biggest atrocity I've seen in this United States Congress in 17 years. It's unimaginable that anybody would have the audacity to hold secret impeachment hearings here in the House of Representatives, the People's House. There's no provision in the Constitution that allows it. There's no precedent that allows it. And there's no sense of decency or fairness that would allow this.

This President has proven to hold up under all of these tests that have come forward, and we're going to stand with this President, and we're going to push back this impeachment effort here in the House of Representatives."
Incidentally, Republicans are wrong to imply that Democrats are excluding all of their GOP colleagues from the impeachment proceedings. From the latest by Desiderio and Zanona:
In reality, more than 45 House Republicans — nearly a quarter of the House GOP conference — already have full access to the depositions through their membership on one of the three panels leading the impeachment inquiry. During the depositions, Republican lawyers are given the same amount of time to question witnesses as Democratic counsels.
I haven't seen any public statement from King, or Iowa's Republican U.S. Senators Chuck Grassley and Joni Ernst, regarding Ambassador Taylor's testimony. I'm seeking comment from Ernst because she is a member of the Senate Ukraine Caucus and has championed U.S. military aid to that country. Ernst hasn't held a conference call with Iowa reporters for more than a month. Her social media feeds have focused on trade policy this week.
In an October 22 tweet, King urged House Minority Leader Kevin McCarthy to restore the Iowan's committee assignments, on the grounds that the New York Times is supposedly a "fake newspaper," according to the president. King has been playing up his support for Trump and has claimed the New York Times misquoted him in the interview that cost him his seats on House committees.
UPDATE: Responding to Bleeding Heartland's inquiry, King's Democratic opponent J.D. Scholten commented,
"Steve King storming into the SCIF — a secure hearing room — is his latest publicity stunt and shows his complete disregard for due process and our national security. He continues to draw negative attention to himself and our 4th district. If King wanted to be part of the hearing, he shouldn't have been stripped of his committees for his questioning why white supremacy is considered offensive. King's actions are selfish, unsurprising and disappointing."
Top image: Screen shot from video posted by Scott Thuman of Representative Steve King and other House Republicans entering a secure hearing room without authorization.