A competitive primary is shaping up in the safest Iowa House seat for Democrats. Last week University of Iowa law professor Christina Bohannan announced she will run for House district 85, setting up a race against ten-term State Representative Vicki Lensing.

House district 85 covers northern Iowa City and part of the university campus.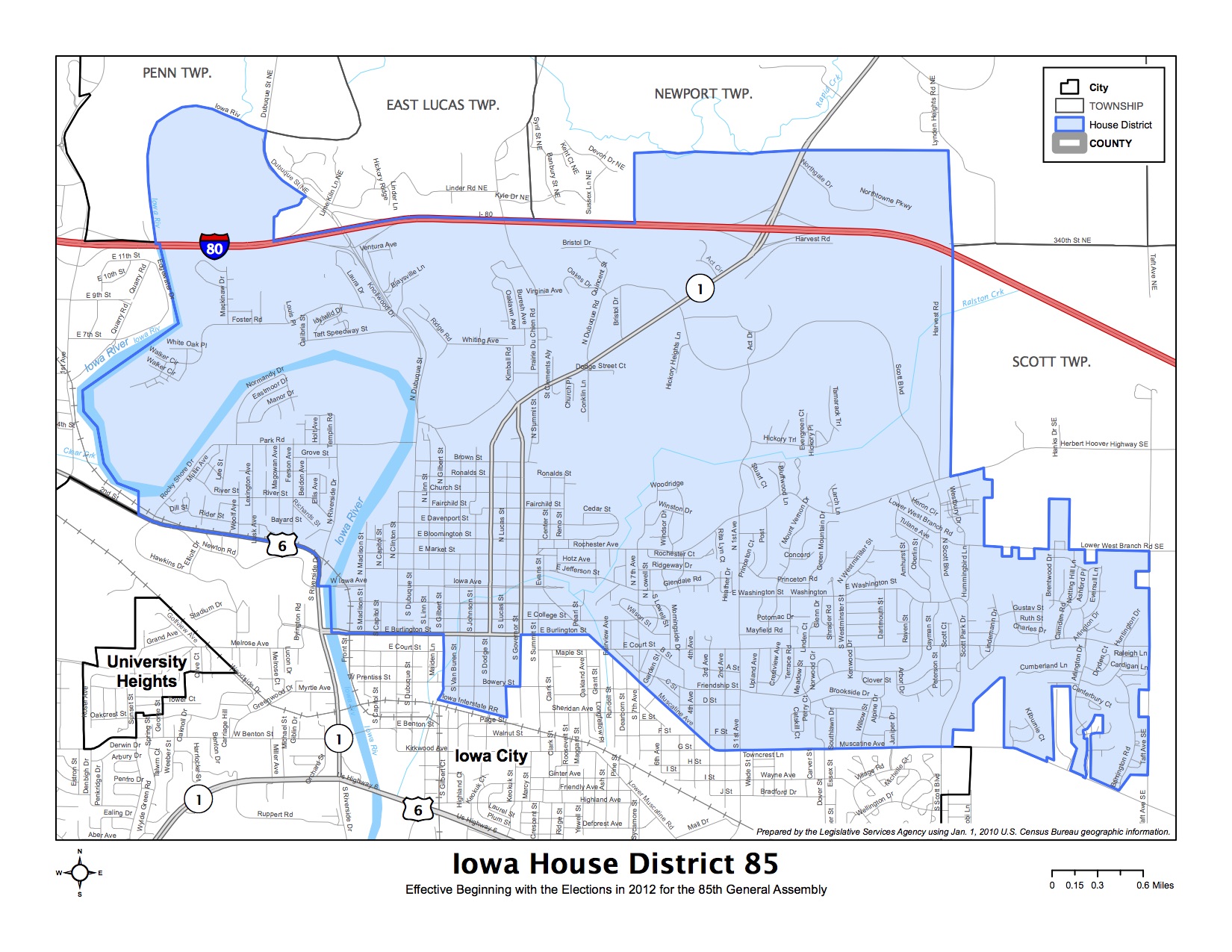 No Republican has represented this area in the Iowa legislature for many decades. There are nearly three times as many registered Democrats as Republicans in House district 85. Democrats outnumber GOP and no-party voters combined, and many students who identify as no-party vote mostly Democratic.
While Donald Trump outperformed Mitt Romney in most Iowa legislative districts, he did exceptionally poorly in House district 85. Hillary Clinton received 74.3 percent of the vote from Lensing's constituents, even better than Barack Obama's 71.8 percent vote share in 2012.
The GOP typically leaves the Iowa City legislative districts uncontested. Even if a Republican stepped up to run in 2020, that person would have no prayer against the winner of the Democratic primary.
First elected to the Iowa House in 2000, Lensing was ranking member on the Environmental Protection Committee during this year's legislative session. She also serves on the State Government, Government Oversight, and Local Government committees. More background, from her official bio:
Vicki was born June 21, 1957 in Iowa City, the daughter of the late John and Patti Mott. She grew up in the family business, Mott's Drug Store, which was owned and operated by her grandparents. A lifelong resident of Iowa City, she graduated from West High School in 1975 and from the University of Iowa in 1979.

Vicki is co-owner of Lensing Funeral & Cremation Service. She developed and facilitates several bereavement support groups for adults and works actively with local community groups on educational and grief support programs.

She is married to Rich Templeton. She has three children: Amanda and Alex of Iowa City, and Nick (and Lauren) of Austin, Texas, one stepdaughter, Kiera (and Scott) Sovers of North Liberty and one stepson, Ian Templeton of Washington. She has four granddaughters and three grandsons.

She served as chair of the Iowa City Area Chamber of Commerce in 2000 and is a 1996 graduate of the Community Leadership Program.

She also served on the board of the Community Foundation of Johnson County. She is past president of the Johnson County Woman's Network. She was one of the co-founders of the Woman's Leadership Circle of the Johnson County United Way. In 2009, Vicki was recognized as a Woman of Influence and received the Friend of the Family Farmer Award from the Iowa Farmers Union.

Vicki was formerly President of Preferred Funeral Directors International.
Lensing did not respond to Bleeding Heartland's phone or e-mail messages seeking to confirm her 2020 plans and what case she would make to Democrats to nominate her again. Based on her comments to Zachary Oren-Smith of the Iowa City Press-Citizen, I assume she will seek another term.
She said it is normal for freshmen legislators to spend their first year or two learning the lay of the land. She argued that the benefit of her experience is she is able to get straight to work.

"I think I have been there long enough that I certainly understand the process and the issues, and I try to work hard for the people in my district," Lensing said. [...]

"Whether it is your party or another party, you approach the race knowing what you stand for," Lensing said. "For me, it will be remembering my record. It means you get out and work."
Bohannan told her story and summarized the key issues driving her campaign in a video and news release on October 21.
"Iowa has a history of supporting common-sense progressive values," said Bohannan. "It is time to restore Iowa's values, reclaim Iowa's legacy, and fulfill Iowa's promise. I'm running for Iowa House District 85 because I am all in."

Bohannan has been a law professor at the University of Iowa for 20 years, where she has served as Faculty Senate President. She worked as an environmental engineer for the State of Florida Department of Environmental Protection before that.

She was also the first in her family to go to college. "I am the product of public education," said Bohannan. "Education provides people of all backgrounds—like me—the opportunity for a better life."

Because of her family's working-class background, she also makes the restoration of unions' collective-bargaining rights and a higher minimum wage major priorities.

"We must build an economy from the ground up, and we can't do that if people can't afford decent housing, or are one illness away from bankruptcy," said Bohannan. "If we build a strong workforce and a solid middle class with money to spend, I am confident that businesses will be happy to locate to Iowa."

Bohannan considers climate change the biggest threat that we are presently facing. "I believe in evidence-based decision-making. It is clear that climate change is real and is an existential threat. Iowa is experiencing some of the worst effects in the country...but we could also lead the way in alternative energies and sustainability," she said.

According to Bohannan, the necessary changes will be achieved by electing representatives who are all in and who will work actively with people in other parts of the state. "Iowa City can help to lead the state forward, win back Iowa's values, and make our state better for everyone."
Lensing has been a solid vote for workers' rights, education funding, and the environment, so why challenge her? Bohannan hints at the answer near the end of her video ("In Iowa City, we deserve a representative who is all in, who can champion Iowa's progressive values. Who will show up for you, listen to you, and fight for you"). I wanted to hear more about why she believes Democrats should nominate her. Bohannan responded via e-mail,
I believe in our democracy, and voter choice is an important part of that. Whether we are talking about a general or a primary, an election is not about the past – it is about the future. The beauty of terms is that the voters get to decide anew every two years who will represent them going forward. Sometimes, with no malice or disrespect for an incumbent, voters just want a change. That is their right, and in a democracy, it is a sacred right.

What distinguishes me as a candidate is my vision for this job. That vision is more important now -- and going forward -- than it has been over the past couple of decades. In our current political climate, many people have lost trust in our government. Many people feel invisible, even fearful.

Of course you have to vote the right way. But – and here's the key – it's not just about how you vote. It is about showing up for your constituents, because that is how you show you care. You have to support local groups by attending events—lots and lots of events. You have to educate your constituents about current issues through opinion pieces and online media. You have to hold town halls. You can't depend on fellow legislators or others to do that work – you have to do it yourself because you are their representative. Your constituents want to see you. And they want to know that you see them.

People also need their legislators to fight for them. Johnson County must lead the efforts to take back the House, the Senate, and the governorship. I will work tirelessly to support Democratic candidates from other parts of the state. But even when we are in the minority, that is not a time to give up. Being in the minority does not mean being on the sidelines. I would do the research, raise public awareness, ask the tough questions, and push for the amendments. My view is that when you are in the majority, you work hard. When you are in the minority, you work harder.
It's extremely hard to beat an Iowa legislator in a primary. Many have tried, but only a handful have succeeded during the last couple of decades. The last Democrat to win the nomination against an incumbent was Wes Breckenridge, whose support from organized labor was critical in his 2016 campaign against State Representative Dan Kelley.
On the other hand, Bohannan has more political experience and better connections than the typical primary challenger, having led the university Faculty Senate.
Iowa City activists sometimes grumble that Lensing doesn't attend many local events. She has made little effort to raise money that could be used to help elect Democrats in tougher districts, as Bleeding Heartland discussed here. Since I wrote that post in early 2018, Lensing raised less than $15,000, with most of the money coming from PACs that donate to a large number of state legislators (see her campaign finance disclosures filed in May, July, October, and November 2018).
Will discontent about "showing up" be enough to convince local Democrats to fire a long-serving incumbent and hire a newcomer in 2020? I have no idea, but I wouldn't count Bohannan out.
Lensing's campaign does not have its own website or Facebook page. Bohannan is on the web at BohannanforIowa.com and on Facebook at Bohannanfor85. Her campaign kickoff is scheduled for November 13 at 5:30 pm at Big Grove Brewery in Iowa City.
Top image: Cropped official photo of State Representative Vicki Lensing (left) and cropped photo of Christina Bohannan by Abbie Schuchard, a University of Iowa senior.