President Donald Trump has finally admitted that he illegally used a Des Moines fundraiser for veterans to boost his 2016 campaign.

A New York court has ordered Trump to "pay $2 million in damages for improperly using charitable assets to intervene in the 2016 presidential primaries and further his own political interests," the New York Attorney General's office announced on November 7.
Under the settlement agreement released last week, Trump acknowledged his foundation's activities violated New York law on charities in many ways, such as:
Mr. Trump and the Foundation have admitted key facts about their illegal political coordination with the Trump campaign, including that a purported Foundation fundraiser in January 2016 was in fact a campaign event, and that Foundation gave the Trump campaign complete control over the timing, amounts, and recipients of the $2.8 million raised through that event. Mr. Trump further admits that he and his campaign took credit for the grants that the Foundation made with funds that had been raised from the public. Justice Scarpulla noted in her decision that "Mr. Trump's campaign, rather than the Foundation: (1) 'planned' and 'organized' the Fundraiser; and (2) 'directed the timing, amounts, and recipients of the Foundation's grants to charitable organizations supporting military veterans.'"
The campaign organized the fundraiser for veterans on January 28, 2016 to compete with a Fox News televised debate featuring other Republican presidential candidates four days before the caucuses. Trump's campaign manager Corey Lewandowski then orchestrated disbursements in Iowa and New Hampshire to generate publicity and goodwill. On January 30 and 31, Trump held rallies in Davenport and Sioux City, during which he gave $100,000 checks to the Iowa organizations Puppy Jake Foundation and Support Siouxland Soldiers.
A couple of weeks after the 2016 caucuses, the Trump Foundation mailed a $100,000 check to Central Iowa Shelter and Services in Des Moines, where staff were "surprised and a little bit confused."
When the New York attorney general sued the Trump Foundation in June 2018, the president proclaimed that he would never settle. But he agreed to shut down his foundation last December and signed off on the final settlement involving the $2 million payment.
While we're on the subject of veterans, the Legislative Services Agency produced this graphic about the Iowa Veterans Home in Marshalltown in July as part of its "map of the week" series.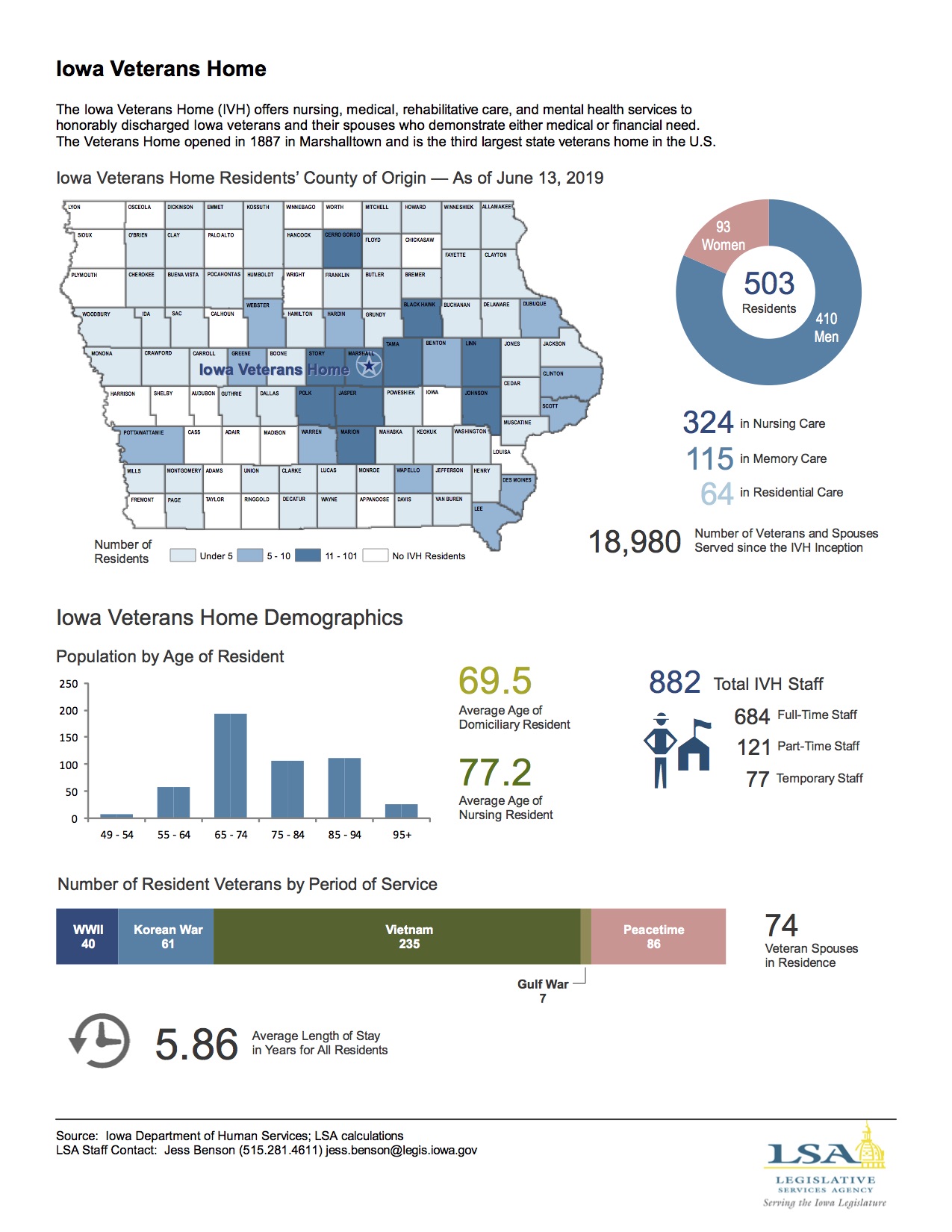 Senator Chuck Grassley visited the home on November 8 to promote the Library of Congress Veterans History project, which records Americans' personal stories of military service.
Leading up to this holiday last year, the Legislative Services Agency produced a fascinating map showing how Iowa's estimated 206,430 veterans are distributed around the state.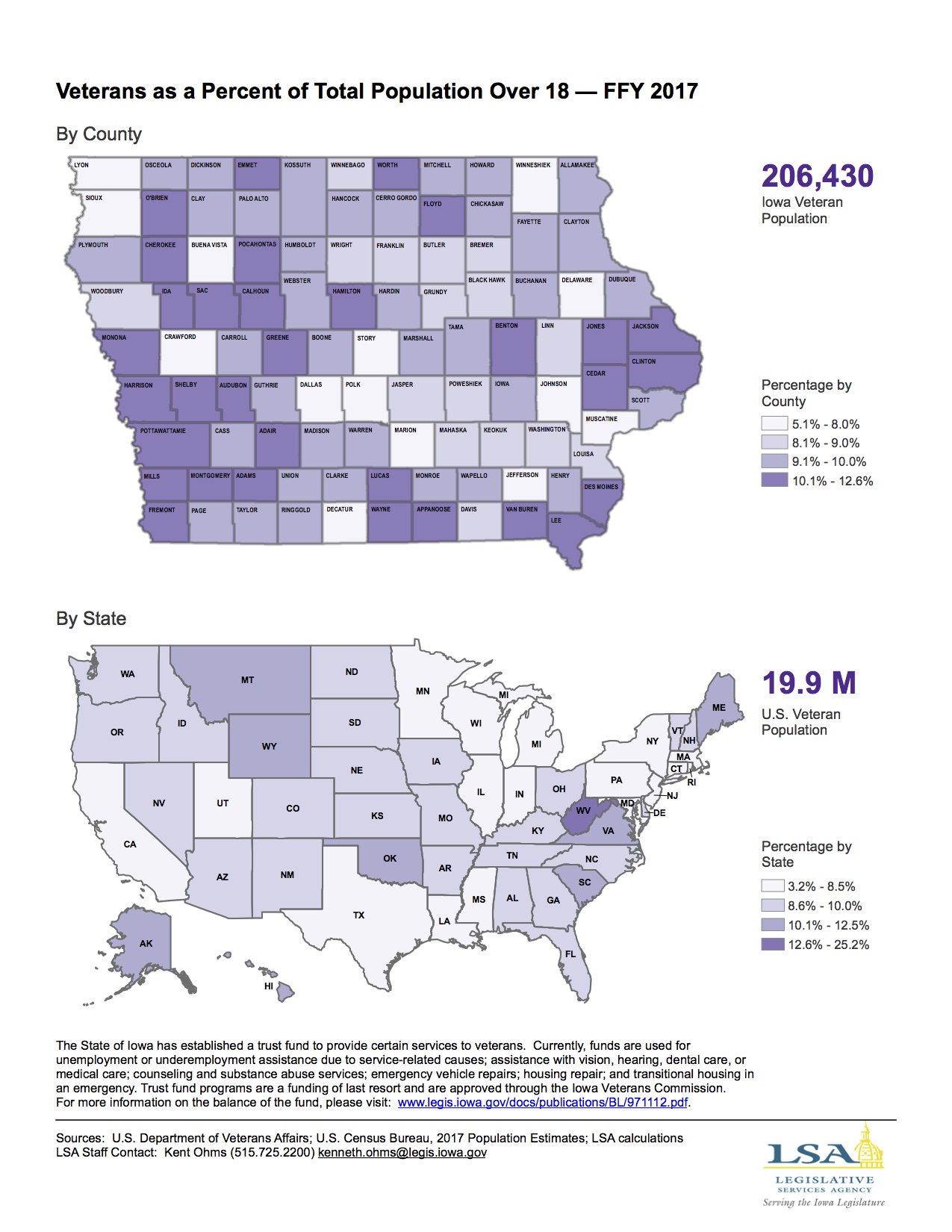 Click to enlarge the Iowa counties map.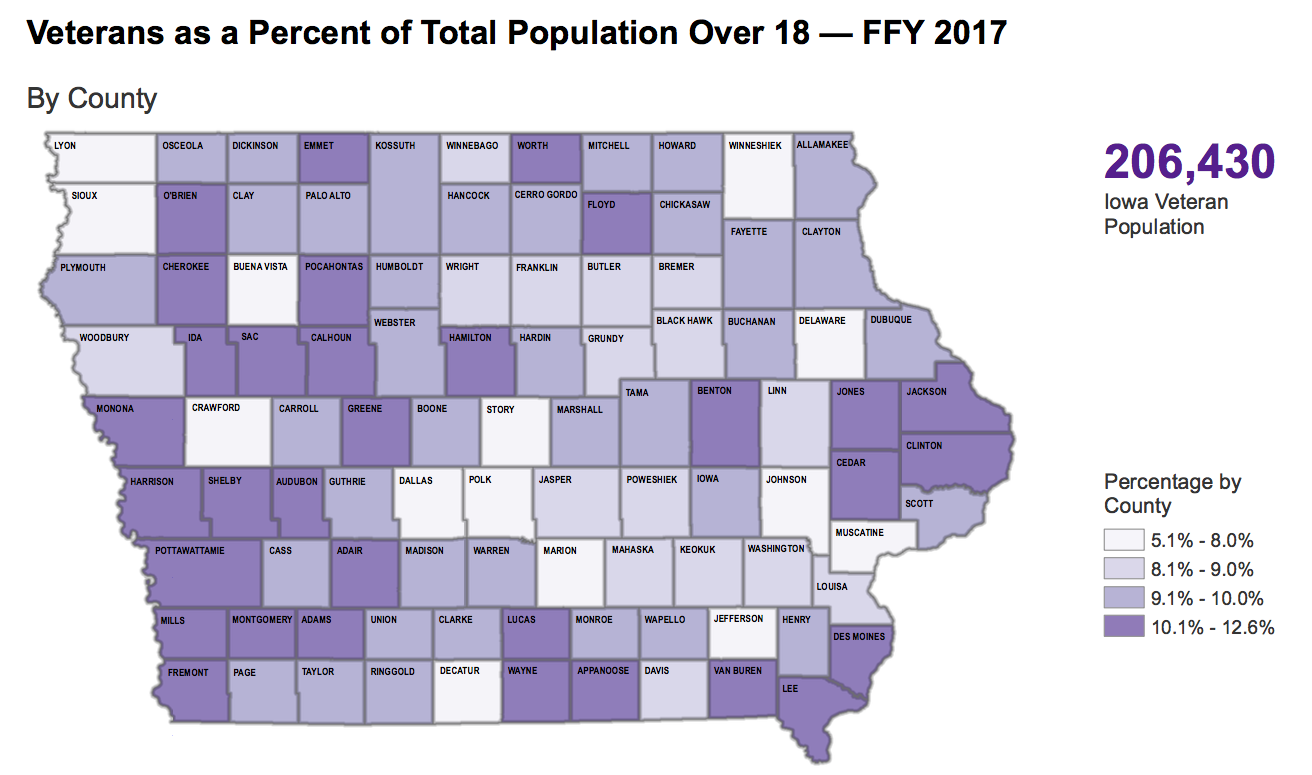 The suicide rate for veterans remains shamefully high, about 1.5 times the rate for adults who never served in the military, according to the latest report on the subject from the U.S. Department of Veterans Affairs. U.S. Senator Joni Ernst highlighted her work on the problem last week.
Representative Dave Loebsack (IA-02) has repeatedly introduced bipartisan legislation to address the veteran suicide epidemic. The Brandon Ketchum Never Again Act was named in memory of a veteran from Davenport who took his own life after being denied in-patient psychiatric care at a VA facility. Fellow Iowa Democratic Representatives Abby Finkenauer (IA-01) and Cindy Axne (IA-03) are among the original co-sponsors of this year's version of that bill.
Bleeding Heartland has posted many other links relevant to Veterans Day in past years, which you can find here, here, here, and here.
Top image: Photo by Michael F. Hiatt, via Shutterstock: Republican candidate for President Donald Trump waves to the crowd at a rally for veterans at Drake University's Sheslow Auditorium in Des Moines on January 28, 2016.