Three cities in Iowa received the highest possible score for "inclusive municipal laws, policies, and services" for LGBTQ people in the latest report by a leading national advocacy group.

The Human Rights Campaign evaluated 506 cities across the country for the 2019 Municipal Equality Index, which the group released on November 19. A record number of cities (88) had perfect scores of 100. You can download the whole report here; at the end of this post, I've enclosed the pages explaining the scoring criteria.
The authors picked state capitals, each state's largest cities, and municipalities that are home to top state universities. Here are the scores for the nine Iowa communities included.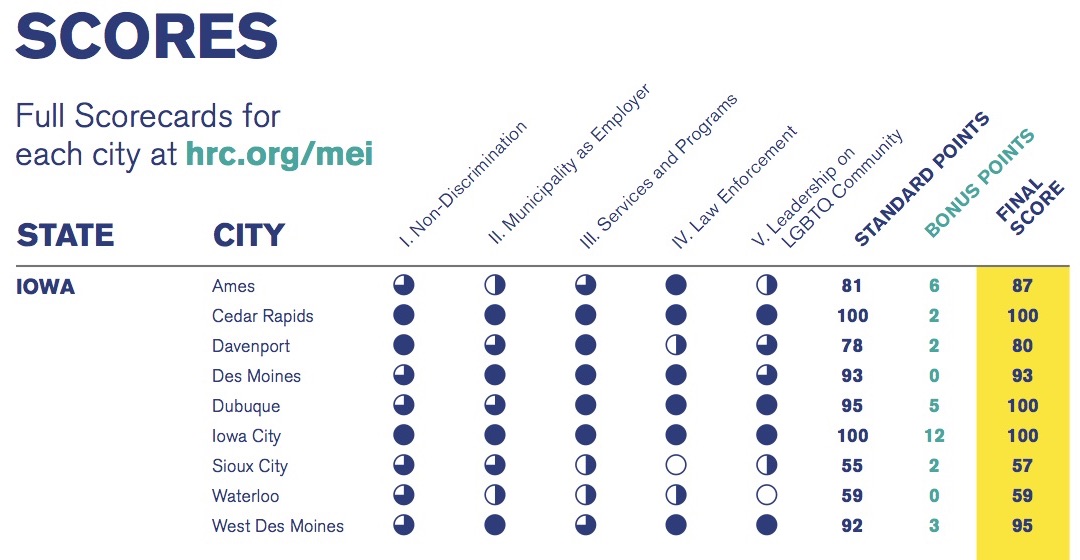 Iowa City and Cedar Rapids got full points on every metric, plus some "bonus points" (twelve for Iowa City, two for Cedar Rapids). Both cities also scored 100 on last year's report, but they increased their bonuses this year.
Dubuque received 95 points out of 100 possible on the main criteria. Five bonus points pulled that city's total score up to 100, the same as last year.
West Des Moines received the next-highest score for our state, with 95 points, up two from last year.
The state's largest city scored 93, identical to last year's rating for Des Moines.
Ames improved from 82 points on the 2018 index to 87 this year, with slight increases in the relationship of city leaders to the LGBTQ community as well as a couple of additional bonus points.
Davenport's score was unchanged from 2018: 80 points out of a possible 100.
Waterloo was well behind our state's leaders for inclusivity with a score of 59, the same as last year.
Sioux City was the only Iowa municipality to see its rating drop since last year, from 67 in 2018 to 57 in the new report. The reason is the law enforcement category. Sioux City got ten points last year for having an LGBTQ police liaison or task force, but no points on that metric in the new report.
Here are the links to detailed scorecards for each Iowa city on the Human Rights Campaign's Municipal Equality Index 2019. This resource shows exactly where the various communities can continue to improve.
UPDATE: Davenport resident Cody Eliff informed me that the city received a score of 100 in 2017. He's right. You can look up all nine Iowa cities' scorecards from 2017 here. The biggest reason for Davenport's drop is that the city reported its 2015 hate crimes statistics to the FBI, which earned twelve points. However, the city did not report 2017 hate crimes figures to the federal agency.
Scoring metrics used by the Human Rights Campaign: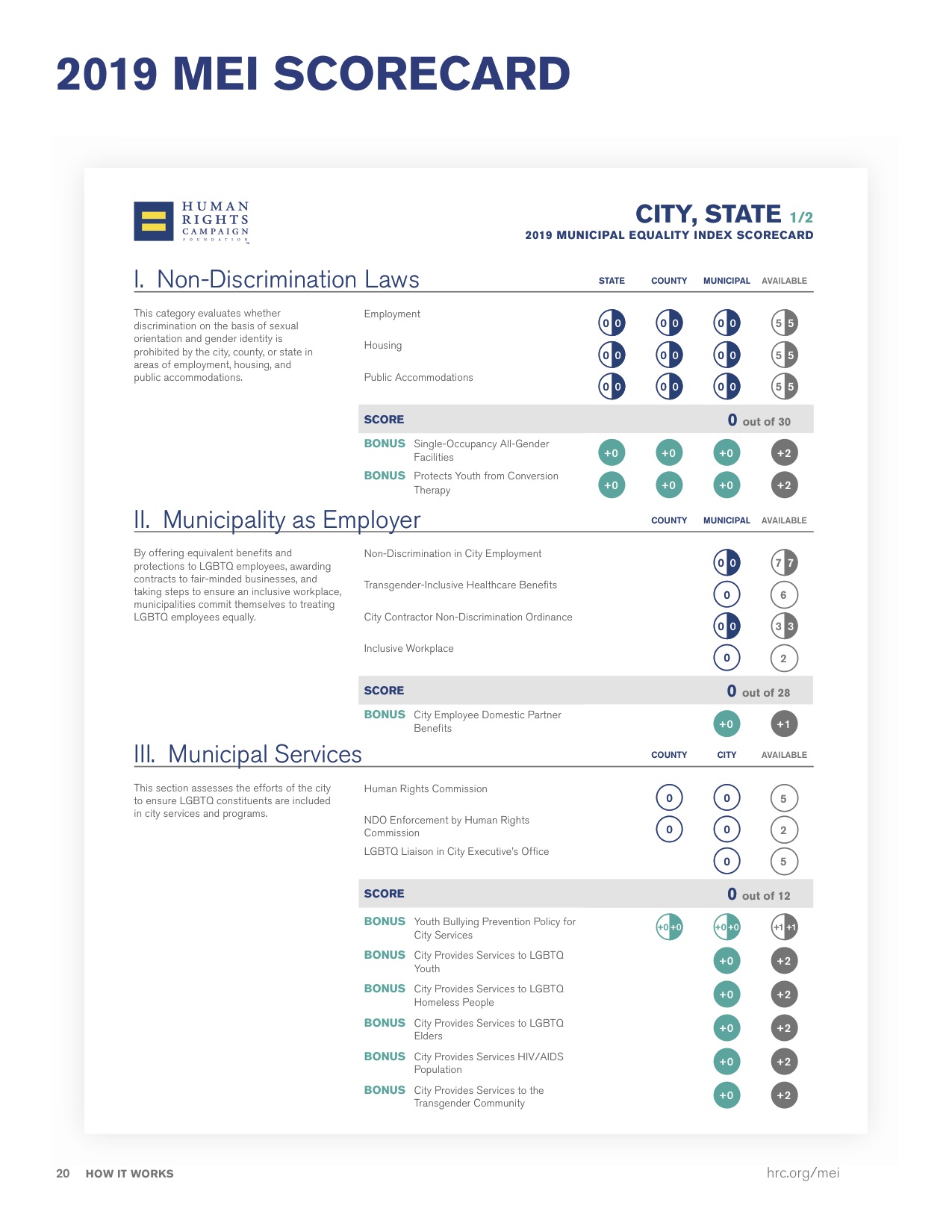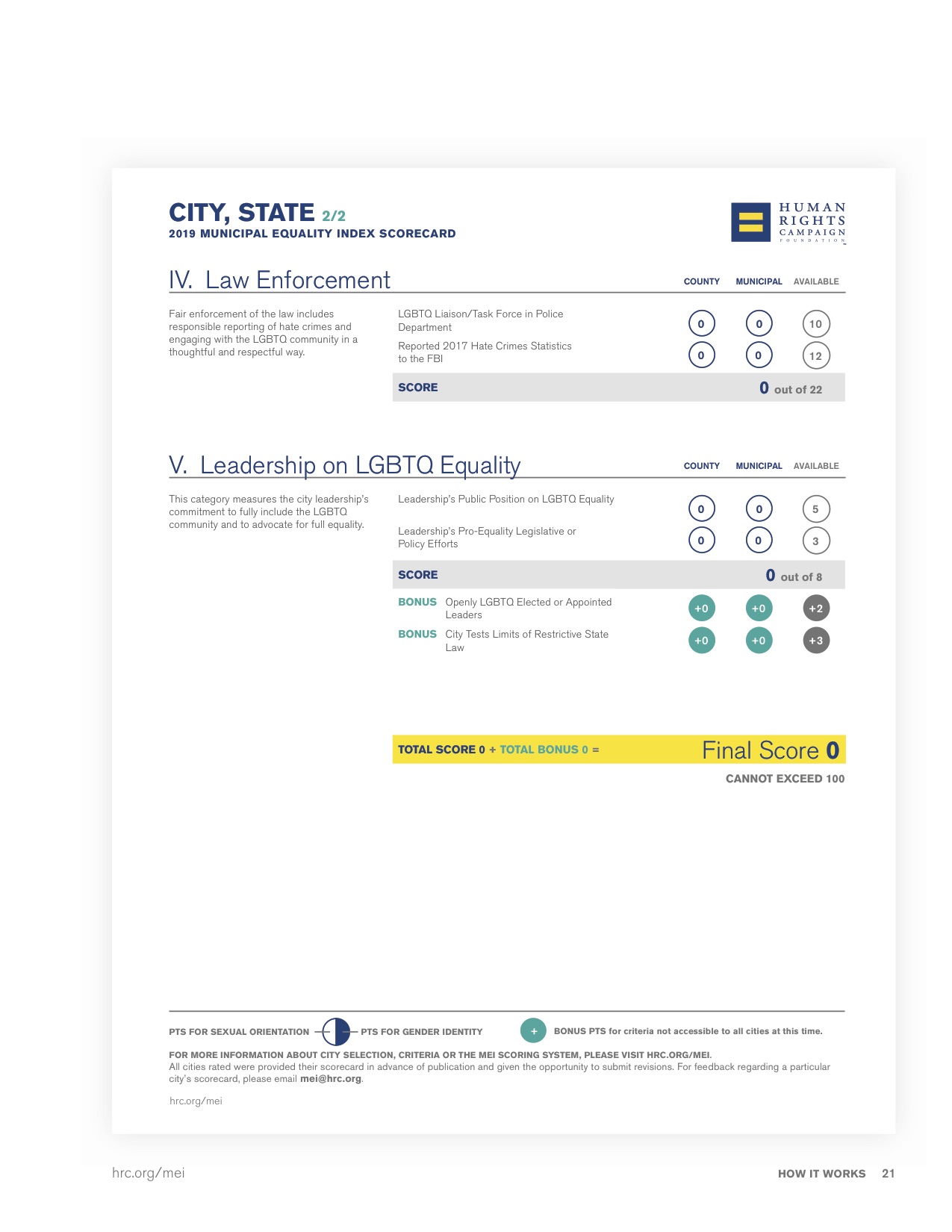 Top image: Photograph by Joy Mack of the Iowa City Pride festival in June 2019, published with permission.