Thousands of Iowans are mourning Berkley Bedell, who passed away of a stroke this weekend at the age of 98.
Bedell was best known as a member of Congress representing northwest Iowa from 1975 through 1986, when he retired while battling what was later diagnosed as Lyme disease. He served on the Spirit Lake school board early in his career but was unsuccessful in his first U.S. House campaign in 1972. Like his friend and colleague Tom Harkin, Bedell ran against the Republican incumbent again in 1974 and won the seat, aided by the post-Watergate Democratic landslide.
Tim Hynds reported for the Sioux City Journal, "At age 15 in 1937, using money earned from a newspaper delivery route, Bedell founded Berkley & Co., a Spirit Lake business that manufactured fishing tackle." The company became a major employer in the area. President Lyndon Johnson recognized Bedell as Small Businessman of the Year in 1964.

Tom Bedell remembered his father in a public Facebook post.
Dad was born in 1921. He pioneered a life that impacted others for 98 years. His duality of concern for how others thought of him and how graciously he thought of others molded a personality that was uniquely special and full of influence. He embraced responsibility for the challenges to humanity from nuclear annihilation to climate change to disparity in affluence to the economic greed in medicine over the natural pathic solutions to human health. He transitioned a sleepy town in NW Iowa with his fishing business; he set an example of principle as a Congressman; and he lived wisdom and passion in his senior years – never giving up on the desire and belief that he could change the world for the better.

Berkley Warren Bedell lived a full life of passion, action and cause until Wednesday morning, December 4, 2019 when a severe stroke attacked his very alive and productive brain. He loved life and wanted it to last forever, but he feared being disabled and being unable to live life to the fullest. He was granted his wish. It took several days for his body to let go…but he did not suffer. He did not spend months or years living in a hospital bed. He celebrated his causes and friends right up to his last days. Like the rest of his extraordinary life, he lived as he wished right up until the end.
Indeed, Bedell wrote an op-ed column two months ago about excessive CEO pay. Excerpts:
Top executives today can pocket more for a morning's labor than their employees earn in an entire year. Last year, the Institute for Policy Studies reports, 50 major U.S. corporations paid their chief executives more than 1,000 times what they paid their typical workers.

I never paid myself more than four or five times what my employees were making. I lived like my friends in my hometown of Spirit Lake, Iowa. I drove an older car, served as a scoutmaster and resided in a modest home. I had a good life. […]

My company's business practices went beyond making my family as wealthy as we could be. We let workers do four nine-hour days for 40-hours pay, and had a profit-sharing plan that would eventually distribute 20% of all company earnings.

We also set aside 10% of those earnings in an employee recreation fund, money we used for everything from ballgames to fishing trips. Once we closed our factory completely and all of us went to Yellowstone for a week.
Bedell was well enough to travel to Iowa this summer to speak at an event in Sioux City with Elizabeth Warren, whom he supported for president. Warren shared this picture on her Facebook page in July.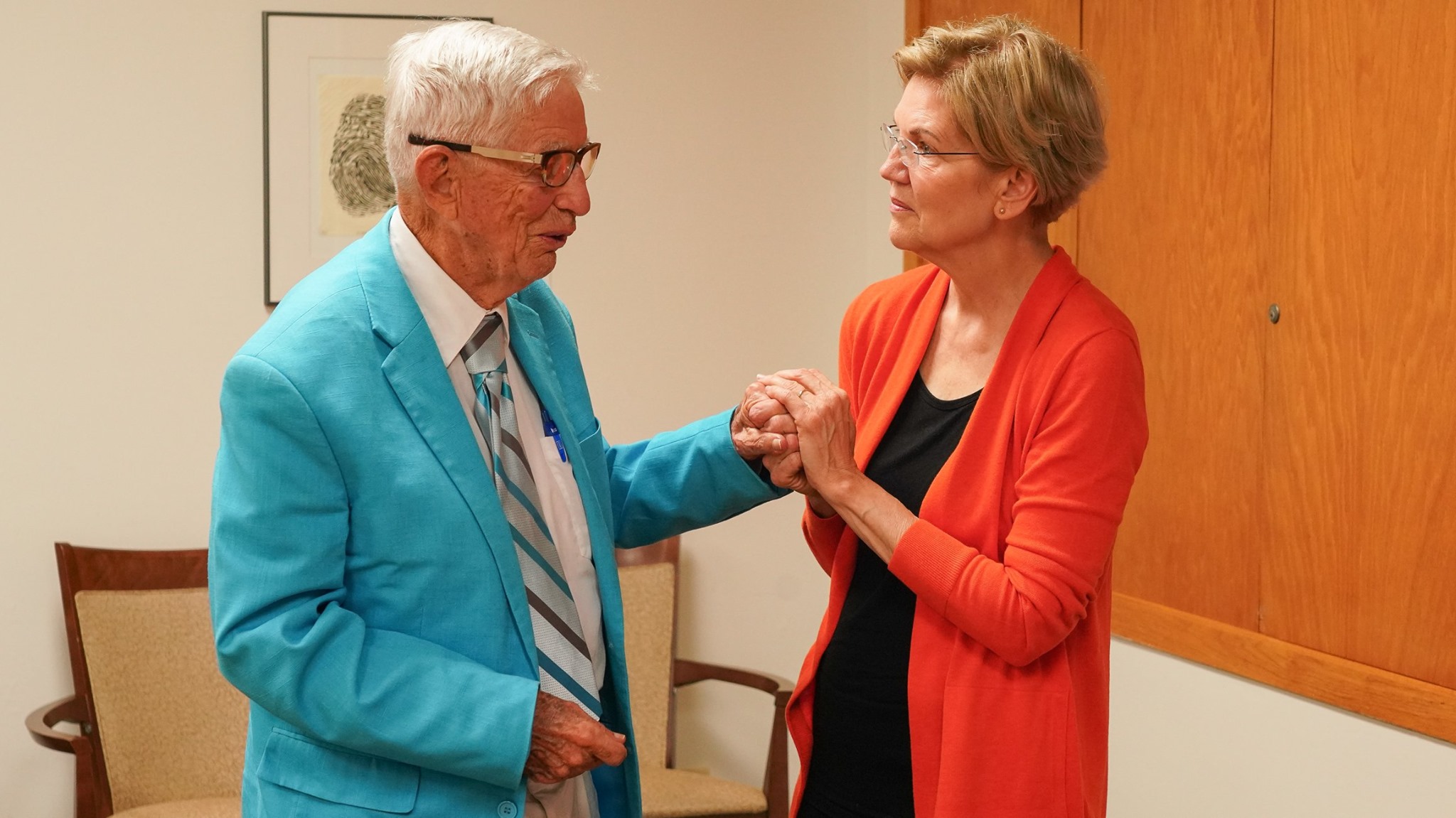 As news of Bedell's passing spread, Warren remembered him this way.
Congressman Berkley Bedell always fought hard for the people of Iowa. My thoughts are with his family, friends, and loved ones—and with every person his transformational leadership touched or inspired. https://t.co/hyUT5Jtyvj

— Elizabeth Warren (@ewarren) December 8, 2019
J.D. Scholten has often described Bedell as one of his political heroes. On his Twitter feed, he shared this picture from the same Sioux City visit.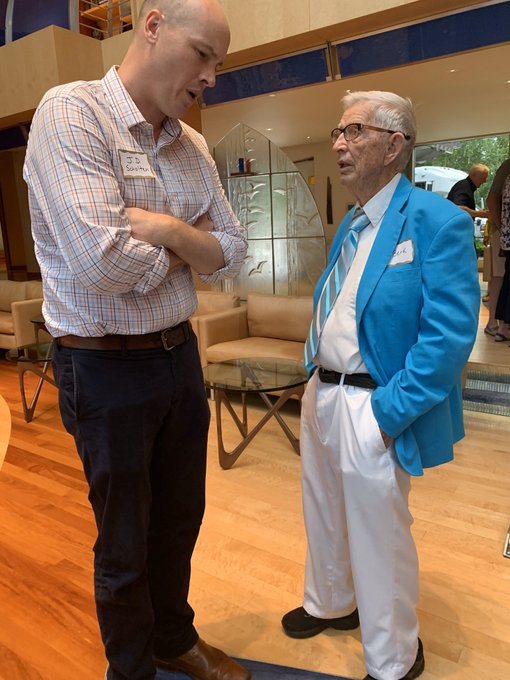 One of my brothers was a summer intern in Bedell's Congressional office, and I was fortunate to be able to interview Bedell by phone this summer while researching the first U.S. House votes on the Hyde amendment in 1976. Despite representing a largely conservative area, Bedell voted against the ban on federal funding for abortion, without hesitation. He told me the choice was "not difficult," because "I won by enough that I could vote whatever I believed in."
When I asked whether he was ever concerned about going against the prevailing sentiment of his constituents, he said voting against President Ronald Reagan's tax cut in 1981 "was about the worst vote I could have possibly made for northwest Iowa," adding with a laugh, "But they still re-elected me just the same."
Speaking of which, Scholten shared this image, which he said was one of Bedell's re-election posters from the early 1980s.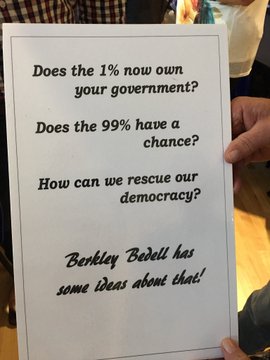 The Iowa Democratic Party released this statement from state chair Troy Price and fourth Congressional district chair Penny Rosfjord.
"Berkley Bedell was the embodiment of a dedicated public servant. As a stalwart of progressive politics in Northwest Iowa, his work to uphold farm families during the Farm Crisis, boost the middle class, and provide a fair shot for all has impacted countless Iowans. A true prairie populist, his value-driven policies united Iowans and inspired generations of future Democrats. Our state is a better place because of his leadership, and his dedication to community will be missed. Our thoughts are with the Bedell family."
I hope to publish reflections on Bedell's life by Iowans who knew him well. Please get in touch if you would like to share your memories with Bleeding Heartland readers.
UPDATE: Former Senator Tom Harkin released this statement on December 8.
Berkley was a true friend for 44 years. Berkley embodied in every way, both public and private, the essence of a good and decent and caring person. We sat side by side for 10 years on the House Agriculture Committee, and no one fought harder or cared more for the wellbeing of farm and rural families. He raised the specter of global warming long before it became widely acknowledged. In his 80's and 90's Berkley encouraged young people to get involved politically. He was a remarkable person who left a good example of a committed and caring citizen.
The Harkin Institute for Public Policy & Citizen Engagement at Drake University made these two photographs available for publication. Bedell (left) with Harkin: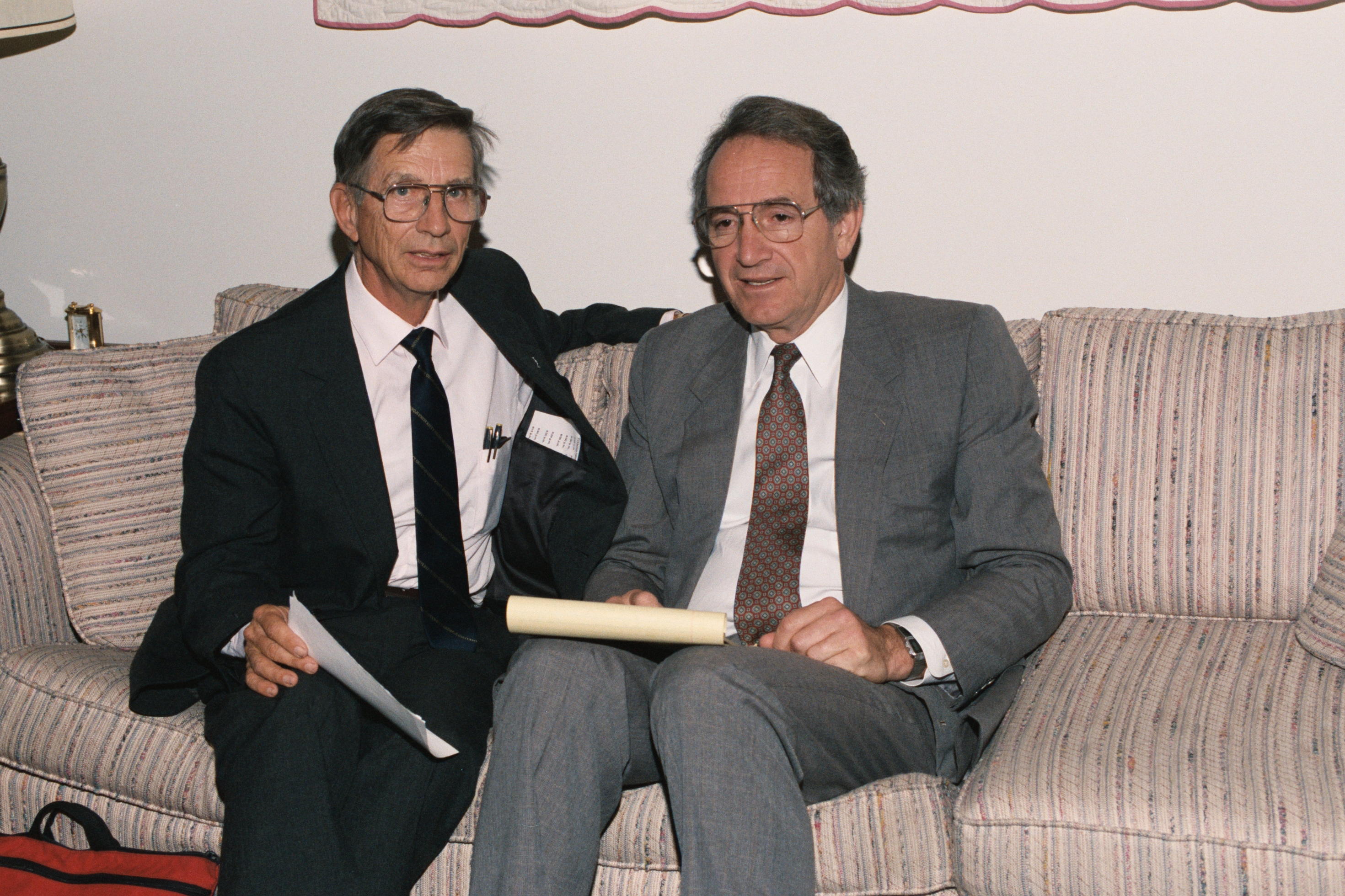 Then U.S. Representatives Neal Smith (left), Harkin, and Bedell: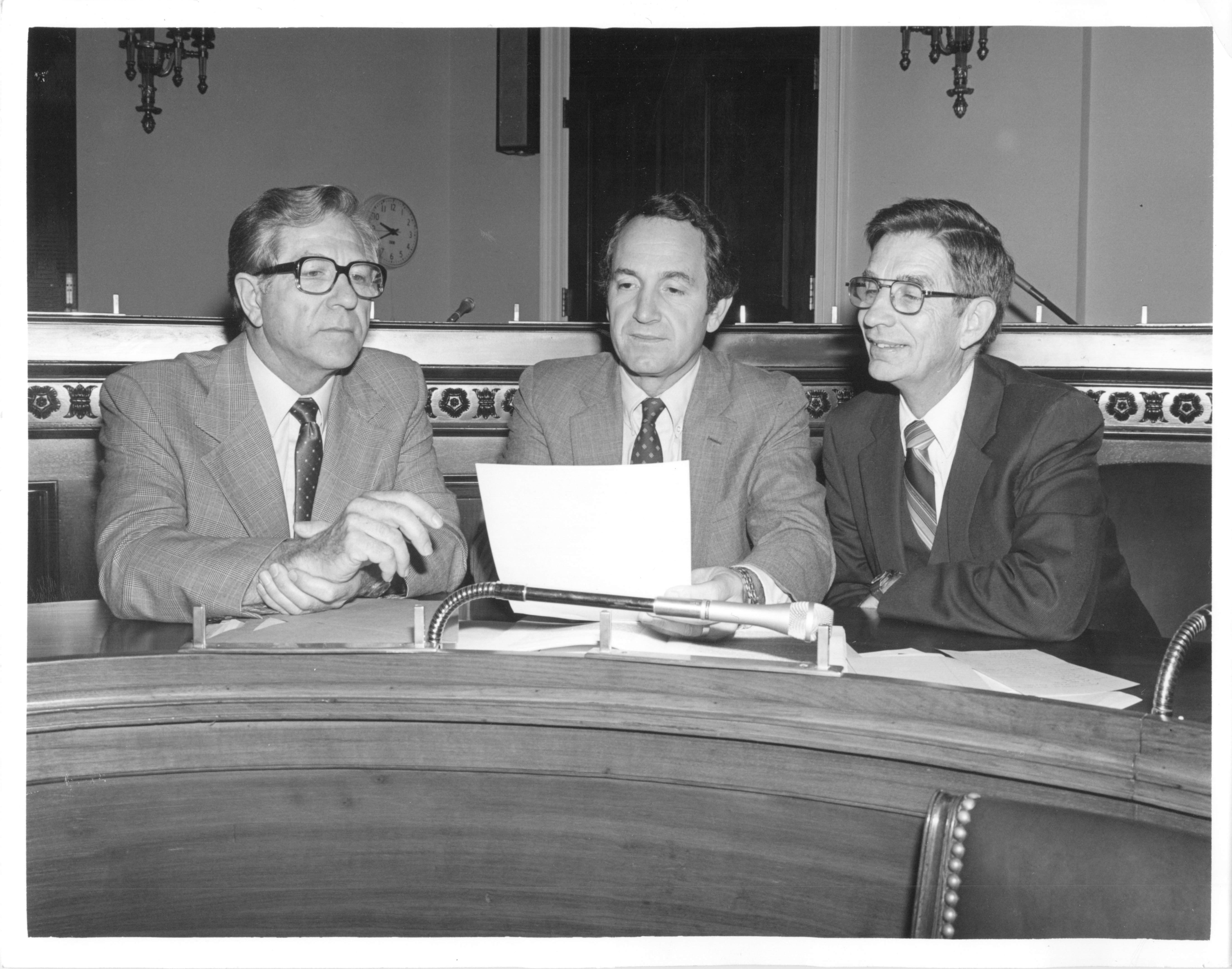 Many others have shared memories on social media. From former State Representative Greg Stevens:
He was a great guy. When I ran [in 1998], he was behind me all the way. He made himself available for pictures, and he pushed me to his friends.

What I remember most about him though happened when I was in high school. In August of 1974 at the Sioux City Rivercade Parade, he came over to say hello. I was in the Estherville High School band, and he chatted with our trumpet section a few minutes. I knew he was running against Wiley Maine who was a Nixon apologist. I had watched the Watergate Hearings, and I really didn't like Rep. Maine. When I mentioned that to Berkley, he asked my name. I told him, and I asked him if he knew my grandfather. He did! He also knew of my mom because of her work on different campaigns.

Years later, I told him of this encounter, and he laughed. He could have lied and said he remembered it, but he didn't. He was always genuine. I remember at one event he was hosting for Senator Tom Harkin. He introduced everyone, but he missed a county supervisor. I knew he would feel awful, so I passed him a quick note. He interrupted Senator Harkin, and humbly introduced the County Supervisor. He really felt awful, and he made sure to have an extended conversation with her.

He was genuine, and he was talking against money in politics before Citizens United. I'm excited to see what other people will write.

Finally, my son worked in Senator Harkin's office for a few years in DC. Berkley would always remember him, ask about me, and treat him with respect. He just had that quality that he was really into life.
Mary Holland remembered,
My father told me that when he first opened his fishing tackle business, he specifically would seek out individuals that really needed a job to feed their families. Allowing mothers to work from home so they could also raise their children. He cared about the people in his community.
Peggy Huppert commented,
Every progressive issue campaign I ever ran or was a part of, Berkley Bedell supported through a donation, letter of support or personal appearance. This goes back to the nuclear freeze and Beyond War movements of the 1980s. I don't believe I was ever turned down. He was a great progressive who will long be remembered.
Top image: On the left, Berkley Bedell in Sioux City in July 2019. On the right, one of Bedell's official Congressional photos from the 1970s.