"They took our land, they took the grocery store, they took the community center," Joyce Bruce recalled of a project that destroyed the African-American neighborhood anchored by Center Street in the late 1950s and 1960s. "They just wiped that whole block completely out, all, all the way down."
Bruce's words and other personal stories are featured in a new interactive exhibit devoted to the history of racist housing policies in Des Moines. Federal government programs and city initiatives over many decades contributed to persistent, wide-ranging racial disparities in Iowa's largest metro area.

HOW "REDLINING" HARMED PEOPLE AND COMMUNITIES
The Polk County Housing Trust Fund worked with the New York-based firm Designing the WE to create the exhibit, which explains how "redlining" entrenched structural racism and classism across the country, then delves into the policy's impact in Des Moines.
The federal Home Owners' Loan Corporation created this map of Des Moines during the late 1930s. It's in the public domain, along with similar maps of many other U.S. cities, thanks to the "Mapping Inequality" project of University of Richmond researchers including Robert K. Nelson, LaDale Winling, Richard Marciano, and Nathan Connolly.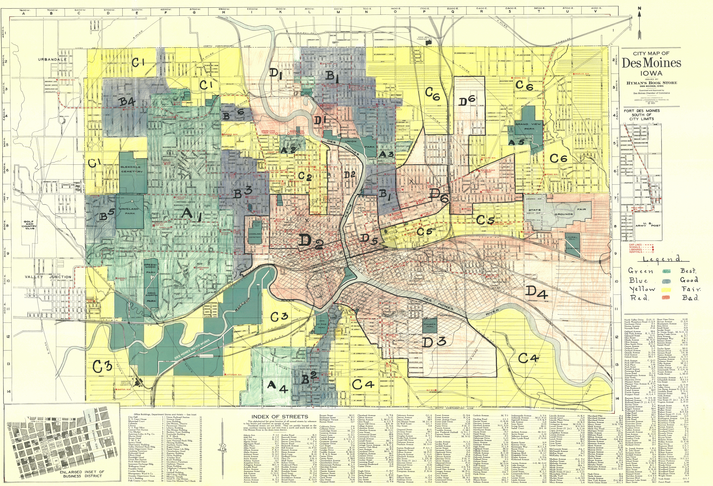 As Polk County Housing Trust Fund executive director Eric Burmeister explained during the guided tour I attended on Martin Luther King, Jr. Day, maps like this one were drawn up to help the federal government address a crisis affecting banks during the Great Depression. The green areas (14 percent of the city) were considered the "best" spots for mortgage lenders. Blue areas (11 percent) denote "still desirable" neighborhoods. Most of the west side was blue or green.
Yellow areas (41 percent of the city) were considered "definitely declining," in part due to a "lower grade population" with many laborers.
The red areas (34 percent of Des Moines, covering many neighborhoods on the north, east, or southeast sides) gave rise to the term "redlining." Those areas were called "hazardous," due to "detrimental influences" such as people of color and foreign-born residents. Official federal policy discouraged lenders from offering mortgages or other home loans in such areas.
The Home Owners' Loan Corporation was soon folded into the Federal Housing Administration, which guarantees most mortgages across the country, and the racist metrics pioneered in these 1930s city maps became embedded in federal underwriting policies for decades.
While the original policy was oriented toward bailing out banks, the assumptions and prescriptions about "desirable" or "dangerous" neighborhoods later affected millions of individuals and families. People cut off from home ownership and credit were unable to build up wealth that could be passed on to children, fueling economic disparities that still plague central Iowa and many other metro areas.
Redlined neighborhoods were guaranteed to decline, Burmeister explained, because residents were unable to obtain financing for routine home repairs like fixing a damaged roof.
Restrictive covenants limited where people of color could buy homes, even if they could somehow secure financing. The islands of green in the middle of red or yellow areas on the map of Des Moines represent subdivisions that were limited to whites only. The U.S. Supreme Court ruled such race-based covenants unenforceable in 1948, but they remained legal until Congress approved and President Lyndon Johnson signed the Fair Housing Act of 1968. (To this day, unbeknownst to many home buyers, illegal and racist restrictive covenants remain part of the deeds of many properties.)
OTHER POLICIES COMPOUNDED THE DISPARITIES
The exhibit also covers later practices and policies that fostered housing discrimination and segregation, in Des Moines and many other communities. Unscrupulous lenders and real estate agents used "block busting" to encourage white flight and prey on people of color, who were unable to obtain traditional home loans.
The Eisenhower administration's "urban renewal" initiatives and push to build interstate highways led to the leveling of the Center Street neighborhood and resulting displacement of hundreds of African-American families. Many were forced to sell lovely homes for low prices and ended up paying more for smaller residences in other parts of Des Moines.
Urban revitalization plans of the 1970s and 1980s also negatively affected predominantly African-American neithborhoods in Des Moines. Many inequities persist today. The 2017 report One Economy: The State of Black Polk County in part inspired the Undesign the Red Line project, as it highlighted unequal access to banking and home ownership. (Bleeding Heartland summarized that report's key findings here.)
HOW TO LEARN MORE OR GET INVOLVED
The exhibit is deceptively small, taking up just one room (220S) in the old Franklin Junior High building at 48th and Franklin in Des Moines.
I would recommend spending at least an hour here to read and reflect on the material densely packed along three walls. The guided tour I attended took about 45 minutes, with another half-hour of questions and discussion. We didn't listen to all of the audio and video available. The tour would be suitable for mature tweens and teenagers, but probably beyond comprehension for young children.
Undesign the Red Line will be open through April 18, with free tours scheduled four times per week. People can also contact the Polk County Housing Trust Fund to arrange for a special tour. Either call 515-282-3233 or visit the website Undesigndsm.com.
The Polk County Housing Trust Fund continues to collect oral histories from those who were harmed by racist housing policies in central Iowa. If you know any current or former residents with a story to tell, please reach out by phone or online.
The last portion of the exhibit explores ways to undo the harm caused by this form of systemic racism. The trust fund facilitates meetings for those who want to help establish more just housing policies in the Des Moines area. People are thinking creatively about ways to revitalize neighborhoods without gentrification, which often hurts longtime residents and privileges young, mostly-white professionals. To join in those efforts, contact the Polk County Housing Trust Fund at 515-282-3233.
P.S.--Isabella Murray reported for Iowa Starting Line in December on the legacy of redlining in Waterloo.
---
Portion of one display showing the impact of Interstate 235 construction on the African American community in Des Moines: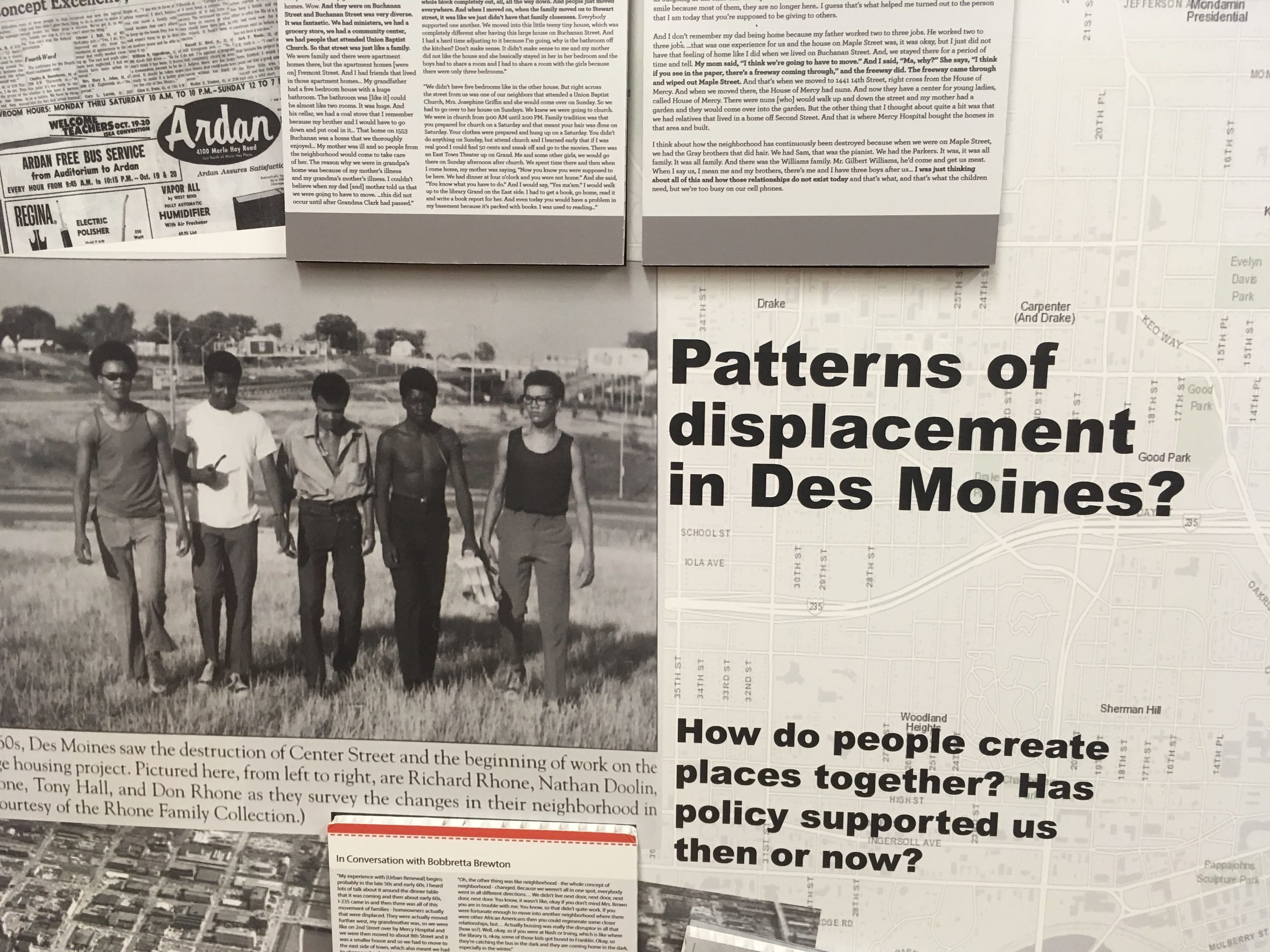 Eric Burmeister giving a tour on January 20: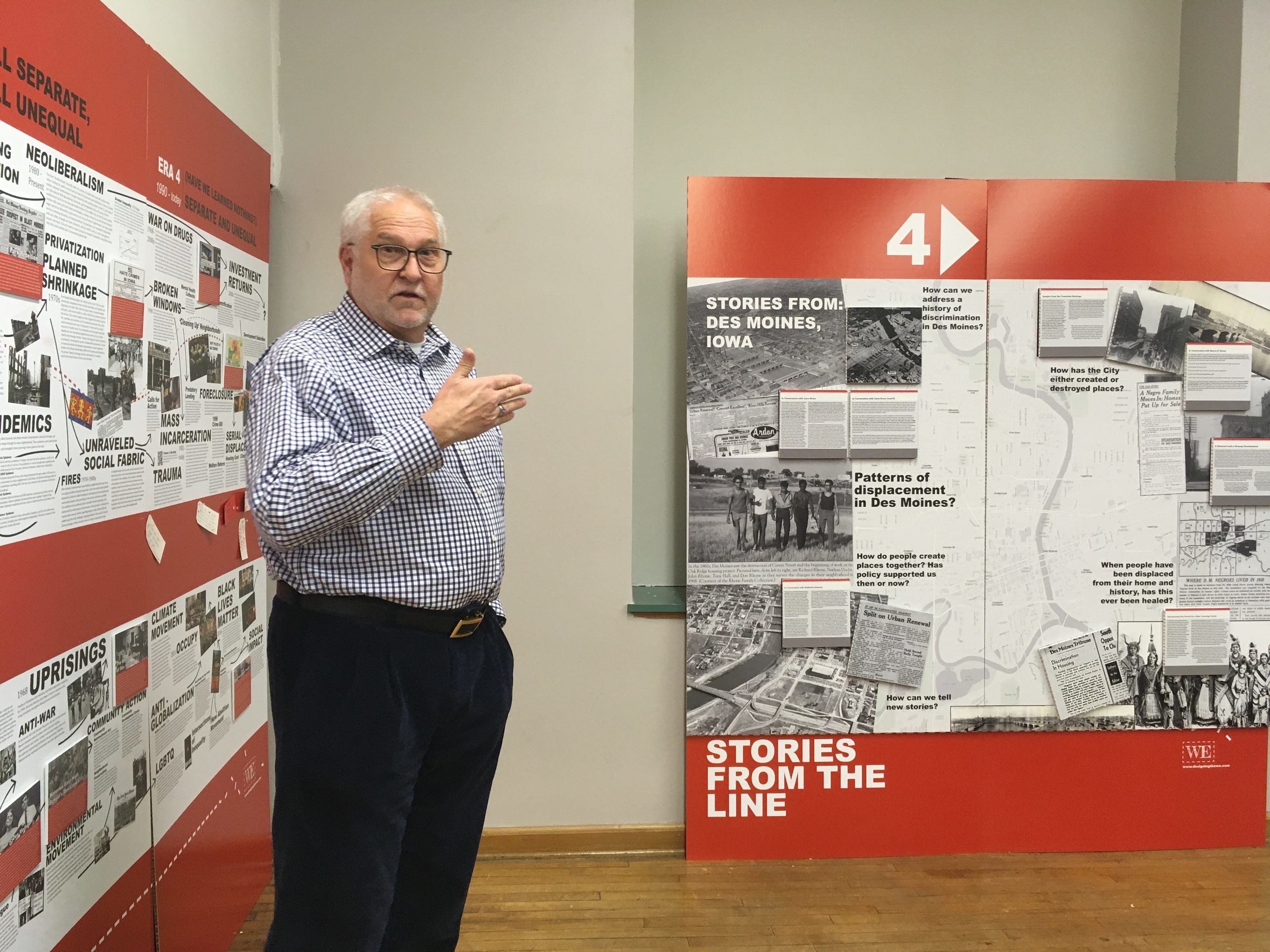 January 7 news release from the Polk County Housing Trust Fund:
GUIDED TOURS SHARE HISTORY OF HOUSING INEQUITY Exhibit includes solutions to "Undesign the Redline" in Des Moines Neighborhoods

DES MOINES (January 7, 2020) – Undesign the Redline, an interactive exhibit connecting the history of housing discrimination and segregation to the political and social issues of today, is now open for scheduled tours. The thought-provoking, nationally acclaimed exhibit includes the history of Des Moines' core neighborhoods through the pictures, maps, timelines and stories of its residents and is intended to inform and compel future policies that support equitable housing.

Spearheading the exhibit is the Polk County Housing Trust Fund (PCHTF) whose work in recent years is informed by the One Economy Report and the 2019 HUD Analysis of Impediments to Fair Housing – with a focus on advancing actionable support for equitable housing policy. These reports and other sources, insights and the opportunity to schedule a tour are available at UndesignDSM.com.

"This guided tour into the local history of race, class and housing policy will make some uncomfortable, and it should, given the damage done by these programs. But thankfully the Exhibit doesn't stop there," said Eric Burmeister, Executive Director of Polk County Housing Trust Fund. "It also provides ways to mitigate the damage done and proactively address inequities in future policies and programs in our region."

Created by social impact firm Designing the WE, in partnership with PCHTF, the exhibit is an examination of how government policy from the 1930s (which became known as redlining) to today, created segregation and disinvestment in communities within Des Moines while tremendously benefiting others. Creators and supporters of the exhibit believe that by understanding the enormous role that race played in determining where people were allowed to live, we can better understand why Des Moines looks the way it does, how discriminatory housing practices continue and what needs to change going forward.

"As we collected personal stories for the exhibit, predominantly from African-Americans, we heard firsthand how their families were directly impacted by these policies and how their lives are still very different decades later as a result," shared Kendyl Larson, Director of Research and Planning at PCHTF. "It is our hope that as people engage with the history of redlining and hear how lives continue to be damaged, they will feel moved to have conversations around the design and growth patterns in our community. This includes calling for action to create housing policies that with great intentionality will work to reverse redlining and provide equity and opportunities for all people, in all neighborhoods."

Founded in 1995, PCHTF's role in the Greater Des Moines region is to provide strategic leadership, expertise and resources to strengthen communities by expanding affordable housing choices. This work is guided by the vision, set forth by its Board of Directors, that everyone has an equal opportunity for safe, stable, affordable house within the communities where they choose to live. The Undesign the Redline exhibit is one of several initiatives PCHTF has created to advance support for housing policy that emphasizes increased equity through housing choice. The exhibit, and its related guided tours, will run through the 9th Annual Affordable Housing Week slated for April 13 - 18, 2020.

CREATE OR JOIN A GROUP TOUR
The Undesign the Redline exhibit is now on display at Franklin Junior High, 4801 Franklin Ave., Des Moines, with tours scheduled 4X a week. Organizations and companies interested in providing tour experiences for board members, employees and special committees are finding the exhibit's interactive approach to be a powerful way to encourage the exploration of how the decisions made today will impact, for better or worse, the lives of others and the economic vitality of central Iowa. The guided tours are free, open to the public and individuals are welcome to sign up and be included within general groups. To schedule online, visit www.undesigndsm.com or call the Polk County Housing Trust Fund at 515-282-3233.