When the Democratic National Committee nixed the "virtual caucus" plan, they destroyed any possibility of Iowans with disabilities participating in the February 3 caucuses by phone. Nevertheless, the Iowa Democratic Party is trying to make the in-person caucuses more accessible than in the past.
Democratic county party organizations have long been encouraged to arrange for precinct caucuses to be held at facilities that comply with the Americans with Disabilities Act. However, that doesn't eliminate all barriers that might keep someone from fully participating in the first step of the presidential nominating process.
For the first time this year, Iowa Democrats can submit a request for accommodation at their precinct caucuses.
You can download the form here. Democrats can request many kinds of assistance, such as American Sign Language interpretation, hearing loops, or preferred seating. They can also indicate whether they plan to bring a service animal or will have a wheelchair.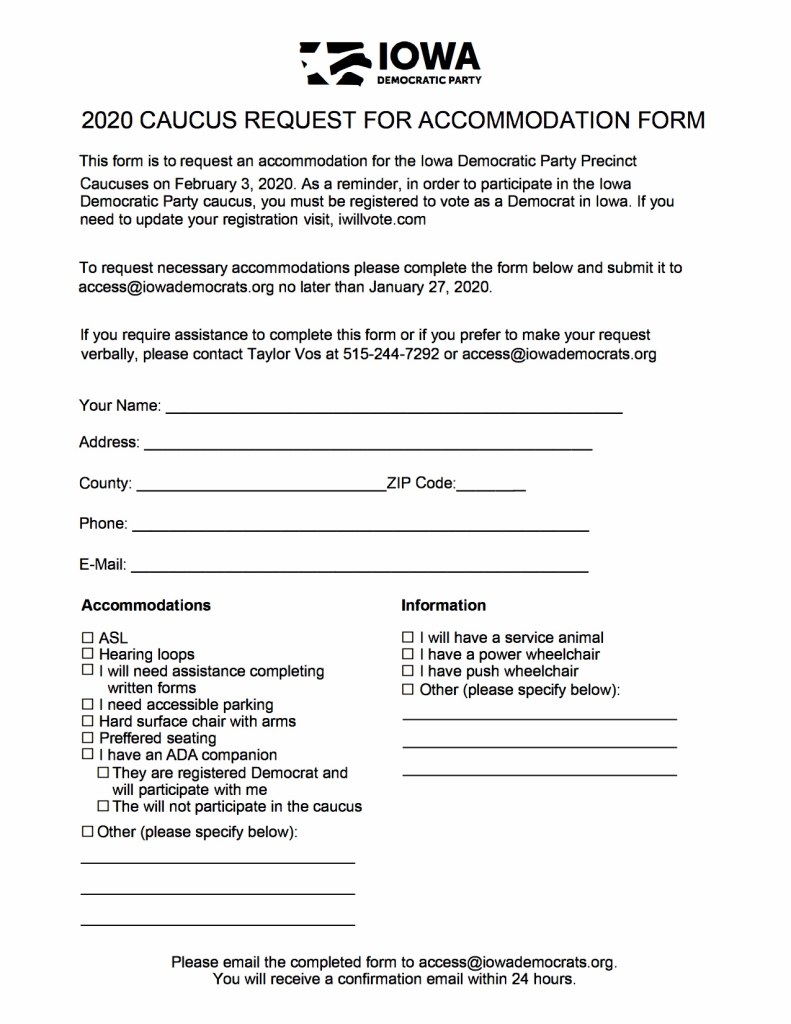 The state party has hired Amanda Koski to be its first Director of Caucus Accessibility. She arrived in Iowa earlier this month, having previously worked on accessibility issues in other states. (She is fluent in American Sign Language.) Koski will review the applications.
Once the party has approved requests–caucus-goers have turned in more than 100 forms so far–volunteer precinct chairs will be informed if anyone will need special assistance their precinct. The party will not pass along the names of anyone who asked for an accommodation, just the nature of the accommodation that needs to be provided.
The deadline for submitting an application is Monday, January 27. Interested Democrats should email the form to access@iowademocrats.org. Those needing help to complete the form, or who would rather make the request verbally, can contact Taylor Vos at 515-244-7292.