"The moderate lane is winning the closing argument," Dan Guild writes. But changes to the Super Tuesday electorate will benefit Bernie Sanders. -promoted by Laura Belin
If anyone was worried that Iowa would become less important because of the delay in results, the polling after Iowa in New Hampshire should put that to rest.
Joe Biden's poor performance in the caucuses hurt him so badly in New Hampshire that he left the state before voting had concluded. Pete Buttigieg and Bernie Sanders both received bounces in New Hampshire close what one would have expected, given their Iowa finishes.

THREE LESSONS OF IOWA AND NEW HAMPSHIRE
1. The electorate hasn't found what it is looking for.
Pre-election polling in Iowa and New Hampshire both suggested the electorate was having a historically difficult time making up its mind.
The exit polls have borne this out: an incredible 50 percent of New Hampshire voters did not make up their minds until the last few days, itself a reflection of how Iowa changed the race. The logical inference is that voters were not quite sold on the candidates they knew best: Biden and Sanders.

2. The moderate lane is winning the closing argument.
In both Iowa and New Hampshire, Buttigieg and Amy Klobuchar gained momentum in the closing days. That stemmed in part from the fact that Sanders and Biden are well known, and as moderates turned away from Biden they gravitated to the lesser-known alternatives.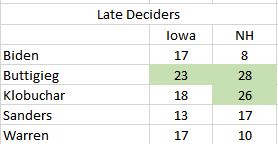 3. Debates matter.
In New Hampshire exit polls, 16 percent said that the debate was the most important consideration in their decision, and another 32 percent said it was an important consideration. Five out of six Klobuchar voters said her debate performance was why they supported her.
THE ROAD AHEAD
One of the least understood aspects of 2020 is the extent of the changes on Super Tuesday. In 2016 nearly half of the delegates came from states with at least 25 percent of its votes coming from African Americans. Hillary Clinton won 157 more delegates than Bernie Sanders on Super Tuesday. The five heavily African-American states accounted for 141 of that delegate margin.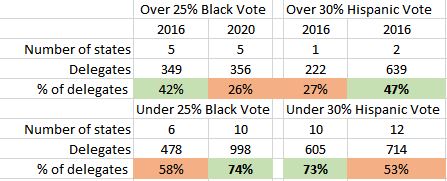 In 2020, 47 percent of the delegates elected on Super Tuesday will come from California and Texas, where at least 30 percent of the voters will be Hispanic. Here is why this matters: it is pretty clear that even before the Iowa caucuses, Sanders was running at least even among Hispanics. Clinton could rightly claim that Super Tuesday was her firewall in 2016.
That firewall does not exist today. In fact, the Sanders lead among Hispanics could rightly be called his own firewall.

This is a map of the Super Tuesday states and the share of the African-American vote (I have left Iowa in for comparison). In 2016, five states had a primary electorate made up of 26 percent of more of African Americans. Clinton won more than 80 percent of the African-American vote in many of the southern states.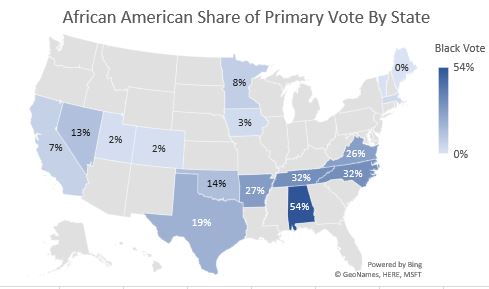 The changes here are important. The addition of California and its 400+ delegates has profoundly altered the balance of power on Super Tuesday.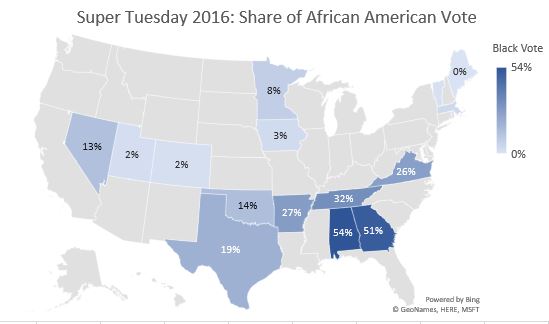 The Hispanic vote is concentrated in two states on Super Tuesday, but those states account for nearly half of the delegates elected.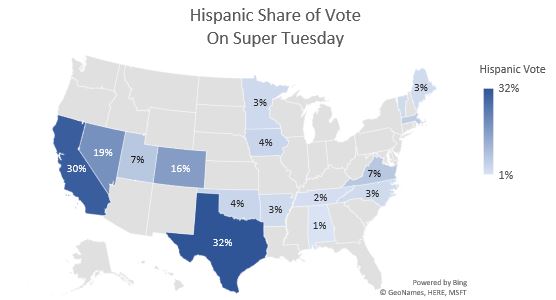 Top image: Amy Klobuchar at the Progress Iowa Corn Feed in Cedar Rapids, July 2019. Photo by Emilene Leone, published with permission.