U.S. Senator Chuck Grassley used his widely-read Twitter account on February 15 to praise U.S. Attorney General William Barr for intervening on behalf of a Donald Trump ally. He also suggested the Department of Justice has not done enough to prosecute targets of the president's ire.

Grassley tweeted that he regularly tells cabinet nominees "they must run their [department] or it will run them," adding, "PTL that Barr showed DOJ he runs it" when intervening in Roger Stone's prosecution.
The abbreviation "PTL" is commonly understood to mean "Praise the Lord."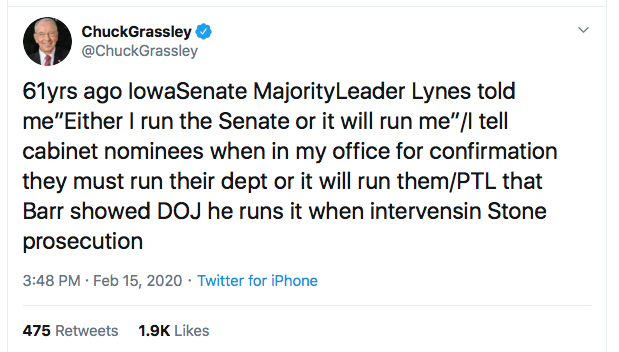 Grassley was referring to a rare move by Barr that alarmed many current and former federal prosecutors. On February 11, the attorney general had the Justice Department reduce its day-old recommended prison sentence for Roger Stone, whom a jury convicted in November on seven counts of lying to Congress and witness tampering. The earlier recommendation was consistent with federal sentencing guidelines but angered the president, who tweeted about it hours before Barr intervened.
All four prosecutors involved with the initial recommendation quickly withdrew from the Stone case, and one quit his job.
Later in the week, Barr assigned Jeff Jensen, the U.S. attorney in St. Louis, to review the prosecution of another Trump ally, Michael Flynn. That decision could signal new efforts to prosecute figures the president has frequently criticized. Devlin Barrett, Matt Zapotosky, and Josh Dawsey reported for the Washington Post,
The Jensen appointment marks the latest iteration of an unusual trend inside the Justice Department of tasking outside U.S. attorneys with reviewing, managing, or reinvestigating work that would otherwise not be in their portfolio. Much of the effort seems aimed at re-examining the work of special counsel Robert S. Mueller III, whose probe of possible coordination between Russia and the Trump campaign infuriated the president, or at targeting the president's foes.
Once upon a time, Grassley was outraged by any hint that the attorney general might interfere with the work of career investigators and prosecutors. Now he'd like to see Barr do more to use the Justice Department as a weapon for Trump.
In another February 15 tweet, the senator bashed the media for criticizing the intervention for Stone but not having a similar "meltdown" when Justice opted not to prosecute former FBI Deputy Director Andrew McCabe. Grassley claimed McCabe got a "pass" for lying to investigators while "Trump ppl get the book 4same charges."
The Justice Department confirmed on February 14 that McCabe would not be charged. The allegations against McCabe were not comparable to crimes for which a jury convicted Stone. Adam Goldman noted several "hints of the case's weakness" in his New York Times article about the non-prosecution.
One prosecutor assigned to the case recently left, an unusual step so close to a potential indictment. Another departed for a private law firm and has expressed reservations about how the case was handled.

A key witness testified that Mr. McCabe had no motive to lie because he was authorized as the F.B.I.'s deputy director to speak to the news media, so he would not have had to hide any discussions with reporters. Another important witness testified he could not immediately remember how the leak unfolded. Both would have been crucial to any prosecution.

Additionally, people who are charged with lying to the F.B.I. are typically accused of committing the offense in the course of a criminal investigation, not an administrative inquiry.
Grassley went on to promote the idea that former FBI Director James Comey should have been prosecuted for "leaking."
Prosecuted by DOJ 4 lying 2 investigators:
Flynn
Stone
Papadopoulos
Accused of lying/leaking but never prosecuted:
Comey
McCabe
Agent who changed FISA
Many others at DOJ/FBI
When did laws stop applying 2law enforcement?? DOJ/FBI shld b held 2same standard as rest of us

— ChuckGrassley (@ChuckGrassley) February 16, 2020
In January 2018, Grassley asked Deputy Attorney General Rod Rosenstein whether Comey "violated department rules or policy" when he reportedly gave copies of memos to a Columbia law school professor in 2017. The senator did not suggest at that time that the former FBI director may have committed a crime.
Comey has said the memos he shared were unclassified; after Trump fired him, the FBI changed their classification to "confidential." The Justice Department's inspector general determined in 2019 that Comey "violated F.B.I. policy" and his employment agreement but did not suggest criminal charges were in order.
However, Trump tweeted in December that Comey should face "consequences for his unlawful conduct." Last month, federal prosecutors opened a new investigation into the years-old leaks. The New York Times' Goldman observed,
The timing of the investigation could raise questions about whether it was motivated at least in part by politics. Prosecutors and F.B.I. agents typically investigate leaks of classified information around the time they appear in the news media, not years later.
Less than two weeks after acquitting Trump of obstructing Congress, Grassley is echoing Trump's conspiracy theories and encouraging Barr to turn his department into an instrument of a vengeful president.
It's another sad reminder that Iowa's senior senator--who once postured as a watchdog looking out for any "inappropriate political influence" at the FBI or Justice Department--welcomes abuses of power when Republicans are in charge.
UPDATE: More than 1,100 people who used to work for the DOJ signed an open letter published February 16 that "strongly condemns President Trump's and Attorney General Barr's interference in the fair administration of justice."
Although there are times when political leadership appropriately weighs in on individual prosecutions, it is unheard of for the Department's top leaders to overrule line prosecutors, who are following established policies, in order to give preferential treatment to a close associate of the President, as Attorney General Barr did in the Stone case. It is even more outrageous for the Attorney General to intervene as he did here — after the President publicly condemned the sentencing recommendation that line prosecutors had already filed in court.

Such behavior is a grave threat to the fair administration of justice. In this nation, we are all equal before the law. A person should not be given special treatment in a criminal prosecution because they are a close political ally of the President. Governments that use the enormous power of law enforcement to punish their enemies and reward their allies are not constitutional republics; they are autocracies.