Governor Kim Reynolds has urged Iowans to "unite in prayer" today in response to the novel coronavirus (COVID-19) pandemic. In a proclamation presenting elements of Christian theology as fact, Reynolds declared April 9 to be a "Day of Prayer" statewide. An accompanying news release invited the public to participate in the Iowa Prayer Breakfast, which was held virtually this morning. The annual event features Christian faith leaders.
Reynolds and Lieutenant Governor Adam Gregg appeared in their official capacity at the breakfast, via separate video links. Speaking from the state emergency operations center with the state flag and seal of Iowa visible behind her, Reynolds hailed the effort to keep "glorifying Jesus Christ through the public affirmation of His sovereignty over our state and our nation." From the Capitol building, Gregg observed that "Christ's love for us" will never change, even in challenging times.
A public health emergency is no excuse for elected officials to promote religion, especially not a specific faith tradition.

PUTTING AN OFFICIAL STAMP ON CHRISTIAN BELIEFS
Reynolds declared a Sunday in April 2019 to be a day of prayer in response to an "unprecedented disaster caused by blizzard conditions, widespread flooding, and high winds." That proclamation had generic references to God and "God's love" and encouraged "individuals to pray on their own or with others, according to their own faith, in an expression of faith and hope."
This year, the governor went much further to endorse Christianity. Her latest proclamation quoted a passage from the New Testament (Romans 12:12) as guidance for everyone.
WHEREAS, God's word teaches us to "Rejoice in our confident hope. Be patient in trouble, and keep on praying";
It went on to present religious observance as part of being a real Iowan in times of adversity–an exclusionary message to the roughly one-fifth of Iowa adults (about a half-million people) who have no religious affiliation.
WHEREAS, throughout our history Iowans have found peace, strength, and unity through prayer to God in humbly asking for His strength during times of difficulty;
The governor then posited that prayer is superior to other ways of coping with stress, producing a better state of mind than what could be gained through secular study.
WHEREAS, prayer provides peace that surpasses all understanding and wisdom in times of crisis and conflict, turning us to God for His comfort and blessed assurance;
Reynolds' proclamation went on to present core tenets of Christian theology (the Trinitarian doctrine, the role of Jesus in humanity's salvation) as events people remember and celebrate, as opposed to beliefs or interpretations of a historical event (the crucifixion).
WHEREAS, God's unconditional love by sending His Son, Jesus, to be Savior of the world is remembered and celebrated by Christians during Holy Week of Easter each year:
The governor feigned inclusivity by mentioning in a news release and tweet that April 9 is the first day of the Jewish festival of Passover as well as Maundy Thursday for most Christians. But the proclamation itself mentioned only the Christian holiday.
NOW, THEREFORE, I, Kim Reynolds, Governor of the State of Iowa, do hereby proclaim Maundy Thursday, April 9, 2020 as a

DAY OF PRAYER

in the State of Iowa and encourage all Iowans to unite in prayer and ask God to comfort and bless all severely impacted; to protect medical care workers, first responders and all who are serving during this crisis; to grant wisdom, courage and strength to our local, state and national leaders; and give us all the hands and hearts to be generous with our time, skills, and resources to serve our neighbors within and alongside the many churches, non-profits, businesses, and other organizations providing relief.
Connie Ryan, executive director of Interfaith Alliance of Iowa, said in a written statement on April 8,
"The Governor is the state's highest elected official representing all Iowans, regardless of their beliefs. She is not the Pastor-in-Chief of the state. Declaring a Day of Prayer is an inappropriate action by the Governor."

"While many Iowans are people of faith who do pray as part of living out their faith beliefs, it is never the role of elected officials to promote any particular religion or any religious practice. The Governor should focus on the best practices in public health to ensure the safety and well-being of all Iowans, not the practices of any religion. Promoting religious practices is the role of faith leaders, not elected officials."
Reynolds should have reflected on that advice. Instead, she took another step this morning toward portraying Iowa as a Christian state.
"GLORIFYING JESUS CHRIST THROUGH THE PUBLIC AFFIRMATION OF HIS SOVEREIGNTY"
Reynolds and Gregg have attended the Iowa Prayer Breakfast before, as have many other Republican elected officials. This year, participants couldn't gather in person, so the governor and lieutenant governor spoke from where they have been working.
I recorded the enclosed audio clips while watching the livestream on the Caffeinated Thoughts website (click through for video). When Reynolds appeared early in the program, the camera was positioned so viewers could see the U.S. and Iowa flags, along with the seal of Iowa on the lectern where the governor has been giving daily briefings on the COVID-19 pandemic.
Before reading the full text of her proclamation, the governor thanked the organizers for "finding a way in these very challenging times to keep this event doing what it has done now for nearly six decades: glorifying Jesus Christ through the public affirmation of His sovereignty over our state and our nation."
A few minutes later, the video feed showed Gregg in the statehouse rotunda. Before reading selections from the New Testament, the lieutenant governor said,
This normally bustling Iowa capitol is empty. Normally Governor Reynolds and I would be with you in person. But even though there are many changes that we're experiencing, there are some things that will never change, including Christ's love for us.
Reynolds and Gregg were elected to serve all Iowans, not just Christians. They should not be using official government resources and symbols to promote their religious worldview.
As it happens, my family celebrates Passover. But hundreds of thousands of Iowans are neither Christian nor Jewish. They don't need to "unite in prayer" or participate in any religious observance to prove anything to anyone. We all hope our communities will not be devastated by COVID-19 and want the best for everyone the pandemic is affecting.
UPDATE: Many conservatives are willfully misreading this post. No one is saying the governor can't speak publicly about her faith or address the prayer breakfast; Reynolds and her predecessors have done so many times. The issue is that she used her office to promote doctrines and prayer rituals of a specific religion. Todd Pettys, a professor of constitutional law at the University of Iowa, observed on Twitter that conservative U.S. Supreme Court Justice Antonin Scalia wrote,
"Our constitutional tradition … has ruled out of order government-sponsored endorsement of religion [that] specif[ies] details upon which men and women who believe in a benevolent, omnipotent … Ruler of the world are known to differ (e.g., the divinity of Christ)."
For Scalia, and fellow conservative Justice Clarence Thomas, government leaders could urge people to pray, but could not take "a position on doctrinal matters that monotheists (like Christians and Jews) disagree about, like whether Jesus was the God-sent Savior."
American Civil Liberties Union of Iowa executive director Mark Stringer, who happens to be an ordained Unitarian Universalist minister, said in a written statement,
Religious freedom includes the idea that our government should not endorse or promote a particular religion. We also stand for the American values of equality, fair treatment, and freedom. Gov. Kim Reynolds' proclamation promoting Christianity violates the principle of religious freedom enshrined in the Iowa and U.S. Constitutions.

Statements such as, "God's word teaches us to 'Rejoice in our confident hope. Be patient in trouble, and keep on praying,'" and "God's unconditional love by sending His Son, Jesus, to be Savior of the world is remembered and celebrated by Christians during Holy Week of Easter each year," endorse one particular religion.

Religious freedom is alive and well in the United States precisely because the government can't tell us when, how, or even whether, to pray. The Governor calling for prayer to a specific deity is an insult to our proud tradition of religious pluralism and equality. It sends an unconstitutional and exclusionary message that people of a particular faith are officially favored while everyone else is second-class, or worse, in the government's eyes. When, how, or whether to pray is a deeply personal decision—one that should be made without the government's interference or influence.

Our government is of the people, by the people, for the people, regardless of faith. Government prayer is a recipe for religious exclusion that undermines these timeless principles. Calling for prayer to one particular God at this time divides us more than it unites us, and we sorely need leadership that brings our state together during this difficult time.
_________
Appendix: Formal version of Governor Kim Reynolds' 2020 Day of Prayer Proclamation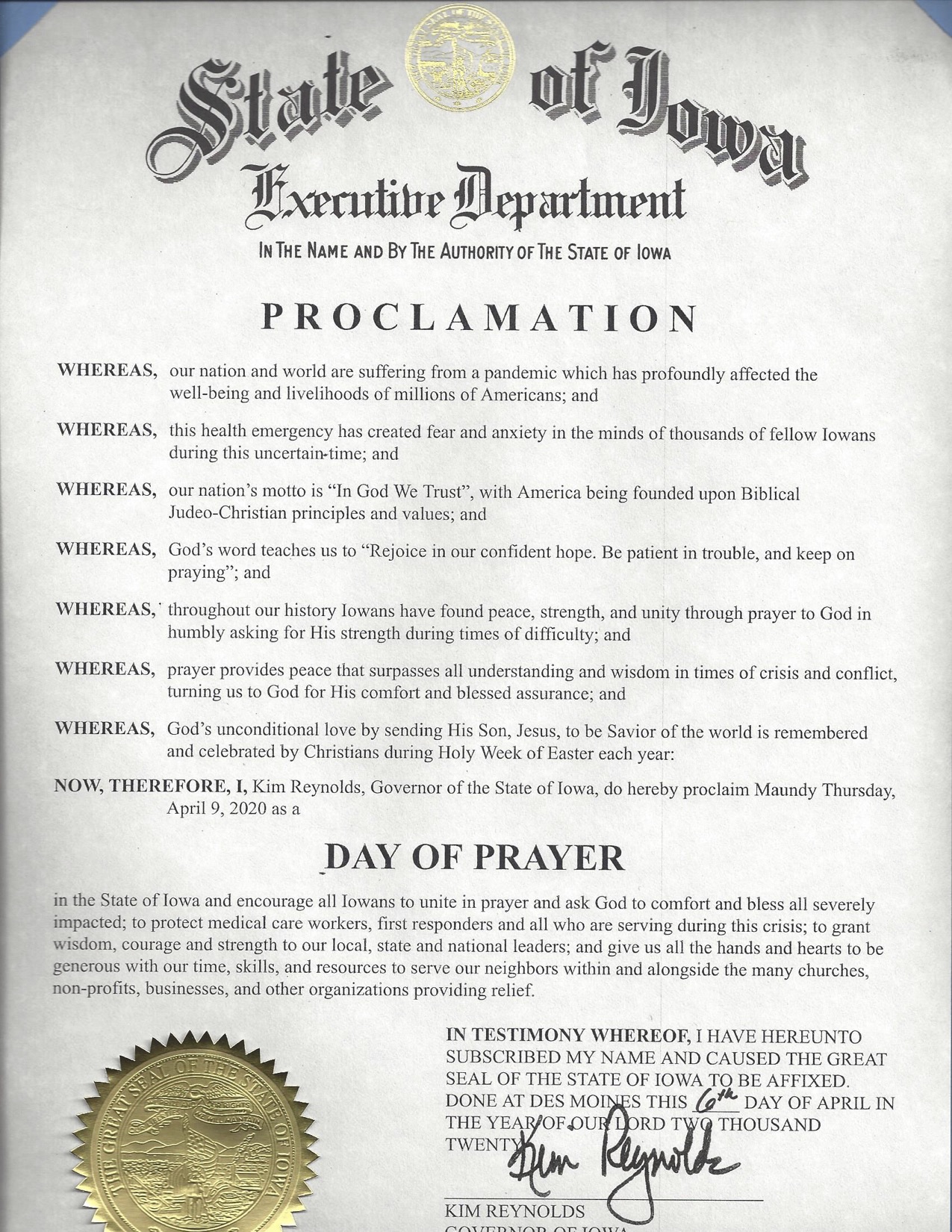 Top image: Screen shot of Governor Kim Reynolds speaking during the 59th Annual Iowa Prayer Breakfast on April 9, 2020.