UPDATE: The state altered testing criteria again on May 6, but the changes were minimal (see new policy at the end of this post).
Iowa's State Hygienic Laboratory posted new testing requirements on April 17 for people who suspect they have novel coronavirus (COVID-19) infections. The updated criteria are nearly identical to earlier versions, with a change designed to reduce the risk of asymptomatic patients bringing the virus to assisted living facilities.
Also on April 17, Iowa Department of Public Health Deputy Director Sarah Reisetter confirmed that some workers without symptoms will be tested at meatpacking plants where other employees are known to have COVID-19 infections.

MORE TESTS FOR PATIENTS HEADED TO NURSING HOMES
Here is the latest version of the State Hygienic Laboratory's COVID-19 testing requirements.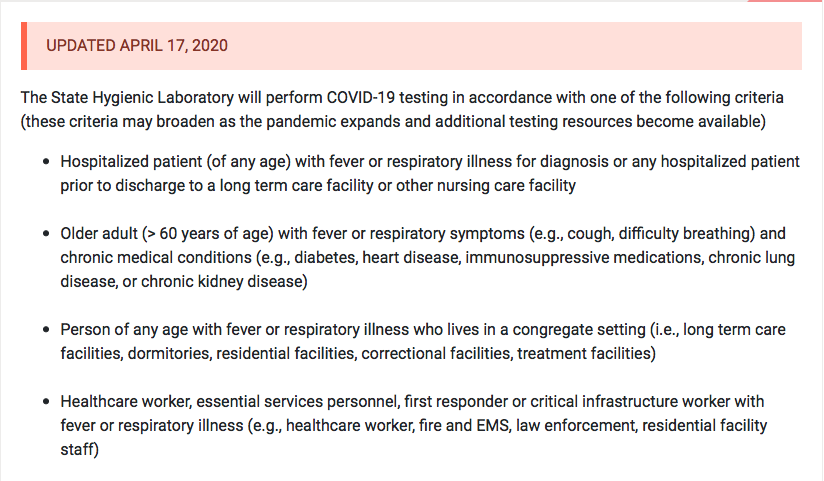 The last three categories are unchanged from the previous version, issued on March 25. But whereas that policy allowed for COVID-19 testing of a "Hospitalized patient (of any age) with fever and respiratory illness," the new policy allows testing of hospitalized Iowans not only for diagnosis of fever or respiratory symptoms, but also "any hospitalized patient prior to discharge to a long term care facility or other nursing facility."
The goal is to reduce the chance of inadvertently introducing the virus to nursing homes, where most residents are in a higher-risk group for complications from coronavirus infections. At this writing, outbreaks at nine long-term care facilities account for 290 of the 2,332 confirmed COVID-19 cases in Iowa. About half of the 64 Iowans known to have died because of the virus lived in long-term care facilities.
Here are the earlier versions of Iowa's COVID-19 testing criteria, provided by the Department of Public Health on April 10.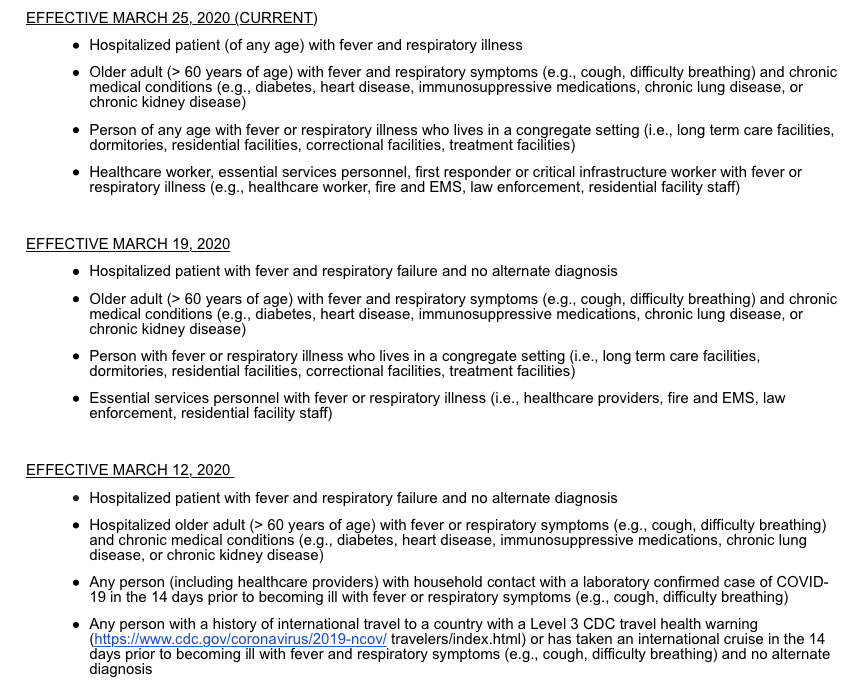 Questions about testing criteria have come up at several of Governor Kim Reynolds' press conferences this month. State officials have emphasized that Iowans who suspect they have COVID-19 can try to get a test through other clinicians, who have access to national reference laboratories as well. However, many clinics and hospitals have followed the state hygienic lab's guidance and not authorized COVID-19 tests for patients who fall outside the approved categories. Doctors as well as patients in many parts of Iowa have complained that they were unable to get tests.
"SURVEILLANCE TESTING" AT NURSING HOMES, MEATPACKING PLANTS
The new testing criteria don't refer to testing of asymptomatic Iowans outside hospital settings, but state officials have approved plans for "surveillance testing," which will include people showing no respiratory illness.
The governor announced on April 16 that the state was ramping up testing capacity, in order to conduct up to 3,000 more daily COVID-19 tests. (Most days this week, the state has reported between 1,000 and 1,200 test results.)
This "large-scale testing and contract tracing" effort will involve deploying nurses around the state, Reynolds said.
Dedicated strike teams will be deployed to long-term care facilities and large businesses where outbreaks are occurring or anticipated. And these teams of nurses will conduct surveillance testing among long-term care residents and staff, or employees at large manufacturing, production, or other business facilities, to again identify, isolate, and slow the spread of the virus in these environments.
Speaking at the governor's latest news conference on April 17, Deputy Director Reisetter said surveillance testing at meatpacking plants such as the Tyson facility in Waterloo will include not only people showing symptoms, "but also people who might be infected with the virus but are asymptomatic." The purpose is to keep infected individuals out of the workplace so that the plants can keep operating.
I wondered who would decide which employees are selected for the surveillance testing. Will corporate managers make those calls? Iowa Department of Public Health spokesperson Amy McCoy clarified in an email to Bleeding Heartland that health department officials "will determine how surveillance testing through SHL [State Hygienic Lab] testing supplies can be helpful in protecting Iowans and mitigating the spread of COVID-19."
Meatpacking plants "may get help with specimen collection from the state, or they may use their own staffing to do this," McCoy said. Workers at Tyson's Waterloo plant who have respiratory symptoms can also go to any of the area hospitals for testing, she confirmed.
Epidemiologists and infectious disease doctors agree that Iowa and the U.S. generally must do much more COVID-19 testing in order to get a handle on the scope of the pandemic. Reisetter admitted during the governor's April 8 news conference that projecting the likely number COVID-19 infections in Iowa is difficult "because we have had limited number of tests and limited number of testing capacity."
On a related note, the Iowa Department of Public Health has deployed some of the Abbott machines that can give rapid results for COVID-19 tests. In addition to Waterloo and Louisa County (where many workers at the Tyson pork processing plant in Columbus Junction became infected), and the Iowa Veterans Home in Marshalltown (where some staff had positive test results), the Associated Press reported on April 16 that
the machines are being stationed at hospitals in Osceola, Red Oak, Spencer, Mount Ayr, Manchester, Algona, Storm Lake and Boone.

Each of their counties has fewer than five confirmed cases and no deaths linked to the pandemic. […]

A spokesman for the governor, Pat Garrett, says the Iowa Department of Public Health focused on communities that do not have other testing resources close by, have high populations of elderly citizens and could serve as regional hubs.
I hope to learn more about the decision-making process for deploying those testing machines. While it's important to test residents of rural Iowa, the rapid increase of COVID-19 infections in Polk County would seem to make one of the Des Moines hospitals a worthwhile site for an Abbott machine.
UPDATE: The State Hygienic Lab posted new criteria on May 6. The only difference was that "food supply and water plant operators" were added to the category describing the essential workforce.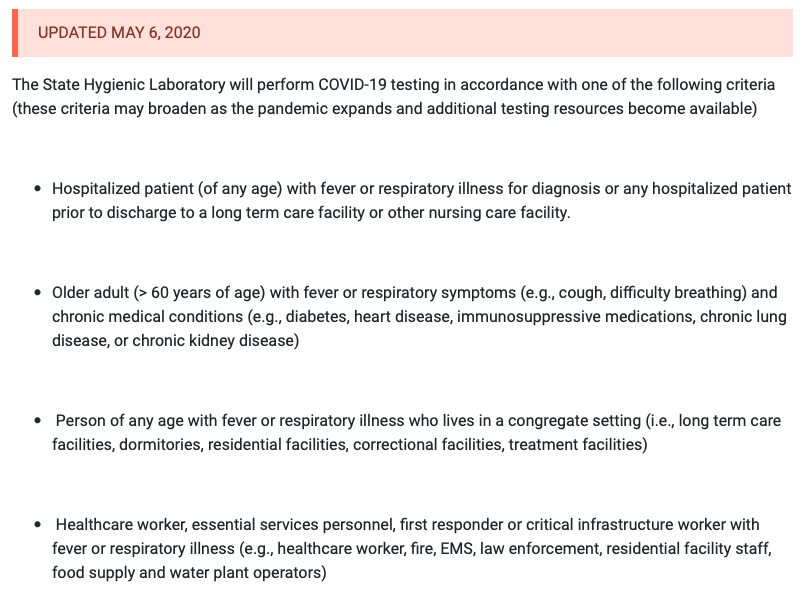 Top image: Iowa Department of Public Health Deputy Director Sarah Reisetter speaks at the governor's news conference on April 8. Photo by Kelsey Kremer/Des Moines Register (pool).