Nancy Bobo is a retired non-profit executive, founder of the Democratic group Women for a Stronger America, and a Democratic volunteer in Des Moines. -promoted by Laura Belin
In early March, the week before everything started shutting down due to the COVID-19 pandemic, my husband and I hosted a house party for Mike Franken, Democratic candidate for U.S. Senate. A friend had introduced me to Mike several weeks earlier, and I was exceptionally impressed. I was pleasantly surprised when our house filled wall-to-wall that morning with the biggest crowd we've ever hosted for a political candidate.
Guests arrived curious to meet Mike and knowing little about him. Numerous guests had come supporting another candidate and changed their allegiance that day. Mike's background, experience, and a certain degree of Iowa charm were compelling. He left with a pile of checks and new supporters. Today, Franken's support is clearly growing.

Since announcing his candidacy last August, Franken has traveled throughout the state, visiting dozens of Iowa counties and communities. People who meet Mike and learn about him and his policies come away awestruck at the prospect of him representing Iowa in the Senate. They like that his support comes from Iowans and is not driven by Washington PACs and big-moneyed donors. While the Democratic party has several candidates vying for the party's nomination, I'm convinced Mike Franken is the only one who can beat Joni Ernst this November. And here's why.
These are troubling times for our country and our world. While the COVID-19 pandemic threatens every aspect of our society and well-being, our climate is in crisis, and tens of millions of Americans are without health care. There is unrest around the globe while gun violence and economic and social inequality thrive, and corrupt incompetent leadership threatens the very core of our democracy. It's clearly not a time for razor-thin resumes nor for rookies to lead. If there was ever a time that our country needed seasoned, principled leadership, this is it.
For Mike Franken, a northwest Iowa farm boy from a large family (he was the youngest of nine children), hard work, faith and Iowa values grounded him and carried him forward into a life of service to his country. As a young man, he was determined to succeed and took on any job that came his way – farmhand, welder, construction worker, truck driver, bouncer, bartender, machine shop laborer – and worked several years on the kill floor in a slaughter house to pay his way to college.
There, he earned a degree in engineering before joining the Navy and later went on to earn an advanced degree in physics followed by additional coursework at MIT, the University of Virginia and the Brookings Institute. Franken retired from the Navy as a three-star Vice Admiral in 2017 after a distinguished and extraordinary 36-year career and returned to Iowa. Today he and his family live in Sioux City.
Franken brings national and international leadership, relationships and experience that are unparalleled in this Senate race. His leadership positions with the Navy included senior policy-making roles for the Department of the Defense and serving as chief of legislative affairs for the Navy in Congress. There, he worked extensively with leaders of both parties in crafting national security policies and hundreds of billions of dollars in budget authorizations. He previously served as Senator Ted Kennedy's military legislative liaison.
President Bill Clinton charged Franken with leading a think tank of experts from academia, science, industry, and social sciences to study and develop solutions for a plethora of national and international issues. He has served under every president since Jimmy Carter and has the highest national security clearance issued by the U.S. government. Yet, he has the grit to go against the grain of this administration and Washington politicians, as evidenced when he stood alone in meetings with the Joint Chiefs in opposing the Iraq War in 2002.
He stood with gay and lesbian soldiers when the military threatened their human rights and service. He has always done what's right rather than what's easy. He's clearly not a "go along to get along" kind of guy.
The Navy charged Franken with a wide range of strategic leadership roles spanning the globe. He led forces on four continents and an 800-person defense agency, commanded the naval task force at sea, and even thousands of ground forces in a combat theater. His work took him to more than 130 countries, where he developed relationships with world leaders on security, economic and societal issues.
He was charged with starting the Defense POW/MIA Accounting Agency, which identifies and retrieves remains of veterans of foreign wars. He was responsible for leading the United States' response to Ebola in Africa. He became familiar with customs and cultures in troubled parts of the world and gained a deep understanding of how those issues impact political and international policy.
While Franken's global experience has given him insight that few candidates have, his Iowa roots and values are at the core of his decision-making and positions on public policies that will affect the lives of Iowans. His top three priority issues — addressing the climate crisis, bringing about affordable, accessible health care, and addressing corruption in government and Wall Street – are complemented by his insightful policies on education, farm policy, gun violence, and other social or economic issues.
Franken holds that climate change is not just an Iowan or American problem, but the challenge of our time, and that addressing it will require the international community's full attention, investment, and top down/bottom up leadership. He believes Iowa is in a unique position to pioneer new technologies, retool agriculture, and lead in carbon sequestration. He has proposed that the military, our largest user and producer of fuels and carbon, face strict mandates on its practices and wasteful consumption.
Franken proposes expansion of the Affordable Care Act, introducing a public option, lowering the eligibility age of Medicare to 55, and for all Americans to benefit from the comprehensive health care benefits realized by the military. This would include lifetime coverage of mental, physical and dental conditions. He supports lowering of pharmaceutical costs to the consumer, Medicare's ability to negotiate drug prices, and opening the importation of prescription drugs from Canada.
He would outlaw government subsidies to corporate agriculture and enhance support of family farmers, particularly policies that encourage development of crop sustainability, crop rotation and other soil conservation and flood prevention practices. He calls for sharpening Congressional oversight of presidential powers and restoring ethics and integrity to government. A gun owner and hunter since the age of eight, Franken believes in the rights of responsible gun owners but also common-sense regulations such as background checks, licensing, and banning ownership of military-style weapons. He will be progressive but pragmatic in his leadership.
As if our country weren't already facing enough problems, the COVID-19 pandemic's impact on our economy is expected to surpass that of the Great Depression. It will leave our country and its citizens in a profoundly different place than it found us on all fronts – health, education, environment, food production, financial security, science, national security and safety, world relations, and governance.
While other candidates espouse good policies in their candidate position statements, I want more. I want a proven, principled leader who has initiated and implemented complex public policy and garnered solid working relationships with national and world leaders to lead us in these efforts and represent Iowa in the Senate. And while all the Democratic candidates would be a vast improvement over the corrupt and purchased leadership of Joni Ernst, Mike Franken meets the highest threshold of this standard. I urge you to join me in voting for him on or before June 2.
Top photo of Nancy Bobo with Mike Franken provided by the author and published with permission, along with this picture of Franken with Bobo's husband and daughters.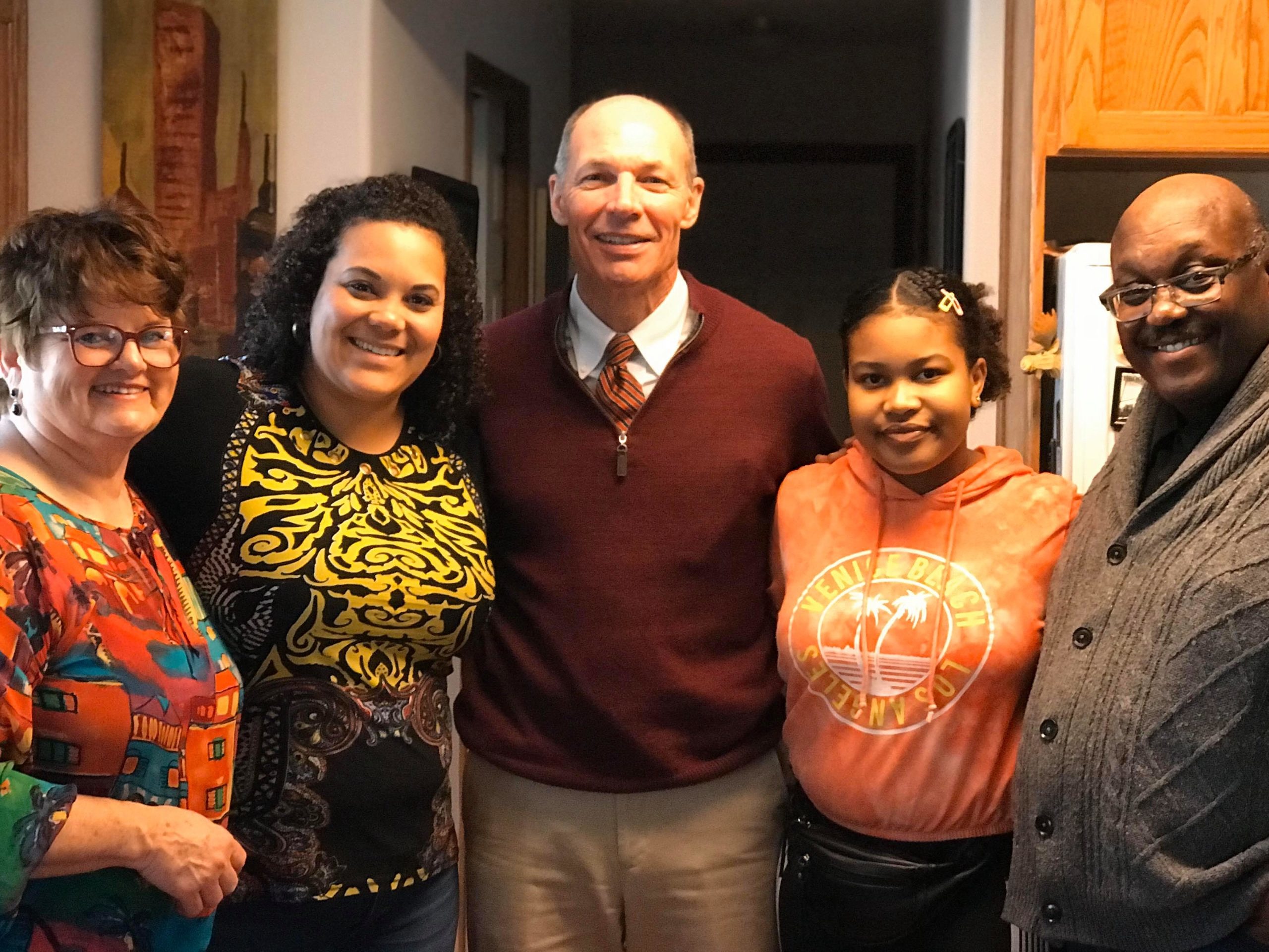 Editor's note: Bleeding Heartland welcomes guest posts advocating for candidates in Iowa Democratic primaries. Please read these guidelines and contact Laura Belin if you are interested in writing.