The State Hygienic Laboratory has expanded its novel coronavirus testing criteria to include some children and staff in day care centers who have respiratory symptoms and no alternative diagnosis.
However, the state still will not cover COVID-19 tests for most people living in the same household with someone confirmed to have the virus.

The State Hygienic Lab posted a new version of its criteria for diagnostic PCR testing on May 15 (click on the photo to enlarge).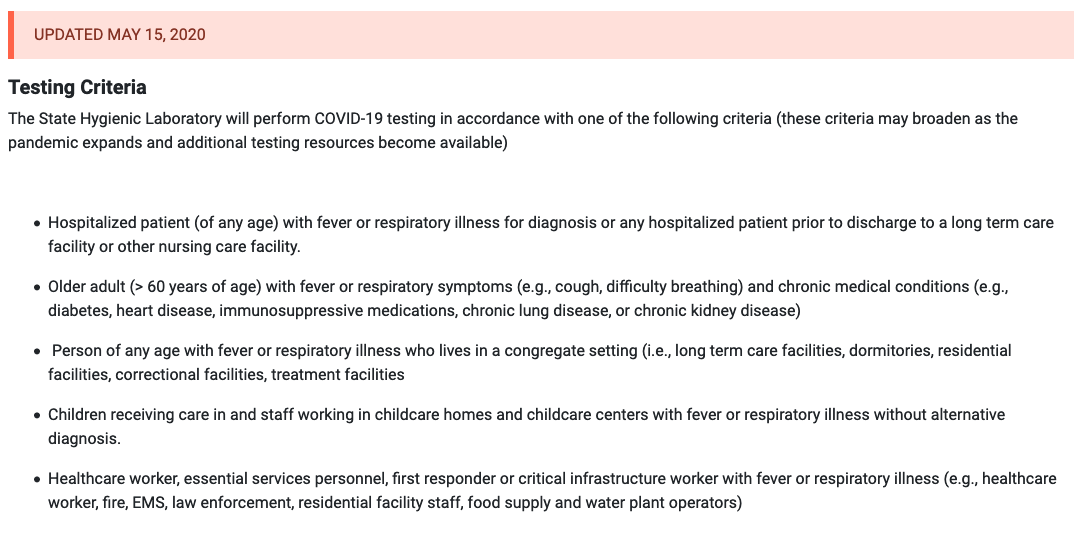 The first, second, third, and fifth points are identical to the previous version: hospitalized patients with symptoms or any hospital patient prior to discharge to a nursing home; people over age 60 with underlying conditions that make them more vulnerable to complications; people of any age with symptoms who live in a congregate setting; and those with symptoms who are part of the "essential" workforce.
The fourth point is new: "Children receiving care in and staff working in childcare homes and childcare centers with fever or respiratory illness without alternative diagnosis."
Up to now, relatively few children have been tested for COVID-19, because most children experience minor symptoms. The latest information available on the state's coronavirus website indicates that only 3 percent of Iowa's 15,093 coronavirus cases are children under age 18.
However, physicians have identified "pediatric multisystem inflammatory syndrome," which presents as similar to Kawasaki disease and seems to be like to coronavirus infections. Health officials confirmed the first Iowa case of that syndrome on May 15. During Governor Kim Reynolds' May 18 news conference, State Medical Director Dr. Caitlin Pedati said two cases have now been identified in the state.
Another relevant factor: with many categories of business reopening in Iowa as of May 15, more parents are likely to need child care as they return to work outside the home.
Iowans who don't meet the State Hygienic Lab's criteria are not prohibited from obtaining a test. The lab's website notes that health care providers "can test patients, as they deem appropriate for COVID-19 infection at national reference laboratories" without seeking approval from the Iowa Department of Public Health. Those labs will charge patients for the testing, whereas many who meet Iowa's criteria can get tested at no charge.
While the governor has regularly touted Iowa's "aggressive testing strategy" that purportedly allows officials to closely monitor coronavirus activity, Bleeding Heartland continues to hear on almost a daily basis from Iowans who are unable to get a test. A particular area of frustration: people who live in the same household as someone who tested positive for COVID-19 usually can't get tested if they don't have symptoms. A number of Iowans in that situation have told me they are worried about inadvertently spreading the virus in their workplaces or during normal daily activities.
Iowans who have struggled to obtain a COVID-19 test or have had trouble scheduling an appointment after the "Test Iowa" assessment informed them that they qualify for testing are encouraged to reach out to Laura Belin confidentially.
Top image taken from the State Hygienic Lab's COVID-19 testing page.