Herb Strentz reflects on some older quotes about politics and a recent comment by Governor Kim Reynolds at a news conference. -promoted by Laura Belin
It is both odd and instructive how the written word can bring the light of clarity and the spoken word the fog of obfuscation.
That came to mind while piecing together a sort of quilt of quotes relevant to the nation's and Iowa's responses to COVID-19.

Quilt? One of our "must stops" at the Iowa State Fair is looking at the winning and not-so winning quilts displayed upstairs at the Varied Industry Building. The colors and patterns are amazing, including those quilts in which each patch seems out of sync with the others until you make sense of them.
Here's a "crazy quilt" of quotes — a couple paraphrased —that might work into a post about George Orwell's essay, "Politics and the English Language," and the rhetoric of COVID-19. For example:
Sallustius, a 4th-century philosopher in Rome: Myths are things that never were, but always are.
Rev. Dr. Martin Luther King, Jr., 1968: This country has socialism for the rich and rugged individualism for the poor.
Orwell called his 1946 essay on politics and language a "catalogue of swindles and perversions." He lamented that in a time of "terrible politics," language is inevitably corrupted.
There are other quotes, of course, but the above three were disparate enough to be among the patches for the imagined quote quilt.
But then came this comment from Iowa's Governor Kim Reynolds at her May 21 press conference, flagged by the Iowa Capital Dispatch news service:
"There is a society cost, also, to just shutting down, and not realistically moving forward through this pandemic."
Reynolds sort of scolded news reporters for not recognizing that "just shutting down, and not realistically moving forward" was not enough. Perhaps the comment was in defense of her decision to "open up" the state, despite the danger many see in that step.
But note the bogeyman Reynolds used. Really, no person or agency has advocated "just shutting down" and not doing anything else worthwhile to deal with the pandemic. "Shutting down" is part of anti-COVID packages — never the only solution as she alleged.
The politics and rhetoric of COVID—19 also tells us ,"We're all in this together," which itself might find a place in Orwell's catalog.
As a rallying cry and as a statement of how the virus can affect everyone, that's one thing. As a descriptive statement, it's what Orwell might term a perversion.
"We're all in this together? How? When?
Not when the president urges citizens to rebel against their state governments and mocks practices recommended to combat the virus.
Not when Latinos, African Americans, low-income exploited workers, and the aged in deregulated care facilities are killed at a much higher rate than others.
Not when a security guard in Flint, Michigan, is shot and killed when he denied a person entry to a store because she wasn't wearing a face mask to protect against transmission of the coronavirus.
Not when these and other impacts of the virus again expose the increasing gaps between the haves and have nots in our nation and increase the burden upon healthcare workers — a burden not lessened by the deserved praise they receive.
Which brings us to the King quote about socialism and rugged individualism–concepts and terms that nowadays do more to spark divisiveness than to address it, given how politics corrupts language, as Orwell pointed out 75 years ago.
So let's go back seventeen centuries to Sallustius and his "Myths are things that never were but always are."
Unity, care, and compassion may seem mythical at times and difficult to experience in an election year compounded by COVID-19. At least let us hope they always are if, indeed, "We are all in this together."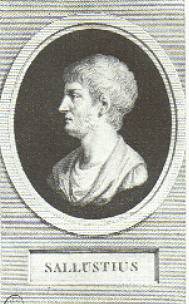 Image of Sallustius available via Wikimedia Commons, as is the top photo by Carol VanHook: Quilting Beauties – State Fair Day Six, taken in Des Moines on August 15, 2017.
Herb Strentz was dean of the Drake School of Journalism from 1975 to 1988 and professor there until retirement in 2004. He was executive secretary of the Iowa Freedom of Information Council from its founding in 1976 to 2000.