UPDATE: Governor Kim Reynolds signed this legislation on June 30.
Iowa Republicans have perfected the art of sneaking attacks on constitutional rights or the rule of law into budget bills shortly before adjourning for the year.
Last-minute budget amendments in 2019 sought to shorten the Iowa Supreme Court chief justice's term, increase the governor's influence over selecting judges, restrict medical care for transgender Iowans, and stop Planned Parenthood from obtaining sex education grants. Those measures spawned four lawsuits.
Judges will surely hear challenges to legislation Republicans enacted while burning the midnight oil this past weekend. A forthcoming post will address a 24-hour waiting period for abortion, approved during the session's closing hours.
This post focuses on provisions that would make it harder for Iowans to vote by mail. Marc Elias, one of the country's most prominent Democratic election lawyers, promised on June 14, "This will not stand. We will sue."
Don't bet against him. A Polk County District Court already struck down similar language in an administrative rule as "irrational, illogical, and wholly unjustifiable."

IOWA'S TOP VOTE SUPPRESSOR STRIKES AGAIN
If it's a day ending in "y," State Senator Roby Smith is probably thinking about new ways to limit voting in Iowa. The chief architect of the 2017 voter ID law and a terrible 2019 bill that was mostly neutered came back from the legislature's COVID-19 hiatus rested and ready to introduce 30 pages of election law changes.
After the Senate approved Smith's bill (House File 2486), Iowa House Republicans cut a deal with Democratic counterparts to remove most of the bad provisions. Bleeding Heartland discussed here what the House version kept and what it jettisoned.
The Senate took up House File 2486 after midnight on June 14, with floor manager Smith encouraging adoption of the House amendment. He didn't sound upset about his bill getting shredded in the lower chamber. But then, he had a trick up his sleeve.
Senate Democrats objected to the remaining limits on the secretary of state's authority to mail absentee ballot request forms, so the Senate approved the election bill in a mostly party-line vote, rather than with a large bipartisan majority.
A more acrimonious debate over election law was to come before dawn.
NEW AMENDMENT REVIVES OLD LIMITS ON COUNTY AUDITORS
Legislators still needed to finalize a budget for the fiscal year beginning on July 1. Around 1:30 am on Sunday, Senate Appropriations Committee Chair Michael Breitbach introduced a strike-after amendment to House File 2643, the omnibus budget bill. A new section revived one of Smith's favorite ideas: prohibiting county election officials from using databases to fill in missing information from an absentee ballot request form.
At the end of this post I've enclosed the full text of Smith's addition to the spending bill (Division XXXI). Like the previous week's proposal, it strikes out language in Iowa Code instructing local election commissioners (county auditors) to use "the best means available" to obtain information a voter may have left off an absentee ballot request form.
Instead, if an absentee ballot request contains any mistakes or omissions, auditors are required to "contact the applicant by telephone and electronic mail" within 24 hours "after the receipt of the absentee ballot request." If the voter can't be reached by those means, the auditor is to mail a letter seeking the missing data. "A commissioner shall not use the voter registration system to obtain additional necessary information."
Ruling on part of the League of United Latin American Citizens' lawsuit challenging Iowa's 2017 voter ID law, Polk County District Court Judge Karen Romano determined in January 2019 that it was "irrational, illogical, and wholly unjustifiable" to forbid auditors from using the voter database for that purpose. She further held that it was "unreasonable, arbitrary, capricious, and an abuse of discretion" and "clearly against reason and evidence" for the secretary of state to impose such restrictions on local election officials.
Commissioners are tasked with obtaining the missing information through use of the best means available, and the voter registration system may provide those commissioners with the best access to that information.
Smith apparently decided he could fix that problem by removing "best means available" from the statute.
The overnight budget amendment contained two other voting provisions as well. One states that if Iowans who left information off an absentee ballot request form do not know their voter verification number, the county auditor can "verify the applicant's identity" by obtaining at least two other facts from the voter such as birth date, last four digits of Social Security number, residential address, mailing address, or middle name.
Finally, the amendment requires Iowans to show some form of valid ID before voting early in person at a county auditor's office.
"THE BOTTOM LINE IS YOU ARE MAKING IT HARDER FOR VOTERS TO VOTE BY MAIL"
While Iowans slept, Senate Democrats picked apart the voting proposal for more than a hour. State Senator Nate Boulton questioned Smith at length about the confusing timeline for auditors. When does the clock start ticking on the "receipt of the absentee ballot request"? Does that mean when the form was delivered to the county auditor's office? Or when the staff opened the mail? Or when someone realized certain information was missing or inaccurate?
Boulton worried some voters would not receive their ballots if county auditors failed to act within the specified 24 hours. What if the auditor's office received hundreds of ballot requests on one day? Would the same 24-hour deadline apply to all the forms? Or would time run out on a rolling basis, depending on when staff processed the forms?
Smith professed not to understand the hypothetical question, repeatedly asserting his amendment would only burden auditors, not voters who submitted incomplete forms.
Boulton wondered about a voter with dyslexia, who may have transposed two digits on the house number when filling in the address line. Could the auditor correct that error and mail the ballot to the right address after consulting the database and noticing the obvious mistake?
No, Smith said, the auditor would need to contact the voter to verify the person's identity.
Democratic Senator Pam Jochum had a similar line of questioning. Iowa's absentee ballot request form asks for a four-digit voter ID PIN. Many voters don't know that number, so they put down the last four digits of their Social Security number. The auditor could confirm the voter's identity by looking at the database.
Smith would not allow that to happen. Elections staff could call, email, or send a letter to the voter in question. Otherwise, no absentee ballot.
Jochum's final remarks on the amendment were devastating.
She pointed out that a court had found similar language from the voter ID law to be "irrational, illogical, and wholly unjustifiable."
When someone mistakenly puts their Social Security number on the absentee ballot request form, there is no question about the voter's identity, because the auditors can check Social Security numbers as well as PINs on the database.
"So what is most interesting about this whole discussion," Jochum continued,
is that the auditor by voter ID law is mandated to use a voter database to confirm voter ID before giving a ballot to someone. But yet, we are now saying the auditor cannot use that same database to fill in missing information on a request for the ballot.

You can spin this any way you want, any way you want, but the bottom line is you are making it harder for voters to vote by mail, especially during a pandemic.
Democratic Senator Zach Wahls picked up that thread around 4:00 am. "I will buy you a beer if any senator in this chamber knows the last four digits of their voter ID PIN. I definitely don't know mine." (Confession: I don't know mine either.)
Wahls zeroed in on another lapse in logic. Smith's bill states that when verifying a voter's identity, the county auditor would need to contact the applicant by email, phone, or regular mail to obtain at least two pieces of information.
What if everything they need is already on the absentee ballot request form? Let's say the voter omitted the PIN but mailed a form containing the correct birth date, street address, middle name, and/or last four digits of the Social Security number. Could an auditor mail the ballot?
You can guess where this is going, but I transcribed part of the exchange anyway.
Smith: Well, it would not be correct information, because the four-digit PIN number is not correct. So this is about trust, but verify. So the auditor would then need to go through the process of contacting them, which would be by phone, email, or mail to get the correct information.

Wahls: Well, so, in this case, what you're saying is, we don't have the correct information on the voter identification PIN specifically. But we'll go through the step, we'll open it up, we'll send them the letter, it gets there, takes a couple of days, they get it, it comes back, they open it back up.

Now, even though we had the information that we needed all along to prove the identity with the four digits of the Social Security number, the date of birth, and maybe the middle name, but we had the address wrong, now we're good to go, we've gotten it back. Even though the very same information that we would need to verify the address was actually there on the ABR the whole time.

Smith: Well, the absentee ballot request form needs to be filled out correctly. If someone puts inaccurate information, they would have to go through the steps. This is about trust, but verify. Auditors cannot assume that this is the correct person.

Just like you need to show your ID when you go to the polls, we need to make sure this is the right person. And you do that by having the four-digit PIN or the Iowa driver's license number or the non-operating ID number.
I hope any Iowa judge would recognize the absurdity of that explanation. Jumping through extra hoops to contact voters by phone, email, or snail mail cannot improve an auditor's ability to confirm a person's identity when information satisfying the legal requirements is already on the ballot request form, and can be cross-checked using the database.
I don't know how the state could demonstrate a legitimate government interest, let alone a compelling interest, to justify tying auditors' hands in this way. Courts often subject limits on voting rights to heightened scrutiny. If this part of House File 2643 becomes law, I would put good odds on Democratic lawyers securing a temporary injunction blocking it from taking effect before the 2020 general election.
SENATE AND HOUSE REPUBLICANS RUBBER-STAMP THE SUPPRESSION
After setting the budget aside for a while to approve an abortion waiting period, the Senate returned to give final approval to House File 2643 around 6:00 am on June 14. Thirty Republicans voted for the bill, while GOP Senator Mariannette Miller-Meeks joined the sixteen Democrats present in voting no. I'm seeking comment from Miller-Meeks, who is also a candidate for Congress, on her reasons for opposing the bill. The legislation included many policy provisions as well as line items totaling around $7.78 billion in spending during the coming fiscal year.
Based on what happened with last year's election bill, I was hopeful House Republicans would reject Smith's latest attempt to restrict voting by mail. Indeed, things were moving in that direction late last week.
Maybe the key negotiators were never acting in good faith. Maybe they lacked the courage to stand up to their Senate colleagues. Maybe they figured the language would not survive a court challenge. Maybe they were just worn out by Sunday morning. House leaders were under pressure to wrap up the session this weekend, before a handful of their caucus members became unavailable beginning on June 15. I have sought comment from House State Government Committee Chair Bobby Kaufmann and will update this post if I hear back.
For whatever reason, 51 House Republicans agreed to enact barriers to voting by mail as they concurred with the Senate amendment to the omnibus budget. State Representative Louis Zumbach, who is retiring, was the only Republican in the lower chamber to vote against the bill. (The 53rd member of the GOP caucus, Gary Worthan, was absent for all of the weekend votes.)
Governor Kim Reynolds can and should use her item veto power to reject Division XXXI when she signs the budget bill. As many Democratic lawmakers mentioned during floor debate, why on earth would we want to make it harder to vote by mail in the middle of a pandemic? By October or early November, Iowa could be battling a larger wave of coronavirus infections.
If the governor signs that part of House File 2643 into law, the state will see Marc Elias and possibly others in court soon.
UPDATE: Scott County Auditor Roxana Moritz, the current head of the Iowa State Association of County Auditors, noted via Facebook that she had publicly thanked lawmakers for the compromise that removed provisions troubling auditors from the election bill--only to learn that in the middle of the night Republicans threw the "biggest challenge" for auditors into an appropriations bill. She added that House Appropriations Chair Gary Mohr (who represents a Scott County district) has never visited her office to learn how the county's elections are run. She concluded, "This is why people hate politics!!!!"
On June 19, Democratic State Representatives Chris Hall (ranking member on the House Appropriations Committee) and Bruce Hunter (who was involved in the election bill compromise) formally called on the governor to item veto the voting section of this bill. The Iowa Democratic Party, Iowa State Education Association, Iowa Federation of Labor, and Interfaith Alliance of Iowa Action Fund are among the many organizations also urging Reynolds to veto these provisions.
________________________
Appendix: New vote suppressing language Republicans introduced on the final day of the 2020 legislative session through an overnight amendment adding Division XXXI on "Voting" to House File 2643, the omnibus budget bill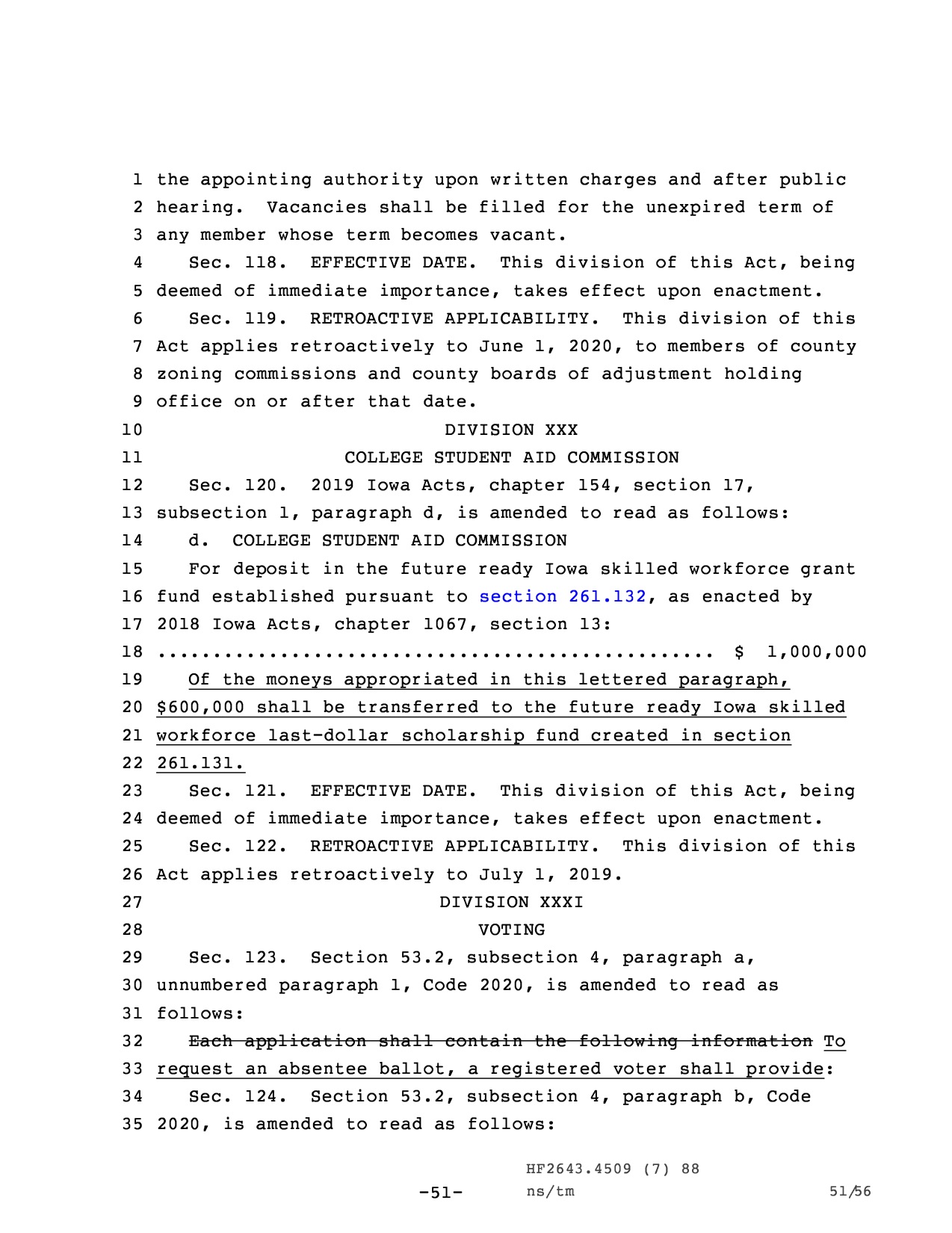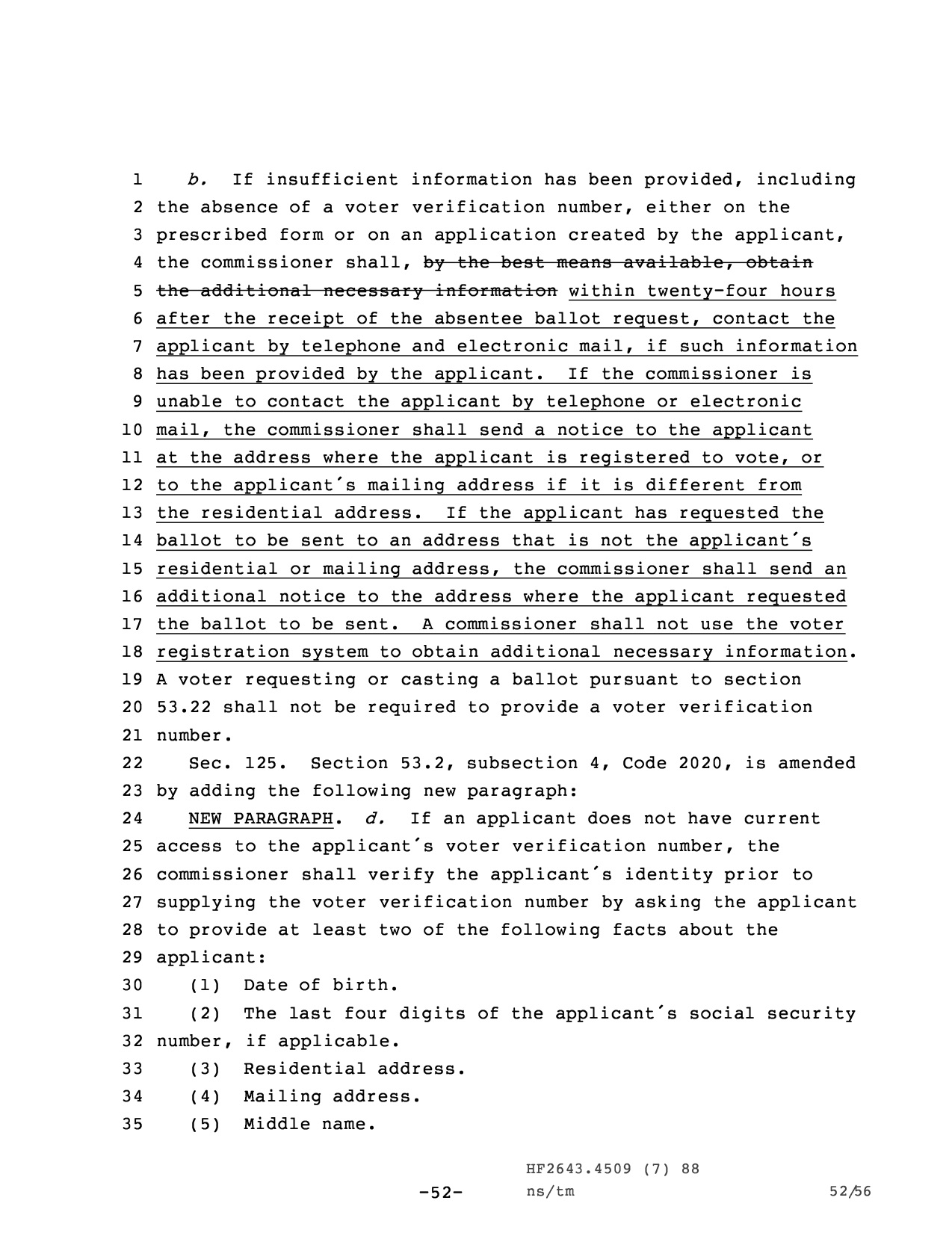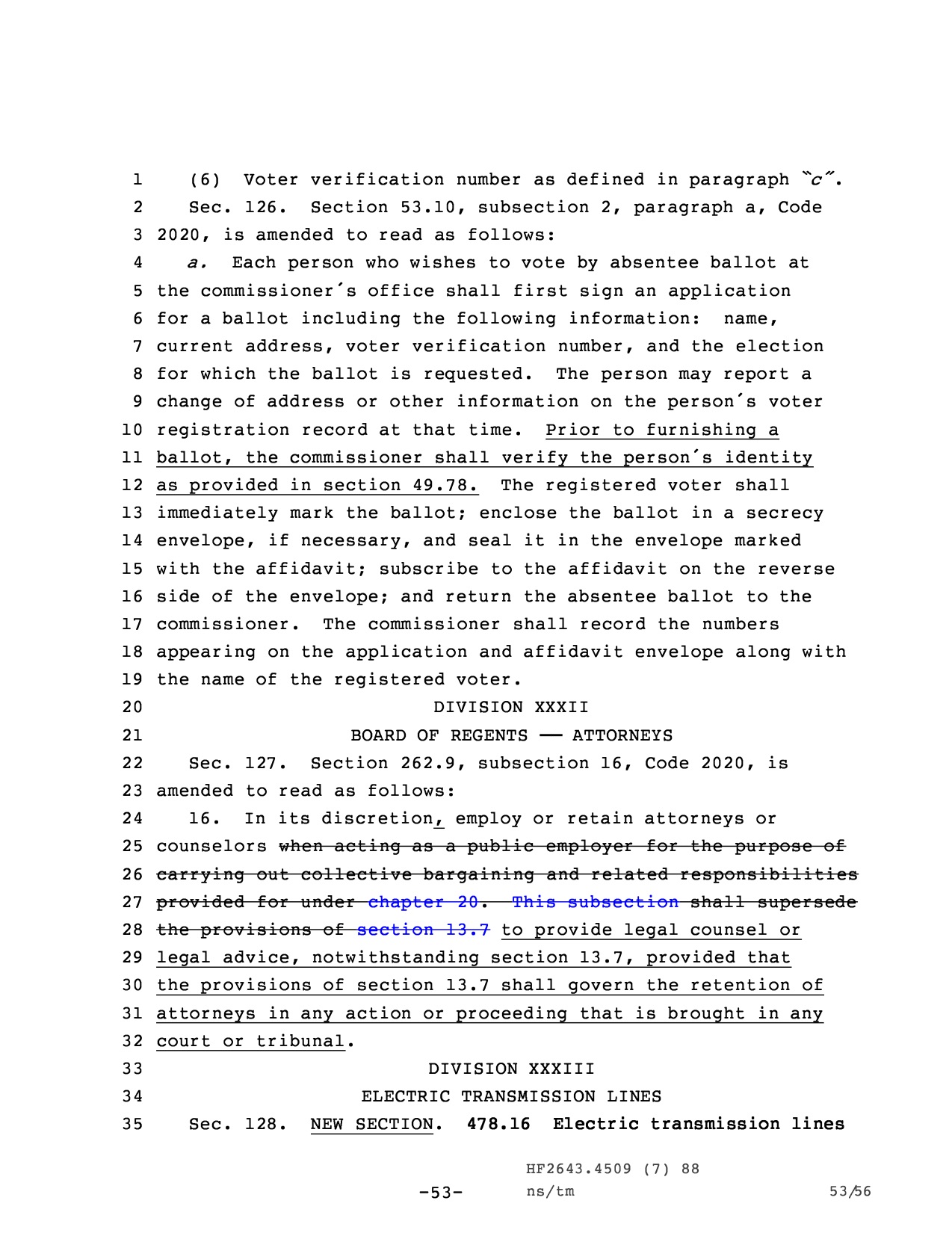 Top image: Screen shot from video of Democratic State Senator Zach Wahls (right) questioning Republican Senator Roby Smith (left) around 4:00 am on June 14.