Joe Henry is a community activist who served on the Des Moines Civil Service Commission from 2013 to 2020. -promoted by Laura Belin
The City of Des Moines' hiring practices do not reflect the diversity of our community.
Nearly 90 percent of the city's police department employees (472 total) are white. Only 57 officers are Black or Brown. In addition, the majority of police officers do not live in the city and have never lived here!

According to information the city provided last fall in response to a records request, 88 percent of the city's workforce (1,587 employees out of a total of 1,804) are "White" and 75 percent of total employees are "Male" (a total of 1,353).
We need representation in city employment to reflect who we are as a community. More people of color and women need to be hired, especially those who live in Des Moines.
Based on the attached report, only 217 people of color were employed by the city as of September 2019.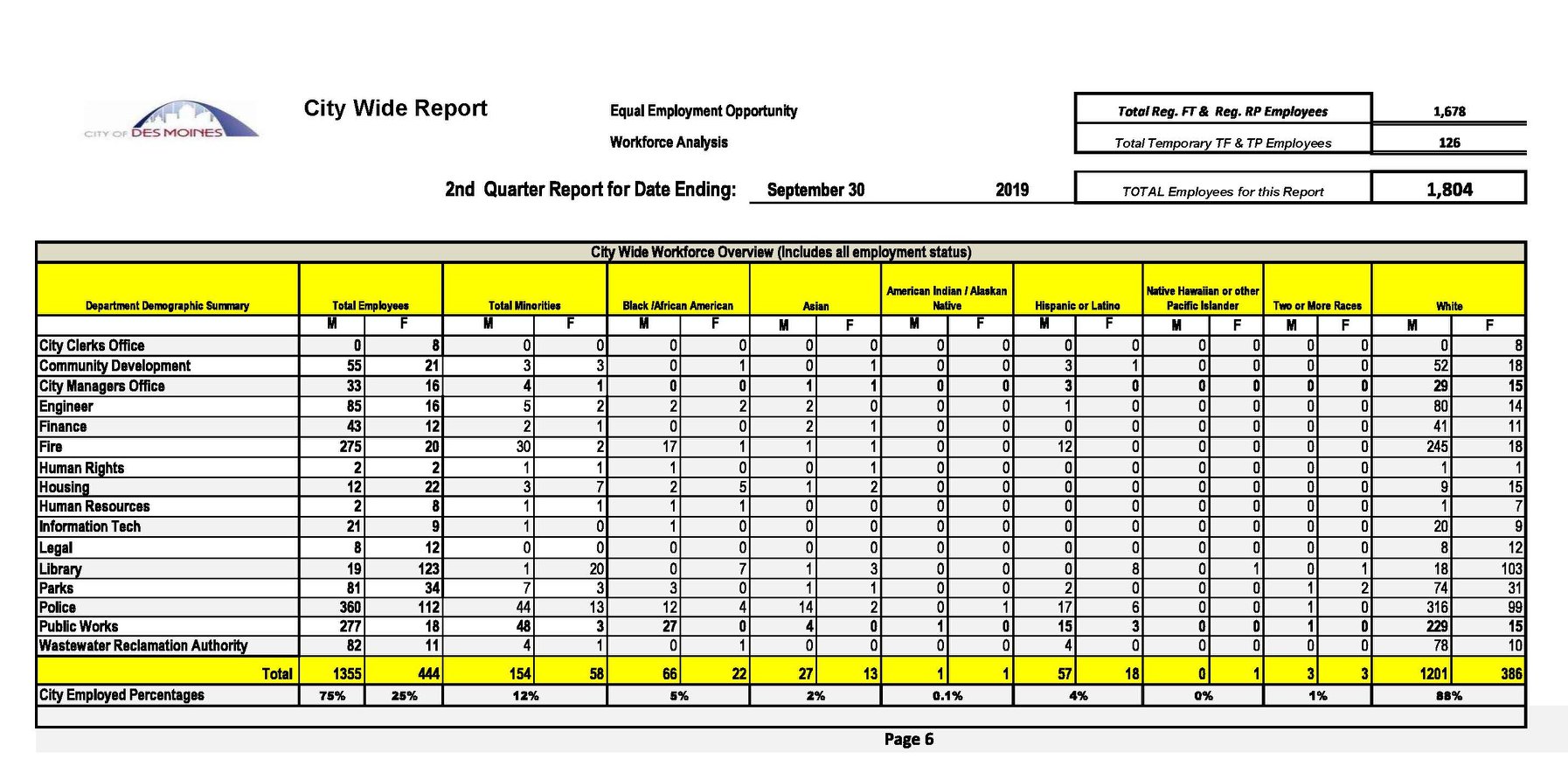 That does not match the 35 percent of our community who are people of color, according to the latest U.S. Census Bureau data for Des Moines:
White – 65.4 percent
Black or African American – 11.3 percent
Hispanic or Latino – 13.3 percent
Two or more races – 4.0 percent
Asian – 6.5 percent.
Women make up 50.8 percent of the city's population.
Had the city achieved diversity in hiring, we would have 613 people of color employed instead of only 217. We are only one-third of the way to where we should be now.
As a civil service commissioner from 2013 through 2019, I can tell you that we always had qualified applicants from the Black, Asian, and Latino communities. They would pass the written tests, background checks, and oral interviews, but were turned away because "they weren't qualified enough," as I heard over and over again from the city's human resource department staff. Another racist statement I would hear was, "we don't have enough qualified minority applicants."
After seven years of interviewing many excellent applicants from our diverse communities and seeing only a fraction hired, I took my concerns public and conveyed them to fellow commissioners and the director of the city's human resource department in 2019. I received no response, other than: bring us more "qualified applicants."
On January 13, 2020, I received an email from the city that my appointment to the civil service had ended and another person had been appointed in my place.
The mayor and city council must immediately begin work to implement programs and hiring practices to correct this inequity in employment at City Hall, on the police and fire departments, and for many other job classifications.
When our public servants do not match the diversity of our community, it negatively impacts public services, especially in the positions of police and fire fighters, and it divides us!
Shame on elected leaders who fail to speak up.
Editor's note from Laura Belin: Iowa Code 400.17(3) prohibits cities from imposing residency requirements for employees. However, Joe Henry explained, the city could give additional points for residency when testing for applicants from Des Moines. He promoted that idea several times as a member of the Civil Service Commission.

This 2016 New York Times article by John Eligon and Kay Nolan covers the challenges to community policing when most officers don't live in the cities they serve.
Top photo of Black Lives Matter sign and author photo provided by Joe Henry and published with permission.