At least six minor party or unaffiliated presidential candidates have qualified for Iowa's general election ballot, according to the official list published on August 14. (Petitions for a seventh, Kanye West, are still under review in the Iowa Secretary of State's office.)
One of the little-known presidential contenders, Ricki Sue King, set out to make history with her candidacy and succeeded. But she doesn't want Iowans to vote for her.

INSPIRED BY HISTORY
I was unaware of King's campaign before seeing her name on the secretary of state's list. She registered as a candidate for the "Genealogy Know Your Family History" party.
An online search revealed she is a "genealogist, historical researcher, private investigator, and founder of Roots to Branches Genealogy."
King's interest in history sparked this project, according to a November 2019 post on her business website. Her brother had jogged her memory about George Edwin Taylor, the first African American nominated for president. He was living in Iowa when he ran on the National Liberty Party's ticket in 1904.
King wrote,
There is still the question of "Who was the first black person from Iowa to run for President of the United States?" The answer will depend on how you interpret "from Iowa". If you mean they lived in Iowa at the time they entered the race George Edwin Taylor would be the correct person. However, I do not look at it that way. To me "from Iowa" means born and raised in Iowa. Thus, making me Ricki Sue King the first black from Iowa to run for President.
Speaking by phone on August 15, King said she began collecting signatures in May 2019. By the end of December, she had more than enough signatures on her nominating petitions.
Most who signed were Polk County residents (King lives in Windsor Heights). Friends and relatives helped her reach some Iowans living elsewhere, since state law requires that petitions for a president/vice president ticket include at least 1,500 "eligible electors residing in not less than ten counties."
Although King did most of the work far in advance, she learned after submitting her nominating papers in late July that some people living in the Dallas County portions of West Des Moines or Grimes had signed petitions designated for Polk County residents. (All signatures on any one page must come from people living in a single county.) Once staff in the Secretary of State's office had disqualified the invalid signatures, King was nine short of the requisite 1,500.
Fortunately, she told me, "I was able to get them really quickly." The Secretary of State's office informed her on August 6 that King's name and that of her running mate (cousin Dayna R. Chandler) will appear on Iowa's general election ballot.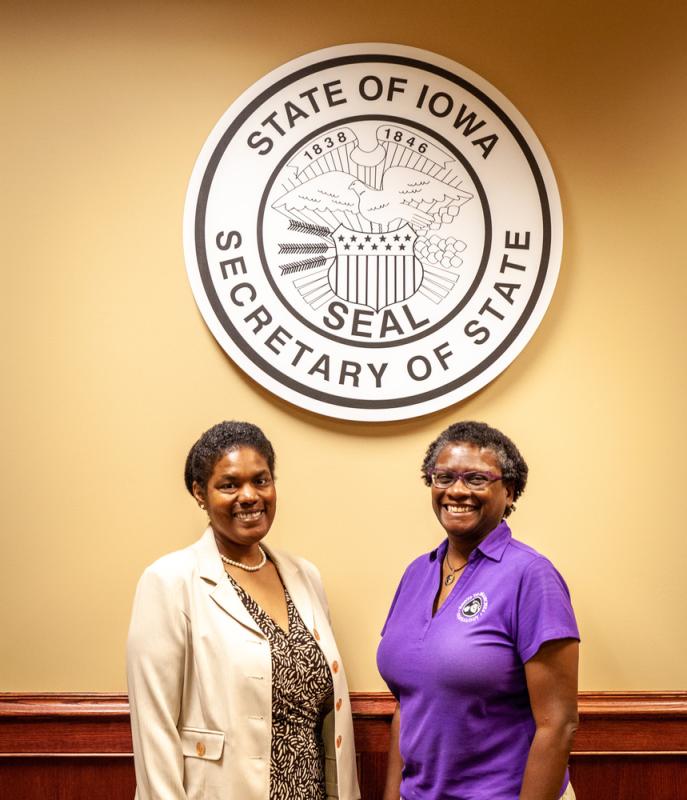 Dayna Chandler (left) and Ricki King after turning in nominating petitions
"I DON'T WANT YOUR VOTE"
King's platform was simple, according to her 2019 campaign announcement: "To be the first black female from Iowa to run for President."
Her slogan was unorthodox: "I don't want your vote. (I want your signature.)"
She's serious, she explained during our telephone interview.
I'm trying to make history. I don't want to be like a Ross Perot [1992 independent presidential candidate], where people vote for me and they say oh, so-and-so didn't win because Ricki stole the votes that would have made that person win.
So she's not going to encourage people to vote for her?
No, I never have. Anyone I asked for their signature, I said, "I want you to vote. Just don't vote for me, and I don't care which candidate you vote for, just vote. It's important that you get out there and vote."
Which candidate will she support? "Myself," King said with a laugh. "I've got to at least get one vote for myself." She added,
I even told my mom not to vote for me. I said vote for your candidate. Because I'm like, because I'm only on the Iowa ballot. So anyone that votes for me, it's a wasted vote. And I don't want people to have wasted votes.
In a recent blog post, King described making the ballot as a dream come true, then drove home the point: "Remember, we are running to make history not to win. Now, get out there and VOTE but not for us."
Speaking of making history, King and Chandler are among what I believe to be a record number of Black Iowans on the general election ballot. The others are state House incumbents Ako Abdul-Samad (D), Ruth Ann Gaines (D), Ras Smith (D), Phyllis Thede (D), and Ross Wilburn (D), Iowa House challengers Charles Clayton (D), Eddie Andrews (R), Pauline Chilton (R), Lou Rogers (R), Aaron Sewell (R), and Joma Short (R), and Iowa Senate challenger ToyA Johnson (Libertarian).
P.S.- King told me she's "not a real political person." Her LinkedIn page mentions one previous foray into politics, though. She was instrumental in passing a 2018 law that opened fetal death records and made death certificates accessible to researchers after 50 years, rather than 75 years.
During our interview, King said House Democrat Ruth Ann Gaines first introduced the legislation. The bill didn't go anywhere until King began working with then Majority Leader Chris Hagenow, the second-ranking House Republican who represented Windsor Heights at the time.
LATE UPDATE: King received 546 votes, approximately 0.03 percent of Iowa ballots cast for a presidential candidate.
Top photo of Ricki Sue King first appeared on the Roots to Branches Genealogy website, published with permission.