Luther College Associate Professor Beth Lynch profiles a very rare plant, "which by historical accident is named for Iowa." -promoted by Laura Belin
As I child, I pondered the (to me, peculiar) idea that in Victorian times at least some people believed that children should be "seen, but not heard." Twisting that idea around, there are quite a few plants in Iowa that will rarely be seen, but it's certainly worth hearing about them.
Several years ago, I profiled witch hazel, which certainly fits in the rarely-seen (at least, in Iowa) category. Today, I bring to you the tiny Iowa golden saxifrage (Chrysosplenium iowense), which by historical accident is named for Iowa, even though it is almost never seen in Iowa.

It is unlikely that many will get to see this plant because it is difficult to find and it is inconspicuous. The plant is not much bigger than the mosses in which it grows, measuring only about 1-2 inches tall. It produces a few tiny greenish flowers in early spring. Even these are not showy, measuring less than one-fourth inch in diameter and completely lacking petals.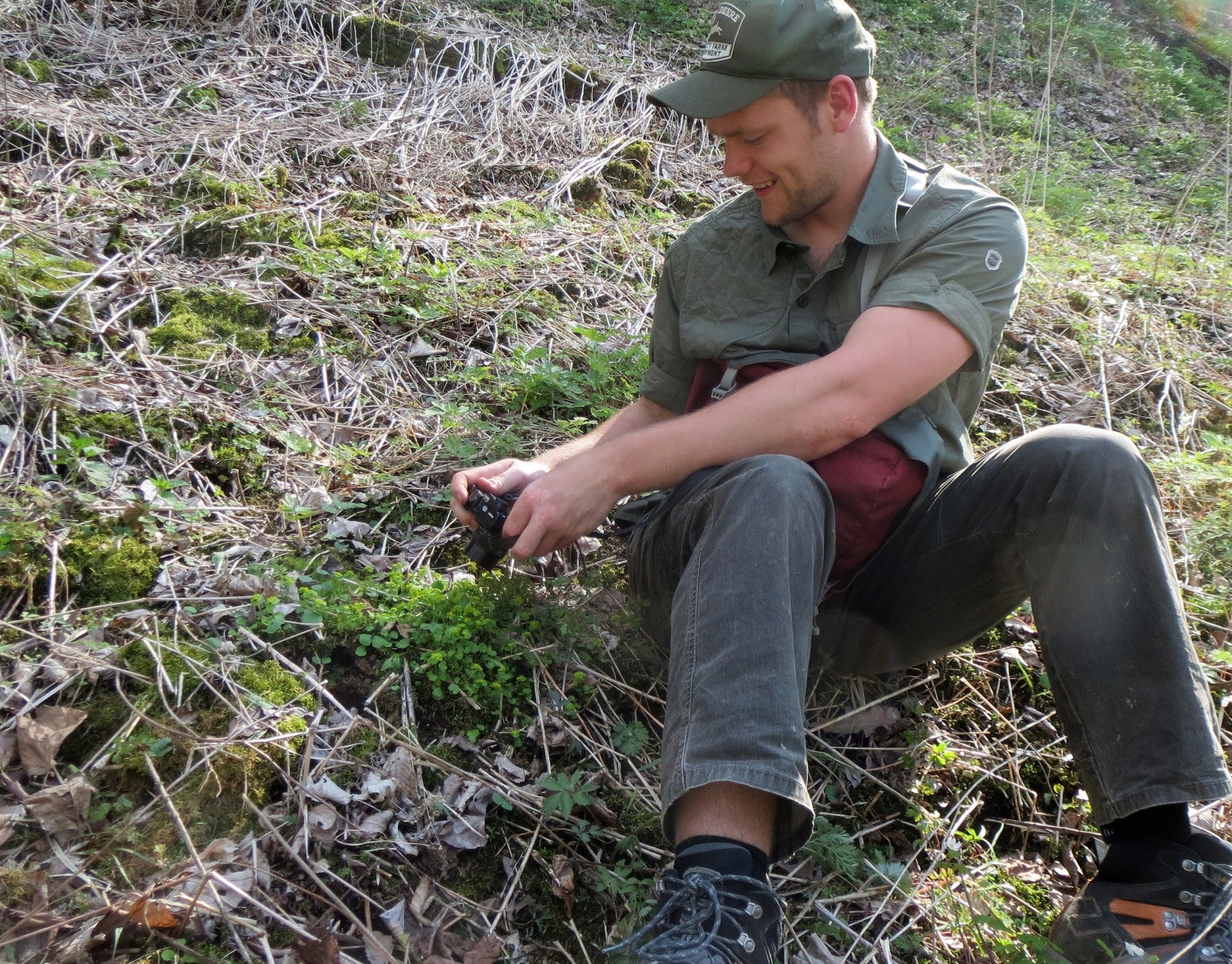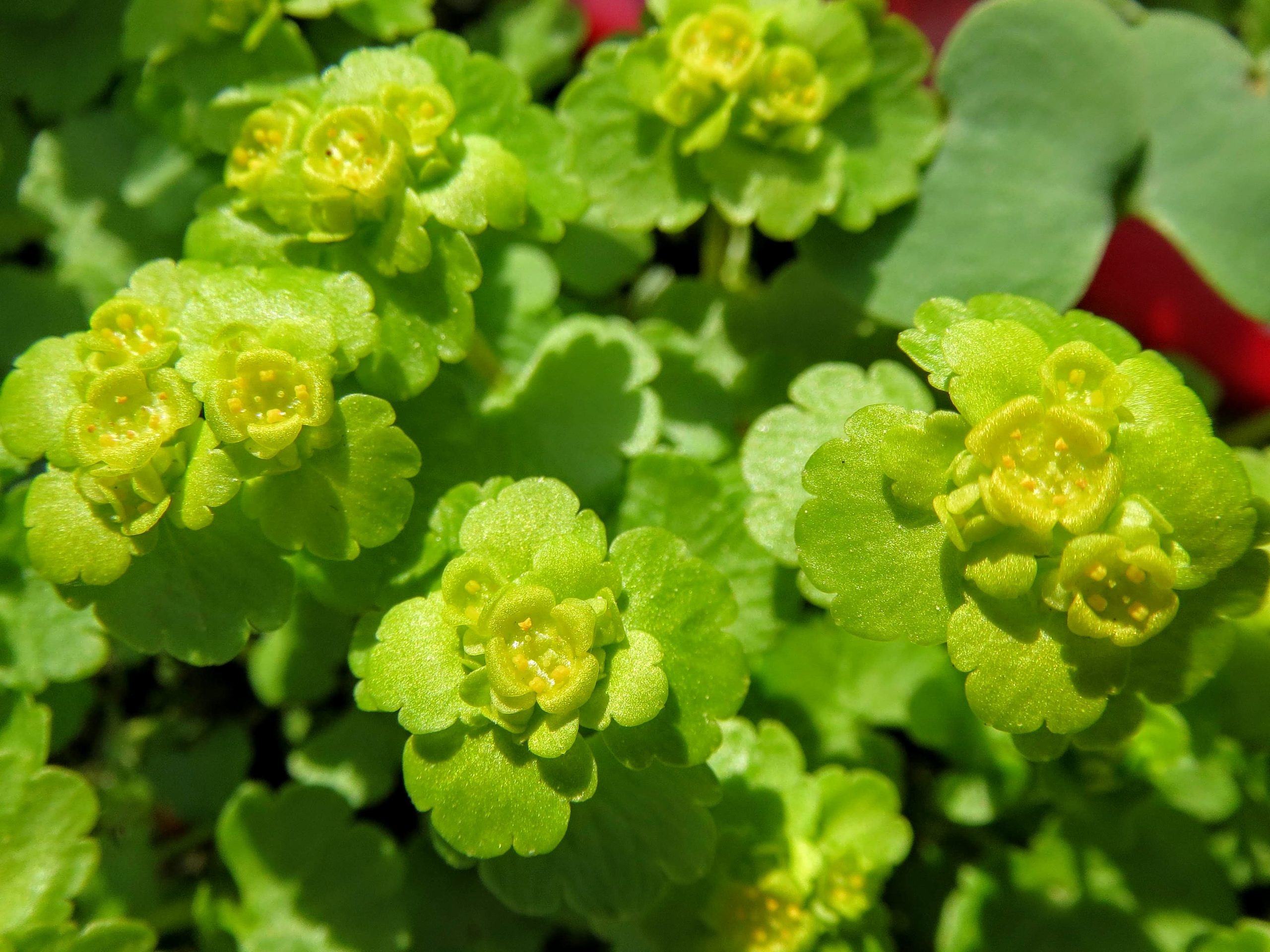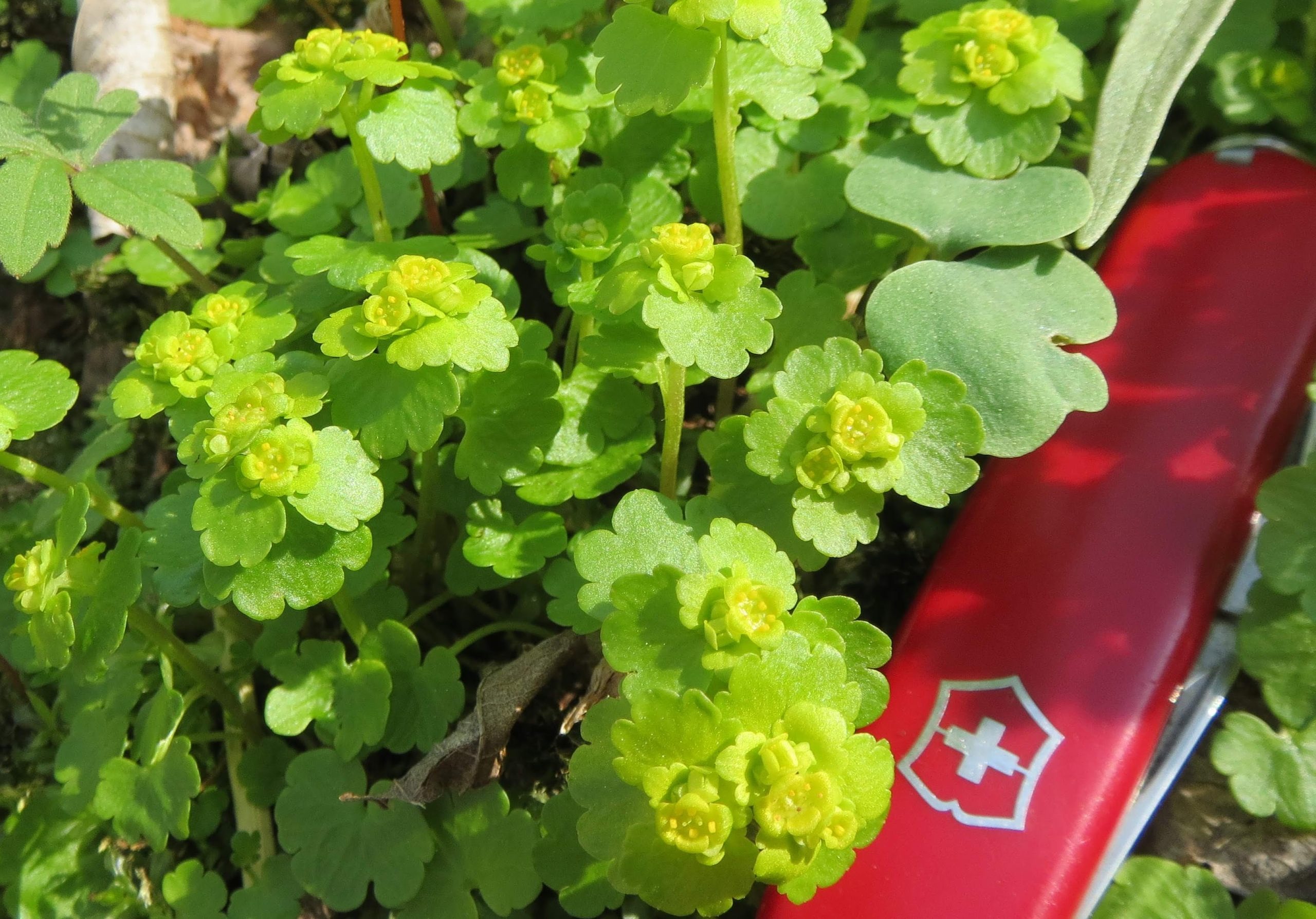 In Iowa, Chrysosplenium iowense grows only in cool, moist microhabitats associated with cold air vents in north-facing rocky cliffs. Called algific talus slopes, these microhabitats are associated with limestone and dolomite cliffs in the Paleozoic Plateau region of northeastern Iowa and adjacent states.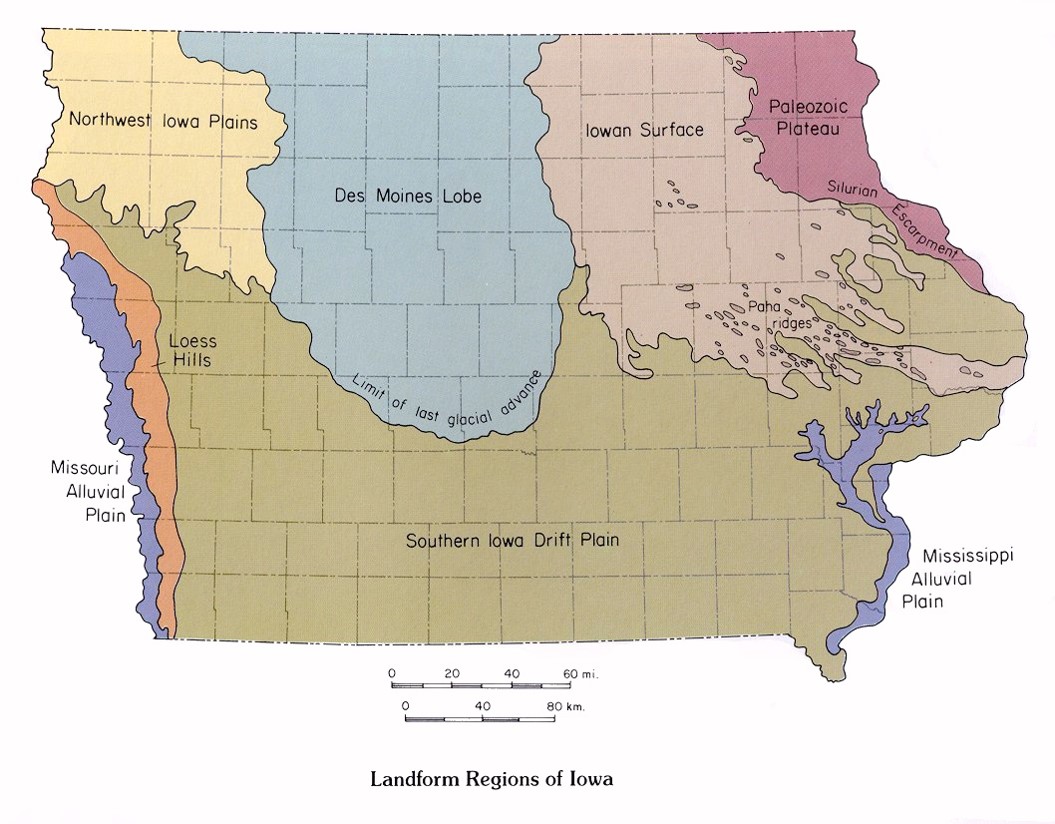 Very few of these suitable microhabitats occur in the United States, let alone Iowa. The majority are on private land and most of those on publicly owned land do not have public access to protect their extremely fragile ecology. 
If you haven't seen the Iowa golden saxifrage yet, it's no wonder. Although you may never see it, it's still worth hearing about it. This elusive little plant has stories to tell about persistence and resilience during times of change.
In a 1998 newsletter from the Iowa Native Plant Society, botanist Tom Lammers explained that in 1888, Chrysosplenium iowense was found and collected just a few miles north of Decorah in Winneshiek County. For quite a while the species was only known to occur in Iowa. Eventually, in the 1940s, additional populations were described in Canada, and subsequently it was found growing in a couple of locations in southeastern Minnesota. 
It turns out that the Iowa golden saxifrage collected near Decorah represents a southern outpost of a plant that we now know is more abundant much farther north in montane conifer forests of Canada. In cool, northern Canadian forests, Iowa golden saxifrage occurs mostly on wet streambanks, moist seeps, or bogs. It's a bit of a historical accident that a plant species that grows mostly in the mountains of western Canada got to be called the Iowa golden saxifrage.
While this explains how a Canadian plant got its name from Iowa, it does not explain the very strange geographic distribution of the Iowa golden saxifrage. If you were to plot on a map all of the locations where this plant has been reported, you would see many observations from Alberta, and also some from British Columbia. Of course, there would also be a very small number of observations from a few counties in northeastern Iowa and adjacent Minnesota, about 1000 miles southeast of its stronghold in western Canada.
Biogeographers call small, isolated patches occurring far away from the main species ranges "disjunct populations." We have a pretty good hunch that the disjunct populations of Iowa golden saxifrage are a legacy of the last glacial advance.
During full-glacial conditions Iowa was cold; too cold for oak trees and prairies, but probably pretty nice for northern species like spruce trees and little tundra plants, which are well-represented in fossil records that date back to full-glacial times. It's possible that the Iowa golden saxifrage was present in moist spots within patches of conifer forest south of the glacier. When the climate warmed, and the glaciers retreated, cold-adapated species moved north. A few species like balsam fir and the golden saxifrage, however, managed to hang on in spots where they are buffered from extremely warm temperatures typical of modern Iowa summers.
Today, a handful of algific talus slopes located at the base of north-facing cliffs, and bathed in cold, moist air coming from underground, are suitable microhabitats for the Iowa golden saxifrage and other northern plant species. These special microhabitats have allowed for the persistence of these species in tiny populations, disjunct from their main ranges. Iowa golden saxifrage and a few other plant species have lived for millennia in these sites, precisely because they provide a refuge from modern climatic conditions.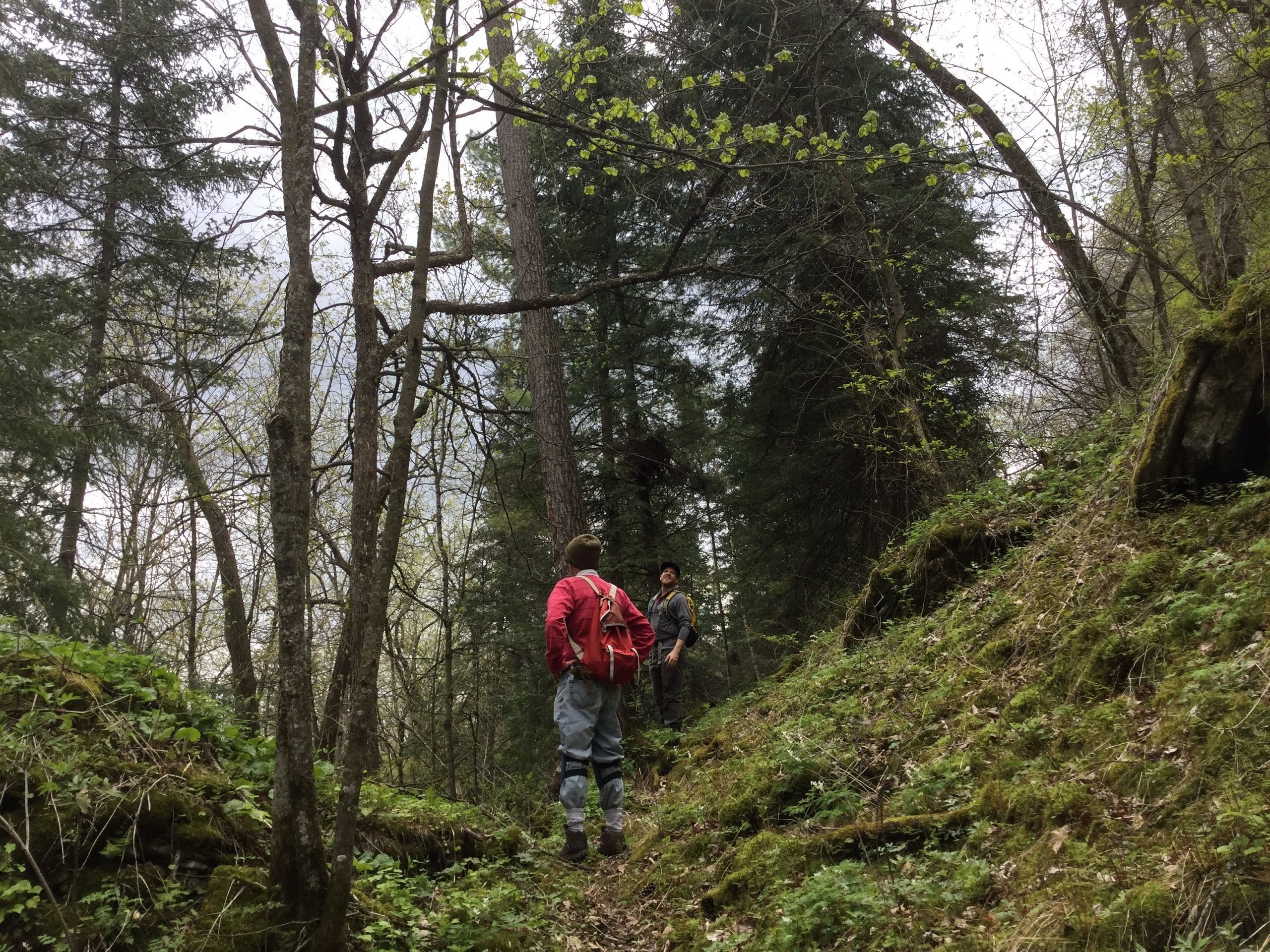 Despite the fact that you may never get to see these plants, I hope that you will be impressed by their tenacity and resilience in the face of dramatic climatic changes.
The future of these disjunct populations is uncertain. Humans are causing climate to warm rapidly, and it's not clear how much more warming these northern plants will be able to withstand before their populations blink out of existence, much like the giant ground sloths, woolly mammoths, and spruce forests that lived here in the past.
I have a hunch that because they occupy sites that are well buffered from extremes in air temperature, Iowa golden saxifrage will not be as bothered by warming temperatures as other more common plant species, many of which are projected to suffer as a result of climate change.
This doesn't mean that the persistence of rare species on algific talus slopes is a sure thing. Both habitat loss and habitat degradation are serious concerns. Shifts in federal and state spending priorities have all but eliminated funding for the protection of rare species and their habitats. I have seen Iowa golden saxifrage habitats threatened by the invasion of garlic mustard and European buckthorn. I have seen sites destroyed by timber (mis)management and trail construction. Others are threatened by livestock grazing.
To protect rare species like the Iowa golden saxifrage, we'll have to first know where they occur and then protect those habitats so that the species that live there have a chance to persist for another few thousand years. Like "good" Victorian children, rare plants in Iowa are not heard, and they are rarely even seen. That leaves it to those of us who can be heard to learn how we can advocate for policies and funding to protect rare species in Iowa.
Beth Lynch is Associate Professor in the Biology Department where she teaches a variety of courses including introductory biology, ecology, botany, winter biology, and a course about the ecology of emerging infectious diseases. She has a PhD in Ecology, Evolution, and Behavior from the University of Minnesota. Her research interests include using paleoecological methods to study the interactions among climate, fire, and forests and conservation of Midwestern forest ecosystems.