Dan Guild has four takeaways from the first round of presidential polling following the Democratic National Convention. -promoted by Laura Belin
I wrote here frequently in 2016 about conventions and bounces. Four years ago, polling showed that both Donald Trump and Hillary Clinton received a good bounce from their conventions. Did Joe Biden?
This is the first time since 1964 that we did not have high-quality polling between the conventions. The data, such as it is, shows four things.

Biden's bounce was small.
One pollster found a marginal bounce, the other two found no substantial change.
| | | | |
| --- | --- | --- | --- |
| | Before Harris Named | After Convention | Change |
| Redfield & Wilton | 7 | 10 | 3 |
| YouGov | 9 | 10 | 1 |
| Morning Consult | 9 | 9 | 0 |
| | | | |
| Average | 8.33 | 9.7 | 1.3 |
This would be the smallest bounce since George McGovern's disastrous choice of running mate caused him to lose ground in 1972.
When I calculate bounces, I measure from the time the vice presidential selection was announced to the time of the party's convention. In 2004 and 2012 the running mates were announced well before the conventions. If you measure just from the start of the convention to the end of it, neither John Kerry in 2004 nor Mitt Romney in 2012 received much of a bounce.
Biden's favorables may have improved.
In the Morning Consult poll, Biden's favorables improved from 48 favorable/48 unfavorable to 51/45. That was the only pollster to ask about Biden's approval. Clinton saw a significant jump in her favorable rating in 2016.
In a deeply polarized electorate, a convention may alienate as much as persuade.
Maybe the most interesting thing I found in the post-convention polling is the reaction to it among Republicans and independents.
YouGov found that the DNC increased Biden's margin among Democrats but worsened it among Republicans and independents. That has never happened before.
Net Margin, from YouGov Polling
Among Dems
Among Republicans
Among Independents
Before the Convention
86
-84
-2
After the Convention
92
-86
-10
In some sense this makes sense, but it suggests the attempt to Democratic attempt to appeal to Republicans fell on deaf ears. This is just one poll, but I reviewed the 2016 post-convention polling and found Clinton improved equally among all groups. This polarized reaction suggests the number of people who have not already decided is small, which would not be surprising.
Trump remains in serious trouble
There is a lot to this chart, but I would focus on the post-convention approval number. Since 1948 every president with a post-convention approval rating of at least 50 percent has won. Only one incumbent with an approval rating below 50 percent has won: Harry Truman in 1948 (though Gerald Ford made up 20 points between his convention and election day).
When you look at Trump's approval rating, what is remarkable is how stable it is. Nothing changes it very much. In the past, unpopular incumbents have benefited from the conventions. Jimmy Carter cut a 10 point lead to 4, and George H.W. Bush cut a nearly 20 point lead to 10.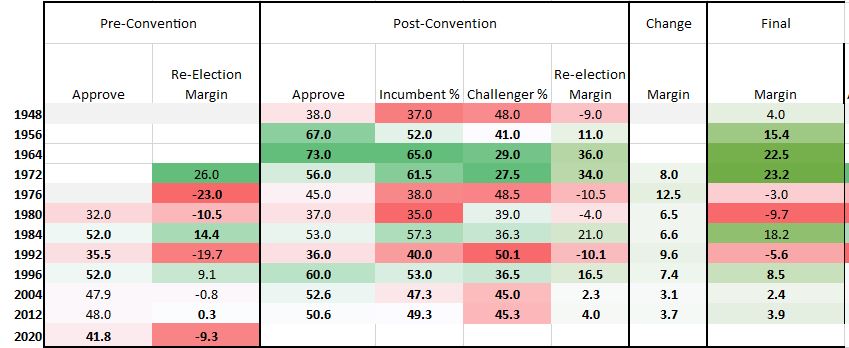 One has to wonder whether Trump will get any bounce after this week. His plan to speak every night during the RNC is as likely to antagonize as it is to persuade.