Dan Guild has "never seen anything like it. The president so dominates the landscape that senators don't have a distinct political identity." -promoted by Laura Belin
Selzer & Co. is out with a new Iowa poll for the Des Moines Register and Mediacom. It found President Donald Trump tied with Democratic challenger Joe Biden, each supported by 47 percent of likely voters surveyed.
Iowa is not considered likely to be decisive in the race for the Presidency. But it may be decisive in determining control of the U.S. Senate. Sabato's Crystal Ball, for example, currently rates only two states as toss-ups: Iowa and North Carolina. Since they predict that the rest of the Senate will split 49-49, the importance of Iowa's race is clear.
As Brianne Pfannenstiel reported for the Des Moines Register, both sides recognize just how important Iowa is: $155 million has been spent or has been committed to influence the outcome.

Trump's approval rating was decisive in the 2018 Senate races. The Democrats won only two races (both by very well-liked incumbents) where Trump's approval rating was over 50 percent (Montana and West Virginia). Conversely, the Republicans beat four Democratic incumbents (Florida, Indiana, Missouri, and North Dakota). In each of those races, Trump's approval was over 50 percent.
A chart below shows the relationship between Trump's job approval and the Republican candidate's percentage in the 2018 Senate races. The dot way over on the right is Joe Manchin, the Democratic senator from West Virginia.
With that background, let's look at Selzer's results. Two things stand out as important here:
Trump is running significantly ahead of his favorable rating. This is unusual. As I wrote at Crystal Ball in April, Trump has consistently run behind his job approval in polling. Because Trump's approval rating has never approached 50 percent nationally, he needs to run ahead of his approval rating to win a second term. This is the first poll I have seen where he does so.
Joni Ernst is running 5 points behind the president in her race for re-election. Selzer found 45 percent of likely voters support Democratic challenger Theresa Greenfield, while 42 percent back Ernst. This is unusual, particularly because Ernst's favorable rating (44 percent) is better than Trump's.
1

I think one poll finding explains why. Ernst gets 42 percent of the vote, nearly exactly the same as those who say her relationship with the president is "about right." What interests me is the 4 percent who said it is not close enough. If you add that 4 percent to the 43 percent who say her relationship with Trump is "about right," you get 47 percent, identical to Trump's percentage against Biden.

These numbers suggest Ernst must thread a needle. She cannot separate herself from Trump, yet he is not popular in Iowa. I suspect her campaign believes they will those 4 percent will come back, but that means she has little realistic room to move to the middle. She is trapped. Her answer will be to drive up Greenfield's negatives, but in a race defined by Trump, I wonder how much that will matter.
After I read these results, I looked at my average in the eight other states which are considered close. Remember, these seats are currently occupied by incumbent Republicans with the exception of Alabama, which is currently held by a Democrat.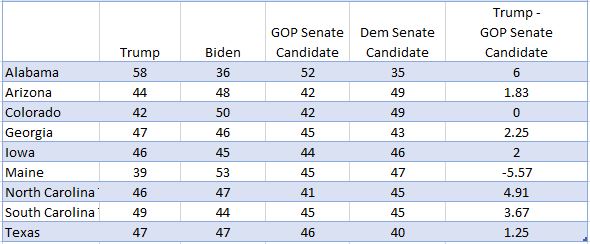 In all but one of these seats, Maine, the current GOP candidate is running behind Trump. It's astonishing – I have never seen anything like it. The president so dominates the landscape that senators don't have a distinct political identity.
This is why, I think, a number of senators on this list (Ernst, Cory Gardner, Thom Tillis) have been so vocal in their support for replacing Justice Ruth Bader Ginsburg before the election. If they take a different position, they risk significant defections from Republicans.
Trump's long shadow and his unpopularity are why I have written that we may see the 1980 election in reverse this November. That year, an unpopular Democratic incumbent's loss took down a number of long-standing Democratic senators. In 2020 we may see an unpopular Republican president take down a number of GOP incumbents.
This is the chart of the 2018 Senate races and Trump's approval. Perceptions about his performance dominated Senate campaigns during the last election cycle.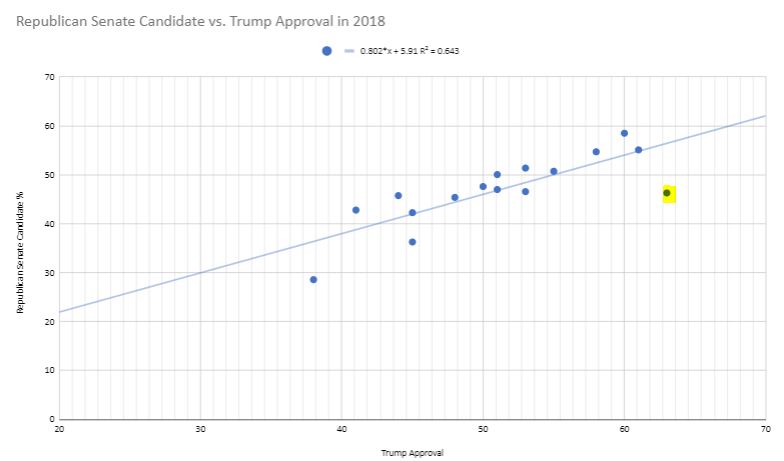 UPDATE/EDITOR'S NOTE: Two other polls released on September 24 pointed to a very close race, with Ernst slightly underperforming Trump in terms of re-elect numbers. New York Times/Siena found Greenfield leading Ernst by 42 percent to 40 percent, with 14 percent undecided, and Biden leading Trump by 45 percent to 42 percent.
Monmouth's latest Iowa poll showed Trump leading Biden by 50 percent to 44 percent, and by 49 percent to 46 percent in a higher turnout model. Meanwhile, Ernst and Greenfield were tied at 47 percent, but the Democrat had a slight edge (49 percent to 46 percent) with higher turnout projected.
Top image: Donald Trump at Senator Joni Ernst's "Roast and Ride" fundraiser on August 27, 2016. Photo by Max Goldberg originally posted to Flickr and available via Wikimedia Commons.