Emilene Leone explains how to make a sturdy, eye-catching pallet flag yard sign that costs "next to nothing." -promoted by Laura Belin
I am such a fan of Bleeding Heartland, and am perpetually in awe of the intelligent, well-researched, and incredibly informative writing that contributors bring to this site. With that in mind, I was almost embarrassed to ask if I could submit a post to talk about my idea for a fun, political craft project….but I did it anyway, and here it is!
Another election season is upon us, and with election seasons, come fights over signs. Iowans plead, beg and ask for yard signs. Campaigns often seem to respond to those requests either slower than we'd like, or not at all. The saying "Yard signs don't win elections" seems to run rampant, yet those of us here on the ground get more and more worried as we see signs for the opposition seem to pop up all over town overnight.
So, I've got a solution: let's make our own signs!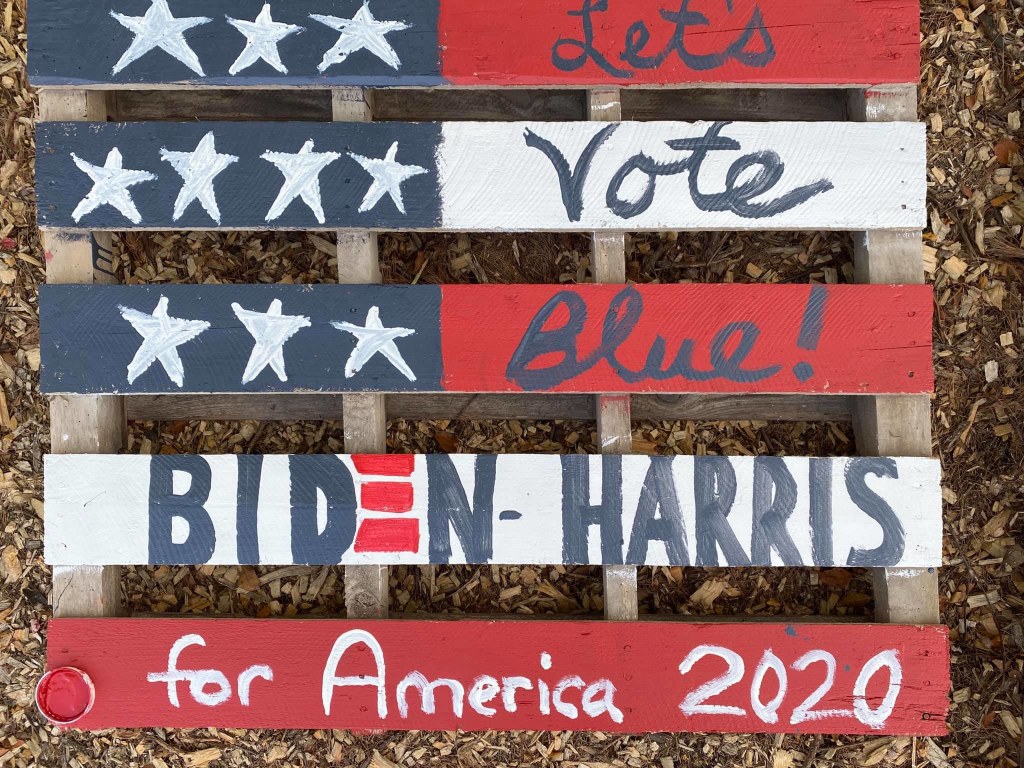 I am a real estate photographer, and as I drive the country roads, I have noticed pallet flags in rural yards for several years. A simple wooden pallet, painted in red, white and blue, makes for a cute, rustic piece of patriotic yard decor.
I had the idea to make a pallet flag, but take it up a notch and make it a yard sign for Joe Biden. Here's the first one I made:
It was a fun project, and cost next to nothing. I used an old pallet I had on hand, and paint that was already in my basement from previous projects. Total cost= $0! I painted the flag first, let it dry, then added the stars and text. It only took about 30 minutes. I considered going to the store and buying stencils, but I just decided to freehand it because 1) I figured it looked more rustic and grassroots that way and 2) I was too lazy to go to the store.
My kids are all teenagers and way too cool to spend an afternoon painting signs with their mom, but if you have younger and/or less-cool kids, what a great project for an afternoon in a pandemic quarantine!
I put it out in my front yard, and have definitely noticed quite a few walkers slow down to read it. Not sure if they approved of the message or not, but it is certainly eye-catching! I'm not in any way, shape, or form embarrassed to be a Democrat. I'm proud of it, especially now, and want my neighbors to know where I stand and I want to encourage other Democrats in my neighborhood to know they aren't alone.
Another benefit of the pallet sign is that they are large and heavy, so a thief would have to be highly motivated to steal it. Sign theft is sadly a common occurrence. Could someone steal this? Sure. But it would require a little extra effort, and probably a truck.
I was so excited about the project that I rounded up a few more pallets and spent yesterday afternoon working on making some more for friends. I'm not the most creative person, but I had fun with it.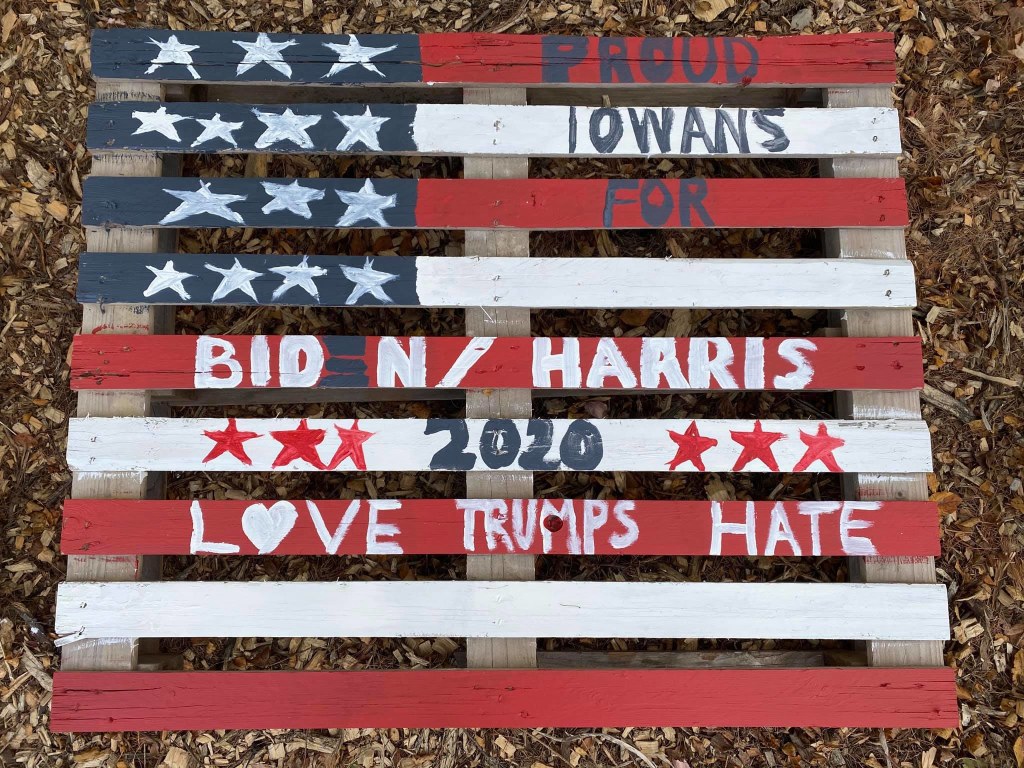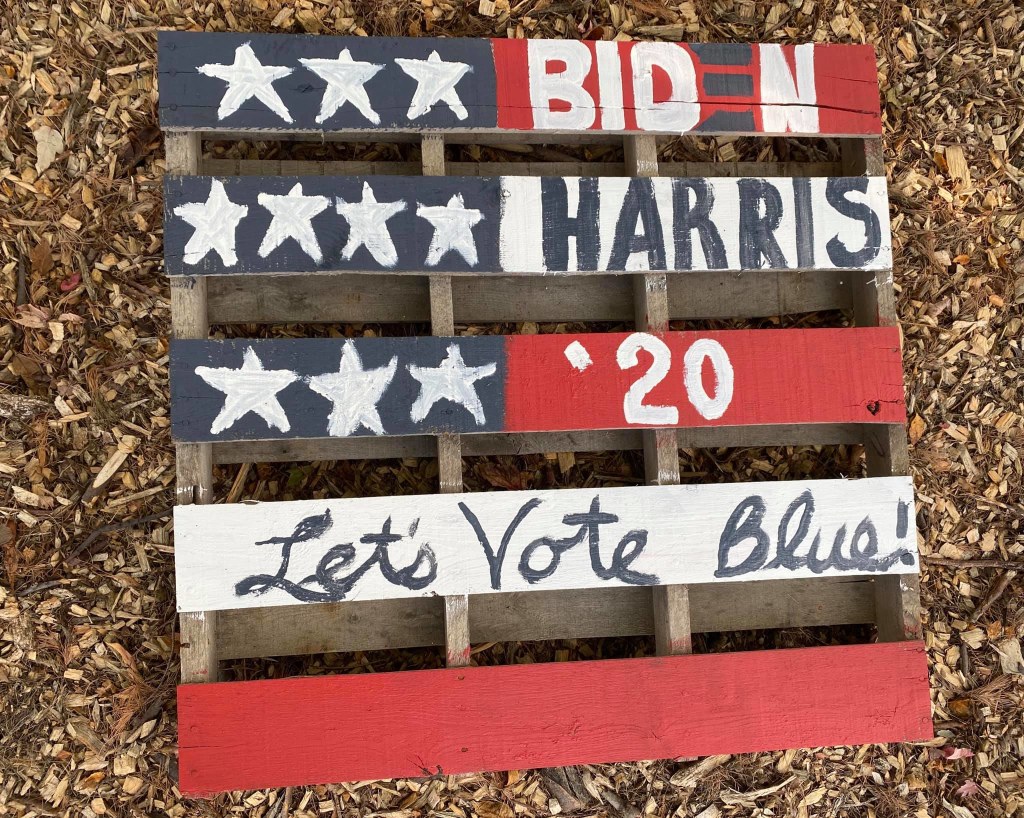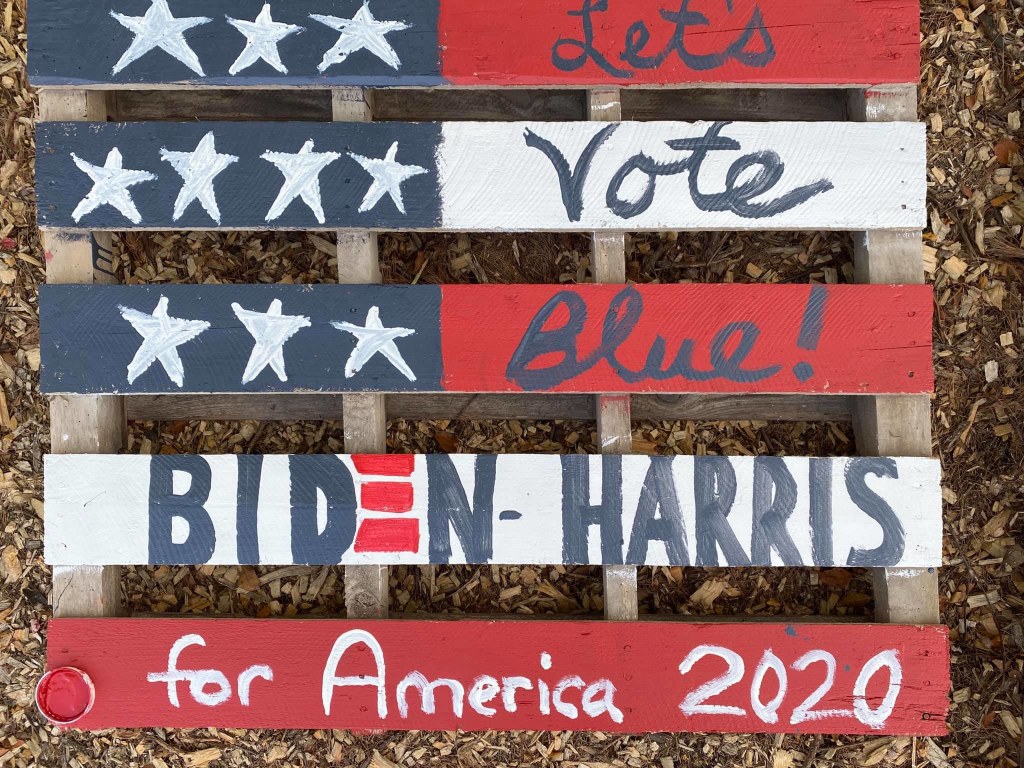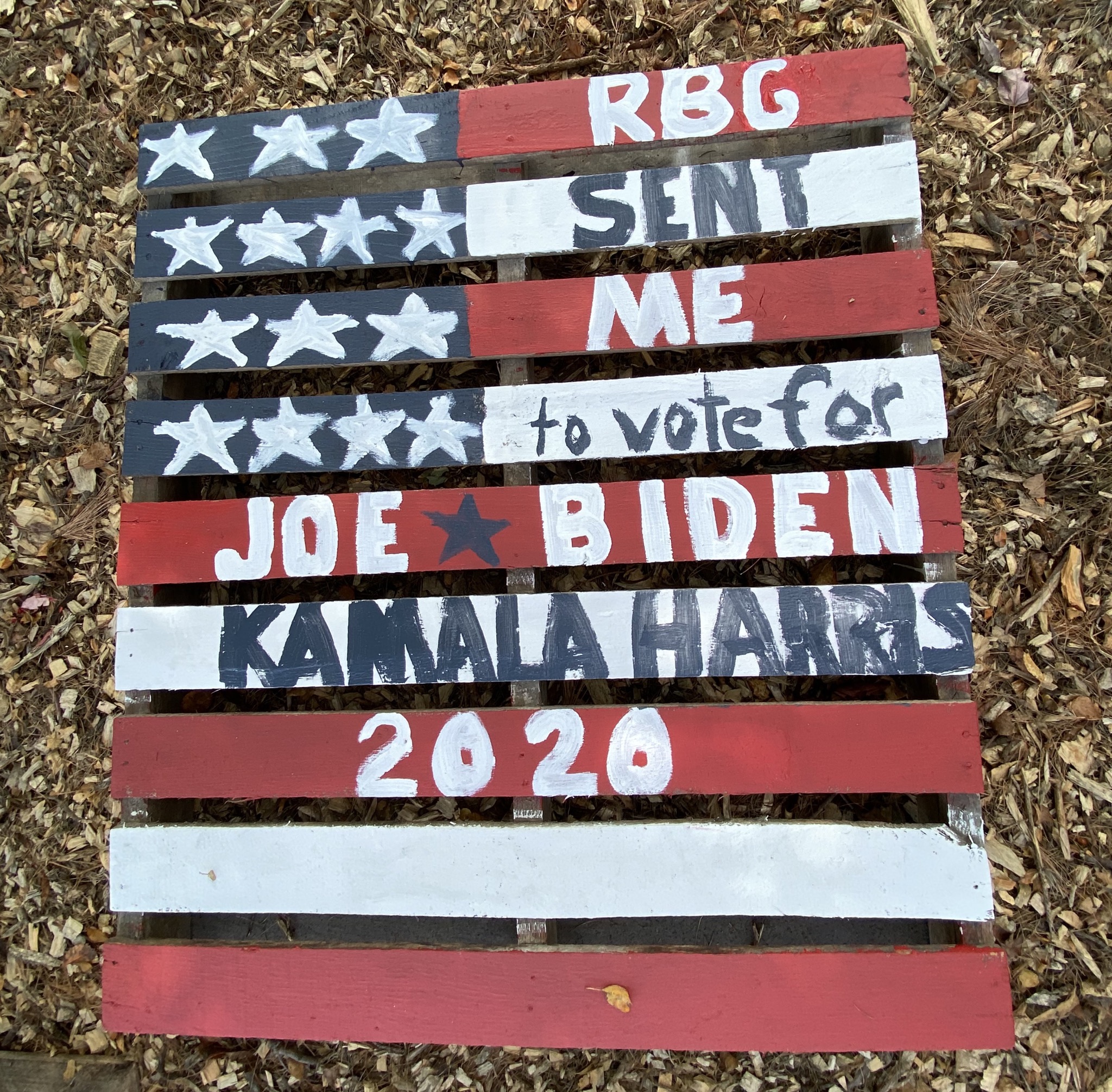 I have to admit, I haven't felt particularly "patriotic" lately—the country I love feels unrecognizable in many ways. But making these flags really lifted my spirits. Being patriotic isn't about glorifying the past, a past in which the flag was often used to shame, abuse, and demean minority groups. I think we Democrats need to reclaim the imagery of the American flag, and use it as we rebuild a better, more inclusive America, an America that actually lives up to the stories we've told of its greatness.
Anyway, I hope this inspires you to make a pallet flag sign for your yard! I'd love to see these popping up all over Iowa.