Herb Strentz reports on a recent visit to the Hoover Presidential Library and Museum and on the new challenges facing those who archive and exhibit presidential records. -promoted by Laura Belin
Herbert Hoover lived the American dream; Herbert Hoover endured the American nightmare.
That and more are documented in the Hoover Presidential Library and Museum in West Branch, an Iowa jewel and part of the Presidential Library system administered by the National Archives and Records Administration (covered in my last Bleeding Heartland article).
This post focuses on Hoover and West Branch as NARA goes digital to facilitate access to records. The shift likely marks the end of having any more presidential libraries like the one in Iowa, which has drawn some 4 million visitors since its dedication in 1962, and has offered special programs for some 555,000 people since 1997. Such programming continues in modest ways and will resume when COVID-19-related closures end.

West Branch is the smallest of the current thirteen NARA presidential libraries — for Presidents Roosevelt through George W. Bush — and the least expensive. It was built on land already providing a glimpse at Hoover's childhood life. A renovation in 1992 cost a bit more than $6 million. Contrast that with the hundreds of millions of dollars spent on recent presidential libraries and the $500 million contemplated for the Obama Presidential Center in Chicago.
The West Branch library and museum tell of an Iowa boy orphaned at age 9 in 1884, moving to live with relatives in Oregon, going to Stanford University and amassing a personal fortune as a world-renown mining engineer. He led various programs to feed millions of people, perhaps a billion, in countries torn by World Wars I and II.
He likely was the best Secretary of Commerce the nation ever had, serving from 1921 to 1928. Folks in Washington called him the Secretary of Commerce and "the assistant secretary of everything else."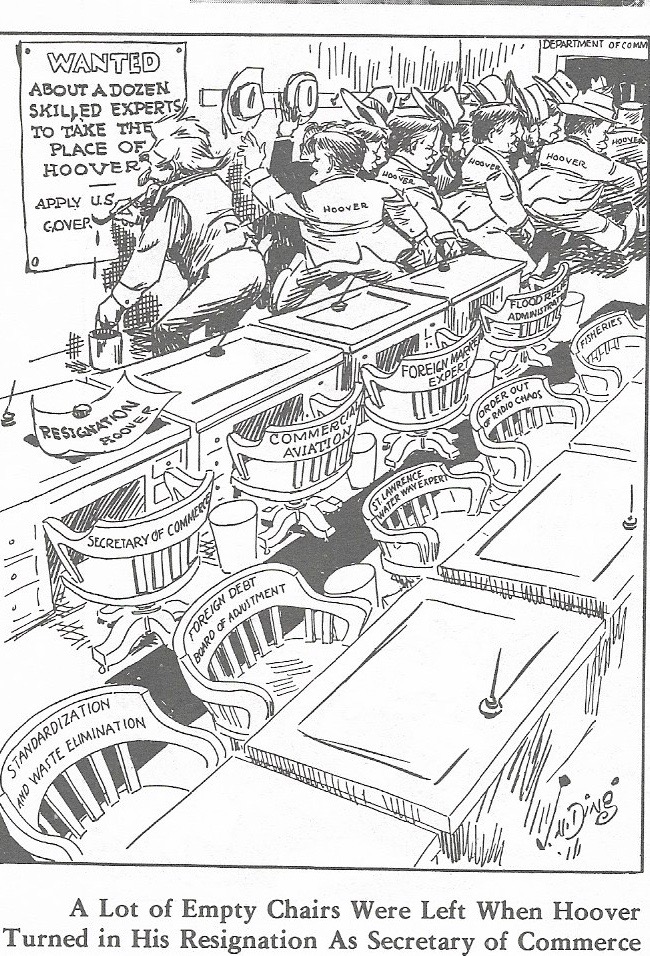 Ding Darling cartoon marking Hoover's departure as secretary of commerce
Thanks also to the booming economy of the 1920s, Hoover swamped Democrat Al Smith in the 1928 presidential election, winning the popular vote by 58.2 percent to 40.8 percent and the electoral college by 444 votes to 87.
Weeks into his presidency, Hoover launched landmark executive and legislative initiatives and reforms that had supporters saying, "He should be on Mount Rushmore!"
Hoover expanded civil service protection for federal employees, canceled private oil leases on public lands, created a Federal Farm Board to support agricultural prices, combined all veteran services programs into the Veterans Administration, established the anti-trust division of the Justice Department, paved the way for more than 5 million more acres of national park and forests and….well you get the point.
But work on Rushmore was barely under way, and after the stock market crash in November 1929 and the onset of the Depression, there were other ways to "commemorate" Hoover:
A newspaper was a "Hoover blanket."
A pants pocket, empty and turned inside out, was a "Hoover flag."
And thousands of shanty communities of the destitute were "Hoovervilles."
In 1932, Franklin D. Roosevelt beat Hoover by about the margins Hoover had won in 1928. FDR won the electoral vote 472-59 and the popular vote by 57.4 percent to 39.7 percent.
"Democracy," Hoover would say, "is a harsh employer."
Some harshness continues today.
I asked Jerry Fleagle, president and CEO of the Hoover Presidential Foundation, how the Foundation had done in ridding Hoover of blame for the Great Depression. His response:
My guess is that will come up whenever there is an economic downturn, and the economy becomes a campaign issue […]

Fact is, anyone that does the research knows it was caused by a myriad of problems throughout the world, let alone the United States. But it is not an answer that you can give in a 20-second sound bite […] That will be one of our main jobs for decades to come, I'm afraid!
Indeed, in the decades after WWII, because of his leadership in hunger relief at the behest of President Harry Truman, Hoover was more revered across Europe than he ever has been in the United States.
A current concern of the Hoover Foundation is not so much getting his story told, but how to do that in the process of transforming paper records to electronic format and what might be done to make up for the lack of renovations since 1992 — renovations that Fleagle noted in an email "are WAY overdue."
But presidential foundations are now required to provide maintenance for such construction with an endowment fund of 60 percent of costs — so $2 million in construction amounts to $3.2 million. And the foundations are concerned about NARA asking that they cover the cost of digitizing the library records.
Small wonder Fleagle thinks "presidential foundations get a bum rap" that their primary goal is to polish the image of past presidents rather than to provide the full picture of their administrations. The people that support a foundation "do have a personal interest in that particular presidency, and naturally want them portrayed well," he said, adding,
NARA has strict guidance on Museum content that goes through a panel of historians to make sure it is historically factual and accurate. So, to think presidential foundations can just "sugarcoat" their museums is not accurate.
The museums often serve as doorways to the libraries and, in Iowa's case, work together well.
Central to research at presidential libraries are the archivists and librarians familiar with the people, papers and documents that provide insight to our history. While many details of the move to digitize paper records remain to be addressed, digitizing is not new to archivists.
Craig Wright has been an archivist for 31 years, working in that role at the Hoover Library since 2004. Before coming to Drake's Cowles Library, Hope Bibens was the project archivist at Indiana University working on the congressional papers of now Vice President Mike Pence.
Wright told Bleeding Heartland that for archives, not just those at presidential libraries, "the vast majority of historical material is now digital."
"While the total holdings in all of the presidential libraries only account for roughly 8 percent of NARA's holdings […] they account for roughly 60 percent of all researchers," Wright said.
The "how" of such research is not just about digital or paper format, but — perhaps even more important — the roles of people like Wright and Bibens in personally assisting scholars and the just plain curious in discovering what happened in an administration.
Access may be easier, but it still may take years, decades, for some presidential records to be available in any format, given restrictions on classified information or conditions set by those donating documents.
Another factor is a people one, not a technical one. Faithful to Hoover's love of fishing, an archivist might be likened to having a good fishing guide even in waters one thinks he or she is familiar with and especially in uncertain waters that can provide a good catch one was not anticipating.
Bibens told me,
I don't want the boxes to just sit on the shelves. I want people to come in and use them… We also want the collections to be as complete as possible so they are useful to researchers. This involves working closely with donors to make sure that we identify the records that have significant historical, informational, evidential, or administrative value.

At the end of the day, archivists can only process the materials that come to us, so there are times when we have to advocate for their preservation.
In 2018, it was reported the Trump administration had been destroying documents. While the Presidential Records Act has specifications on White House record keeping, it has no sanctions if a president or his staff do not comply.
Let's give Hoover the last word on all this:
I have had every honor to which any man could aspire. There is no place on the whole earth except in America where all the sons of man have this chance in life […] Here alone are the open windows through which pour the sunlight of the human spirit. Here alone is human dignity not a dream, but an accomplishment. Perhaps it is not perfect, but it is more full in realization here than any other place in the world.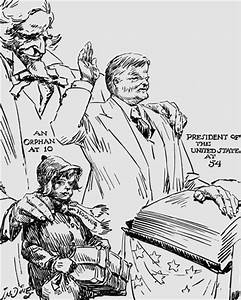 Another Ding Darling cartoon about Hoover
Herb Strentz was dean of the Drake School of Journalism from 1975 to 1988 and professor there until retirement in 2004. He was executive secretary of the Iowa Freedom of Information Council from its founding in 1976 to 2000.
Top image: Herbert Hoover Presidential Library and Museum in West Branch, Iowa, as photographed by Chris Light on July 24, 2016. Photo available via Wikimedia Commons.