Michael Schmidt, staff attorney for the Iowa Environmental Council, explains the significance of Alliant Energy's decision to retire the Lansing Generating Station in Allamakee County. -promoted by Laura Belin
Last week, Alliant Energy announced the retirement of its coal-fired Lansing Generating Station in 2022 and conversion of the coal-fired Burlington Generating Station to natural gas in 2021. Alliant will also add 400 megawatts of solar by 2023 and up to 100 megawatts of distributed generation (smaller-scale solar and batteries) by 2026. These actions are a glimpse into the future of clean energy in the state – but we have a long way to go.

Alliant's announcement comes after its controversial rate case in 2019 that sought to raise customer rates – significantly for some – which energized Iowans and resulted in a settlement requiring a "resource planning process." That process required Alliant to consider the cost-effectiveness its electric generation fleet and plan for the fleet's future. Alliant followed a similar process in Wisconsin, which led it to announce earlier this year the retirement of the Edgewater facility, one the Sierra Club said had cost customers millions of dollars to keep running.
In the Iowa rate case, a trio of environmental groups – Iowa Environmental Council, Environmental Law & Policy Center, and Sierra Club – argued that several coal plants cost more to operate than replacing them with renewable energy. Although Alliant argued there were reliability issues, that rang hollow because Alliant sold over a third of its generation on the market last year. Our organizations argued that the company and its customers could save money immediately by retiring several coal plants. In essence, the continued operation and maintenance costs of the plants were greater than the expense to build new renewable generation.
Alliant's announcement will benefit customers by saving money and substantially reducing harmful air emissions from the power plants, including 250,000 pounds of sulfur dioxide and the CO2 equivalent of 100,000 cars. The replacement solar generation will have zero emissions and Alliant says its electric generation portfolio will be 50 percent renewable as of 2023, thanks in part to additional wind turbines it recently began operating.
Despite those positive steps, we still have a long way to go: last week's announcement retires less than ten percent of the coal capacity operated by Alliant and MidAmerican Energy, the largest utilities in the state. The 400 megawatts of new solar will be more than double Iowa's current solar capacity, but will be a very small fraction of Iowa's total electric portfolio.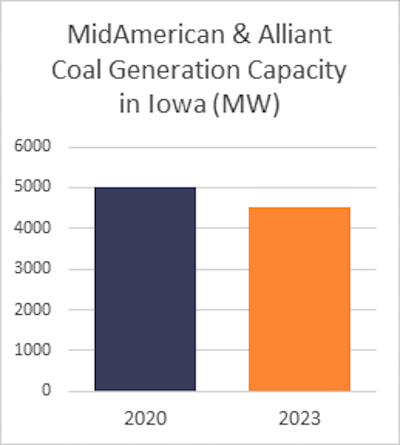 Moreover, Alliant's conversion of Burlington to gas is not designed to be a long-term solution. There is a real risk that customers will pay for the conversion only to have it shut down in a few years. In fact, Alliant did exactly that with another power plant, ML Kapp. After converting ML Kapp to gas in 2015, it was retired in 2018. These gas conversions are likely to be bad investments as the economics of renewable energy continue to improve. Additionally, even with a conversion from coal, natural gas still produces carbon emissions into our atmosphere.
Economics have become the real driver for utilities to transition to renewable energy: wind and solar costs have declined enough that they outcompete fossil fuels – even though fossil fuels have significant pollution costs that aren't directly accounted for. The declining costs have led experts to determine that we could save significant money by transitioning to 90 percent carbon-free energy by 2035. And Iowa is a prime place to site renewable energy, which could diversify incomes and provide more revenue than corn or soybeans nationally.
An underreported challenge to achieving this is the ability to move Iowa's energy where it is needed. Many renewable energy projects have been canceled due to high transmission costs – preventing lower-cost renewables from getting to customers. Transmission projects take years to gain approval and often face local opposition. But we need these regional electric highways to provide access to the energy resources in Iowa.
The environmental disasters we faced this year show the urgency of avoiding the more catastrophic consequences that will accompany increased climate change. Alliant is moving away from coal at its oldest plants in the state's fleet. Burlington is over 50 years old, having started operations in 1968. Lansing will be 45 when it retires. Pursuant to a consent decree, the Prairie Creek facility must retire or convert by 2025 when it will be 67 years old. We don't have time to wait for every coal plant to hit age 67, 50, or even 45 before we take action.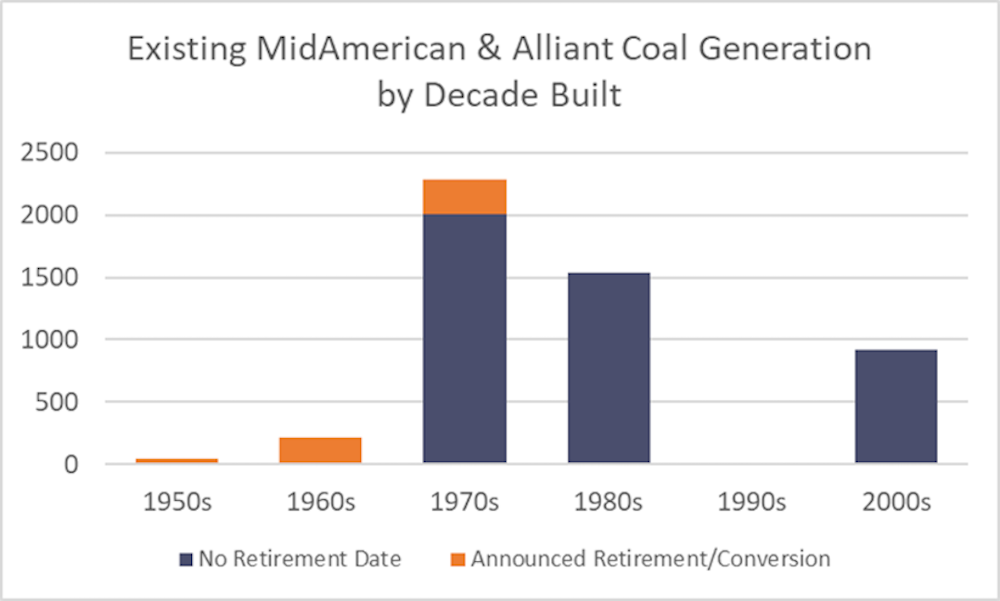 We need our utilities to step up to this challenge. Alliant's announcement is some progress, but we need to address the remaining assets soon to minimize climate impacts. MidAmerican, meanwhile, is one of few major utilities in the country without a date to move off of coal and has not announced retirement dates for any of the five coal plants it operates. Although MidAmerican touted providing its Iowa customers with 61 percent renewable energy in 2019, 37 percent of its generation came from coal, and it sold nearly a third of its total generation to other utilities that it doesn't count as Iowa customers.
IEC has looked at numerous studies that lay out the road to 100 percent renewable energy and what that means for Iowa. We're engaged in grassroots efforts through 100 percent Iowa, which is currently advocating for Des Moines to commit to clean energy. We know we can get there, but it will take continued pressure on Alliant and MidAmerican to retire their dirty, expensive coal habit.
Top photo of Lansing Generating Station provided by the Iowa Environmental Council and published with permission.