Democratic legislators, environmental organizations, and consumer advocates warned in 2018 that a bill backed by Iowa's major utilities would destroy our state's decades-long tradition of being a "national leader in energy efficiency." But Republican members of the Iowa House and Senate didn't listen, and Governor Kim Reynolds ignored calls to veto Senate File 2311.
That law is the main reason Iowa dropped sharply in a new review of state policies on energy efficiency.

Weston Berg, Shruti Vaidyanathan, Ben Jennings, Emma Cooper, Chris Perry, Marianne DiMascio, and Jack Singletary collaborated on the 2020 State Energy Efficiency Scorecard. For fourteen years, the nonprofit American Council for an Energy-Efficient Economy has compared laws and policies in 50 states and Washington, DC. Each state receives points based on whether it promotes best practices in areas such as energy savings, vehicle efficiency, building codes, and appliance standards.
A summary of key findings in the scorecard, released on December 16, noticed that Iowa "fell the farthest in the rankings," from 23rd in 2019 to 36th this year. Our state's "slide occurred primarily as a result of 2018 legislation that capped certain efficiency investments, leading to a steep decline in progress in reducing electricity and gas use." The last bill approved during the 2019 legislative session contained another "unnecessary hit" on energy efficiency, as Bleeding Heartland discussed here.
Here's the Iowa fact sheet from the new report, which shows how our state scored on each metric.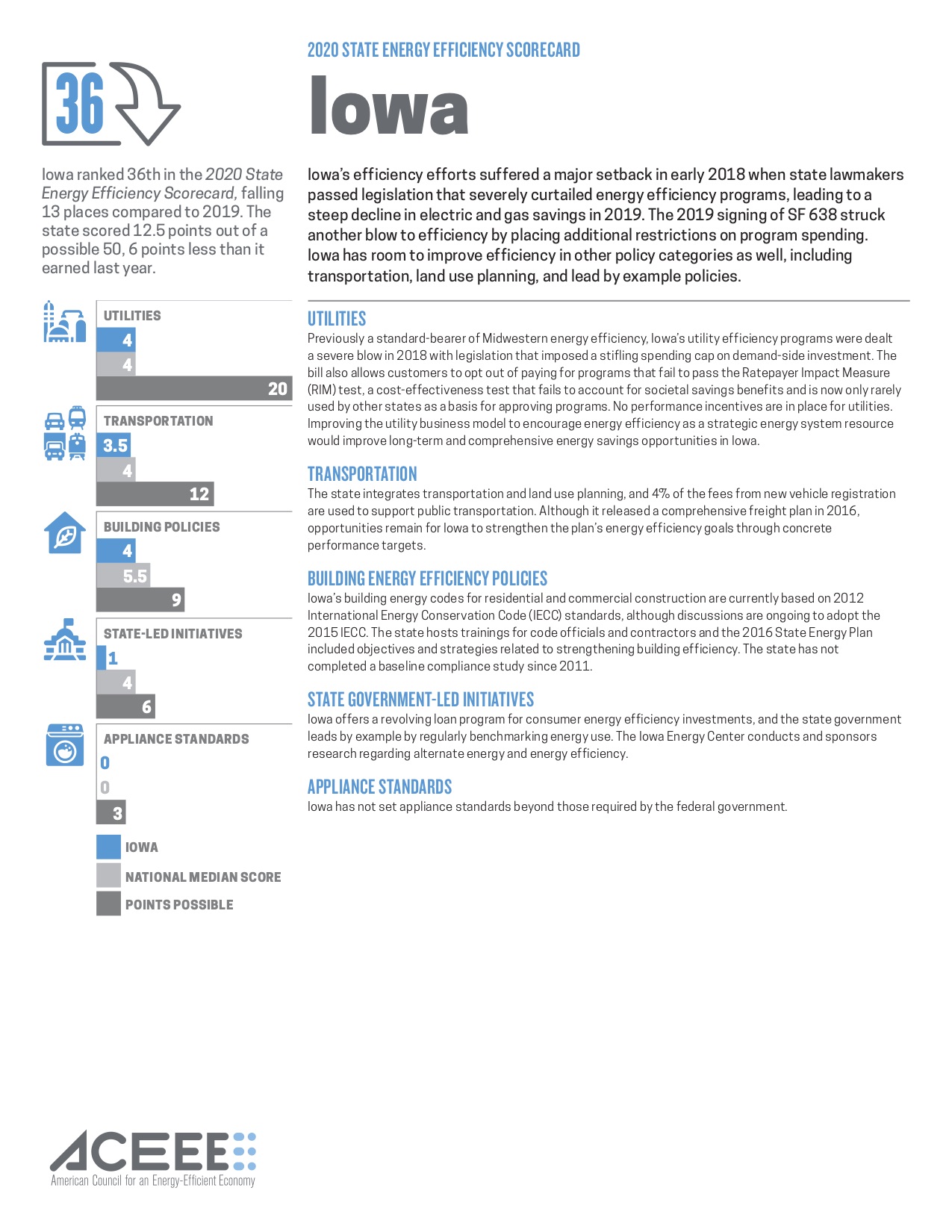 You can download the full scorecared or read the summary on the American Council for an Energy-Efficient Economy's website.
Kerri Johannsen, energy program director for the Iowa Environmental Council, told Bleeding Heartland on December 16 that her organization "isn't surprised to see Iowa fall drastically once again in the 2020 ACEEE rankings."
The impact of SF2311 in 2018 was devastating to the our state's energy efficiency landscape and cut the legs out from under Iowa's formerly nation-leading energy efficiency programs. With fast-moving advancements in energy-efficient technology, Iowa businesses and families are left behind, saddled with higher-than-necessary energy bills and homes and workplaces that are less comfortable and less efficient.
Josh Mandelbaum, senior attorney for the Environmental Law & Policy Center, echoed those sentiments.
When the legislature passed SF 2311 in 2018, we knew that it would devastate what had previously been model energy efficiency programs. We are seeing the effects of that legislation as utility energy efficiency programs are a shell of what they once were and Iowa businesses and residents are implementing fewer energy efficiency measures and saving less. Iowa's substantial drop in rankings is a clear consequence of the legislature's policy choices.

We also know that we have an opportunity to achieve significantly more efficiency savings for Iowans, and we should take steps to restore our energy efficiency policy framework and capture those savings.
Johannsen also argued that Iowa needs to "view energy efficiency as a part of the equation to meet our growing energy demands as we increase our renewable energy resources like wind and solar."
Prospects for improving legislation in this area appear slim. Republicans will enjoy large majorities in both chambers next year: 32-18 in the state Senate and 59-41 in the House. Although the floor managers of Senate File 2311 have both retired from the legislature, Senator Jake Chapman was recently chosen as Senate president, the second-ranking position in the upper chamber. Chapman was a leading voice for undermining Iowa's energy efficiency programs in 2018 and 2019.
UPDATE: Pari Kasotia, who used to work at the state government Energy Office, pointed out that the 2014 scorecard from the same national organization ranked Iowa fourteenth among all states for energy efficiency.
LATER UPDATE: Kasotia noted that Iowa's highest ever ranking on this scorecard was eleventh in 2012. We were just behind Maryland and Minnesota (tied for ninth) that year. Minnesota is still in ninth place nationally, but we have dropped to the bottom third of states.
"Energy efficiency and conservation" was supposed to be one of four pillars of the Iowa Energy Plan, released in December 2016. Then Lieutenant Governor Kim Reynolds was the nominal leader of the group that drafted that plan, and she has touted that work in many public appearances.
THIRD UPDATE: Darrell Hanson, a former Republican legislator appointed to the Iowa Utilities Board by Governor Chet Culver, commented via Facebook that Iowa's plunge is "even worse than it appears."
When I joined the Iowa Utilities Board in late 2007 I learned that Iowa had a national reputation as a leader in energy efficiency (EE) programs. We ranked 14th on the ACEEE scorecard in 2008, but that ranking was even more impressive than it looked because back then almost all the states ranking above us had higher electric rates, and in most cases they were significantly higher. It is harder for states with lower rates to develop robust EE programs, partly because the political demand for such programs is lower, but mainly because there are fewer EE measures that can meet cost-effectiveness tests. In states with high energy prices like California, Vermont, Massachusetts, Connecticut, or New York, it is easier to identify cost-effective ways to reduce energy use, and easier to convince people to use them. So when you consider a state's opportunities for cost-effective EE measures, Iowa's drop from 14th in the nation to 36th is even worse than it appears.