Republican Adrian Dickey will face Democrat Mary Stewart in the January 26 special election to represent Iowa Senate district 41. Activists from both parties selected the candidates at nominating conventions on January 7. Dickey prevailed over former State Senator Mark Chelgren, who represented this part of southeast Iowa for two terms before retiring in 2018. Stewart, the most recent Democratic candidate in this district, competed for the nomination with former Wapello County Supervisor Steve Siegel, who ran for the seat in 2014.

Dickey posted on Facebook that Republican leaders reached out to him in November about running for the Senate, assuming Mariannette Miller-Meeks would vacate the seat in order to serve in Congress. Senate Majority Leader Jack Whitver attended the nominating convention.
The Republican candidate works in his family business, the Dickey Transport trucking company. His father was mayor of his hometown (Packwood in Jefferson County) for 27 years before retiring in 2019. Adrian Dickey's political donation history shows mostly contributions to the political action committee representing trucking companies, plus one $500 gift to Governor Kim Reynolds' campaign.
Stewart lives in Ottumwa and worked for Indian Hills Community College for more than 33 years before retiring. In an Iowa Senate Democratic news release, she said,
"Southern Iowans deserve better leaders at the Iowa Capitol," Stewart said. "Des Moines has ignored us for too long. The result has been fewer opportunities for job training, affordable health care, accessible child care, and a stronger economy on Main Street. The COVID-19 pandemic has demonstrated that Southern Iowans don't have the same services that are available in Des Moines and Cedar Rapids, including basic testing, high-speed internet, and programs for workers and employers hit hard by the pandemic."

She added: "The politicians in Des Moines are more interested in helping the big cities and suburbs than they are in helping folks in small towns and rural Iowa. If elected, I will use my experience as an educator and job trainer to bring new opportunities to Southern Iowa." […]

"My promise to work to revitalize our small towns and rural areas isn't a campaign slogan, it's my passion," she said. "I'm a fighter who won't give up until Southern Iowans get a fair shake."
Senate district 41 covers all of Davis and Van Buren counties and most of Wapello and Jefferson counties. The latest official figures indicate that 13,343 active registered Democrats, 12,879 Republicans, and 10,841 no-party voters live in the district. Although the area's recent voting history favors Republicans, what will happen in a low-turnout January special election is anyone's guess.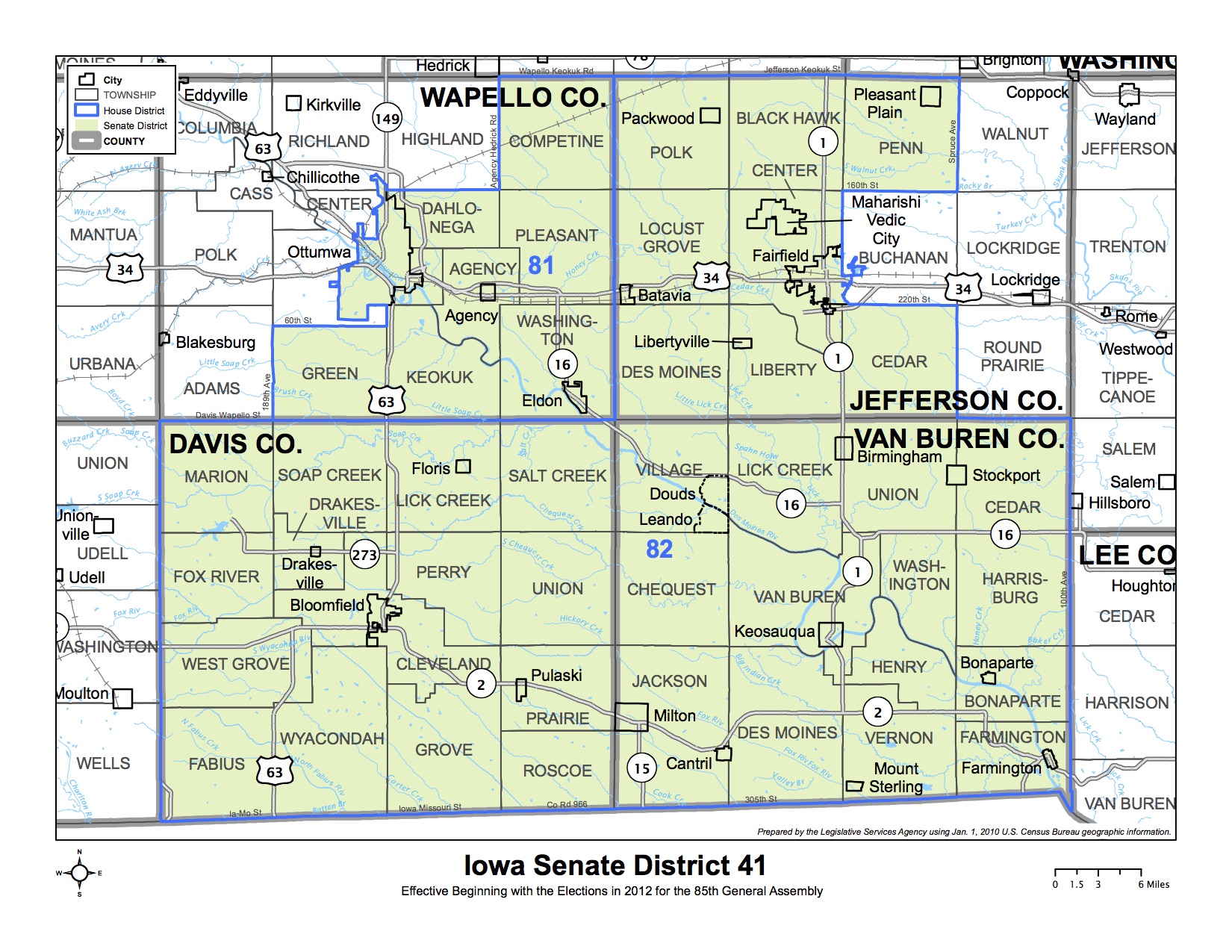 The winner of the special election will serve out the remainder of Miller-Meeks' term and face re-election in 2022. By that time the district's shape could be considerably different, as Iowa lawmakers will adopt a new map of Congressional and legislative boundaries later this year.