UPDATE: Republicans selected Adrian Dickey and Democrats selected Mary Stewart at special nominating conventions on January 7. Original post follows.
Voters in a battleground southeast Iowa Senate district will soon choose a successor to Republican State Senator Mariannette Miller-Meeks.
U.S. House Speaker Nancy Pelosi confirmed on December 30 that the House will seat Miller-Meeks, who was certified the winner by six votes in Iowa's second Congressional district. The same day, Miller-Meeks confirmed that she is resigning from the Iowa legislature, effective January 2.
To my knowledge, no candidate has announced plans to run in Senate district 41 early next year. During a December 30 telephone interview, Democrat Mary Stewart said she was considering the race but had no timetable for deciding. Miller-Meeks defeated Stewart in 2018 by 11,460 votes to 10,652 (51.7 percent to 48.1 percent).
Former Republican State Senator Mark Chelgren represented the district for eight years, retiring in 2018. He hadn't heard about Miller-Meeks' resignation before speaking to Bleeding Heartland by phone on December 30. Chelgren said he would consider running for the Senate again but wasn't ready to give a formal statement, since he hadn't discussed the matter with his family or Republican colleagues.
Though recent voting patterns in the area favor Republicans, turnout for a mid-winter special election is a question mark.

Because the vacancy is arising shortly before the legislature convenes for its 2021 session, state law requires Governor Kim Reynolds to "order such special election at the earliest practical time, giving at least eighteen days' notice." The last special election to fill an Iowa Senate vacancy during a legislative session involved a four-week campaign. UPDATE: Reynolds set the election for Tuesday, January 26.
The Democratic and Republican parties will select their nominees at special district conventions. Third-party candidates may also file for the special election; they would need to collect 100 signatures from eligible voters living in the district.
Senate district 41 covers all of Davis and Van Buren counties and most of Wapello and Jefferson counties, including the cities of Ottumwa and Fairfield.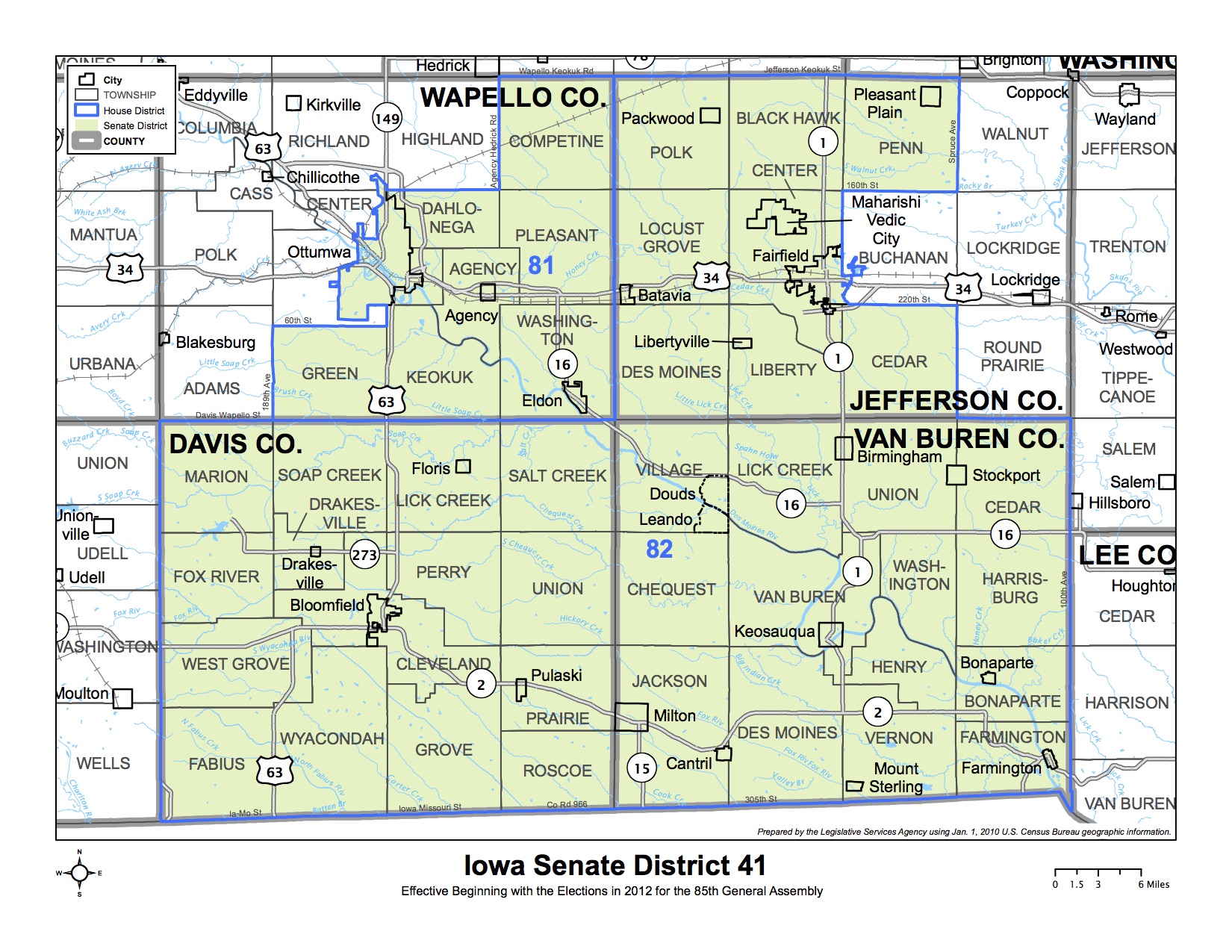 On paper, the district looks balanced politically, with 13,370 active registered Democrats, 12,903 Republicans, and 10,800 no-party voters as of December 1.
Like much of southeast Iowa, this area swung heavily toward Republicans over the past decade. The Daily Kos Elections team calculated that voters in Senate district 41 favored Barack Obama over Mitt Romney in 2012 by 53.0 percent to 45.1 percent. Four years later, Donald Trump carried the district by 56.9 percent to 37.9 percent for Hillary Clinton.
Iowa Democrats had hoped 2016 was a rock-bottom scenario, but Joe Biden barely improved on Clinton's showing. In fact, Trump increased his vote share in many counties, thanks to a smaller percentage of voters choosing third-party candidates.
When I tallied up votes for the major-party presidential candidates in all the Senate district 41 precincts, I found that Trump received 59.6 percent of the vote and Biden 38.5 percent. (You can download that .xls file or a pdf version.)
The odd-numbered Iowa Senate districts weren't on the ballot in 2020, but Republicans won both Iowa House seats that make up Senate district 41. Cherielynn Westrich defeated long-serving Democratic State Representative Mary Gaskill by about 800 votes in in House district 81. Jeff Shipley defeated Democrat Phil Miller by 166 votes in House district 82. That race was an expensive rematch of a 2018 context that Shipley won by just 37 votes.
The large margin for Trump gives Republicans a structural advantage going into the next Senate district 41 campaign. That said, turnout for a late January special will be far lower than for a general election. Whose base will be more fired up is anyone's guess. Due to the ongoing COVID-19 pandemic, the Democratic nominee will likely avoid most in-person campaigning. Republicans may hold indoor campaign events, as they did across Iowa before the November election.
Candidate quality could be an important factor in the upcoming legislative race. Republican candidates for the Iowa House substantially underperformed the top of the GOP ticket in this area. My calculations show Trump received 58.4 percent of the vote in House district 81, where Westrich won with 53.1 percent. Trump gained 60.6 percent in House district 82, where Shipley (a sitting lawmaker) managed only 50.5 percent.
The open-seat contest between Stewart and Miller-Meeks was among the most competitive 2018 state Senate races. Total spending by the Democratic and Republican parties exceeded $535,000.
The certified results show Stewart had the advantage in Wapello and Jefferson precincts, but that wasn't enough to overcome the lopsided Republican vote in Davis and Van Buren counties.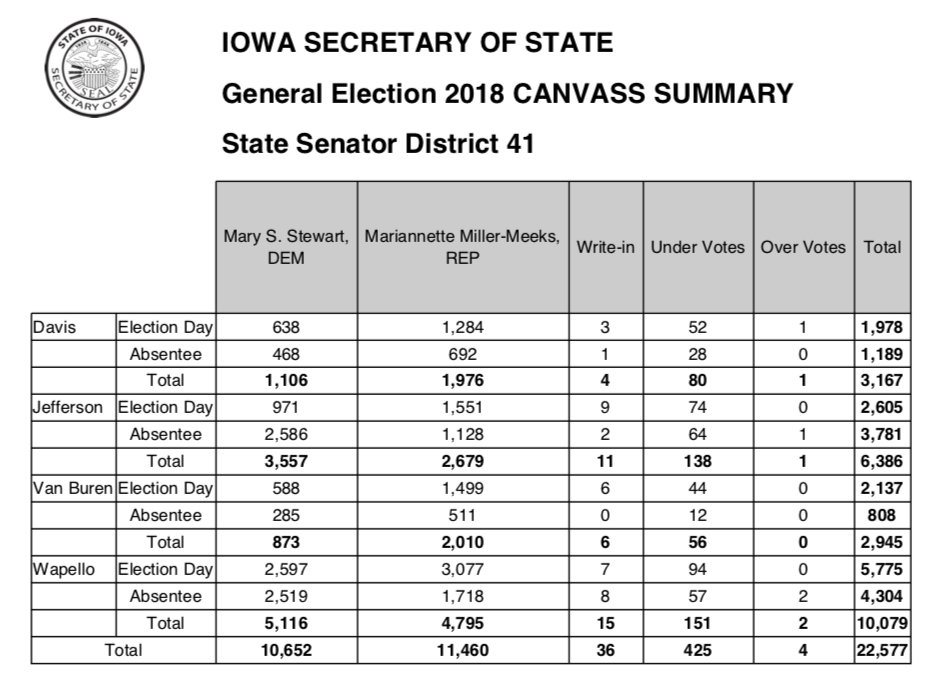 Although Stewart fell short against Miller-Meeks (who had high name ID in the area), she outperformed Democratic candidate for governor Fred Hubbell. He received 45.4 percent of the vote in the Senate district 41 precincts, while Reynolds won 52.4 percent.
The stakes are not particularly high for this special election. Regardless of the outcome, Republicans will control the upper chamber (with a 32-18 majority if they hold Senate district 41, or a 31-19 majority if a Democrat prevails). Miller-Meeks' successor will have to face the voters again in 2022, and the district may look entirely different under the map Iowa lawmakers will adopt sometime next year.