U.S. Senate nominee Mike Franken faced every candidate's nightmare on September 19 when the Republican-funded website Iowa Field Report published allegations that the Democrat kissed his former campaign manager Kimberley Strope-Boggus without consent.
The Des Moines Police Department's incident report, dated April 12, described the events that led to Strope-Boggus' complaint of simple assault. After consulting with an assistant Polk County attorney, Officer Abby Giampolo closed the case as "unfounded," due to "insufficient evidence to pursue a criminal investigation."
Since Franken and the staffer he fired in February were alone when the disputed events occurred, we will never know exactly what happened between them on the evening of March 18. Franken has denied the allegations, while Strope-Boggus told Bleeding Heartland and other reporters she is unable to comment at this time.
Every candidate can learn some lessons from this episode.
1. Don't kiss or hug anyone without being sure they welcome the gesture.
The police report paraphrased Strope-Boggus' account to the officer. After having a couple of drinks at a Des Moines bar, Strope-Boggus and Franken (whose name is blocked out) were talking about work and walking to their cars when Franken allegedly "grabbed the collar of the vest she was wearing and kissed her on her mouth." After Strope-Boggus "pulled away," Franken "stopped the contact" and walked away.
The complainant asserted that Franken has "1950s interactions with women" and "she believes that he thinks kissing and hugging women is part of his charm."
Police didn't investigate further because when asked whether Franken "did these things in an aggressive or sexual manner," Strope-Boggus said no. "She stated he just has an old fashioned view of how to interact with women, and this is a part of it. Kimberly did not describe any sexual intent nor any intent to harm either her or the other women that [redacted name] has kissed."
Speaking to several news organizations this week, Franken claimed that while he did meet Strope-Boggus for a drink on March 18, the alleged physical contact "never happened."
According to a written statement from the campaign, "These allegations are false. This accusation was investigated by the Des Moines Police Department and the Polk County Attorney's Office who found no wrongdoing and closed the case as unfounded."
That's not quite right. Franken was never interviewed, because the police department and Polk County Attorney's office found no grounds to open an investigation. "Unfounded" is not the same as an investigation proving "it didn't happen."
Senator Chuck Grassley's campaign and other Republicans have claimed Strope-Boggus is being "silenced" by a non-disparagement clause in the separation agreement she signed after being fired in February. But that's misleading. Franken's campaign manager Julie Stauch said in a September 21 statement, "No agreement exists that prevents any employee of our campaign – past or present – from speaking out on this issue. These accusations are false and deceitful insinuations from political opponents."
I would encourage Strope-Boggus to agree to reporters' requests for an interview.
My default position is to believe women who come forward with this kind of story, so I am inclined to think there was some unwelcome physical contact. It's rare for someone to file a police report based on an entirely made up incident. I also feel that a fabricated account would have made the perpetrator sound more menacing.
On the other hand, in the four days since the story broke, no other women have come forward, to my knowledge, with similar stories about Franken kissing them.
In my conversations with Democrats this week, and in discussions I observed on social media, I noticed a big generation gap. Most older people (women as well as men) either didn't believe the account of a disgruntled ex-staffer, or dismissed the allegations as insignificant if true. Younger people were far more likely to view what the police report described as serious, and for some it was a deal-breaker.
To those who feel it's ridiculous to be upset about an unwanted hug or kiss, I say: It's 2022. You don't get to decide what other people should tolerate in terms of physical contact. What one person considers harmless can feel intimidating to another. When in doubt, say hello or goodbye without touching.
2. Don't meet for a drink with someone you recently fired.
I can't imagine why any candidate would go out for drinks alone with someone he recently fired. That's a potentially volatile situation, especially when the people involved are an older man and a younger woman.
Strope-Boggus told the police officer that on the evening of March 18, she and Franken were discussing a possible advisory role for her on the campaign. If so, it would have been better to meet for lunch or coffee, and even better, talk things over with one or two others present.
3. Don't escalate with someone you fired.
The police report described a phone call that Franken placed to his former campaign manager's wife, Becky Strope-Boggus, on April 4. For some reason, Becky's name was on the call sheet for that day. She cut off the call after getting the impression the candidate was asking for a donation.
I have no idea why the spouse of a fired campaign staffer would ever be on a candidate's call sheet. What good could come out of that conversation?
According to the police report, the phone call prompted Becky Strope-Boggus to post tweets criticizing Franken. He then called Kimberley Strope-Boggus "and asked her to have Becky remove the post."
That's when Kimberley told her wife about the alleged kiss, and Becky Strope-Boggus suggested filing the police report.
One week later, someone from the Franken campaign contacted Kimberley Strope-Boggus' attorney and said re-posting Becky's comments was a violation of her separation agreement. At that point, she removed the social media post—but went to the police the next day.
4. Don't run ads featuring Al Franken.
The Franken campaign committed political malpractice by launching Facebook fundraising ads on September 9 and September 13 featuring former U.S. Senator Al Franken. I took these screenshots from Facebook's ad library.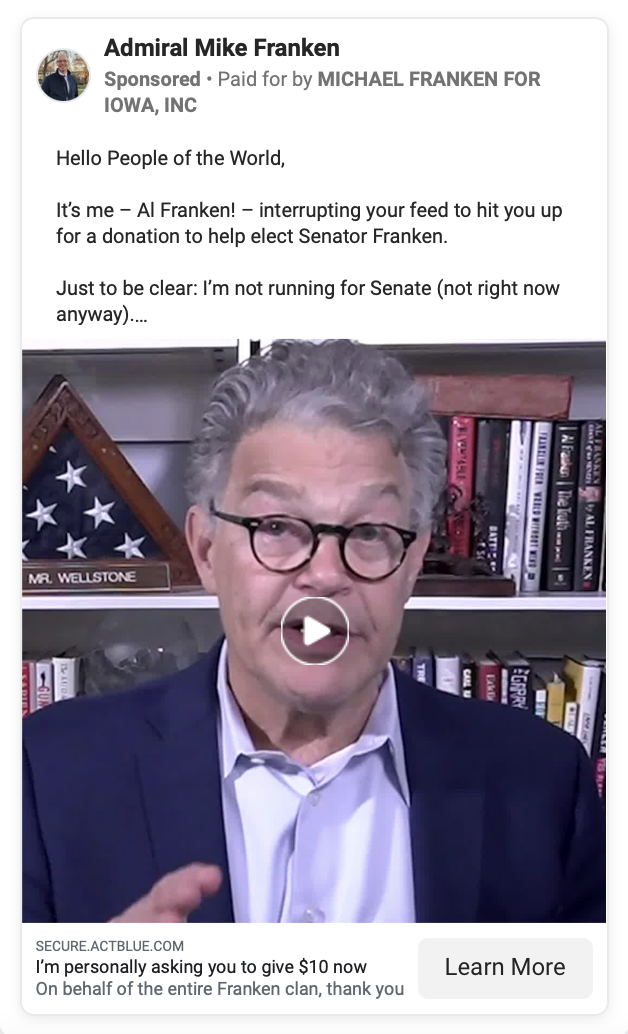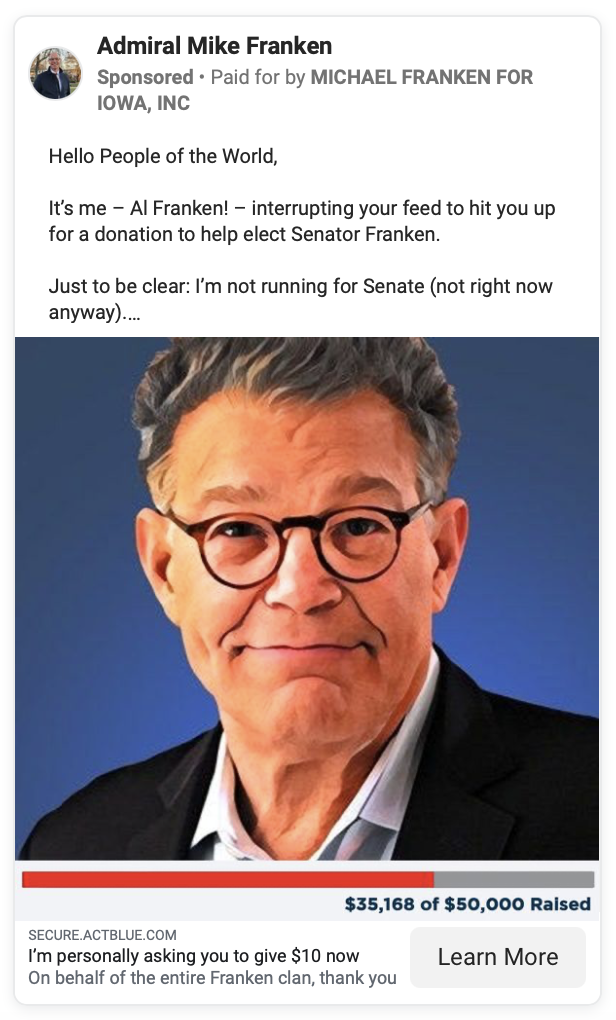 The ads targeted older Facebook users, mostly reaching people over age 55. Many Democrats in that cohort think highly of Al Franken, despite the sexual harassment allegations that led to his resignation from the Senate.
Whatever money those ads raised couldn't be worth connecting the two Frankens in the public's mind. Granted, many Democrats think Al Franken was railroaded. But many others think he's a creep who got what he deserved.
Gavin Aronsen of the Iowa Informer commented that if Republican operatives had been sitting on the explosive police report involving Mike Franken for a while, "hard to think of a better time than after Al Franken endorsed him to drop. Iowa Field Report is a badly disguised front for the Iowa GOP but none of this has anything to do with the veracity/news value of the police report."
Even if there is no scandal waiting to break, Democratic candidates should avoid Al Franken. The association will turn off too many potential supporters.
5. Don't feign concern for Franken's staffer if you are loyal to Donald Trump.
Setting new standards for hypocrisy, many Iowa Republicans said this week they were "gravely" concerned or "deeply" troubled by the allegations against Franken.
Chuck Grassley, Senator Joni Ernst, Representative Ashley Hinson, Representative Mariannette Miller-Meeks, and Iowa GOP state chair Jeff Kaufmann have all groveled before Trump, despite the many credible allegations of sexual assault against him. Trump himself boasted on tape, "I'm automatically attracted to beautiful — I just start kissing them. It's like a magnet. Just kiss. I don't even wait. And when you're a star, they let you do it. You can do anything. […] Grab 'em by the pussy. You can do anything."
Some mainstream media reports rewarded Republican shamelessness, publishing quotes bashing Franken without pressing the politicians on why they haven't denounced Trump's sexual misconduct.