UPDATE: In April 2023, the board vacated this fine but left a reprimand in place, citing Andrews' failure to cooperate with the investigation. Original post follows.
The Iowa Ethics and Campaign Disclosure Board voted unanimously on November 3 to fine State Representative Eddie Andrews' campaign $500 for failing to include attribution statements on several large signs promoting the Republican lawmaker's re-election in Iowa House district 43.
Karin Derry, the former Democratic legislator Andrews defeated in 2020, brought the matter to the board's attention in June. Her complaint mentioned three large campaign signs that did not contain any attribution statement. Iowa law exempts small yard signs from the requirement, but not large signs (commonly known as "barn signs").
Ethics board staff contacted Andrews about the complaint in June, and the board voted in September to accept the complaint. Staff again attempted to reach the Republican candidate via email in October. But Andrews' campaign did not provide photographic evidence of correct attribution statements on the disputed signs until November 1.
Some of the statements are hand-written, as on this sign, displayed on the west side of 86th Street.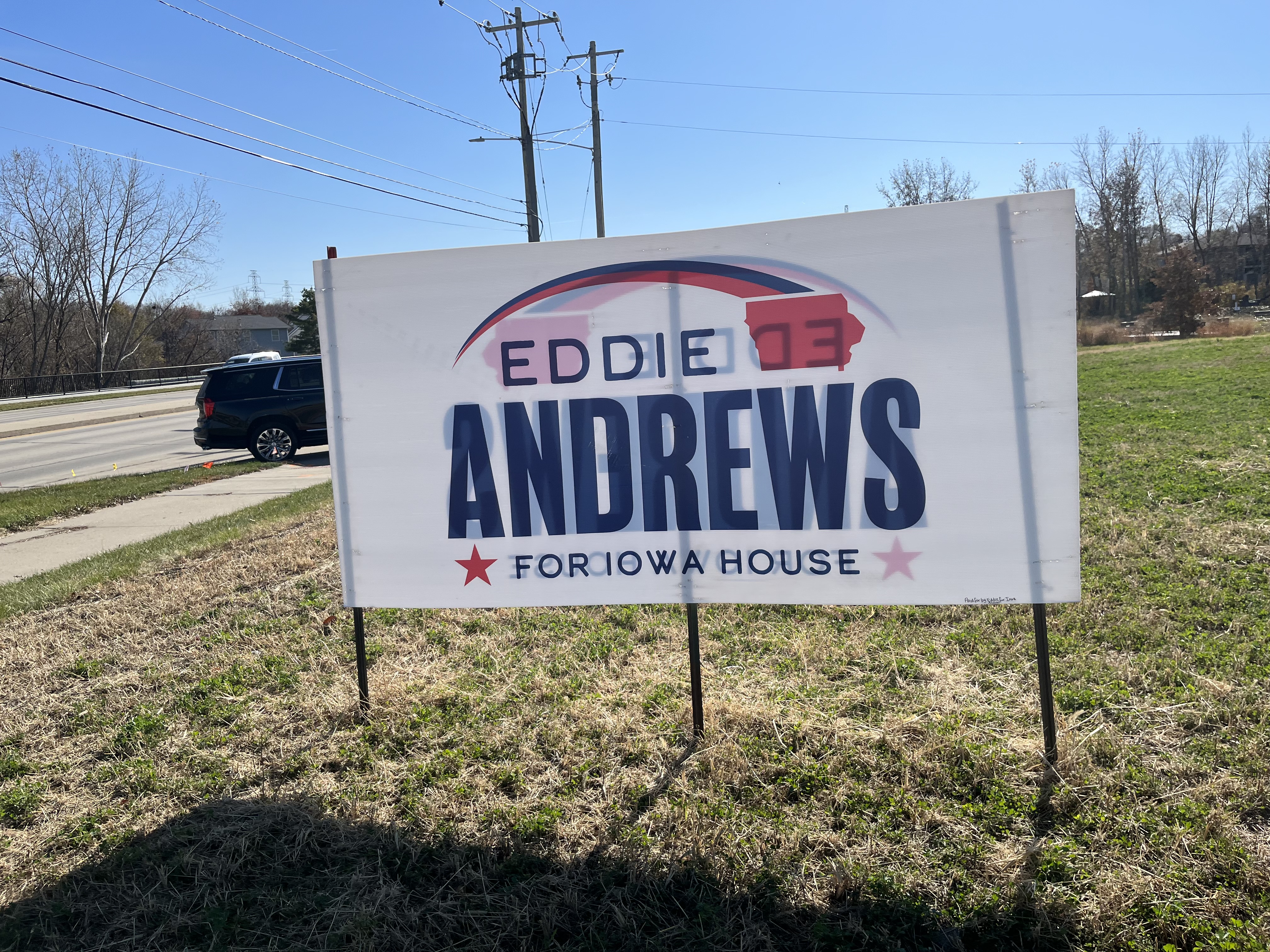 photo provided by the Andrews campaign to the Iowa Ethics and Campaign Disclosure Board
Closer view of the lower right corner: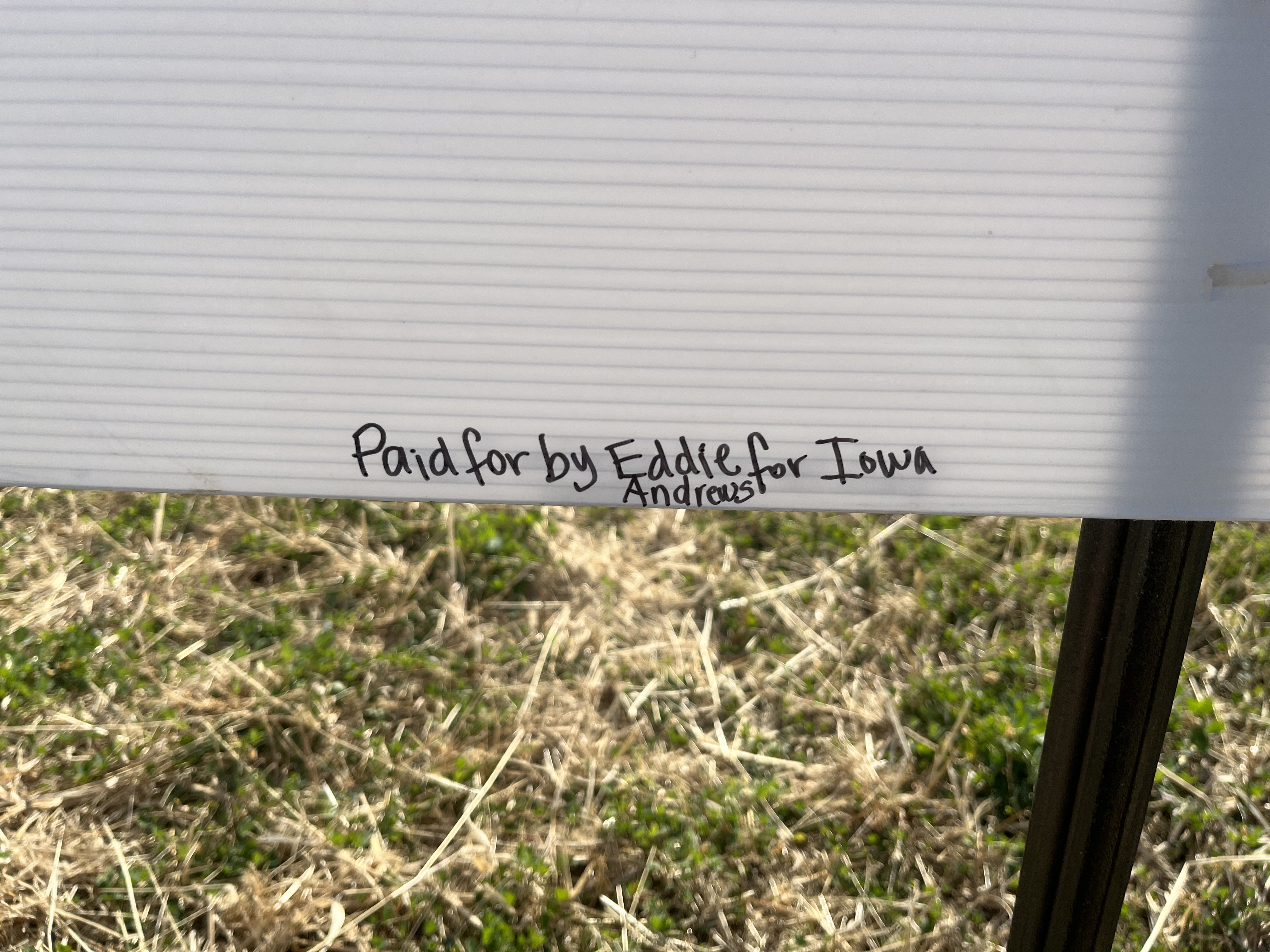 photo provided by the Andrews campaign to the Iowa Ethics and Campaign Disclosure Board
Some signs now have small printed statements, like this one on the west side of Merle Hay Road.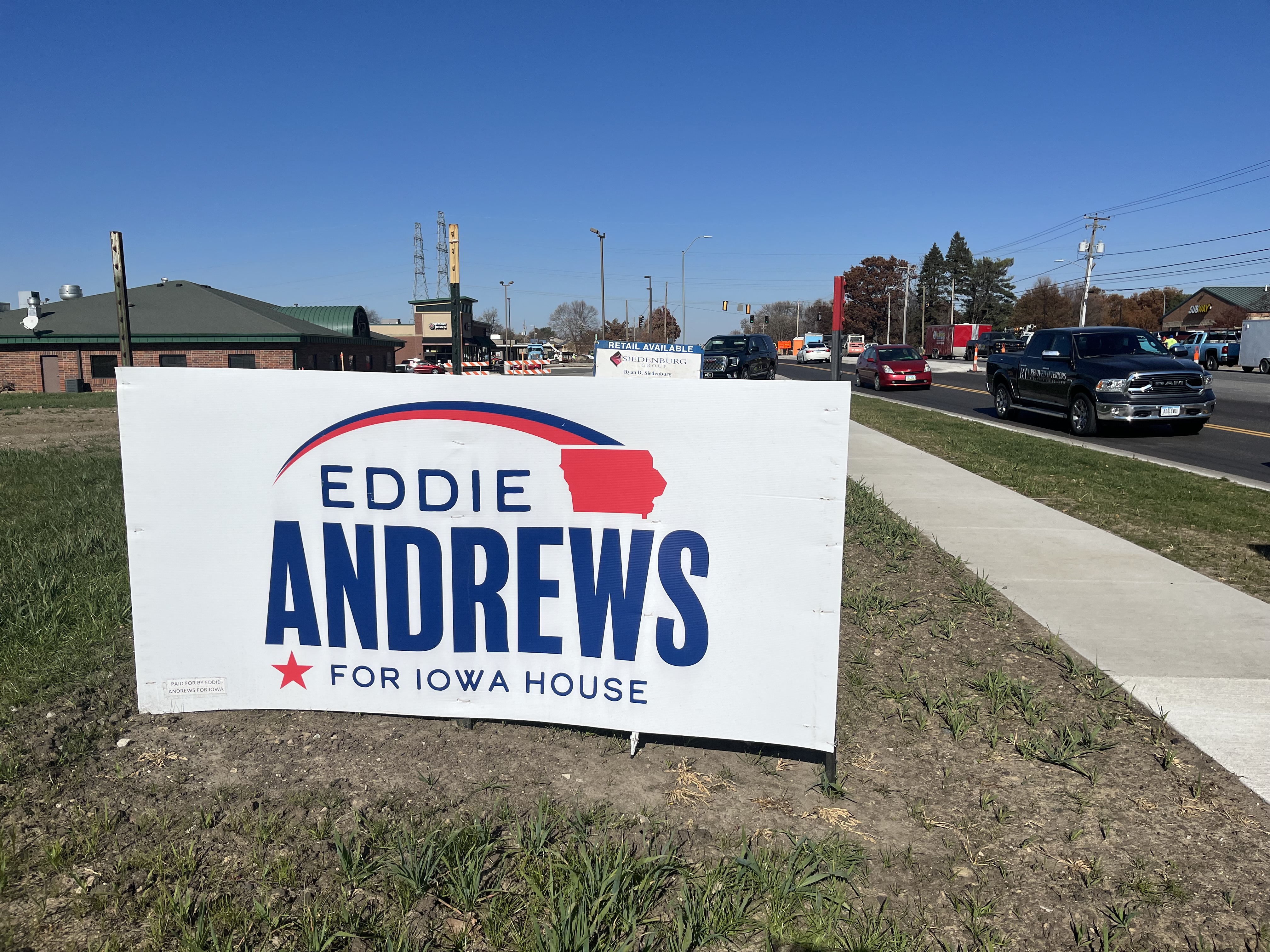 photo provided by the Andrews campaign to the Iowa Ethics and Campaign Disclosure Board
Closer view of lower left corner: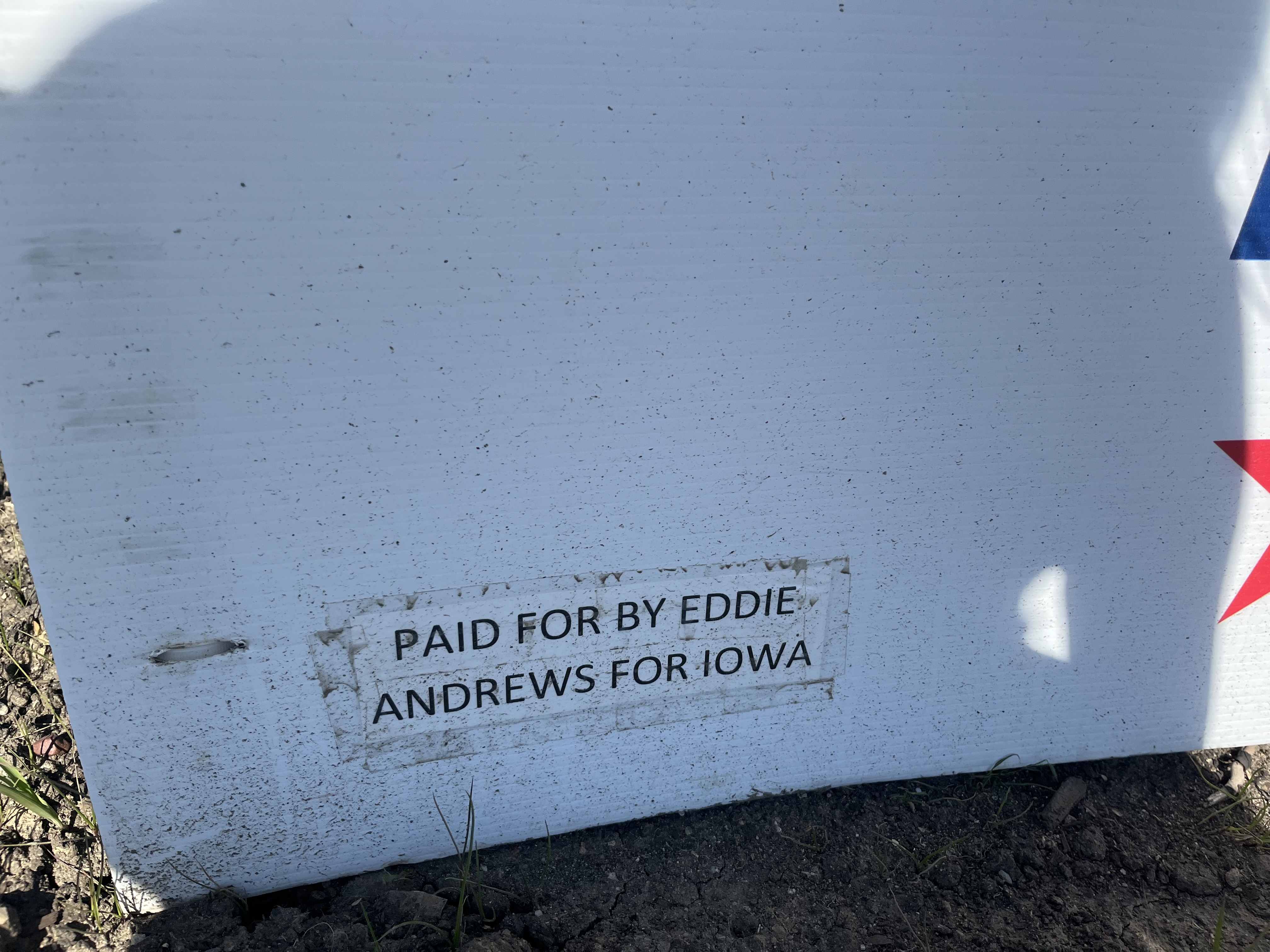 photo provided by the Andrews campaign to the Iowa Ethics and Campaign Disclosure Board
Andrews attempted to speak during the board's November 3 meeting, conducted via Zoom, but board chair James Albert cut him off, noting that the meeting was not a hearing on a contested case, and Andrews had had ample time to correct the attribution statements. He noted that the burden is on campaigns to prove they are in compliance once alerted to a problem.
Albert has served on the Iowa Ethics and Campaign Disclosure Board for 25 years, most of them as chair. He observed during the meeting that in his experience, candidates have quickly taken care of similar problems, and the board would typically dismiss complaints following "immediate compliance." Andrews provided some photos to board staff in September, but one said the sign was "paid for by Eddie for Iowa," rather than his campaign organization's legal name ("Eddie Andrews for Iowa").
The ethics board has discretion to issue reprimands or set fines. After some discussion, members agreed on a $500 fine because in other contexts, the board's fine scales accelerate after the passage of time. That is, a fine for a violation that was ongoing for five months would be greater than one corrected within a few days.
In a written statement to board members shortly before the September meeting, Derry noted that Andrews' campaign displayed large signs with no attribution statements throughout the 2020 election period. Iowa Ethics and Campaign Disclosure Board executive director Zachary Goodrich (who was not working for the board at that time) confirmed to Bleeding Heartland via email that "this exact complaint" about signs lacking paid-for-by statements was filed in 2020. However, "By the time Rep. Andrews responded, the election had passed and it was decided by staff that because the election was over, the point was moot. The Board never heard about it."
Derry wrote to the board again on November 1; in addition to the signs, she mentioned various problems with the Andrews campaign's most recent financial disclosures, which were due in mid-October. The ethics board did not discuss any possible unreported campaign contributions during its November 3 meeting.
Andrews did not immediately respond to a message seeking comment on the board's action.
Derry told Bleeding Heartland,
Eddie Andrews has once again shown that he thinks he is above the law. Between his failure to include required attribution statements on campaign material and his continued failure to submit timely and accurate campaign finance reports, he has shown a disregard for the rights of voters to know who is financing his campaign and how his campaign funds are spent. I am relieved to see the Iowa Ethics and Campaign Disclosure Board recognize the seriousness of his ongoing violations and take action.
UPDATE: The board's final order, with relevant photographs and email correspondence, can be found here.
Top image: On left, State Representative Eddie Andrews in photo posted to his political Facebook page. On right, photo of barn sign lacking attribution statement, attached to the Iowa Ethics and Campaign Disclosure Board's September 22 order accepting Derry's complaint for investigation.