The Iowa Ethics and Campaign Disclosure Board voted unanimously on April 6 to fine Republican State Representative Eddie Andrews $250 and reprimand him for distributing campaign materials in 2022 that lacked the attribution statements required by law.
In a separate complaint, the board vacated a $500 fine previously assessed to Andrews, but kept an official reprimand in place, citing his campaign's "failure to cooperate with the Board's investigation."
Karin Derry, the former Democratic state lawmaker whom Andrews defeated in 2020, filed both complaints that were on the ethics board's April 6 agenda. The new complaint was related to campaign flyers that were allegedly distributed to households in Iowa House district 43 shortly before the 2022 general election.
The ethics board's executive director Zachary Goodrich brought two versions of the handout to the meeting, where I took these photographs. Here is the version with no attribution statement: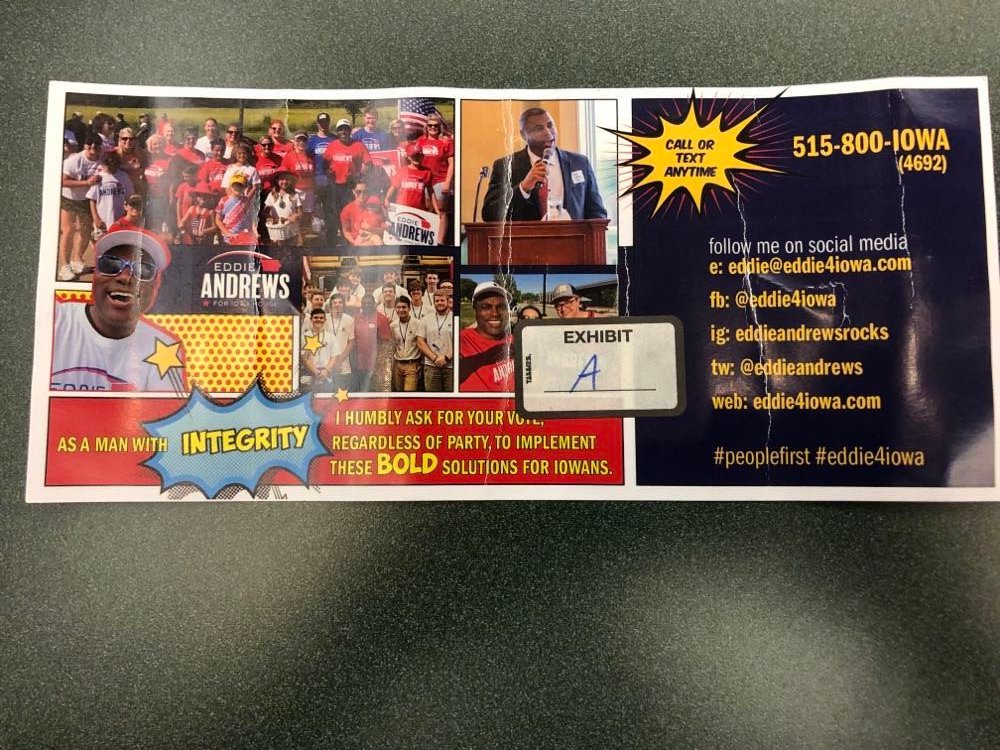 The campaign later printed materials that complied with the legal requirement. Note the "paid for by" statement in the lower right corner: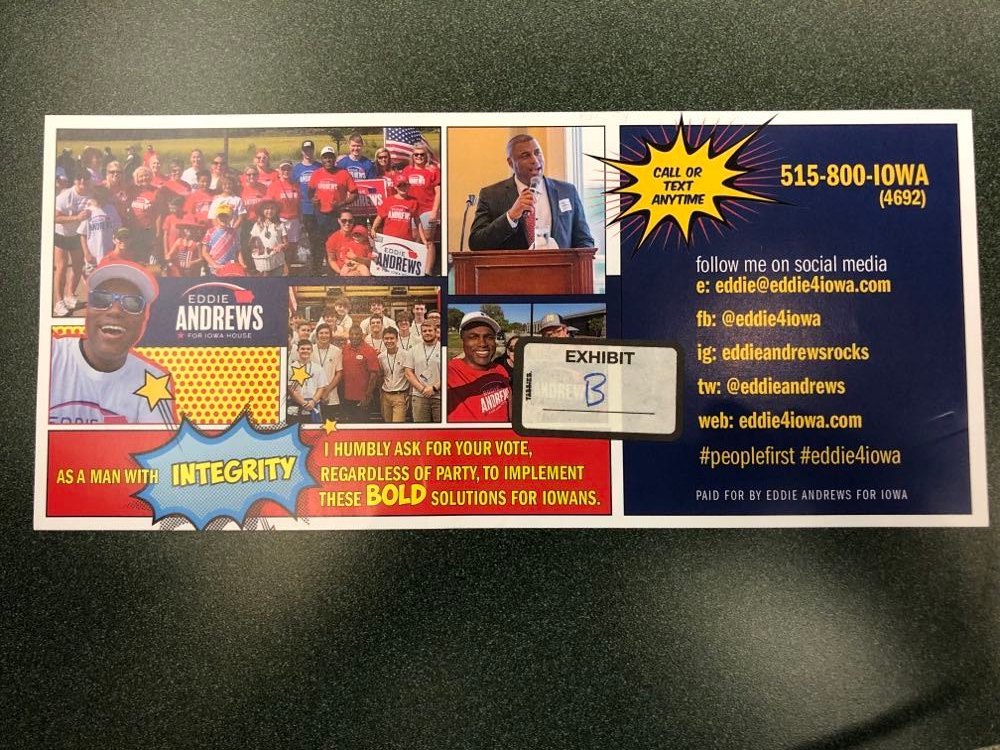 Goodrich said Andrews' attorney (fellow Iowa House Republican Bill Gustoff) had told him the first printing was done early last summer and "was not intended to be distributed." The Andrews campaign said it did not know how many copies without an attribution statement had been printed. Several ethics board members expressed skepticism that a campaign would not have records indicating how many non-compliant cards were printed.
The board agreed to fine Andrews $250 and reprimand him for violating the Iowa Code chapter requiring attribution statements on published campaign material.
Earlier during the April 6 meeting, the board revisited a matter it had considered last November, related to large Eddie Andrews for Iowa campaign signs that did not include any "paid for by" statement. Prior to that meeting, Andrews' campaign staff had acknowledged a violation and told Goodrich that attribution statements had been added to all of the large signs displayed around the district.
After the election, Andrews retained legal counsel. Gustoff provided information suggesting the signs at issue had dimensions less than 32 square feet. That size would make them exempt from the Iowa Code section requiring attribution statements on campaign signs.
In light of the new information, the Iowa Ethics and Campaign Disclosure Board determined there was no legal basis for the $500 fine. But board chair James Albert expressed frustration that Andrews had wasted staff time and shown "disrespect" for the agency by not responding to earlier inquiries, when he could have promptly shown his campaign was in compliance.
For that reason, the board's final order disposing of the complaint left the reprimand in place: "It is important to note the ability of the Board to investigate and correctly rule on an issue is hindered when any side does not cooperate to provide the Board with complete and accurate information necessary to make a ruling."