The Iowa Attorney General's office has issued statements touting several legal actions by Attorney General Brenna Bird, seeking to block various federal regulations.
But when Bird joined a multi-state effort on February 10 to cut off access nationwide to mifepristone, a widely used drug for medication abortions and treatment of first-trimester miscarriages, her office did not announce the decision. Nor has it publicized letters Bird and other Republican attorneys general signed this month, warning at least three corporations about policies or practices related to abortion.
Communications staff for Bird and Governor Kim Reynolds did not respond to Bleeding Heartland's inquiries about the legal moves. Bird has long said she is "pro-life," and immediately after taking office pledged to "defend Iowa's statutes, especially those protecting innocent unborn babies." But Iowa law permits abortions up to 20 weeks and does not restrict the use of mifepristone.
A TEXAS CASE WITH NATIONAL IMPLICATIONS
Bird was among 22 attorneys general who signed the amicus (friend of the court) brief in a Texas case challenging the U.S. Food and Drug Administration's approval 23 years ago of mifepristone to terminate pregnancies. Plaintiffs filed the lawsuit in Amarillo because they were guaranteed to draw a federal judge who has issued other sweeping rulings and worked to undermine reproductive rights while in private practice.
As early as this month, the Texas case could produce a ruling making mifepristone unavailable for ending a pregnancy or treating a miscarriage in any part of the United States. In states where abortion is still legal, such as Iowa, patients wishing to end a pregnancy would have to obtain a surgical abortion, or follow a different medication protocol using only misoprostol. Abortions using misoprostol without mifepristone are common globally but not considered the most effective regimen by the American College of Obstetricians and Gynecologists.
The amicus brief Bird signed argues that the FDA defied its own regulations when it approved mifepristone in 2000 using a process for drugs that treat "serious or life-threatening illnesses."
The plaintiffs are also seeking to roll back the FDA's recent guidance allowing retail pharmacies to offer mifepristone. The change would make the medication more accessible, particularly for pregnant people who could have the drug delivered to them in states with restrictive abortion laws.
The Republican attorneys general argued that "the FDA's actions defy federal criminal law," which has long prohibited using the postal service to distribute anything "designed, adapted, or intended for producing abortion […]."
In addition, the brief said the FDA disregarded several state laws that limit the use of medication abortions, or allow mifepristone to be provided only in person. Iowa has no such statute on the books; in 2015, the Iowa Supreme Court unanimously struck down a state rule banning telemedicine for abortion services.
Incidentally, Bird played a big role behind the scenes in encouraging the Iowa Board of Medicine to adopt the telemedicine abortion ban in 2013. At the time she was Governor Terry Branstad's senior legal counsel and used the surname Findley.
WARNINGS TO MAJOR PHARMACY CHAINS
The court filing in the Texas case followed letters that 20 Republican attorneys general sent last week to the large pharmacy chains CVS and Walgreens. The letters previewed the legal arguments from the amicus brief in the Texas case, and warned the companies that the FDA's new guidance allowing mifepristone to be sent through the mail would not hold up. "We reject the Biden administration's bizarre interpretation, and we expect courts will as well."
The lead on that effort, Missouri Attorney General Matthew Bailey, announced the action and posted the letters to Walgreens and CVS on his official website. The Iowa attorney general's office did not seek publicity about the warnings to companies. Bird later told the Quad-City Times she was worried about patient safety.
"Any process to approve a drug to be distributed that way needs to be done the right way, according to the book," she said. "We need to make sure that it is safe." […]

"It's not having a doctor examine the patient before prescribing in order to determine how far along the pregnancy is," Bird said. "That's where the complications come along from that pill. And when it's an internet, mailing prescription, that is not in the best interest of women's health."
The Iowa Board of Medicine also cited patient safety as cover for its telemedicine abortion ban. The Iowa Supreme Court (which included four Branstad appointees at the time) didn't buy it.
Numerous peer-reviewed studies have established the safety of medication abortion, and the FDA's new rules do require that patients have a prescription from a certified health care provider.
During Bird's February 9 visit to Decatur County, Dr. Bill Morain challenged the attorney general for threatening a pharmacy that was not breaking the law. According to an audio recording of the exchange obtained by Bleeding Heartland, Bird acknowledged "it's not illegal in Iowa for people to be prescribed those pills. That's allowed under Iowa law." But she added, "under federal law it's not allowed for those pills to be mailed to patients, and so that's what that letter was about."
She did not mention that she'd signed on to a brief seeking not only to stop mailings of mifepristone, but to undo the FDA's approval of the drug.
Iowa Democratic Party chair Rita Hart condemned Bird's actions, saying in a February 2 statement, "Kim Reynolds' ultimate goal is to ban abortion in our state. When Brenna Bird quietly signed on to this letter full of thoroughly debunked inaccuracies, she set a dangerous precedent and signaled that she doesn't understand that her job is not to be a lackey for Kim Reynolds."
WARNING TO AT LEAST ONE OTHER CORPORATION
Also this week, Bird was among 24 attorneys general who wrote to Yelp, demanding that the company "stop discriminating against crisis pregnancy centers." Kentucky Attorney General Daniel Cameron led that effort and posted the letter online.
Yelp had announced in August 2022 that it would put new language on business pages for crisis pregnancy centers. Those entities often appear to be medical clinics and offer free services to pregnant people. But instead of providing information about all options, staff and volunteers pressure clients not to get an abortion, sometimes using "deceptive tactics."
I took this screenshot last September of a Yelp listing for a well-known crisis pregnancy center in Des Moines. It contains the new "Consumer Notice": "This is a Crisis Pregnancy Center. Crisis Pregnancy Centers typically provide limited medical services and may not have licensed medical professionals onsite."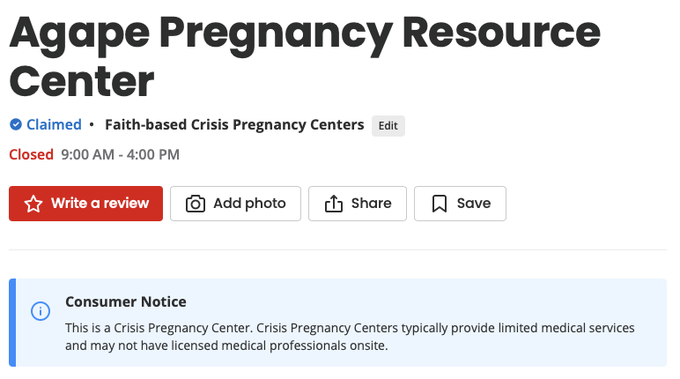 Yelp also began putting crisis pregnancy centers in a separate business category from health care providers.
The February 7 letter signed by Bird and other Republican AGs asserted, "Together, these benignly labeled 'recategorizations' and 'Consumer Notices' constitute a scheme to discredit crisis pregnancy centers and to discourage women and families from accessing their services." It accused the company of bowing to pressure from Democratic politicians, and noted that the centers "provide medical services" such as ultrasounds, pregnancy tests, and testing for sexually transmitted infections.
Ina Fried reported for Axios on February 8 that Yelp replied to the letter, denying "its move to label crisis pregnancy centers was related to any political pressure. The company said it created the policy because some centers have attempted to mislead customers over the types of services they offer."
Yelp noted that it "doesn't prevent listings for crisis pregnancy centers nor does it interfere with those seeking such facilities." The company has changed the consumer notice for those facilities: "This is a Crisis Pregnancy Center. Crisis Pregnancy Centers do not offer abortions or referrals to abortion providers."
This screenshot shows Yelp's current listing for the same crisis pregnancy center in Des Moines. It has the updated consumer notice and removed language describing the facility as "faith-based."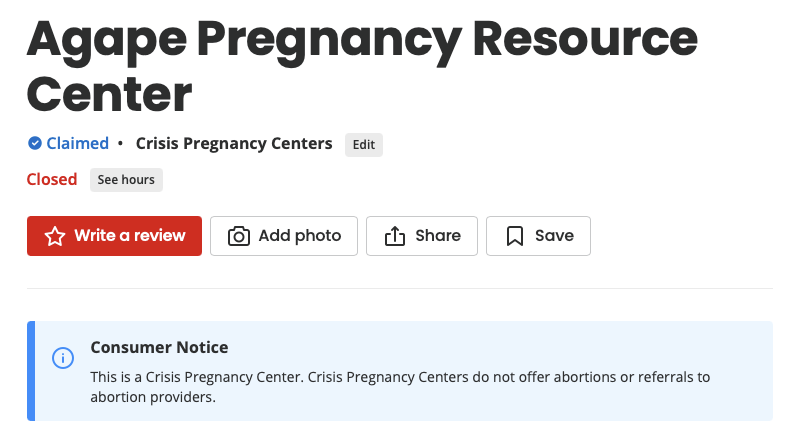 Alyssa Brouillet, press secretary for the Iowa Attorney General's office, did not respond to messages asking why Bird didn't publicize these letters and whether Bird has co-signed any other letters warning corporations about their policies related to abortion.
The highest-profile abortion case involving Bird is the governor's effort to reinstate Iowa's 2018 law, which would ban most abortions after about six weeks. Democratic Attorney General Tom Miller declined to represent the state in that litigation. Bird's staff took over the case last month, after the Republican was sworn in.
A Polk County District Court rejected the state's arguments in a December ruling. The Iowa Supreme Court will likely hear the state's appeal later this year.
Top image of Brenna Bird cropped from a photo published on the attorney general's official Facebook page on January 5.