Tony Leys is Rural Editor/Correspondent for Kaiser Health News, where this story was first published. Follow him on Twitter @TonyLeys.
KNOXVILLE, Iowa ― Bette Helm was glad to have someone to talk with about her insomnia.
Helm lives in a nursing home in this central Iowa town of about 7,500 people, where mental health services are sparse. On a recent morning, she had an appointment with a psychiatric nurse practitioner about 800 miles away in Austin, Texas. They spoke via video, with Helm using an iPad she held on her lap while sitting in her bed.
Video visits are an increasingly common way for residents of small-town nursing homes to receive mental health care. Patients don't have to travel to a clinic. They don't even have to get cleaned up and leave their bedrooms, which can be daunting for people with depression or anxiety. Online care providers face fewer appointment cancellations, and they often can work from home. While use of some other telehealth services may dwindle as the COVID-19 pandemic winds down, providers predict demand for remote mental health services will continue to increase in rural nursing homes.
"Are you anxious when you try to fall asleep? Is your mind racing?" asked the nurse practitioner, Ayesha Macon.
"Yeah, that's sort of my time to think," Helm said. Her thoughts can keep her up past 3 a.m., she said.
They discussed the anxiety Helm sometimes feels during the day and her routine of watching the TV news at 10 p.m. Macon suggested the news might wind Helm up, and she wondered if the 71-year-old patient could ease stress by skipping the news before going to bed.
"No," Helm said. "I find it interesting. I want to know what's going on in the world. I've always been a bit of a newshound."
Macon smiled and said she understood. So they talked about other approaches, including using online meditation programs and spending quiet time reading the dozens of novels Helm keeps stacked in her room. "If I couldn't read, I think I would go absolutely bananas," she told Macon, who agreed it was a good habit.
Telemedicine visits became much more common throughout the American health care system during the pandemic, as guidelines on "social distancing" curtailed in-person appointments and insurers eased restrictions on what they would cover. The number of telehealth visits paid for by Medicare jumped tenfold in the last nine months of 2020 compared with the same period a year before.
Supporters of online treatment say it's a good match for mental health care, especially in settings where in-person services have been hard to arrange. They cite small-town nursing homes as prime examples. The company that arranged Helm's recent appointment, Encounter Telehealth, serves more than 200 nursing homes and assisted living centers, mostly in the Midwest. About 95% of those facilities are in rural areas, said Jen Amis, president of the company, which is based in Omaha, Nebraska.
Encounter Telehealth uses about 20 mental health professionals, many of whom are psychiatric nurse practitioners living in cities. The practitioners read the patients' electronic medical records through a secure computer system, and they review symptoms and medications with nursing home staff members before each appointment. They complete up to 2,000 visits a month.
It's important for seniors to have expert support as they face stress and uncertainty in aging, Amis said. "We're all going to be there at some point," she said. "Don't you want that last chapter to be peaceful?"
The company saw demand for its services surge in care facilities when the pandemic hit. Nursing homes were closed to visitors for months at a time while the coronavirus caused thousands of illnesses and deaths among residents and employees. The stress could be overwhelming for everyone involved. "Oh, my gosh, the isolation and fear," Amis said.
Amis said several developments have made her company's services possible. Electronic medical records and video systems are crucial. Also, she said, many states have given more independent authority to nurse practitioners and other nonphysicians, and it has become easier to bill public and private insurance plans for mental health treatment.
The federal government could tighten rules for some kinds of telehealth care as the pandemic wanes. But Medicare paid for many remote mental health visits to rural areas before covid, and Amis expects the support to continue.
Jonathan Neufeld, program director of the Great Plains Telehealth Resource and Assistance Center at the University of Minnesota, said in-person mental health care can be hard to arrange in rural care facilities.
"You've got a double or even triple whammy going right now," said Neufeld, a psychologist whose center is supported by federal grants.
He noted the number of mental health professionals nationally has been insufficient for many years, even before the pandemic. And all kinds of rural employers, including nursing homes, face critical staffing shortages.
Neufeld said telehealth visits can be a challenge for some care-facility residents, including those with dementia, who might not understand how a video feed works. But he said it also can be difficult to treat people with dementia in person. Either way, a staff member or relative needs to accompany them during appointments and the mental health professional generally consults with facility staff about a patient's treatment.
Before telemedicine was available, more residents of rural nursing homes needed to be driven to a clinic in another town to see a mental health professional. That could eat up hours of staff time and add stress to the patients' lives.
Seleta Stewart, a certified nursing assistant at the Accura HealthCare nursing home where Helm lives, said the facility's need for the telehealth service is increasing, partly because the facility is home to several younger residents with mental illnesses. In the past, she said, many such Iowans would have been served by specialized facilities, such as two state mental hospitals that closed in 2015. But more now live in nursing homes.
"Iowa is just not a great state for mental health," Stewart said.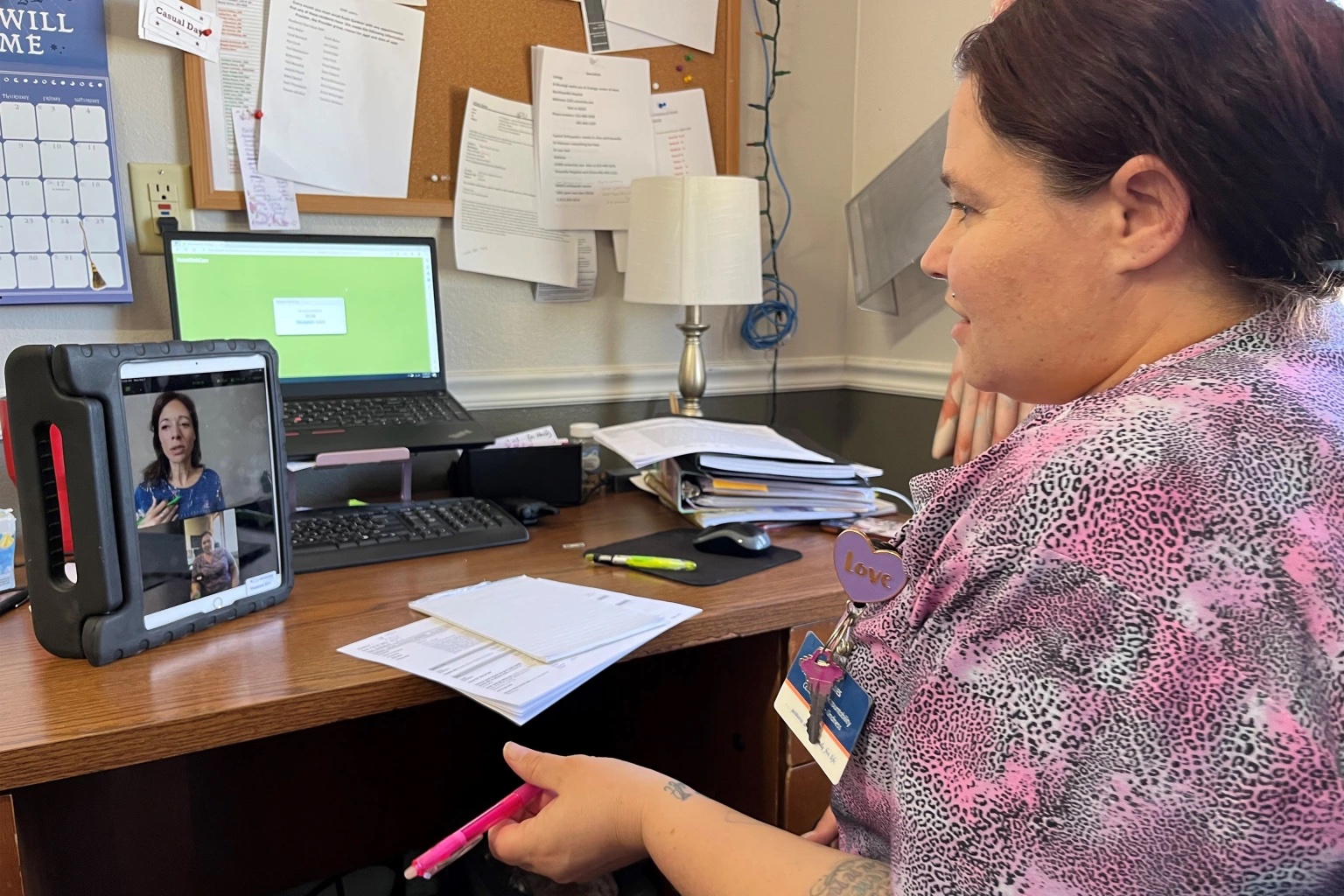 Before visiting with patients in their rooms, psychiatric nurse practitioner Ayesha Macon, on video screen, consults with Shaina Flesher (right), a certified nursing assistant at the Accura HealthCare nursing home in Knoxville, Iowa. The two discuss how residents of the nursing home have been faring and what medications they've been taking. Photo by Tony Leys for Kaiser Health News
Neufeld said that, even with telemedicine's efficiencies, staffing can be a challenge for companies providing the service in nursing homes. Many mental health professionals already have more patients than they can handle, and they might not have time to pitch in online. He added that Medicare, which insures most seniors, pays lower rates than private insurers or patients paying on their own.
Amis, Encounter Telehealth's president, said Medicare pays about $172 for an initial appointment and about $107 for a follow-up appointment; care providers collect roughly 30% to 75% more from patients who use private insurance or pay their own bills, she said. She added that nursing homes pay a fee to Encounter for the convenience of having mental health professionals visit by video.
Several patients and care providers said the shift to video appointments is usually smooth, despite seniors' reputation for being uncomfortable with new technology.
Dr. Terry Rabinowitz, a psychiatrist and professor at the University of Vermont, has been providing telemedicine services to a rural nursing home in upstate New York since 2002. He said many patients quickly adjust to video visits, even if it's not their initial preference.
"I think most people, if they had their druthers, would rather see me in person," he said. "And if I had my druthers, I'd rather see them in person." Online visits can have special challenges, including for patients who don't hear or see well, he said. But those complications can be addressed.
Nancy Bennett, another resident of Helm's Iowa nursing home, can attest to the benefits. Bennett had a video appointment with Macon on a recent morning. She told the nurse practitioner she'd been feeling stressed. "I'm 72, I'm in a nursing home, I've got no family around, so yeah, I'm a little depressed," she said. "I do get sad sometimes."
"That's normal," Macon assured her.
Bennett said she dislikes taking a lot of pills. Macon said she could taper some of Bennett's medication.
In an interview afterward, Bennett said she'd gone to a clinic for mental health care in the past. That was before physical issues forced her into the nursing home, where she spends much of her time sitting in a blue recliner in her room.
If she'd had to get dressed and travel for her appointment with Macon, she said, she probably would have canceled. "There are days when I don't want to be bothered," she said.
But on this day, the mental health professional came to her on an iPad ― and helped Bennett feel a little better.
Top photo by Tony Leys of Kaiser Health News: Bette Helm (right), who lives at the Accura HealthCare nursing home in Knoxville, Iowa, visits via an iPad with Ayesha Macon, a psychiatric nurse practitioner in Austin, Texas, on March 1. Macon helped Helm consider ways to address her anxiety and insomnia. Helm says having such appointments via video "seemed weird at first" but that she has grown accustomed to it and appreciates the help.