Robin Opsahl covers the state legislature and politics for Iowa Capital Dispatch, where this article first appeared.
The Iowa Senate passed the agriculture and natural resources spending bill on April 25 with a provision Democrats said could limit the acquisition of public lands.
Senate File 558 passed the Senate 33-16, appropriating more than $43 million in funds for the state's agriculture and natural resources departments. The funding figures were approved via amendment, as the Senate Appropriations Committee passed spending bills without numbers in early April.
Senate Democrats criticized Republicans for releasing the amendment filling the blanks on the bill the morning of its debate on the Senate floor, without allowing time for review or public comment. State Senator Sarah Trone Garriott said the bill's provision on public lands is "very concerning."
In addition to setting an allocation target, the bill strikes a provision from Code of Iowa on open-space lands. The bill would remove language that "in addition to other goals for the program, it is intended that a minimum of 10 percent of the state's land area be included under some form of public open space protection by the year 2000."
Trone Garriott criticized the bill for adding in this language in a floor amendment without an avenue for public comment.
"To sneak this into our budget work really robs our public from the opportunity to speak out against it," Trone Garriott said. "Because we know that Iowans want public land, they love their public land, and they will speak out for their public land. And it's wrong to take away their opportunity to be a part of this conversation."
Another public lands bill, Senate File 516, failed in the Iowa House, where the House State Government Committee declined to bring it forward before the second funnel deadline. The bill faced significant public opposition from hunters, cyclists, conservationists and others for potentially limiting the Iowa Department of Natural Resources' acquisition of public lands. The bill also would remove current language directing the state to prioritize the maintenance of public lands and trails already held over acquiring and protecting new open-space lands and recreational trails.
Republican State Senator Annette Sweeney, who introduced the public lands bill, said it would not inhibit public land acquisitions, but make sure existing public lands in Iowa are well maintained. Opponents argued the legislation would make land acquisition more difficult.
Trone Garriott said the appropriation bill's measure could similarly create roadblocks to public land acquisition.
"Whenever we've attempted … to put forward policy that undermined the acquisition of public lands, limited our state's ability to expand public lands, the public has turned out in force and opposition," Trone Garriott said. "And it happened this year again, it happened last year."
State Senator Dan Zumbach echoed arguments from earlier public land debates when discussing the appropriations bill measure. The language was stricken to put the Iowa Department of Natural Resources in a position to "take care of what what they have," he said.
"We have a lot of land in public use that's not getting taken care of the way that it could be," Zumbach said. "I think we're all aware, we've driven through the park that's not mowed the way it used to be, we've looked at a new piece of property over there that hasn't been touched yet. And we moved some dollars around so the DNR is in a position to take care of that property."
The Iowa Farm Bureau Federation supported the earlier attempt to limit public land acquisition. Much of the land acquired by the state is low-cost land that's inhospitable to row cropping but could be pastureland sold to beginning cattle farmers. Several cattle farmers spoke in support of limiting public land acquisitions citing competition over private lands now with the DNR. The potential impact on farmers was not brought up in the spending bill discussion.
Outside of public lands, Democratic State Senator Eric Giddens said he supported the amendment adding money to the Department of Agriculture and Land Stewardship to support the Dairy Innovation Fund, Choose Iowa program and the effort to expand foreign-animal disease preparedness services. The Iowa Department of Agriculture and Land Stewardship funding grew $1,750,000 from the previous year, with more than $23.8 million allocated.
But Giddens said the bill underfunds the Iowa DNR. The bill allocates more than $11.9 million to the DNR administration, as well as $1 million for state park operations and $1.51 million for the floodplain management program.
"Year after year, there's been status quo budgets for DNR operations, forestry management, and state park operations," Giddens said. "Our state parks are important to attracting and retaining residents in this state. This budget also has status quo funding for other non-general fund funds that address water quality, parks operations and maintenance … This budget continues to underfund important programs that I know our constituents in my district and across the state find very important."
Democratic State Senator Janice Weiner expressed concern over diverting one-third of the funding that currently goes toward water quality measurement program through the Iowa Flood Center, at the University of Iowa, to the IDALS. The new spending structure would not require that program to be funded, she said.
"The water quality measurement program will be reduced and could be axed altogether," Weiner said. "We know that water quality is a problem. We know that Iowans deserve better. But without data, it will be easy to say there's no problem or we don't know how to measure the problem."
Zumbach said discussions with Iowa Secretary of Agriculture Mike Naig helped shape the budget bill to focus on "what Iowans want."
"What we do know is practices on the land and in our towns is what makes clear water," Zumbach said. "And so when we made the decisions on how to appropriate dollars, it was all about let's put (in place) practices that helped clean our water."
Senate, House lawmakers still finalizing agreements on other appropriations
The Senate approved the agriculture and natural resources spending bill as well as the transportation spending bill, Senate File 576, Tuesday. But there are still several appropriation bills without line-item appropriations announced.
House and Senate Republicans have released joint targets for fiscal year 2024, with a total spending goal of just over $8.5 billion. The budget targets released last week included the top-line spending figures of:
$70.5 million for Administration and Regulation
$41.8 for Economic Development
$982.9 million for Education
$2.123 billion for Health and Human Services
$881.7 million for Justice
$4.372 billion in standing appropriations
Republican State Senator Tim Kraayenbrink, who chairs the Senate Appropriations Committee, applauded the announced agreement last week, saying it continues Senate Republicans' "commitment to Iowans to pass sustainable budgets to fund education and public safety, while at the same time prioritizing tax relief for hard working Iowans."
The House Appropriations Committee is expected to meet this week to discuss budget bills. House lawmakers have proposed higher budget targets than the Senate and Governor Kim Reynolds' initial estimates. House goals include a $10 million increase in funding for Iowa nursing homes, $4.3 million more for the Department of Corrections for recruitment and retention of correctional officers, and $1.7 million more than Reynolds' budget proposal for Iowa community colleges.
House Speaker Pat Grassley told reporters on April 20 that lawmakers are making "good progress" on budget talks.
"I don't know what that looks like specifically, but we've ended this week in a really good position to make a run at ending session," Grassley said.
---
Editor's note from Laura Belin: The last section of the Senate-approved agricultural and natural resources budget strikes the paragraph highlighted in blue from Iowa Code section 465A.1.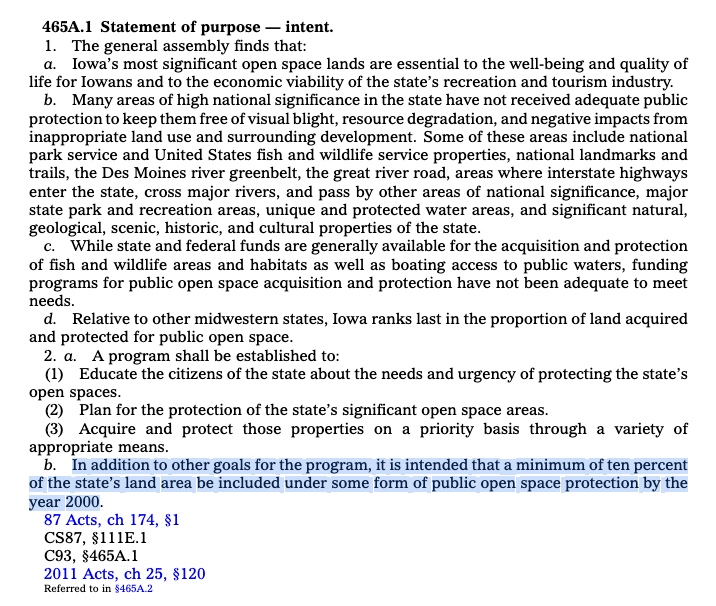 Top image: State Senator Dan Zumbach presents the agriculture and natural resources budget for fiscal year 2024 during Iowa Senate debate on April 25. Screenshot from official legislative video.