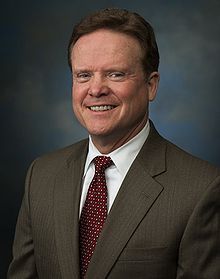 Ten days after ending his quest for the Democratic presidential nomination, former U.S. Senator Jim Webb appears to be leaning toward an independent candidacy. His guest editorial in today's Washington Post is titled, "America needs an independent presidential candidate." Excerpt:
Sen. Bernie Sanders (I-Vt.) notwithstanding, the Democratic Party has coalesced around a member of a powerful, moneyed dynasty whom at this point most Americans do not trust and half do not like. If successful, she would guarantee further gridlock; if unsuccessful, she could lead the Democratic Party to the same dismal results it experienced in the elections in 2010 and 2014.

Tectonic shifts occur slowly but eventually they produce earthquakes. It is becoming ever clearer that we are on the cusp of a new era in U.S. politics, driven by the reality that a large percentage of Americans really do dislike both political parties and their leaders. They want and deserve something different, and nowhere is that reality more clearly seen than in the presidential race, in which the extremes that have taken over the nominating process have become glaringly obvious.

There can be no better answer to these developments than electing as president a tested, common-sense independent who can bring to Washington a bipartisan administration to break the gridlock paralyzing our political debates and restore the faith of our people in their leaders.

I am in the process of deciding whether to mount such a campaign. Clearly, the need for another option grows stronger and more apparent by the day.
Disenchantment with the major political parties is nothing new. But if the much better-known independent candidate Ross Perot couldn't win a single state after spending some $60 million on his 1992 presidential bid, how on earth does Webb think he could be elected next year? He'd need to raise an estimated $8 million just to get on the ballot in all 50 states. In his last fundraising quarter as a Democratic candidate, Webb raised less than $700,000.
For a fraction of the expense of running for president, Webb could become an influential nationwide advocate for criminal justice reform. I remain hopeful that after weighing the costs and benefits, Webb will reject a hopeless vanity bid in favor of an issue-based campaign to change this country for the better.
Continue Reading...