Happy Labor Day weekend to the Bleeding Heartland community! This is an open thread: all topics welcome. Click here for a brief history of the holiday.
For those wanting to enjoy the outdoors during the unofficial last weekend of summer, you may find some inspiration in the Iowa Department of Natural Resources' list of fourteen "incredible hikes in our state parks and forests," here and here. I'm embarrassed by how few of those parks I have visited, but I can highly recommend the walking trails at the Ledges and Dolliver Memorial State Parks.
Three more polling firms have released new Iowa caucus surveys since last weekend's Selzer poll for the Des Moines Register and Bloomberg news. Highlights are after the jump. All recent polls put Donald Trump and Ben Carson well ahead of the rest of the Republican field in Iowa. Bernie Sanders has clearly gained some ground on Hillary Clinton, but other polls have found a larger lead for the Democratic front-runner here than Selzer did.
Eric Boehlert was quick to criticize the media for giving Selzer's poll of Iowa Democrats such big play last weekend, even though it looks like an "outlier" in his view. I take his point, but the last time I said a Selzer poll appeared to be an outlier, I had to eat my words.
Before I get to the polls below, here's one for the "campaigns don't matter" crowd, who believe economic conditions largely decide presidential elections. The Moody's Analytics model "now predicts a Democratic electoral landslide in the 2016 presidential vote," with 326 electoral votes for the Democratic nominee and 212 to the Republican. Click through for more information on the Moody's methodology.
Loras College released its latest Iowa caucus poll on September 2. I appreciate that Loras provides more information about methodology than some pollsters do.
The Loras College Poll surveyed 1,004 likely 2016 caucus voters (502 likely Republican caucus-goers, 502 likely Democratic caucus-goers). The survey was conducted August 24-27, 2015. All results calculated at a 95 percent confidence interval. Both subsamples of party caucus participants include no-party registrants who passed likely voter screen (see below). Margin of error for full sample results is +/- 3.09 percent, while for the party subsamples, the margin of error is +/- 4.37 percent.

• Survey conducted with a random sample of registered voters (drawn from official Iowa Secretary of State official voter file) who voted in either the 2012 or 2014 general election or who had registered since December 1, 2014.

• Likely caucus voter was defined as those indicating they were "definitely or very likely" to vote in the 2016 Iowa Caucus. Those indicating they were "somewhat likely" were subjected to further screen question regarding their general interest in politics. Only those indicating they were "very interested" in politics were then accepted within the sample as a likely caucus voter.

• The statewide sample was balanced for gender and divided evenly across Iowa's four congressional districts. Age was balanced to match past caucus entrance polling.

• Survey included both landlines and cell phones (approximately 70 percent and 30 percent, respectively).

• The survey was conducted using live operator interviews through a contracted professional call center.

• Script development and methodology used for the survey received input from Republican campaign consultant Brian Dumas and Democratic campaign consultant Dave Heller.
Clinton's lead over Sanders was smaller than Loras found in April (before Sanders had launched his campaign), but she still was the first choice of 48.2 percent of Loras respondents, compared to 22.9 percent for Sanders. Some 16.3 percent of respondents named Vice President Joe Biden as their first choice, with Martin O'Malley way behind at 4 percent and the other declared Democratic candidates (Jim Webb and Lincoln Chafee) below 1 percent. Key passages from the Loras College press release about the Democratic findings: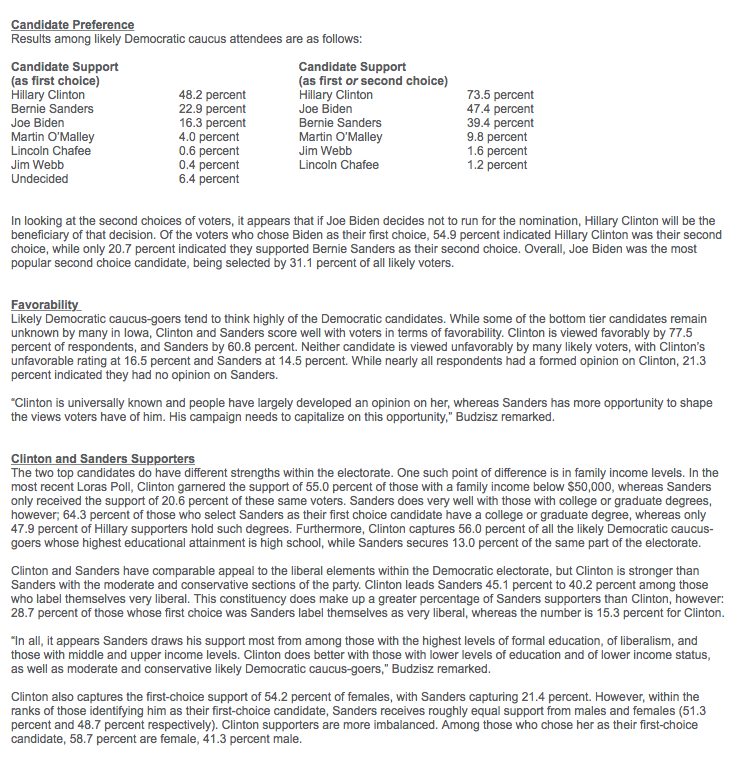 Gravis Marketing also released an Iowa poll on September 2.
Gravis Marketing, the nonpartisan research firm based in Winter Springs, Fla. recently conducted a random telephone survey of 957 registered voters in Iowa regarding the upcoming 2016 Presidential election – gauging the pulse of registered voters on both sides of the Presidential isle. This poll was completed utilizing Gravis IVR technology and represents a margin of error of ± 3.2% [4.4% for Republican Caucus/4.8% for Democratic Caucus]. The telephone survey was conducted 8-29-2015 To 8-31-2015

This sample of includes 507 Republican Caucus participants, 421 Democratic Caucus participants, and the remainder answering the Approval of Obama question, but not planning to vote in the primary elections. The poll was weighted separately for each population in the question presented.
For reasons I don't understand, Gravis included Senator Elizabeth Warren in its ballot test for Democratic respondents. Probably for that reason, Clinton had a big lead in this poll. Some 45 percent of respondents back the front-runner, compared to 17 percent for Sanders, 14 percent for Warren, 14 percent undecided, 5 percent each for Biden and O'Malley, and 1 percent each for Webb and Chafee.
Since most of the Democrats who are big fans of Warren have gravitated toward Sanders, I assume that Clinton's lead among Iowa Democrats isn't nearly as large as the Gravis poll indicates.
NBC/Marist made a big splash with its latest Iowa poll, released today.
In Iowa, Clinton maintains her previous advantage over Sanders – but her lead has declined from 24 points in July (49 percent to 25 percent) to 11 points (38 percent to 27 percent); Biden sits at 20 percent.
The full polling questionnaire for NBC/Marist is here. The survey of 345 people in the "potential Democratic electorate" produces a statistical margin of error of plus or minus 5.3 percent. It's not clear what likely voter screen NBC/Marist used. After Clinton, Sanders, and Biden, 8 percent of respondents said they were undecided, 4 percent for O'Malley, 2 percent for Webb, and 1 percent for Chafee.
O'Malley must be frustrated not to be getting more traction in Iowa, after how hard he has worked here (sixteen Iowa visits since 2013, spending all or part of 31 days here).
Among all 919 registered Iowa voters surveyed by NBC/Marist last week (margin of error plus or minus 3.2 percent), Jeb Bush leads Clinton in a hypothetical match-up by 50 percent to 39 percent, and Trump leads by 48 percent to 43 percent. Biden trails Bush by only 46 percent to 44 percent and leads Trump by 49 percent to 45 percent.
Unless a high-profile third-party candidate emerges next year (unlikely now that Trump has signed a "loyalty pledge"), I find it hard to imagine any scenario where a presidential nominee from either party wins Iowa by 11 points.
NBC/Marist also found Governor Terry Branstad's job approval rating to be 53 percent, with only 39 percent of the registered Iowa voters disapproving of the governor. That's higher than some other recent polls on Branstad's approval, which makes me wonder whether this poll's sample skewed a bit Republican.
Speaking of Republicans, here are the key findings from the latest Loras College Iowa GOP caucus poll: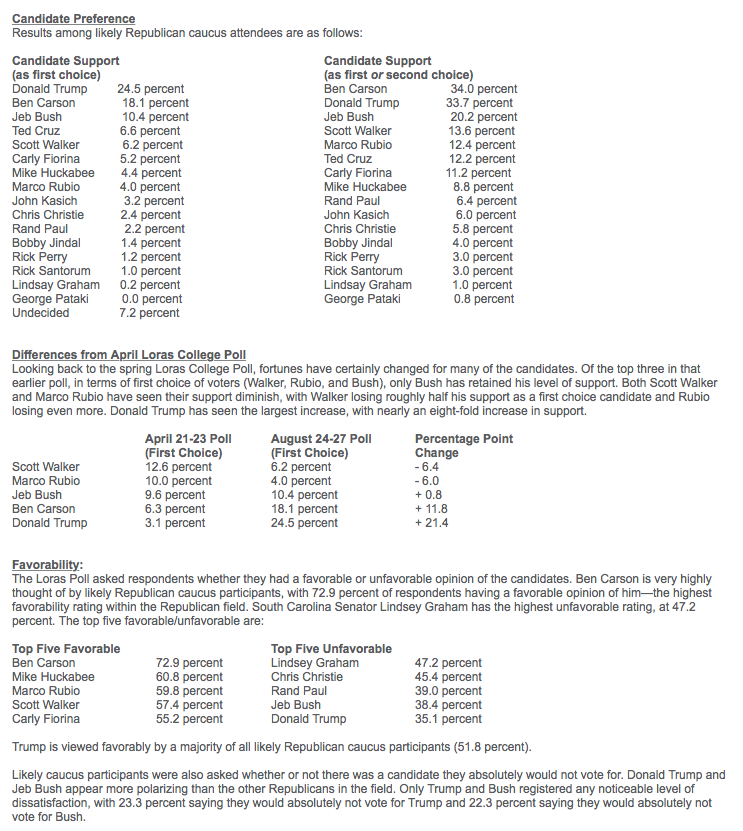 The Selzer poll for the Des Moines Register and Bloomberg News also found high favorability numbers for Carson, suggesting that he has room to gain support. (Ted Cruz and Carly Fiorina have promising favorability ratios too, according to Selzer.)
Everyone keeps asking when the GOP rivals will start attacking Trump, but I'm wondering whether anyone will try to lay a glove on Carson during the next Republican debate. He poses a threat to several other candidates counting on strong support from social conservatives and evangelicals.
The latest Gravis Marketing poll of Iowa Republicans had a poorly-worded questionnaire, asking about "voting" rather than caucusing, but here were the toplines:
Donald Trump 31.7 percent

Ben Carson 15.8 percent

Unsure 10.9 percent

Ted Cruz 6.9 percent

Marco Rubio 5.8 percent

Scott Walker 5.6 percent

Bobby Jindal 5.2 percent

Carly Fiorina 4.6 percent

Jeb Bush 4.1 percent

Mike Huckabee 2.6 percent

Chris Christie 2.0 percent

John Kasich 1.4 percent

Rand Paul 1.3 percent

Rick Perry 0.9 percent

Rick Santorum 0.6 percent

Lindsey Graham 0.4 percent

George Pataki 0.1 percent
Monmouth University in New Hampshire released its latest Iowa GOP caucus poll on August 31, and made headlines by showing Trump and Carson tied at 23 percent. Rounding out the field:
Fiorina 10 percent

Cruz 9 percent

Walker 7 percent

Bush 5 percent

undecided 5 percent

Kasich 4 percent

Rubio 4 percent

Paul 3 percent.

Huckabee 2 percent

Santorum 2 percent

Jindal 1 percent

Christie 1 percent

Perry 1 percent

Gilmore, Graham, and Pataki all registered zero percent in Monmouth's survey.
Finally, here are the NBC/Marist top findings for Iowa Republicans. That survey had a "potential Republican electorate" respondent pool of 390 voters, producing a margin of error of plus or minus 5.0 percent.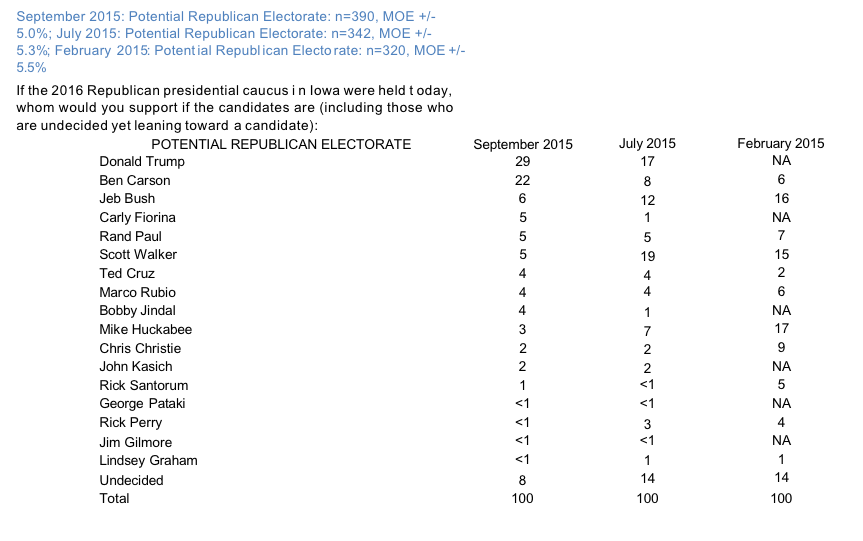 Again, Carson appears to have the most room to gain support, as respondents named him most often as their second choice for the GOP caucuses.