You come across the strangest things on Twitter sometimes: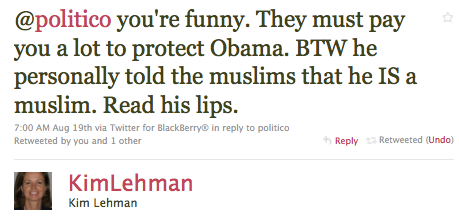 Yes, it's delusional to believe Politico is in the game to "protect" Barack Obama, but for now I'm more interested in Republican National Committeewoman Kim Lehman's claim that the president is Muslim. Presumably she was responding to Tim Grieve's August 19 report for Politico on the latest Pew survey about the president's religion. Pew found that about 18 percent of American adults say Obama is Muslim, while about 34 percent say Obama is Christian. About 34 percent of those who identified themselves as conservative Republicans told Pew Obama was Muslim. Grieve's report referred to "a dramatic spike in false views about the president's religious faith." Politico's Josh Gerstein also reported on the Pew finding, as well as a Time magazine survey which (using different wording) found even higher numbers of Republicans believe the president is Muslim.
Neither Lehman nor anyone else would claim Republican gubernatorial candidate Terry Branstad's not really a Christian because his mother was Jewish. Yet for some reason, it's not enough for Lehman that Obama has been baptized, regularly attended Christian churches for many years and was sworn in on a Christian bible.
I wonder how many other prominent Iowa Republicans believe the urban legend about Obama being Muslim. Representative Steve King recently claimed Obama is a "Marxist" who "surely understands the Muslim culture." What about Senator Chuck Grassley, Representative Tom Latham and Republican Congressional candidates Ben Lange, Mariannette Miller-Meeks and Brad Zaun?
State party chairman Matt Strawn and Steve Scheffler, head of the Iowa Christian Alliance, are Iowa's other two representatives on the RNC. Do they and members of the Iowa GOP's State Central Committee share Lehman's view?
Branstad's own interfaith family background makes him an ideal person to speak publicly about religion as a matter of faith and an individual's spiritual journey, as opposed to a genetic inheritance. But I'm not holding my breath for Branstad to dispel false rumors about Obama. He generally avoids taking any position that would anger conservatives–when he's not kowtowing to far-right sentiment, that is.